2023, the year of the Black Rabbit, is upon us. Filled with expectations and excitement, at this time of the year we often make resolutions that will lead and build us up for the coming year. It's all right even if we don't follow through perfectly. All new beginnings require us to take at least a step forward, and that in itself has significance.
When a new year starts, everyone makes new pledges. With a positive mindset and new hope, we make plans and strive to take action according to them. These plans become the engine and aspiration that enables us to go through a year. What are the hopes and plans that will drive us to take care of ourselves and push forward? We share some of them through the new year resolutions that various Hyundai Glovis staff members have for 2023.
"Having gone through the cold winter, your turn to bloom is standing right in front of you"
– From Kim Jong-hae's "Spring Is in Front of You"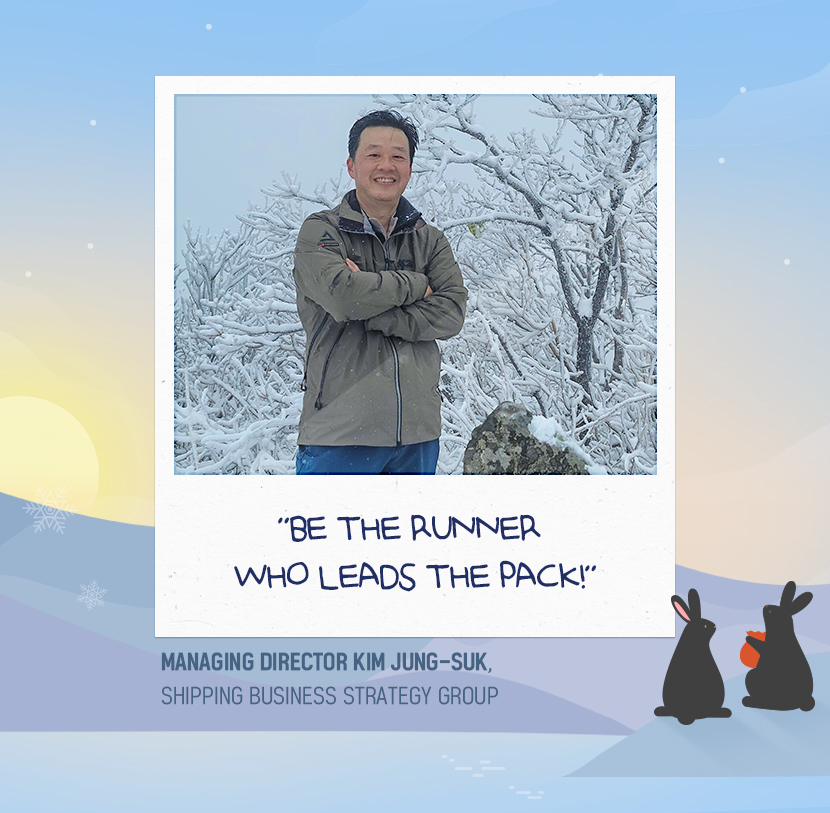 Managing Director Kim Jung-suk joined Hyundai Glovis in 2010 and has served as the team leader of the Shipping Business Support Team and as a resident employee in Dubai. Tasks that he is presently leading include future shipping business, ship/terminal safety, cargo quality, and shipping environmental regulations with his staff. His resolutions for last year were to hike the Baekdudaegan Trail and to position his Shipping Business Strategy Group as the best organization in the company. We can feel his bold ambition from reading this alone, and we can't help but wonder if he achieved his resolutions for 2022. The answer is a definite "yes."
"I completed the Baekdudaegan Trail by November, and our group received the Smart Move Prize at the end of the year. I think I can confidently say that I achieved my main goals for 2022".
While he is on a roll, Managing Director Kim has set his goal for 2023 as "take advantage of the stamina I built hiking the Baekdudaegan Trail to attempt a half-marathon." His second goal is to support and inspire his staff to reach the new goals they have set for themselves.
The secret to realizing his wishes for the new year, which do not sound at all like easy goals, is what is called the Seodongyo Technique.
"Once I set my goals, I tell everyone about them. This forces me to try harder to achieve my goals, at least to not feel embarrassed. For difficult resolutions like quitting smoking, it is a good idea to tell people around you about your intentions and set penalties or fines for yourself. It also helps to break your goals into small chunks, and to color them or attach a sticky note whenever you complete one step. Being able to visually check your progress also helps a lot".
He emphasized this drive in his new year's message to his staff.
"Last year, I asked my staff to break away from being 'fast followers' to become 'first movers.' Several meaningful endeavors were initiated with this goal in mind. In the coming year, I hope we will strive together to take the lead in our industry by actively presenting ideas and realizing them one by one."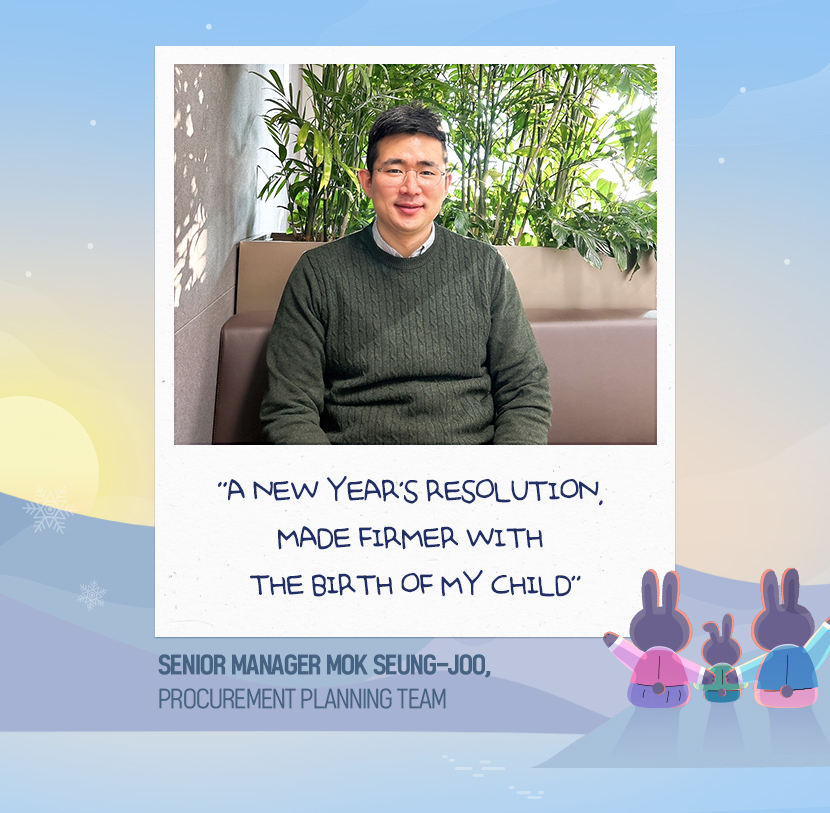 It is already Senior Manager Mok Seung-joo's tenth year since he joined Hyundai Glovis in 2013. People say even mountains and rivers change in ten years, so the year 2023 is bound to be more special for him. Always valuing consistency, his resolution for the new year is to continue to move forward diligently towards the goals he set the year before.
"Rather than setting grandiose goals, I felt that it was more important to try and practice consistency with things I needed to do. So, last year, I went with some simple and pretty common goals– 'exercising,' 'improving my English' and 'reading.' I believe I made some progress with learning English and exercising but failed significantly when it came to reading. So, for this year, I will set reading as my priority resolution. I intend to read at least two books every month."
He also plans to continue taking care of his health. In addition to exercising consistently, he aims to manage his diet by avoiding packaged and spicy foods, to make himself physically stronger.
"Rather than going on an overly strict diet, I plan to eat healthy, and exercise regularly. In this way, I think the fat will disappear from my body naturally. To put it simply, my resolution for 2023 is to manage my stress effectively and make myself healthier, both in mind and body".
When it comes to sticking to resolutions, Senior Manager Mok recommends working with others to achieve your goals rather than going at them alone. He claims that by doing this, you are less prone to fall into the trap of telling yourself, 'One day off won't hurt,' and it will give you more discipline.
"In January last year, my colleagues and I set up a group chat room on KakaoTalk. We set the goal of running at least 3 kilometers 3 times a week for 12 weeks. We shared records of our activities. and encouraged and inspired one another. I was able to reach my goal for the 12 weeks without missing out one time. It felt good, and I was proud of myself."
This year's goals are not that different from last year, but his resolve is stronger than ever. This is because he will become a father in January.
"When my child is born, I believe there will be many changes to my life. There will also be a huge change in the direction my life is headed. I expect it will be a year filled with more meaning and responsibilities."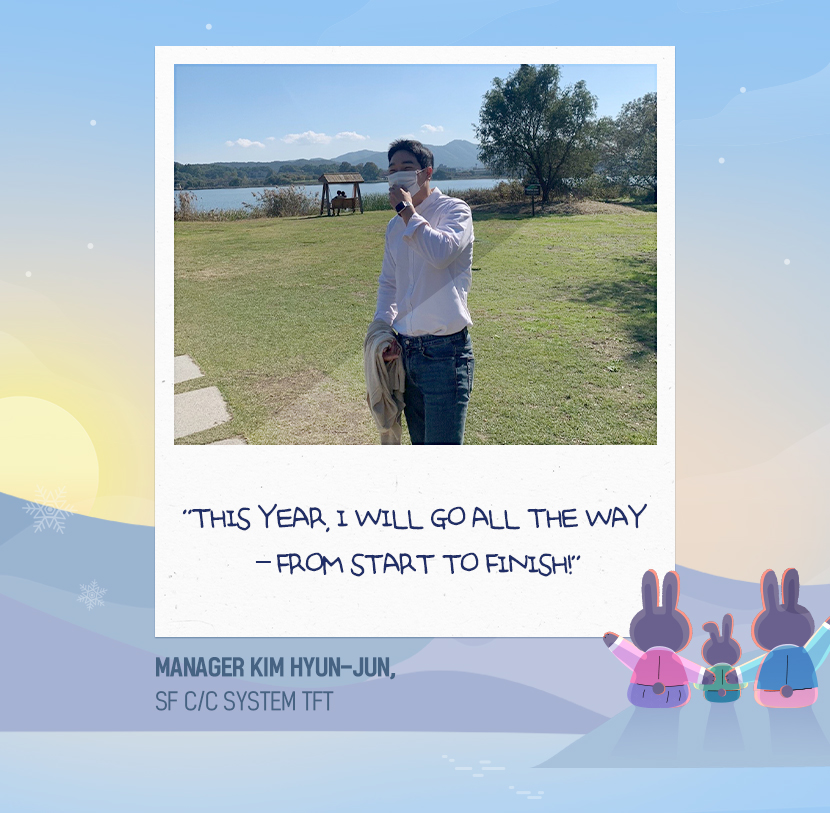 Manager Kim Hyun-jun's resolution for last year was to become "the guy with a six-pack."
"My new year's resolution for 2022 was to exercise hard and show off body profile pictures of my body. Having a visual goal, I don't think I ever worked out so hard in my life, and I attained the result I aimed for. But maintaining that result was not easy. My body has returned to its previous 'pitiful state,' to the point that I even regret having started this in the first place (laughs)."
Perhaps his "failure" last year proved to be a valuable lesson. This time, before setting his new goals, his first resolve was to "Go all the way once I set my goals."
"I set new resolutions every year, but my resolve mostly fizzles out by mid-year. This time I intend to go all the way. When I try my best, with the mindset that I can't do better than the time I have already spent, even if only one year is given to me, I think I will be able to succeed".
There are two main goals he is targeting with this new mindset: his personal goal and his goal as a member of Hyundai Glovis.
"At the company level, the TFT activities that I have worked on for the last two years will be coming to a close in April. Since it has been a long-term project, I plan to bring it to a successful conclusion by giving my best until the end. Personally, while going on overseas business trips, I realized once again the importance of English, and I plan to study the language consistently."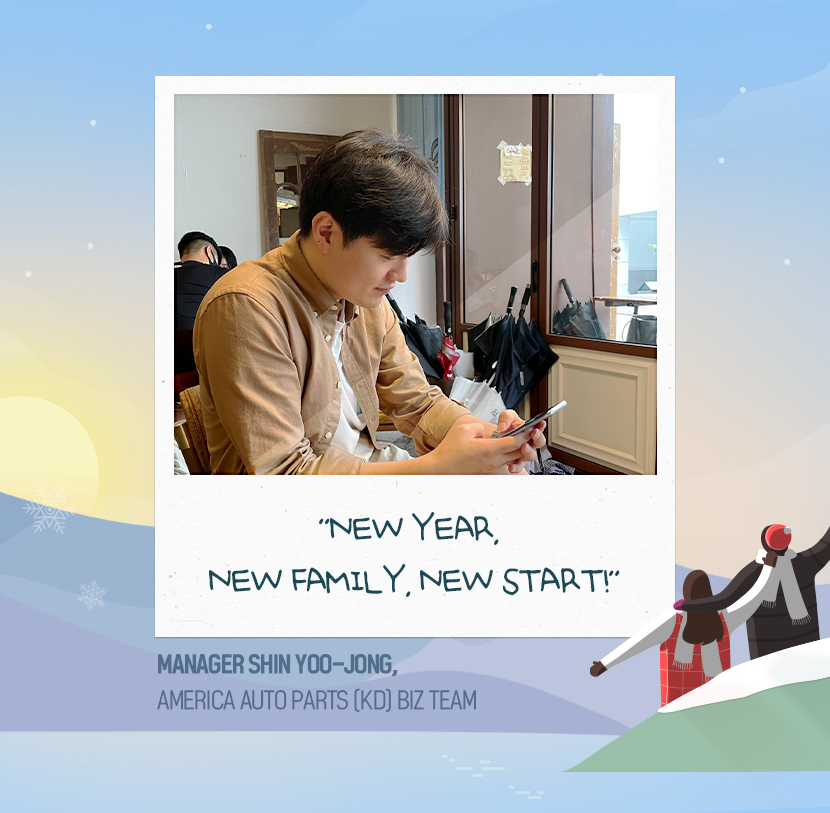 The year 2023 is bound to be a monumental year for Manager Shin Yoo-jong. For one thing, he is getting married, which is often the biggest turning point in anyone's life. With the big date approaching on January 7, he revealed his mindset for the new year, filled with expectations and responsibilities.
"Now that I'm starting a family, I think I will feel a greater sense of responsibility. There will be more things that I have to do and want to do. I can't wait for 2023 to really begin."
His resolutions for last year were to save more and take on a sport as a hobby. So, how does he rate his 2022, after working so hard for a year? He humbly admits, "I fell short in many respects." By rounding up even the remaining energy from last year's pledges, he added two more resolutions this year to his previous goals of saving more and exercising.
"To the goals from last year, which were saving more money and playing a sport consistently, I want to add reading at least one book a month, traveling around the western United States, and buying a new car. I have many goals, don't I? (Laughing) Now that I'm getting married, there are so many things I want to do. But that just means that I have many more expectations for the future. I look forward to enjoying a year filled with fun and happiness. I want to cherish my time and create many life-long memories."
His secret to avoid failing in his many goals and challenges is to write out a checklist and place it somewhere that is easily visible. Manager Shin places his personal list of things to do in a prominent place. Setting it as the wallpaper for his phone is a must. He says it's very fulfilling to check and cross out each item whenever he achieves it. Since he is starting 2023 with one of the biggest changes of his life, it's obvious that his checklist will be overflowing with feel-good circles.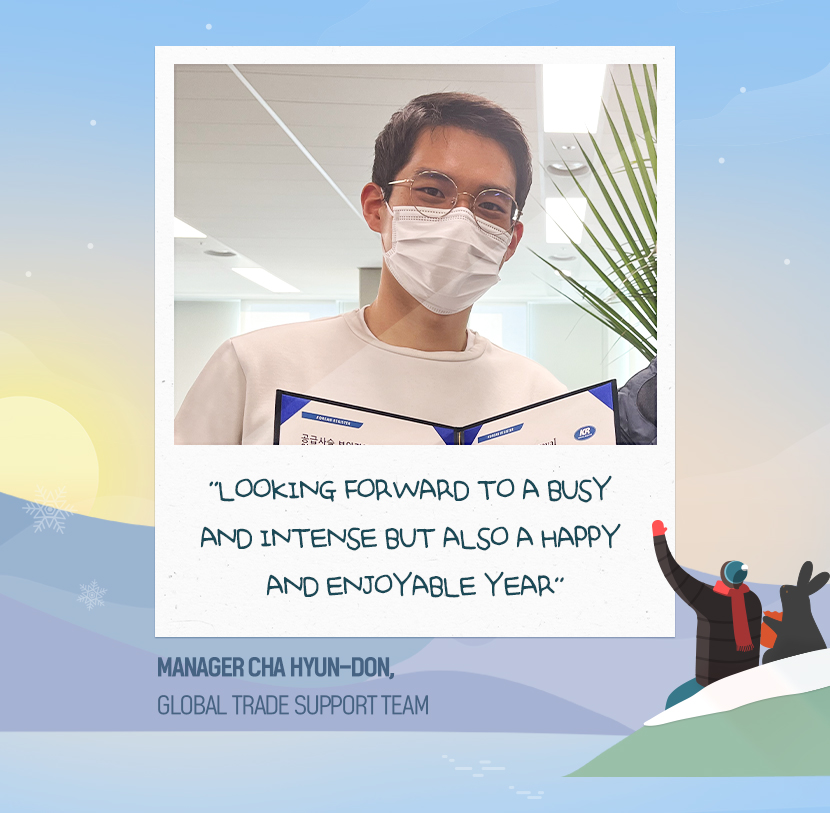 For Manager Cha Hyun-don, who considers himself a somewhat organized person, 2022 was a year he could be proud of, with his own shining moments. He fulfilled the promises he made to himself, which were to get promoted, study hard in graduate school, and exercise consistently.
"Thankfully, I managed to get promoted, and I received the grades I wanted in both semesters at the graduate school I started at last year. For my final goal of exercising, I learned to swim, which was something I always wanted to do, and went to the gym regularly. Of course, there were times when I took breaks, for which I gave myself various excuses and reasons, but I think I can safely say I achieved all my goals. (Laughs)"
Manager Cha reveals that he feels both excited and worried whenever he welcomes a new year. He feels that he starts every year with a similar mindset. But he gave us a glimpse of his singular will for 2023 when he said, "This year, I set up new goals once again, so I intend to start afresh with a new mindset."
"My first and foremost goal for 2023 is to finish graduate school. I'm supposed to continue until the first half of 2024, but I can graduate early if I meet certain conditions. So, I intend to work a little harder this year to finish my studies. Second is to take three overseas trips to different locations. We couldn't travel much due to the COVID-19 pandemic, so I want to visit at least some nearby countries this year."
Manager Cha's final new year's resolution is to exercise more frequently than he did last year. This is because with all the activities he has planned, he feels a greater need to maintain his personal health.
After setting up his plan, Manager Cha divides up his goals and sets a short-range deadline for achieving them. His belief is that you can achieve your goals in life more easily when you break them down into specific and simple forms, by the day, week, and month. But he also advises against making a schedule that is too tightly packed if you want to avoid burning out by mid-year. Despite this recommendation, it seems that 2023 will be a busy and intense year for him.
"This is the first year after my promotion, and I believe I should round off my personal goals during this year. However, I also feel that 2023 will be a special year, not only for myself but for everyone who has their own goals. Adding on to this, I hope that it will be a year that is filled with happy and enjoyable experiences."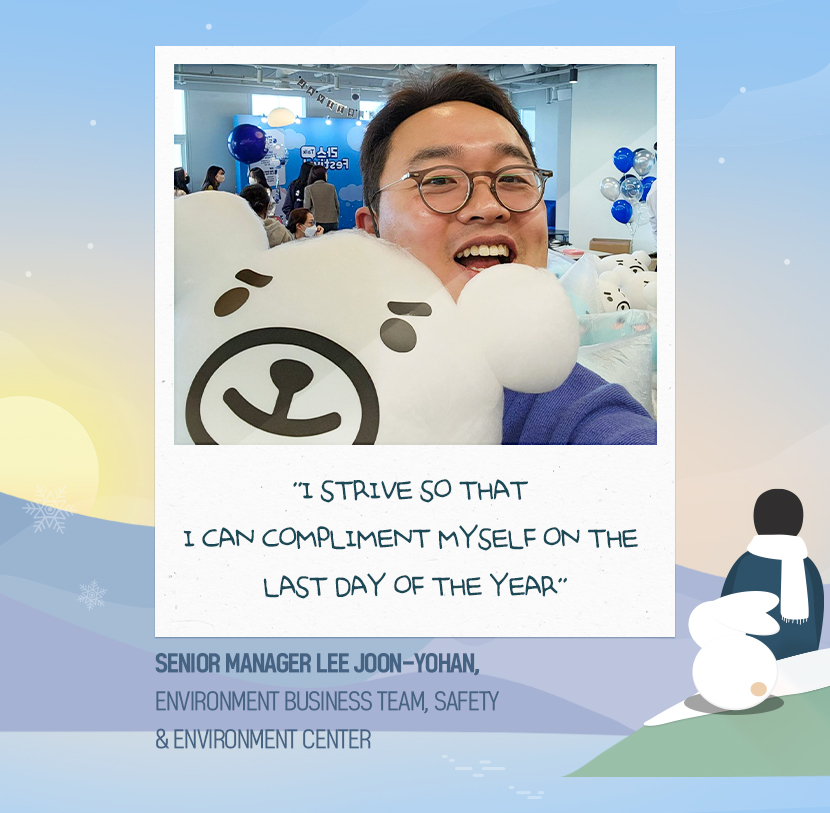 It has been just over three months since Senior Manager Lee Joon-yohan became a member of Hyundai Glovis. Rather than setting new resolutions, what he feels is important is to be grateful for having gotten through the past year without much trouble. His goal for the new year is to give his best in carrying out his tasks, and live each day diligently, so that on the last day of the year he can look back and feel grateful for the days he had.
"Last year, I didn't make any meaningful commitments, so I don't really remember the mindset I started out with. I think I always celebrated in simple ways, just being grateful to have gotten through the past year without much trouble. I always try to do my best while wondering what kind of year each one will turn out to be."
But 2023 is expected to be a different kind of a year for him. He put in a tremendous amount of effort during the last three years to get closer to the work he wanted to do, and now that this work is right in front of him, he is starting this year in a more comfortable state of mind than any other year.
"I want to enjoy doing my best here. Getting my job at Hyundai Glovis was the goal that I have continually set for myself recently, and now the time has come to finally do it. Also, since I joined the company only recently, I want to fully adapt and carry out my duties. Also, as always I also want to share happy times with my family. It has always been my wish to sit together in the evenings, with each of us reading a book. Now that my child is older, I think it might be possible for my wish to come true this year. (Laughs)."
What would make you feel on the last day of the year that it had been a great year? Senior Manager Lee picked "praising yourself."
"To succeed in our challenges, we must praise ourselves often. There are times when we need to push ourselves more, but we must never forget to praise ourselves. If our goals are the cause of our exhaustion, our daily life will be ruined. Therefore, we must praise ourselves for each baby step, and even when things don't work out, we must remain calm and not get frustrated so that we can regain the strength to carry on. There will always be more failures than successes, but in retrospect there is always something to be learned from these, and they ultimately become the foundation for success. I hope that we try to not be so quick to judge our work and ourselves negatively."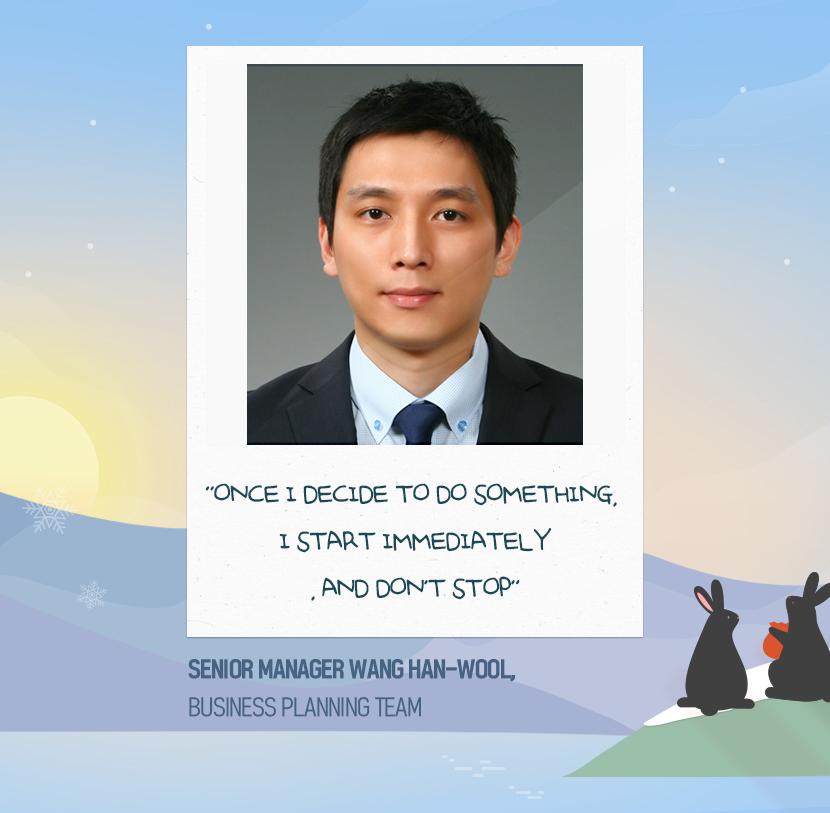 Perhaps Senior Manager Wang Han-wool's resolution for last year was the most difficult of all. It was none other than "not getting angry at his daughter." It was a parenting goal, which is never easy, but he laughed and said some good things came out of it.
"My goal was Everest, but I think I manage to climb Mount Acha at least. (Laughs)".
Expecting major changes in his organization, he is welcoming the year 2023 with anticipation and excitement, and his new year's resolution is to go to the gym regularly.
"I plan to visit the gym after work. Also, I want to restart weight training after a break of 10 years. I used to do that diligently but stopped in 2013."
Even though 2023 will not be an easy year for everyone due to the economic downturn he believes it is more necessary than ever to rekindle our internal stability in order to reverse and rebound from each difficult situation.
"I'm somewhat spontaneous. Even when I go on trips, I usually just buy a plane ticket and set off right away. Therefore, my secret to achieving goals is "never stop taking on challenges." Once I make up my mind to do something, I just do it. If you continue this way, you might not achieve all of your goals, but you will surely gain something precious."
by the Editorial Department
2023.01.09