The beautiful country of Slovakia is drawing much attention as a prime production base for electric vehicles. Hyundai Glovis began business in the country in 2005, and together with the Hyundai Motor Group's vehicle brand, has established an early foothold in the region. Given the great expectations for Slovakia's future growth, the role of the overseas Hyundai Glovis staff is becoming increasingly important. We talked with Senior Manager Ahn Sung-ho, who was appointed to Glovis Slovakia last year, about his work and daily life in the Eastern European country.

Q. Please tell us about yourself.
Hello. I'm Senior Manager Ahn Sung-ho. I joined Hyundai Glovis in 2013 and worked in the Auto Parts (KD) Quality Management Team and America Auto Parts (KD) Biz Team before starting work at Glovis Slovakia in October 2022. I was brought in to support production operations at the Slovakia Plant (KaSK) because of my previous KD work experience.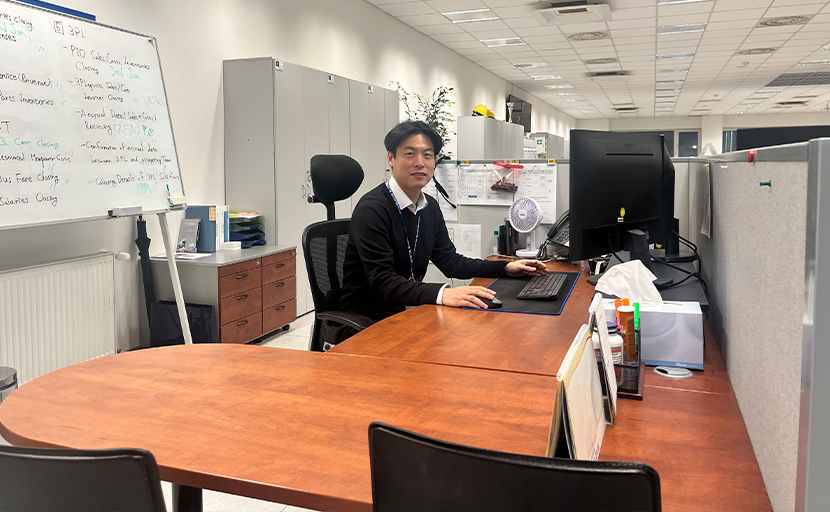 Q. Please tell us about Glovis Slovakia.
Glovis Slovakia was established in 2005 and is in charge of finished vehicle production logistics in the region. We have overcome many different issues over an extended period of time, allowing us to form a solid relationship with our clients. We are still striving to provide diverse solutions to create more value in the future.
Q. Please tell us about your KD work and the difficulties you've experienced.
I'm in charge of managing the KD schedule and any related issues, from ordering KD parts to getting them into the production line. I also have the task of modernizing each process to accommodate the supply chain, which is becoming increasingly more complex. One of the biggest challenges of doing KD work is collaborating with different people in charge at client companies to carry out improvement tasks. I try to facilitate this by carefully preparing analysis materials and manuals detailing suggested improvements and by explaining the need for process improvements to our clients.
Q. What is your typical day at work like?
As soon as I get to work, I check the delivery status of any high-priority items, and if necessary, I discuss any changes with the relevant client company. Mornings in Europe are the best time to communicate with people in Korea in real time, so if there aren't any urgent supply problems, I talk with the head office about various issues and needed improvements. In the afternoon, I talk with client companies about areas needing improvement or check any supply issues.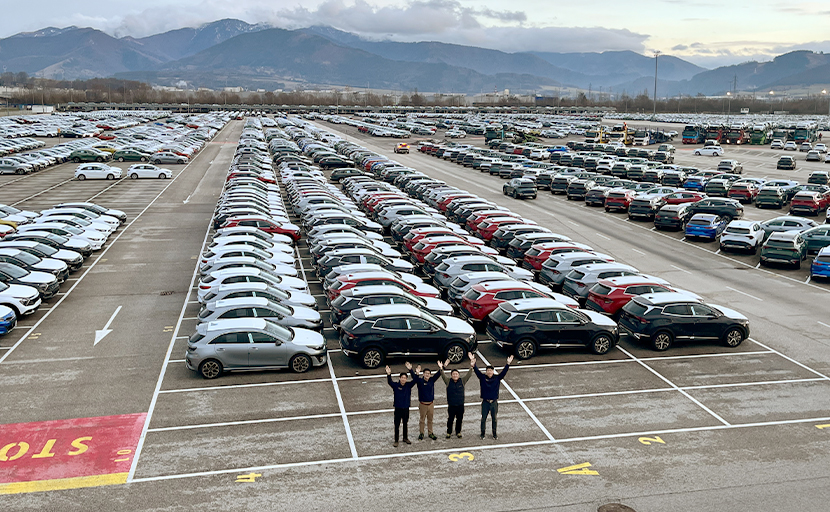 Glovis Slovakia where Senior Manager Ahn Sung-ho works
Q. What are some recent issues you've experienced at Glovis Slovakia and how are you responding to them?
One of the major issues is that production logistics are being operated with an insufficient safety stock due to the shortage of automotive semiconductors. We are working in a state of urgency in which semiconductor parts are airlifted to us daily, and they are put into the production line as soon as they arrive. I'm dealing with this situation by systematically managing and responding to schedules and plans on site. I communicate and cooperate closely with people in charge at the head office and the client companies, striving to avoid any disruptions.
Q. After being appointed overseas, has anything changed for you?
When we're solving different issues onsite together with our clients, we have to integrate the entire process without distinguishing between our clients' business area and our own. In some cases, our clients can easily handle tasks that are difficult for us, and vice versa. Through this process, I've realized that having an understanding of other people's work is just as important as having a high level of awareness of my own work. Now, when I'm looking for a solution to a problem, I try to think about the problem from a wider perspective.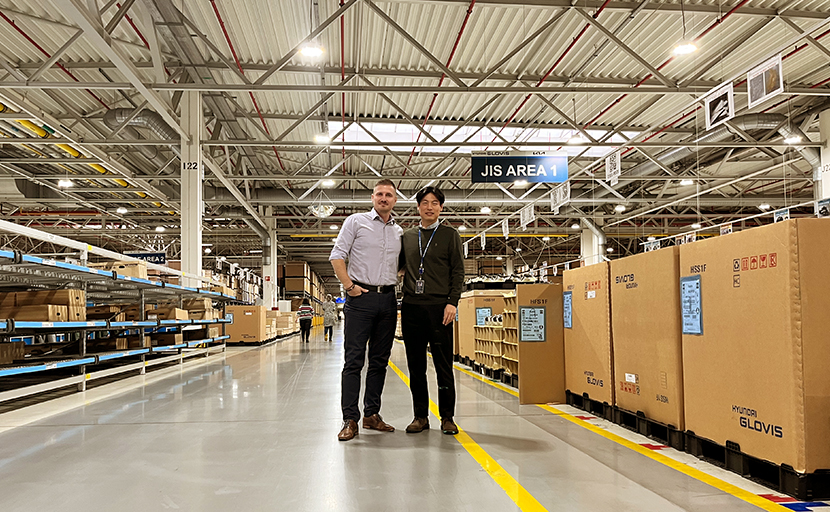 Senior Manager Ahn Sung-ho and a colleague
"I will build a solid relationship of trust with our client companies
and will use that basis of trust to solve the issues faced by Glovis Slovakia."


Q. What was your first impression of Slovakia?
The first impression I had of Slovakia is that it is a very healthy and active nation. On weekends or holidays, many people enjoy outdoor activities including all sorts of sports. Everyone, regardless of gender or age, seems exceptionally athletic. There were many times I went out to do some sports activities but ended up standing around and watching because I was so stunned by the amazing skills of the locals. In particular, I heard that there is no Slovak who cannot ski.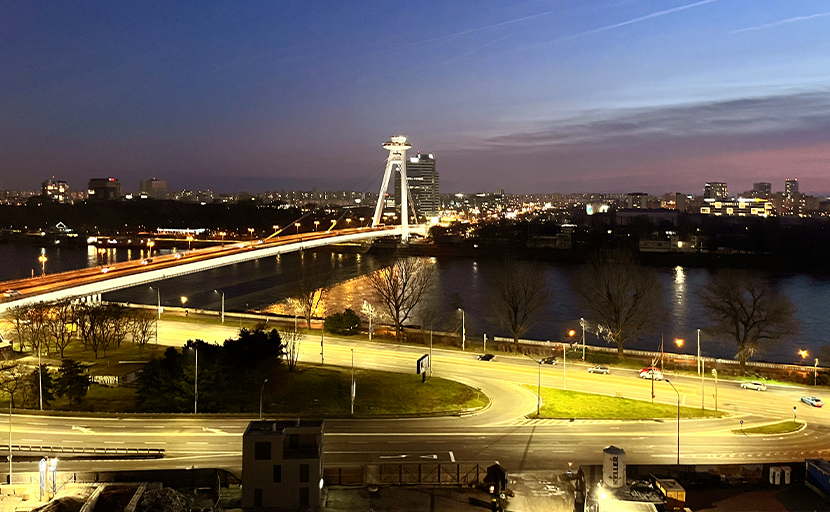 The Danube River flowing through the capital city of Bratislava
Q. What is your neighborhood like?
I live in Zilina, the center of transportation and industry in northwestern Slovakia. Located adjacent to the Tatra Mountains, it is a great location for enjoying outdoor activities such as camping, hiking, and skiing. It's so cool that you don't need to use air conditioning, even in the summer. Since many Korean companies have been operating here for a long time, there are many Korean restaurants and Korean supermarkets, which makes the area a very convenient place to live. Also, there is no racial discrimination or security issues, and I haven't experienced any difficulties living here.
Q. How did you spend the end-of-the-year holidays?
At the end of last year, I went to see the Christmas markets in various European cities. When I personally experienced my frozen body warming up and thawing with a glass of warm wine sold at the market, I could understand why so many people go to the markets every day. The markets also seem like a fun place for families since they have so many rides, such as the Ferris wheel and merry-go-round.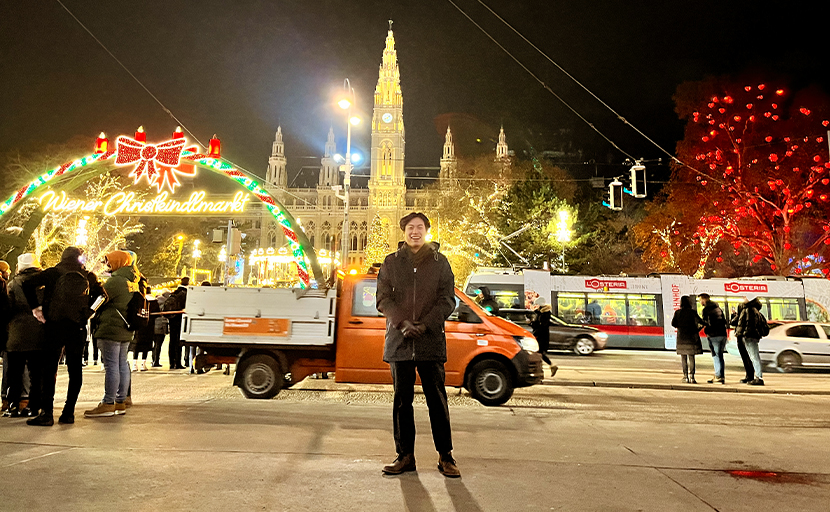 Christmas market in Vienna
Q. What places in Slovakia do you visit the most often?
I like to go to Zilina's main square, Marianske Square, to eat. It is a great place to spend time with family or friends and there are all sorts of convenience facilities and restaurants. The draft beer and steak tartare at the restaurants around this square are especially good. It's a must-try combination for anyone visiting Slovakia.
In my spare time, I often go to Mala Fatra, a national park, which is located near the city. The hiking trails are amazing and well-maintained, drawing hikers from neighboring countries every holiday. Of all the hiking trails,  I go to the Janosikov Diery the most often. The mountain trail, built over the winding valley, leads to spectacular views that never get old. Visiting the restaurants at the entrance of the hiking trail makes the whole experience even more enjoyable.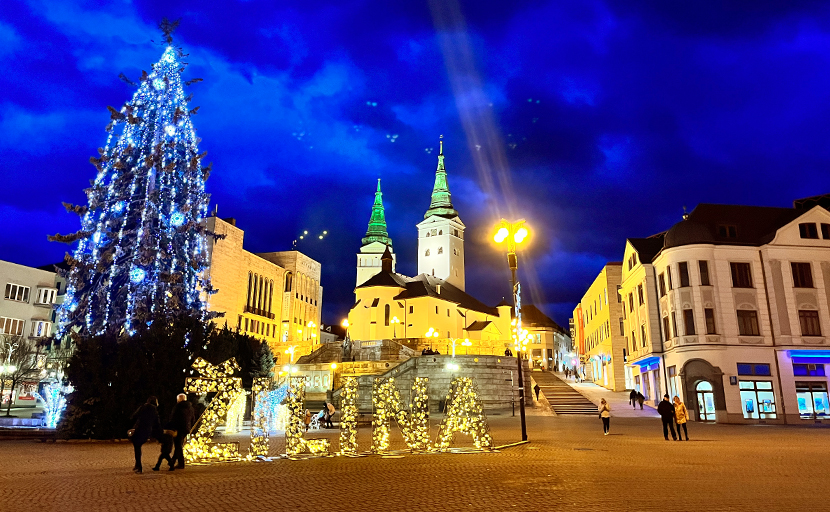 Marianske Square, where you can enjoy delicious food
Q. What are some of the major cultural differences you have noticed?
I believe driving is one of the things you need to be the most cautious about when you are overseas, including in Slovakia. The driving culture here is very different from in Korea. Pedestrians always take precedence over cars, so if you don't stop when there are people near a crosswalk or slow down in an area with a lot of pedestrians, you'll get into trouble. This might be something that many people take for granted, but since Koreans are accustomed to letting vehicles go first before crossing the street, I often see Koreans here standing at crosswalks not knowing what to do when European drivers stop their cars.
Q. What is the biggest difference between Slovakia and Korea, and how are you adjusting?
The biggest difference is, of course, the language. Although I can get by pretty well with English, I feel at a loss when unexpected situations happen, such as having to read a sign or when a restaurant does not have an English menu. Thanks to the many translation apps that have been developed, many language problems can be solved to some extent with a smartphone, but I think in the long run, I will have to start learning the local language.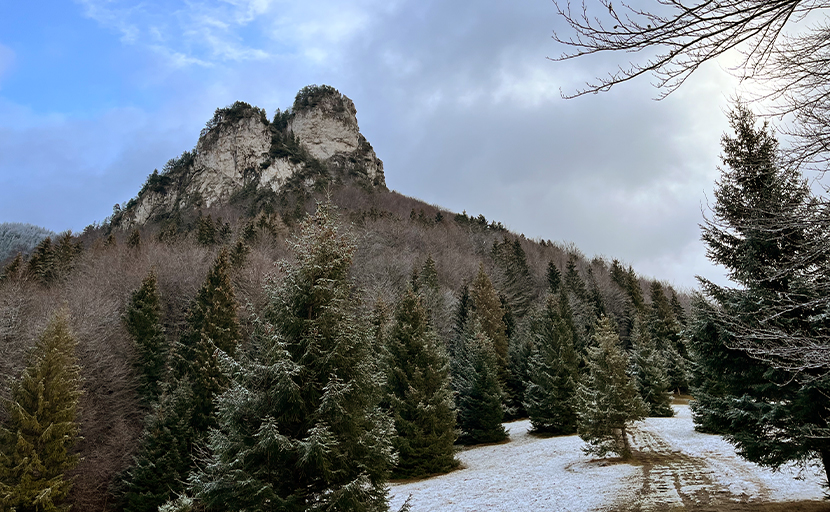 The charming, snow-covered hiking trails of Eastern Europe
Q. What is an everyday item that you absolutely recommend need to bring from Korea?
When I want to cook, it is not easy to find the same ingredients as in Korea. I try to cook with similar ingredients that I find, but there are a lot of times where the taste isn't as good. Anyone who enjoys Korean food can minimize the difference in taste if they bring Korean sauces and seasonings with them when they come.
Q. What is something you want to do before returning to Korea?
Slovakia actively hosts a lot of tennis competitions, including a tennis club league. I plan to practice hard while I'm stationed here with the goal of winning a European club competition.
"While at Glovis Slovakia, I will always do my best to represent the company and work to my fullest."

By the Editorial Department
2023.01.19