This year's newly appointed CS Builders, who will become the new faces of customer service, recently gathered together for the CS Builder kickoff meeting, held from February 16 to 23. A total of 140 CS Builders met with the goal of sharing their plans and commitment to leading CS into the future.
"Customer Satisfaction" (CS) started a new journey in 2023, with CS representatives changing their titles from CS Leaders to CS Builders. The CS Builders serve as a communication channel for customers and are known for their professionalism, personality, empathy, and intelligence. Under their new name, the CS Builders plan to provide more active and flexible customer services. The CS Builders in attendance at the "CS Builder kickoff meeting" came from a total of 11 departments that are part of the support and business divisions including the Planning & Finance Business Subdivision, Business Administration Subdivision, Future Innovation Technology Center, Trading Business Subdivision, and Shipping Business Subdivision. The meeting provided the CS Builders with the opportunity to become acquainted with one another and to share their future visions.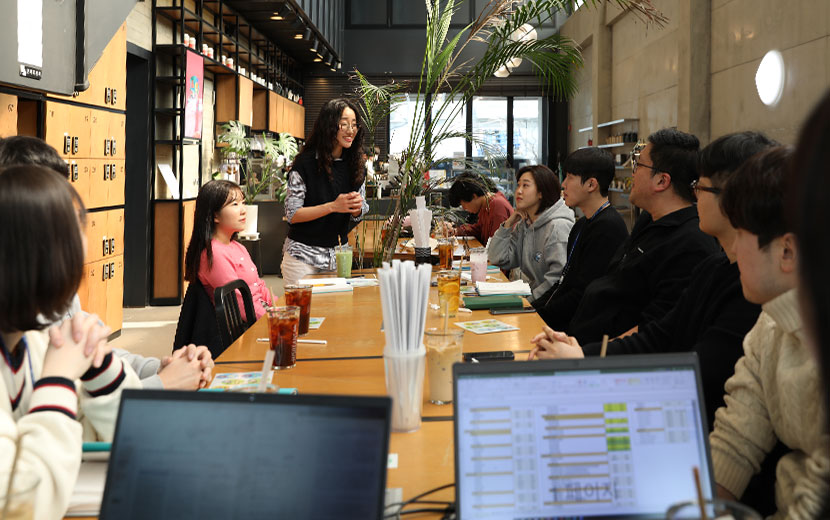 The five-day meeting started with a friendly feel as CB Builders who were already familiar with one another shared warm greetings, and other CB Builders matched names to faces. One the first day, discussions were centered on the Planning & Finance Business Subdivision, Business Administration Subdivision, and Future Innovation Technology Center. Next up, were the IR/Communications Group & Safety & Environment Center and Smart Innovation Biz Subdivision (two days), followed by the Global Biz Subdivision (two days), KD Business Division, Trading Business Subdivision, and Shipping Business Subdivision.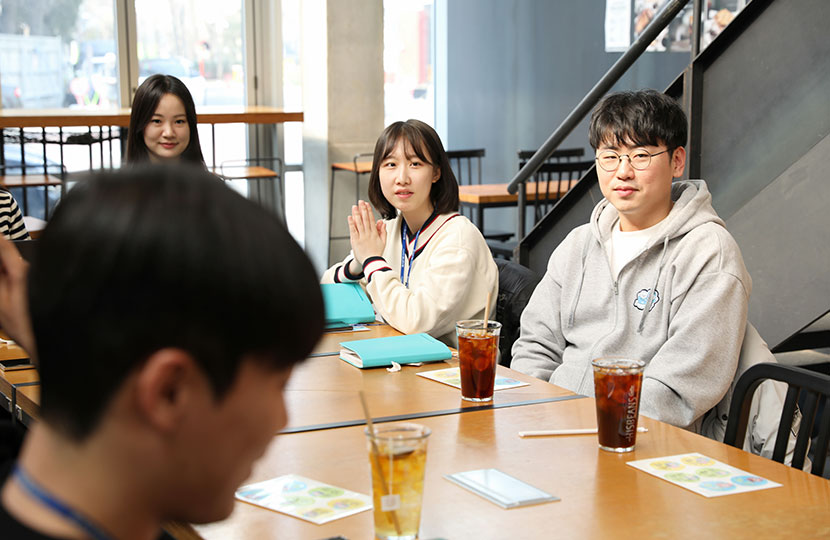 As colleagues who were all in the same "CS boat," many of the CS Builders said that they felt glad and reassured to be able to meet CS Builders from other teams and to share their visions for the year. Above all, the participants said that they were able to better understand the changes to their CS role that came with the name change from CS Leaders to CS Builders.
Meeting overview from the CS Builders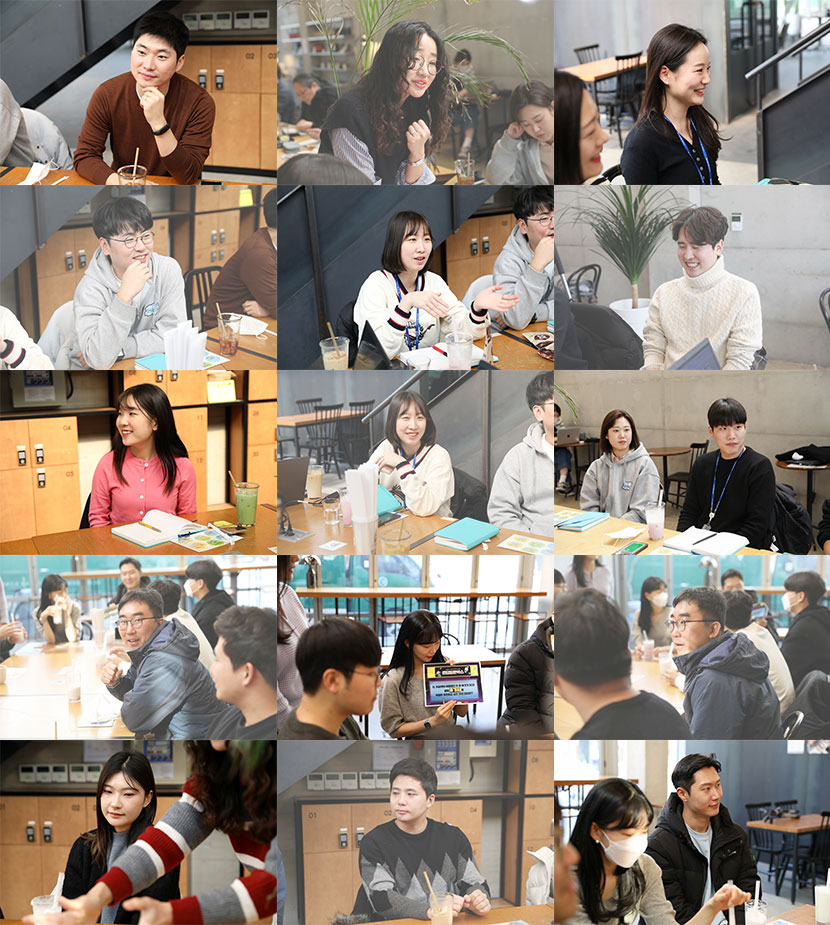 The CS Builder kickoff meeting provided an opportunity for us to find out about the past, present, and future of CS. We were able to reflect on our activities and achievements by sharing past customer service scores. It provided strong motivation for our future CS activities. Thanks to the diverse programs included as part of the meeting, I was able to create a stronger bond with other CS Builders and gain a real sense of belonging. The meeting was beneficial because it helped me to gain a sense of the types of campaigns I would be promoting as I transition from a CS Leader to a CS Builder.

After nearly 10 years, the title of CS Leader is being changed to CS Builder starting from this year. In keeping with the significance of the word "builder," I plan to make 2023 the year for laying the foundations that will strengthen customer satisfaction within our team. Rather than make grand plans, I intend to focus on the basics. I will start by steadily communicating with our team members about the CS capabilities that we are lacking as a team and how to improve them.

I'm very happy to meet the CS Builders who are representing each team at this meeting. I hope communications with other CS Builders will improve both our work and our relationships with one another, bringing out the best in all of our respective positions. I am sure we will become even closer as we try to encourage and understand each other's work and difficulties. Let's go, CS Builders!

First of all, it was nice to attend an in-person activity, since it's been awhile. Since this meeting took place outside the company, it was so very nice to get out of the office (laughs). But if we had simply sat around, taking turns to speak, I would have wondered if this event was worth it. But as we played fun games, we had the opportunity to share lots of stories in a free and comfortable atmosphere.

This meeting helped me realize once again the importance of CS and the significance of the CS Builder role. I hope that the 140 CS Builders entrusted with this important role will gather their strengths and work together to achieve high-quality CS (laughs).

It's only been a year since I joined Hyundai Glovis. Each day of the past year passed quickly as I tried to adapt to the company and learn new tasks. There were relatively few opportunities for me to interact with other departments, so this CS Builders meeting was especially meaningful to me. I gained a better understanding of our company while talking with people from other departments that I was curious about. I realized that the roles and goals of the CS Builders differs by business division, and that everything starts with having a good understanding of each division, its teams, and its goals.

The friendly atmosphere that we had during teatime, organized by business subdivision, helped us focus on the conversations that were being had. I was able to gain a better understanding of the CS Builder activities, which I was not exactly aware of before. The meeting was beneficial in many ways and especially because I was able to get acquainted with the CS Builders from the business subdivision who I will be working with in the future. Thank you for providing us with this great opportunity!

With the outbreak of the COVID-19 pandemic, it was difficult to meet with people one-on-one despite being colleagues in the same business subdivision, so it was really nice to talk with everyone face-to-face through this meeting. I became closer with as many as eight other CS Builders while talking with them in person, and I also felt a heavy sense of responsibility in terms of my role as a CS Builder. This year, I will work hard as I join forces with others to further improve customer satisfaction for the KD Business Division!

At the meeting, we talked about some memorable CS activities from the past year, but I couldn't think of any. So, I did a lot of self-reflection. This year, I will work hard to make all the activities we do very eventful. Since KD's customers are ultimately Hyundai/Kia overseas vehicle factories, I will try my best, as a member of the Auto Parts (KD) Supply Management Team, to ensure that there are no disruptions in the supply of auto parts. I also plan to promote more consistent supply management by enhancing partner systems and KD systems. This year, I'm going to be a little selfish and will press on with the goal of winning the CS Award for our team!

The meeting was structured with programs that prompted us not only to share our thoughts and plans about work but also allowed us to become friends with other CS Builders, making this event much more enjoyable than I expected. I think it was a stroke of genius to break the ice by starting out with random questions. Although we may work in the same division or department, if we don't frequently communicate about our work, we really don't have a chance to get to know each other. So, it felt awkward even when we happened to run into each other. This meeting provided a great opportunity for us CS Builders to directly interact with each other.

This is my first time being the CS Builder for my team. I will fulfill my role to the best of my ability as a CS Builder. I will also actively listen to what customers at each auction center are saying about our products and services, and will work hard to ensure the satisfaction of all customers for the Autobell Auction Business Team at the Autobell Auction Center. Please support us!

This was the first gathering I attended as a CS Builder. It was an opportunity for me to think about the CS activities I could carry out and take a greater interest in my role. I would like to continue to participate in other CS gatherings in the future and continue to communicate with the CS Builders in my group. I would also like to hear my name at this year's CS Awards.😀
By the Editorial Department
2023.03.07