Hyundai Glovis has always prioritized customer values and earning and keeping the trust of its customers. Now, the company has gone a step further by selecting a new CS slogan to promote its efforts toward enhancing customer satisfaction. In March, the company held its first CS campaign in three years, not only recognizing the best-mannered managers at Hyundai Glovis but also ushering in a new era of customer service.
Customer Voice, Listen Up! Customer Trust, Build Up!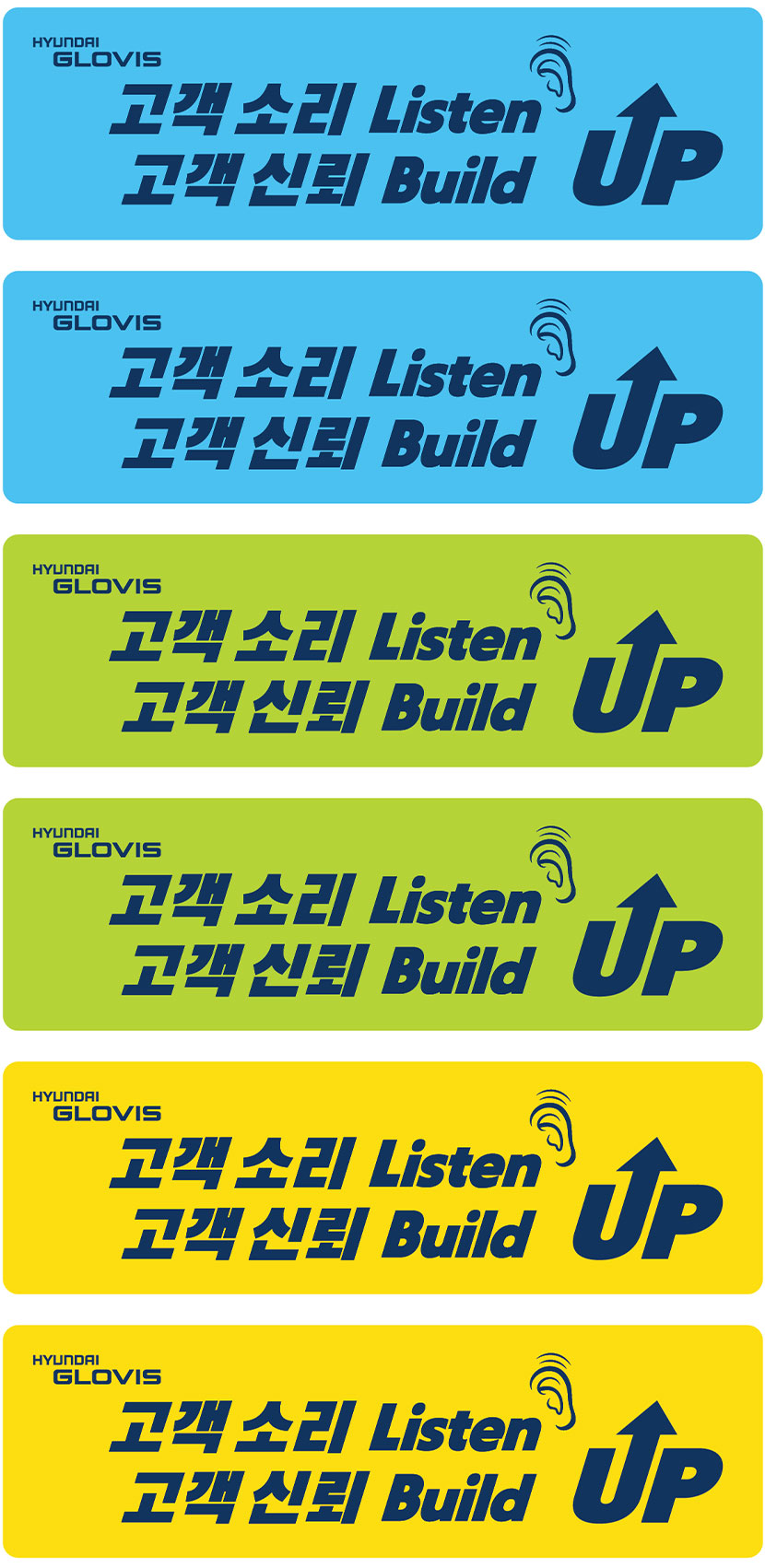 In his New Year's address, Chairman Chung Eui-sun of the Hyundai Motor Group said, "We must take on challenges based on trust and create even greater trust as a result." He also spoke of building customer trust, social trust, and trust in oneself and one's colleagues. Hyundai Glovis's CS slogan, which is changing for the first time in 11 years, is based on such trust.
The new slogan "Customer Voice, Listen Up! Customer Trust, Build Up!" expresses the company's vision of building trust with customers, society, oneself, and one's fellow colleagues by listening attentively to their voices. By identifying the roots of problems experienced by customers and understanding, in detail, the many different aspects of customer needs and demands, Hyundai Glovis aims to go beyond simply ensuring customer satisfaction to building long-term relationships of trust. The new slogan, which emphasizes listening to even the smallest of customer voices, reflects the company's sincere desire to go back to the basics of customer service. At its core, the slogan conveys Hyundai Glovis's commitment and aspiration to provide services with the highest level of quality and safety.
A new CS slogan, a new CS era
Hyundai Glovis has numerous long-time customers. In keeping with the former slogan "Hyundai Glovis, Together With Customers," the company has built relationships with most of its customers that go beyond simple business partnerships. The new slogan, "Customer Voice, Listen Up! Customer Trust, Build Up!," emphasizes the old principle of putting the "customer first" while at the same time "understanding customer needs" and "strengthening customer relationships" in order to meet the rising expectations of all parties involved.
The new slogan conveys Hyundai Glovis's determination to build even stronger relationships of trust by qualitatively improving customer satisfaction and listening even more attentively to domestic and international customers. Under this new CS campaign, we can expect that Hyundai Glovis will continue its partnerships with an even more mature and heartfelt mindset.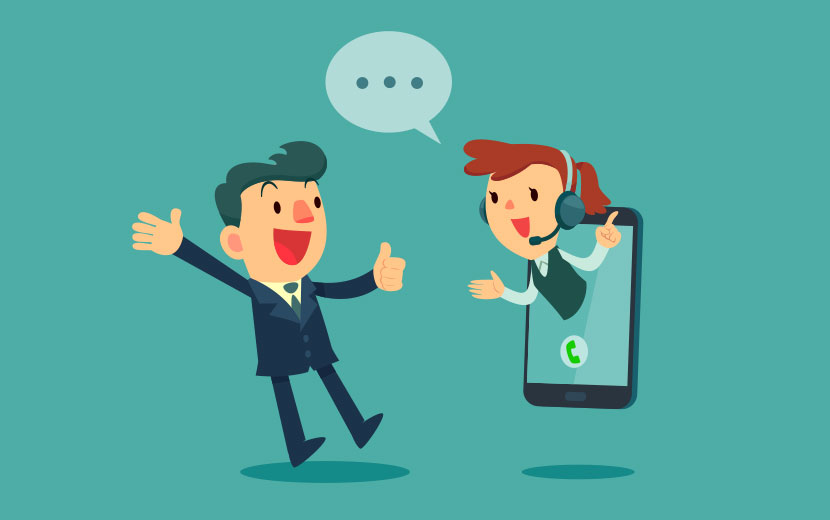 The best-mannered managers at Hyundai Glovis
The revamped CS slogan isn't the only new thing at Hyundai Glovis this spring. The company also renewed its CS campaign, which has been carried out in connection with customer satisfaction policies, for the promotion of core "customer first" values. Activities conducted over the last three years as part of the campaign's initial rollout focused on sparking the interest of employees and encouraging their voluntary participation. The 2023 CS campaign aims to connect campaign activities with the actual jobs performed by staff to reinforce corporate competitiveness in a practical way.
The new CS campaign has three main themes: "Manner Up," which focuses on business manners to improve customers' first impression of Hyundai Glovis; "Cheer Up," which encourages and supports staff members, who work 24 hours a day, 365 days a year, to keep doing their best to respond to customer needs; and "Level Up," which promotes the idea of examining the present and preparing for the future.
This year's campaign will feature three types of activities: "participatory" activities that are based on ideas submitted by staff members; "exploratory" activities that allow employees to share their skills; and "learning" activities during which staff receive the latest information from qualified professionals. Together, these different activities form an organic structure that creates a type of mutually beneficial synergy.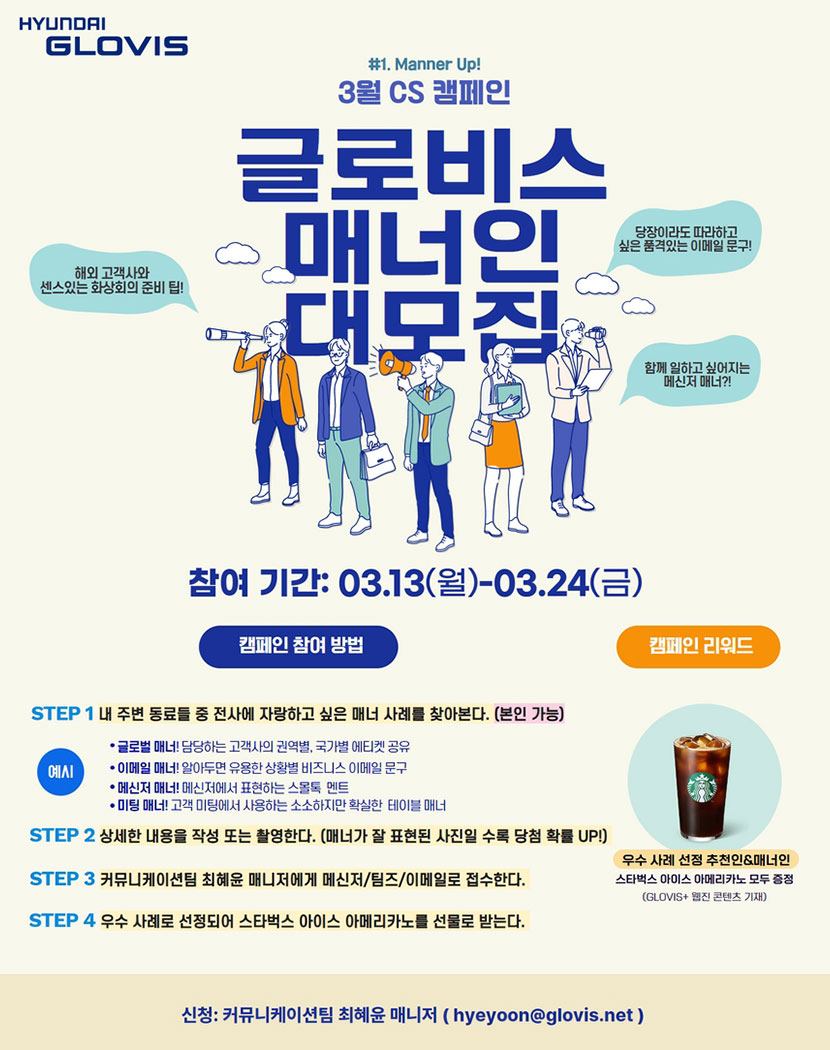 In March, the 2023 CS campaign officially kicked off with a competition, which falls under the wider theme of "Manner Up." As part of the competition, staff members were asked to recommend colleagues who they thought had "world-class manners." Being selected by your coworkers for excellent manners is certainly something special that should be celebrated and can serve as an example for others. Let's meet the Hyundai Glovis managers who were recognized as part of the 2023 campaign as having the "best manners" and hear what they have to say.

Accurate information sharing is crucial to ensuring that there is no confusion in the workplace. In this regard, senior manager Lee Hyun-ju, who is stationed at Glovis Chennai office, is someone can count on. He provides accurate and concise communications about the issues at hand. He even helps clients identify and prepare for anticipated issues, which is why he was selected as a "best-mannered manager".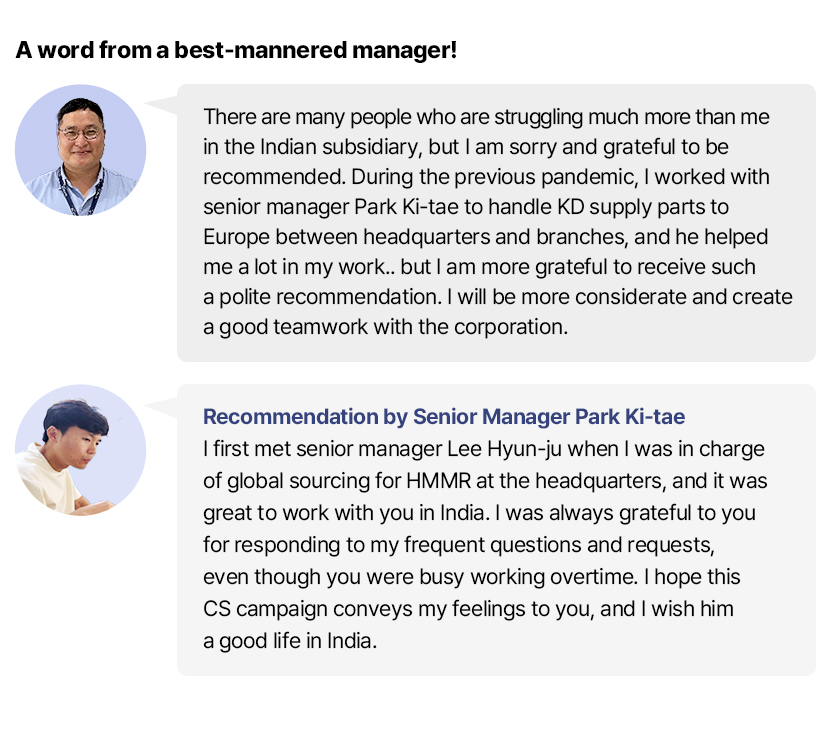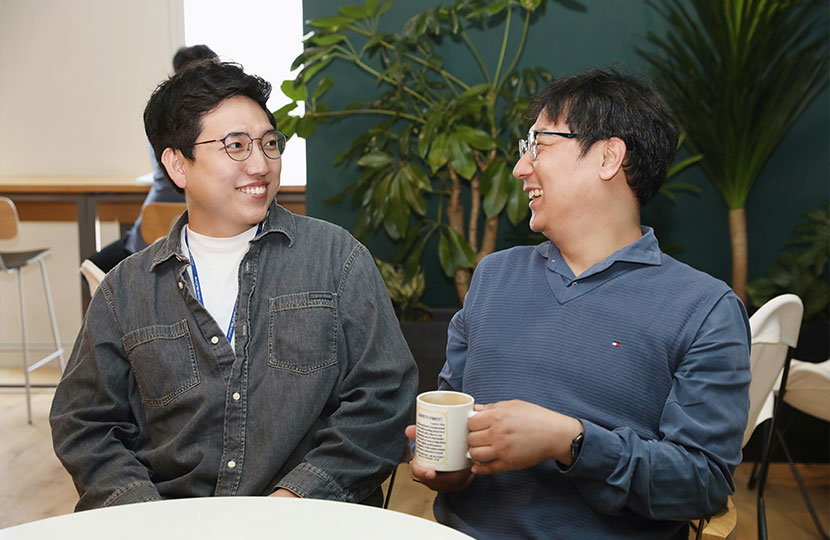 Senior Manager Shin Seok-won's good manners are apparent even in his text messages, which can be easily overlooked. He is known for showing interest in the other person's well-being and always asking about it at the beginning and end of every text conversation. He also asks what you did the day before and about the weather. Even in his emails, he takes a real interest in whoever he is conversing with, warming the hearts of his email recipients. Known not only for his manners but also his CS mindset, Senior Manager Shin is the lone team leader who was recognized for being best-mannered.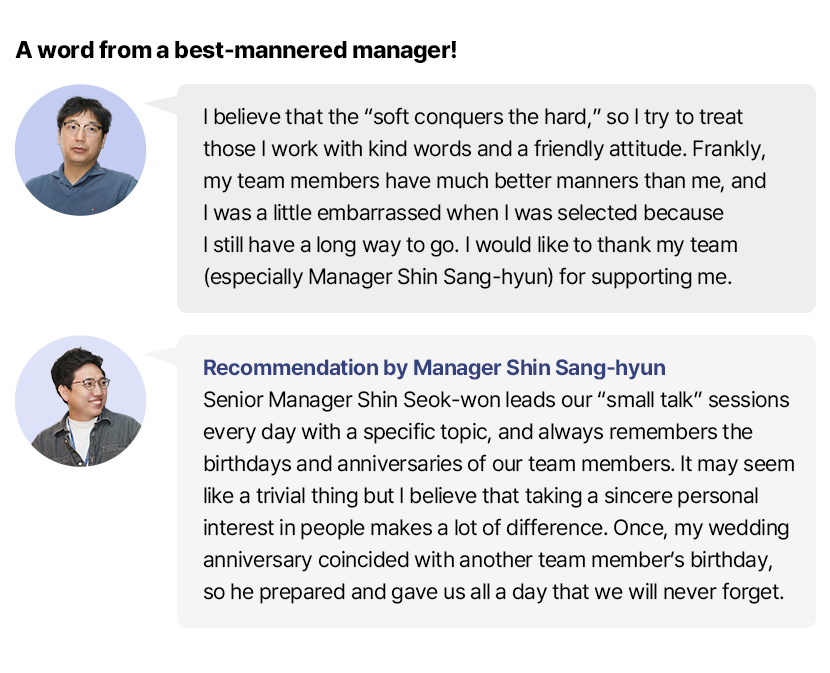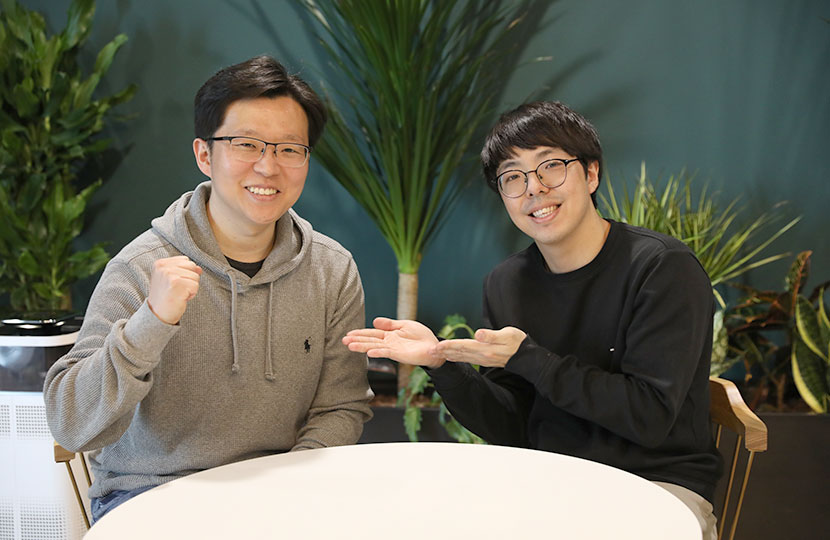 There is a saying that goes, "A single word pays off a thousand debts." Anyone who receives an email from Senior Manager Na Mun-seok requesting help with work always feels more than happy to help. This is because of Senior Manager Na's carefully selected words and the politeness that is ingrained into every line of text. He was selected as a "best-mannered manager" due to his courteous manners and emails that always show respect for the other person.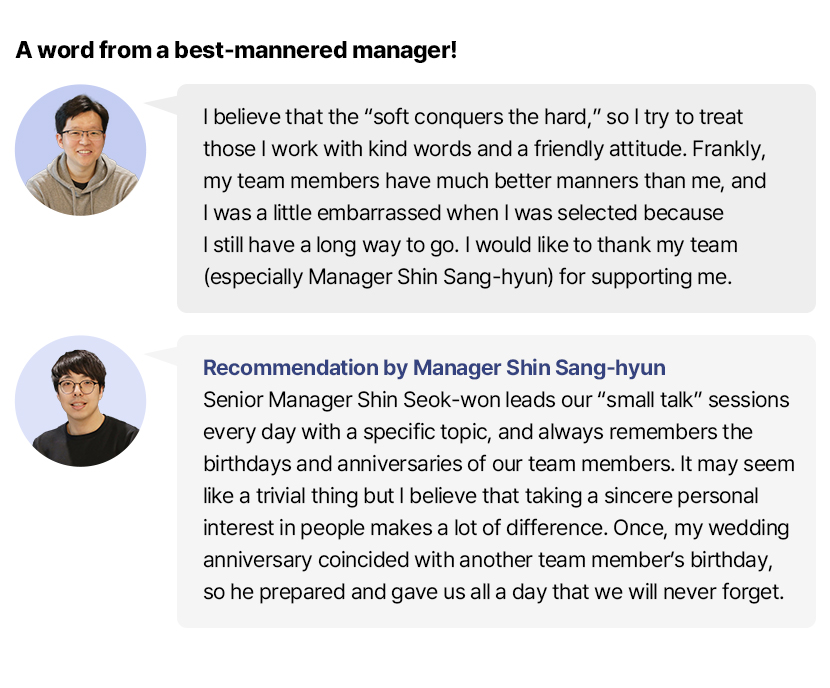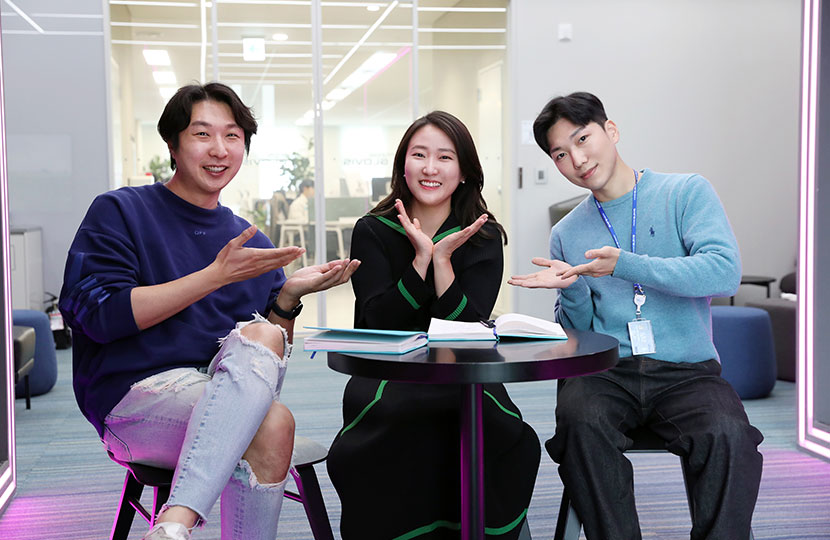 Senior Manager Park Ji-hyun's messages always start with a cute photograph or emoji. Her messages are so warm and kind that even people who are typically very cautious about working relationships have no choice but to let down their guard. It goes without saying that her communications are always very meticulous and detailed. The colleagues who recommended her said, "Whenever a new staff member or rookie joins our team, she not only takes care to explain their job to them in detail, but spares no effort in praising and encouraging them so they can work in harmony with the rest of the team." Senior Manager Park's team members gave her a "thumbs up" for her friendliness and generous heart.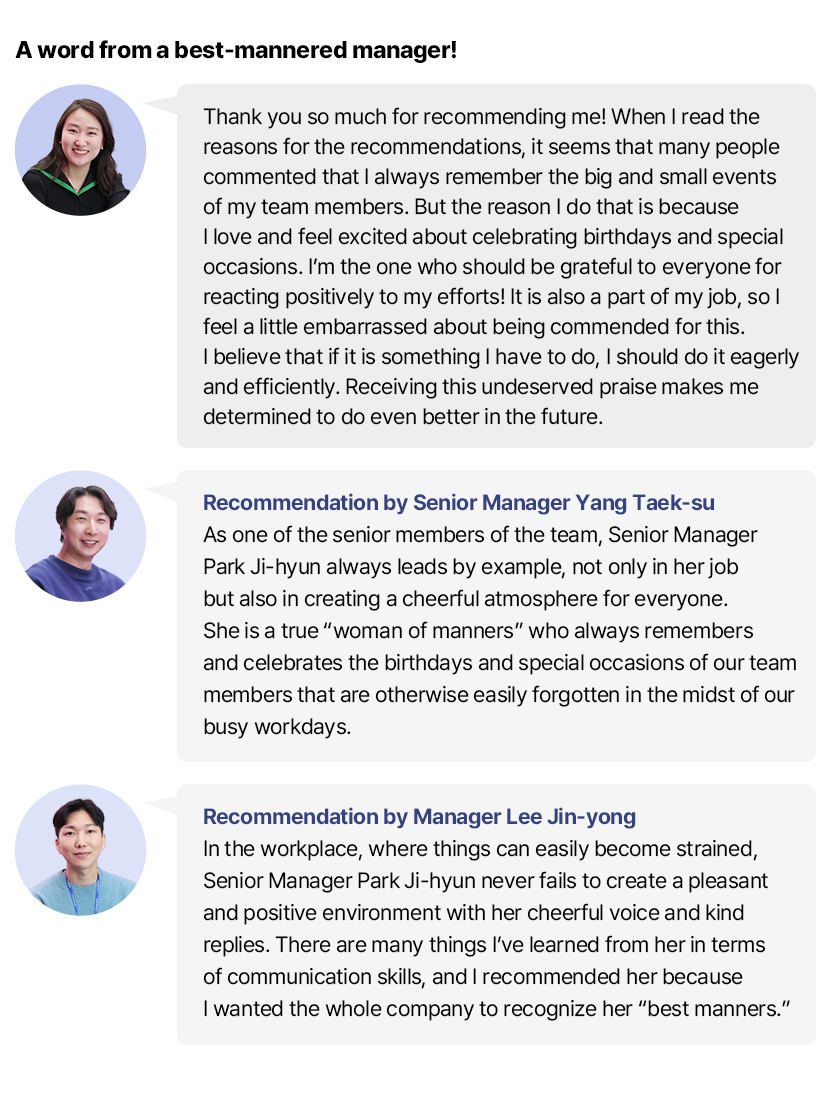 No matter who the email recipient is, Senior Manager Choi Young-jin's emails always begin with a word of thanks. His words make you feel good because you sense your hard work is being recognized. To a hard-working person, there is no greater form of encouragement. The reason his words don't feel empty is because he often shows his heartfelt empathy and sees things from the other person's point of view. There was even a time when Senior Manager Choi's sincere email averted some additional costs from being incurred. This shows how empathy and courteous communication can lead to benefits for the company.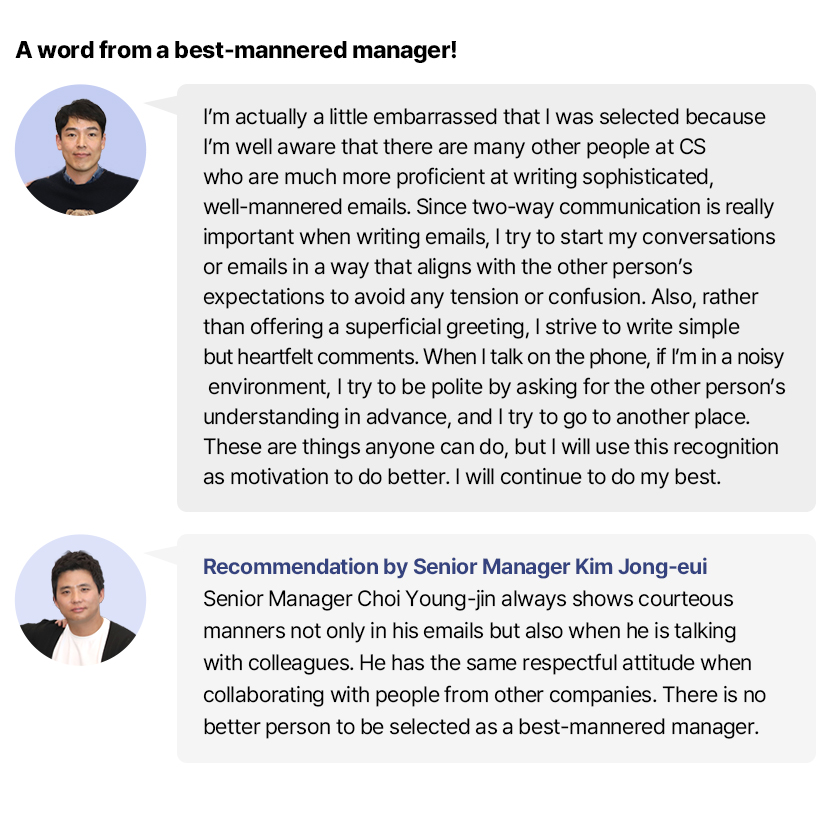 By the Editorial Department
2023.04.04