An upgrade of the Efficient Shipping Process Automation System (ESPA) for the continued growth and competitiveness of Hyundai Glovis's shipping business has been recently completed. Following the upgrade, designed to enhance user convenience, shipping staff can now expect improved work efficiency. The key players involved in the upgrade described the process of constructing the ESPA and the changes that have been made to it.

In order to secure sustainable growth and future competitiveness in the shipping business, Hyundai Glovis has upgraded its ESPA, optimizing the system in response to changes in the business environment. Key enhancements made to the system include the modularization of bulk and car carrier operations, personalized folder organization (app store), and the creation of an intuitive user interface to enhance system flexibility and scalability. In particular, improvements were made to facilitate the analysis of profits, create performance reports, and check the status of long-term contracts, enabling quick and accurate performance analyses and improved sales performance estimations. Furthermore, through the integration of the Oracle and Sybase databases into the Tibero cloud environment, the upgraded ESPA system helps reduce management efforts and increase operational efficiency.
There are two major expected benefits from the system upgrade. First, data reliability and usability were enhanced as users can now obtain real-time, objective performance information related to cargo volume, sales, and profitability. Second, the system upgrade strengthened the connection between system tasks, eliminating any omission of tasks, improving productivity, and enabling the standardization and internalization of tasks. Needless to say, the upgrade served as an opportunity to define and organize work processes. Approximately 70 individuals from the Business Strategy Teams, Shipping Business Group, Bulk Carrier Division, IT Initiatives Group, and key personnel from other departments, including Hyundai AutoEver, participated in the project. Originally launched in March 2022, the system was stabilized this May, resulting in the improved system available to users today.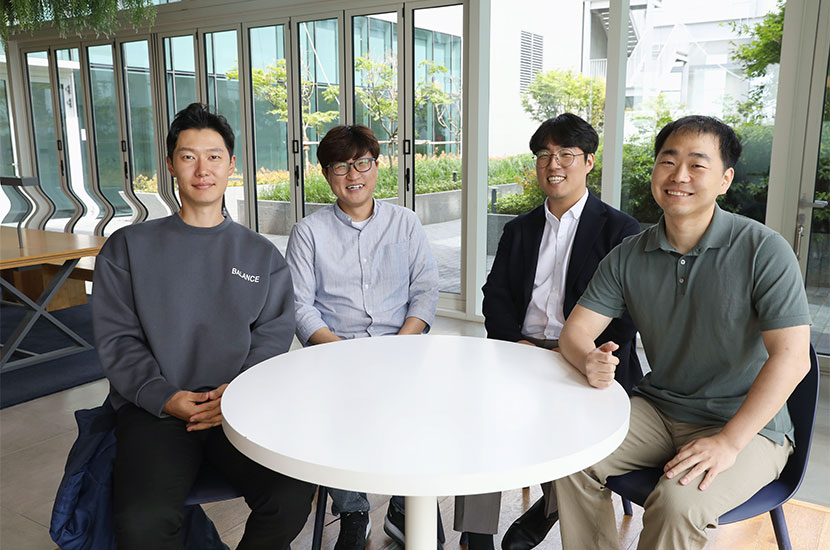 Senior Managers Kim Bo-yeon and Lee In-ki of the Shipping Business Strategy Team, Senior Manager Kim Yoon-sik of the Enterprise Solution Team, and Senior Manager Lee Sung-ho of the PCTC Marketing Team, all of whom were actively involved in the Efficient Shipping Process TFT, shared their thoughts on the purpose, content, and progress of the system upgrade. The members of the upgrade team worked together under the common goal of improving user convenience in the long term and expressed their hope that all employees would freely utilize the new system to improve their overall work efficiency.
Q. The project can be described as a large-scale upgrade since it involved 451 business requirements across five business areas. What was the purpose of the project?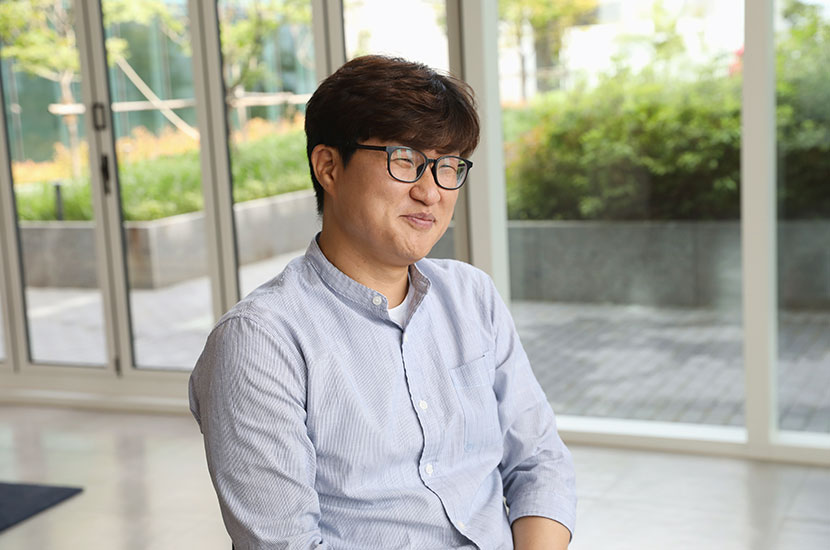 The system had become more complex due to the numerous screens that had been generated over time due to the expanding shipping business and requests from multiple departments not to mention the many unused screens that had been created to solve short-term problems. In order to address this, we completely overhauled the system to secure flexibility and agility for the scaling of our business operations. We were able to implement this overhaul by structurally implementing different business models through the modularization of our shipping business (car carriers, bulk carriers). We also implemented web-based standardization using HTML5 to respond to changes in the business environment, and enhanced the stability of our IT operations.
Q. What did you focus on when improving the system?

As a result, the entire system is composed of: an ESPA that supports sales, documentation, operation, and settlement tasks for our car carrier and bulk carrier businesses; an ESPA Portal for conducting business with shippers and agents; and ESPA Monitoring for monitoring ships and comprehensively checking different operational statuses.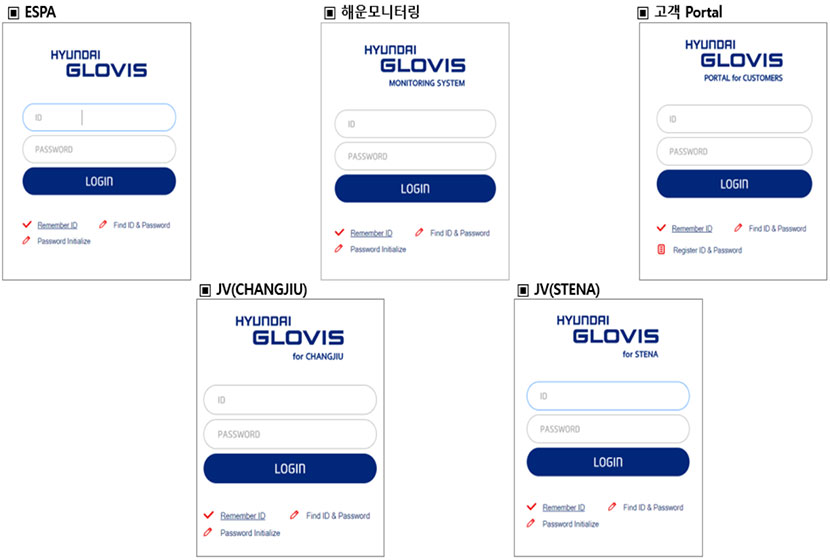 Q. The system upgrade is expected to improve work efficiency all around. What areas did you focus on the most to enhance user convenience?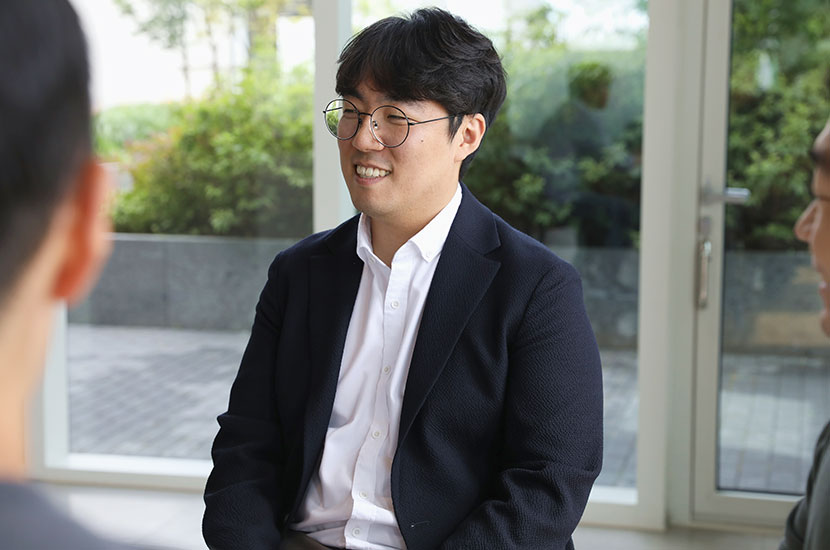 We put a lot of thought into the layout of the management screen (planning vs. performance). I believe that important reference points should be placed on the screen in such a way that it is convenient for users who have to input data, so that they don't need to navigate through different screens or redo their work. By simply arranging them side by side, we were even able to clarify subtle differences in terminologies that had previously been understood differently.

We also focused on enhancing the speed of the system. We've been checking work performance before and after the launch of the system, monitoring speed on a per-screen basis, and checking infrastructure use (web, DB). We continually addressed speed-related requests from ITSM (IT Service Management) to make improvements and give feedback.
Q. What parts of the upgrade, such as key screens, are designed to enhance user convenience?

The analysis item code screen is a major example of something we've created to enhance user experience. This newly screen is designed to connect sales management (CB) and settlement (account codes for accounting) criteria with a single code. In anticipation of future demands for advanced sales and cost analyses, we've enabled the setting of management accounting levels in the system to prevent ad-hoc development. Personally, I feel that it would be best for any user who is new to performance analysis to use this screen as a type of checklist.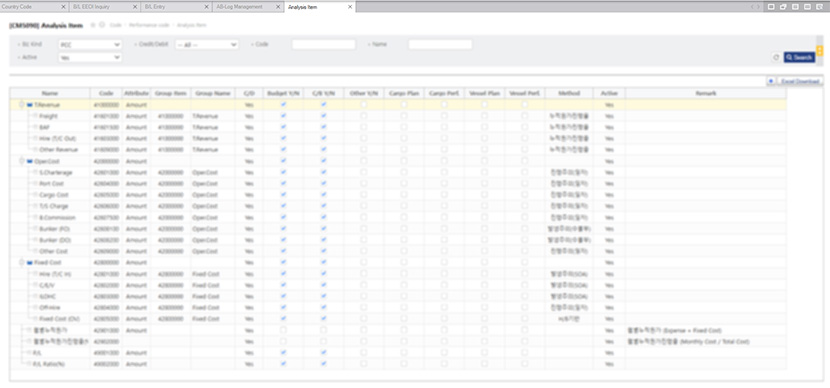 The PCC Performance Dashboard allows business plans to be registered for performance comparison.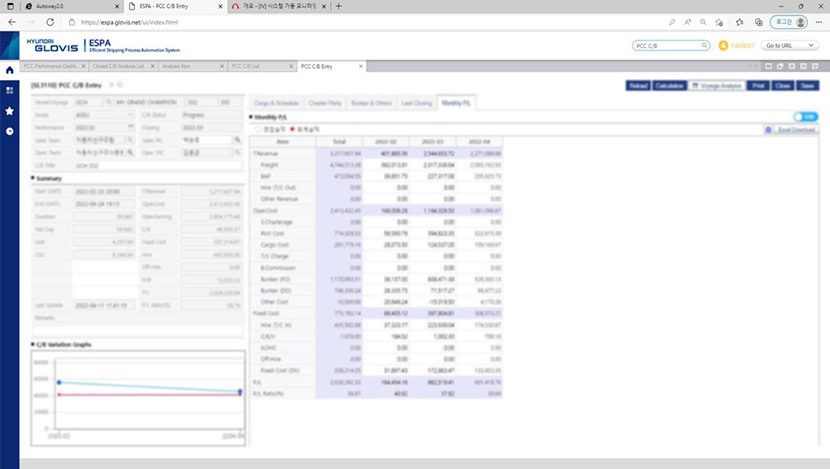 With PCCC C/B Entry, it is possible to intuitively compare sales and accounting performance.
Q. Can you explain the system's key technologies in simple terms?

We were able to reduce management efforts and increase operational efficiency by consolidating the previously disconnected databases into a single database management system. We also migrated our server environment to the Hyundai Motor Group cloud and used integrated, solution-based data to reduce our dependency on outside providers, enabling us to handle issues internally, which resulted in cost savings. Also, by constructing prototypes during the design and development stages, we performed pre-verification of key system functions and enhanced the productivity of program development.
Q. It looks like you were able to secure flexibility by responding promptly to diverse business needs.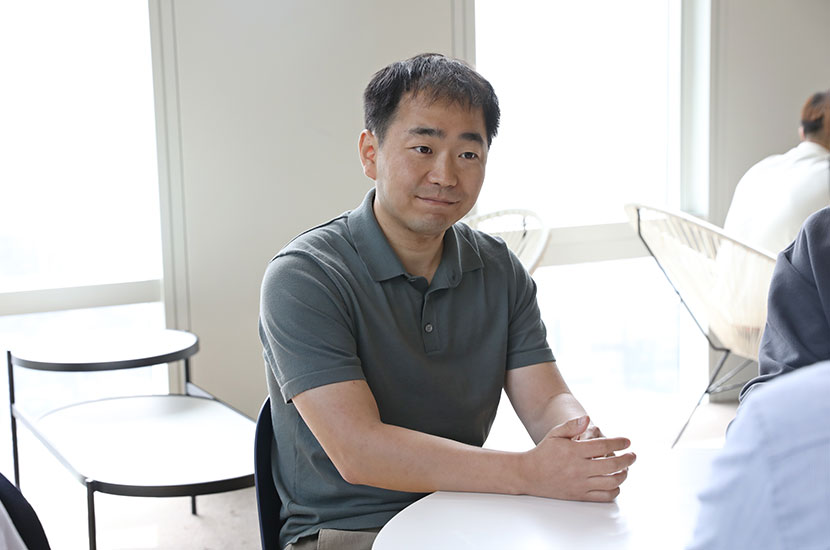 The existing shipping operation system was originally designed for our PCTC and bulk carrier businesses. However, the Project Business Team (now the Project Logistics Solution Team) underwent an unexpected organizational change and was transferred to the Shipping Business Subdivision. This required a system change from the former Globe system to the ESPA. Since this change was not reflected in the 2023 IT investment plan, we did not initially have the organizational support and budget for the project.
First, we set realistic goals to ensure that we could complete the project in a timely manner. Our goal was to minimize any burdens and spend the least amount of time and money possible on connecting the company's logistics to the ESPA. After we set our goals, managers in the field met with the IT team and actively engaged in efficient communications to move the project forward. Once the initial development of the system was completed, personnel from out in the field quickly provided their feedback, so that we could almost simultaneously address issues in real-time, reducing lead time. Lastly, we reduced development efforts by utilizing existing features for the ESPA as much as possible.
Thanks to the dedication and efforts of the field staff and our IT personnel, as well as support from related team leaders and team members, we were able to incorporate the tasks of the Project Logistics Solution Team into the system without any significant delays.
Q. You gathered feedback from staff out in the field to improve the system. What kind of feedback did you receive?

We carried out an internal VoC in July 2022, three months after the launch of the ESPA. A little more than half of the employees expressed satisfaction with the system. We humbly received the results and, following discussions with the IT team, we made a separate, six-month improvement plan to continue developing the system. Ultimately, we were able to enhance the system in a short amount of time so that it met onsite requirements thanks to the tremendous support and encouragement of everyone. I believe that setting up a liaison between the field and IT department played a significant role in our ability to increase task efficiency.
The PCC Cargo Define Plan enables seamless management of a variety of tasks, from volume planning to ship scheduling and C/B generation.
Q. What aspects of the project were the most difficult to handle?

While independently researching system requirements and searching for partners to develop the shipping system, we realized that there weren't many experienced partners in the shipping industry. We personally met with prospective partners and shared our requirements, reviewed past development and performance history, obtained proposals, and ultimately made a final selection. We believe this process was very significant.
Q. Are there any remaining tasks left for the ESPA's future development?

The current ESPA system can be considered to be version 1.0. The system needs to be continuously maintained and improved. Similar to how a portal site continuously listens to customer feedback and incorporates this feedback into system updates, we need to listen to the voice of our customers and continually enhance the system so that it better aligns with the system's purpose and the company's objectives. In that sense, immediately reflecting customer feedback through the mobile web or app development is very important. The system should be used to connect mobile conversations and online contract systems, and in the future, contracts should be negotiated and executed online as well. I believe that the system should enable work and be capable of accommodating customer needs, anytime and anywhere.

Recently, the tightening of environmental regulations in the shipping industry has made carbon emissions a major concern. Monitoring the fuel efficiency of vessels has become crucial for improving operational efficiency, and new requirements on carbon emission performance are being introduced. Considering that the purpose of ESPA development is to adapt to future changes in the shipping business, we plan to continue pursuing follow-up projects for ESG management support.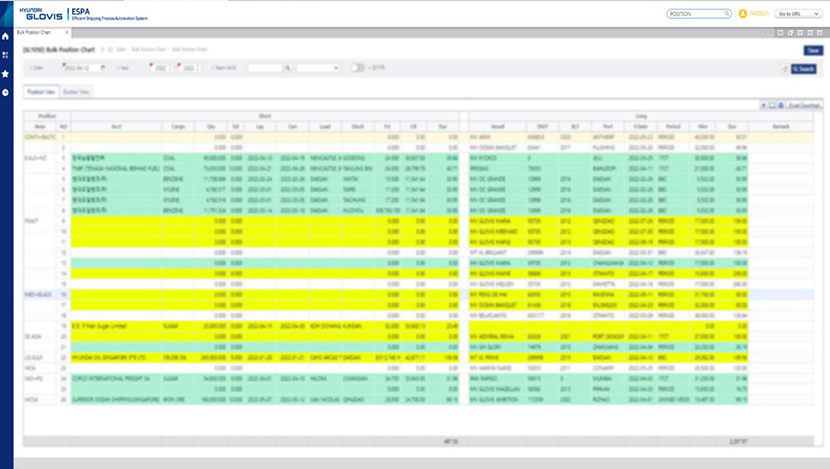 The Bulk Position Chart supports real-time, sales decision-making through the management of cargo and maritime space.
Q. Is there anything else you would like to say to your colleagues in relation to this project?

"Let's communicate in the language of our colleagues" was what our project manager said at the beginning of each of our weekly meetings, and now it has become my personal mantra our work life. Looking back, I think we had to make the best possible plan based on our limited personnel, time, and budget, and I think our project manager was telling us not to waste time bickering and blaming each other for the challenges that we faced. In the future, I want to continue to communicate with my colleagues with a grateful heart and adopt the mindset that I naturally cannot enjoy the benefits of things that I'm unwilling to do myself.

I realized that we could never create a good system without feedback from the field. No matter how well-designed a service may be, if it is not what customers want, its usability will be compromised. I would like to express my sincere gratitude to all the Hyundai Glovis staff for their constant communication and support.

This project was challenging and demanding, but it leaves me with good memories because the IT personnel working on the ESPA project and those in charge out on the field recognized their respective roles and communicated effectively. Moving forward, I will continue to actively listen to user feedback and engage in proactive communication with my colleagues as I carry out my work.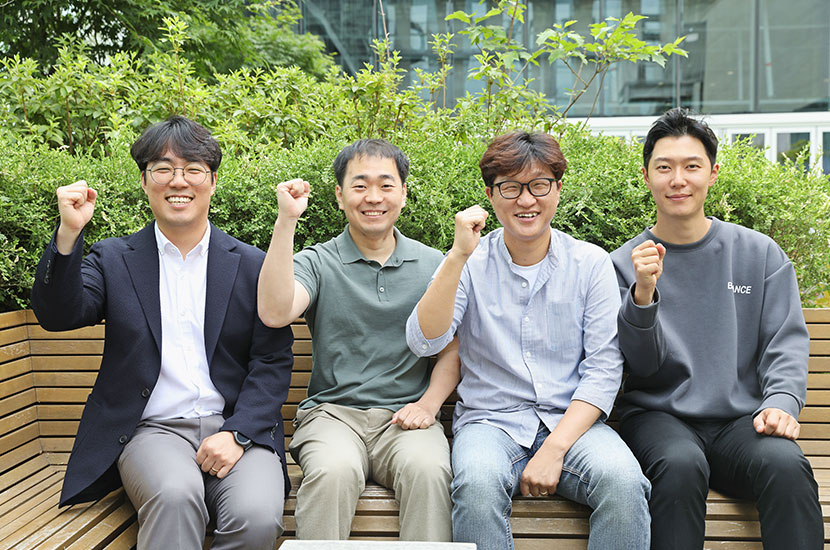 By the Editorial Department
2023.05.23