With sights set on reinforcing its marine logistics network in the Middle East, Hyundai Glovis has been conducting key activities for the growth of its Middle Eastern logistics business through its Dubai branch. For the individuals entrusted with overseeing the Dubai office, even the burning sun and dust storms of the surrounding deserts are no match for them. Today we'll hear from one of them about work and life in Dubai.
G-WORK
Away from home on a mission
Q. Please introduce yourself.
Hello. I'm Senior Manager Son Yong-joon and I currently work at the Dubai branch in the United Arab Emirates.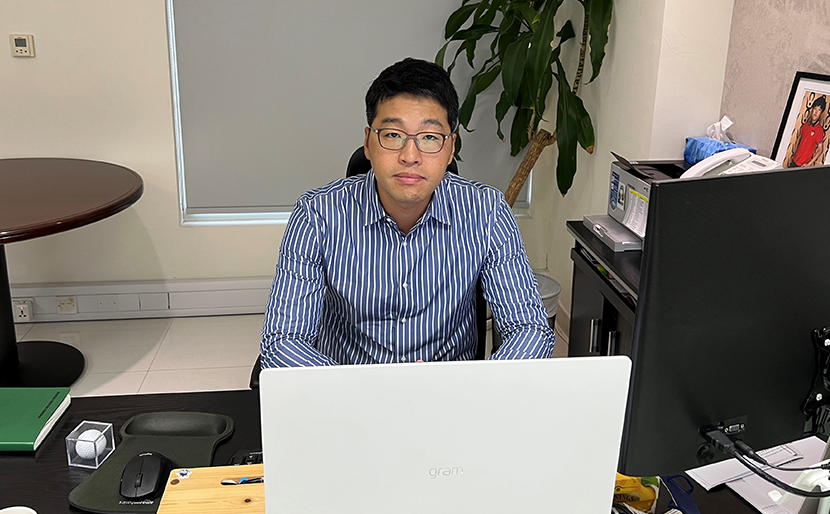 Q. What are your duties in the Dubai office?
Hyundai Glovis actually opened its Dubai office in 2010. I started here in January 2019, so it's been three years and five months. I work with the G-Marine Service in improving the profitability of our car carriers stopping at ports in the Middle East. I do this by managing the collection and shipping of cargo. I also manage a wide range of consignors with operations in Dubai, including Hyundai and Kia.
Q. How would you describe your typical day?
Dubai is located in the divide between Asia and Europe both geographically and in terms of time zone, so there is a difference between our a.m. and p.m. work. In the morning I usually have meetings with people from the head office, and in the afternoon I work with local consignors and agencies. All this is done online or by phone due to the distance and COVID-19 limitations. But now that it seems we have better control of the COVID situation, I'm having more and more in-person meetings these days. If our teams in Europe and the Americas have any issues requiring attention, I make time for them in the afternoon.
Q. Give us some background on the Dubai office, please.
It began in 2020 when our forwarding business started serving Hyundai Mobis Middle East. Today, cars and forwarding are the two main areas where Hyundai Glovis's Dubai office operates. We have two people sent over from Korea and one local employee working in cars, and seven local personnel, one of them an ethnic Korean, working in forwarding. I work mainly in cars myself.
Q. What is a major issue you've had to handle lately?
Optimizing scheduling and profitability of ships making calls at ports in the Middle East is our main concern in our cars business. The whole month of April was fraught with delays during Ramadan, and poor weather conditions have been an issue lately as well, so we've been making extra efforts to manage these issues.
Q. What has been the biggest change for you since you were assigned here?
Working as an expatriate has made me see just how strong a market position Hyundai Glovis holds. Take our car carriers coming out here from the eastern United States, for instance. They've been in service since 2019, and their shipping frequencies have only increased over time, meaning our market position has been getting stronger and stronger ever since. Our consignors and customers know this, so I can go into meetings with them pretty confidently.
I first joined Hyundai Glovis in Korea back in 2014, and worked in bulk shipping before coming over here to work with car carriers. Here, I'm learning all about car shipping and what our customers' needs are in those terms. As someone from the Korean office, I oversee the management side of things in many instances as well, so it's been a great learning experience.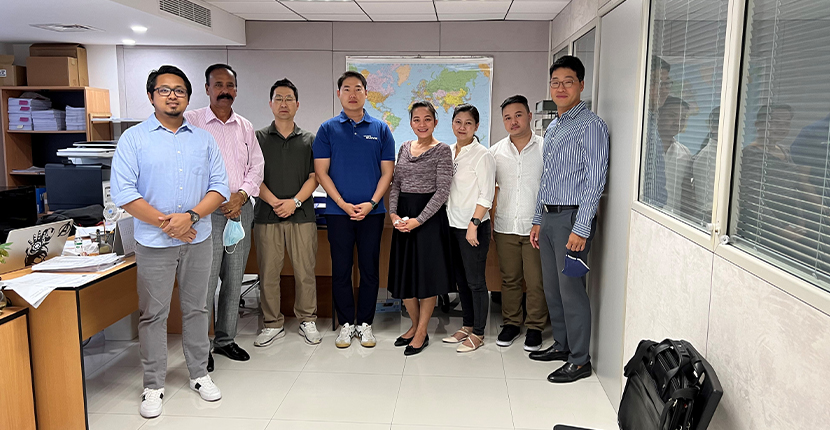 Q. What is a major challenge in overseas work, and how do you handle it?
The language barrier is probably the biggest challenge. Dubai is a very international city, so there is a wide variety of cultures in one place. I find that when I'm interacting with others on a business level, we need to develop rapport in order to understand each other. So I've made it a commitment to get together with our key customers as often as possible, and not just for business. This has helped to keep us on the same page, and has been the most effective solution to the language barrier that I've experienced.
Q. What is something that makes you feel like working out here is worth it?
When I hear from someone in Korea or another overseas office that some issue related to the Middle East or Africa they had been handling was resolved thanks to what I do on location, that's when I feel like what I do here really matters.
Q. What are your future plans or goals?
Dubai has been hit by COVID-19 pretty hard, just like any other part of the world. Our office here has had to accommodate many changes since the pandemic began. I'll be going back to Korea in February 2023, so until then I'll be doing my job here to the best of my ability, and will pass on the knowledge and experience I've gained to my successor.
Q. Do you have a message for your colleagues back in Korea?
Since coming over here, I've only been back to Korea once, at the end of 2019. I'm starting to really miss everyone back home. I plan on going back for some time off at least once before I go back for good. In the meantime, take care, everyone, and I'll see you all soon!
"My responsibilities here extend into management. Joining Hyundai Glovis in Dubai has been a profound learning experience, a real opportunity!"
MY LIFE
An overseas experience as a family
Q. What was your first impression of Dubai?

You hear about a lot of people laying over in Dubai for their overseas vacation. Dubai is the most international city in the Middle East, and is as much a hub of logistics and trade as it is a tourist destination. The diversity here is surreal, with something like only 10% of the population being native to the area. Dubai's population is growing, and there is great potential for this city's development.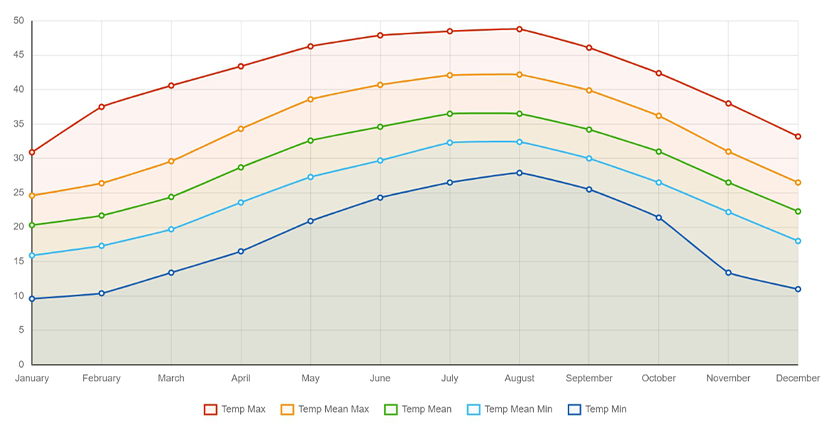 I first came over in August 2018 on a long-term assignment prior to being posted here. August is the middle of the summer in Dubai. I could barely make it through my assignment because of the heat. Then when they sent me here for my post in January 2019, it was the middle of winter. At around 20°, it felt like autumn in Korea. Dubai's not a bad place to live, as long as you can tolerate the summer heat.
Q. How is the neighborhood where you're staying?
My family found a place in a community of apartments and condominiums called the Dubai Hills. It's a new neighborhood, and parts of it still under construction, with new residents always moving in. There are also quite a few Koreans because it's so nice and tidy.
Q. How do you spend your evenings and weekends?
Dubai is heavily affected by the weather. The difference between the summer and winter is massive. I mostly spend my weekends with my family. In the winter we like to get outside, go for picnics at parks or beaches, activities like that. Summers are a different story, and we mostly just stay indoors away from the heat. Dubai is a tourist city, and has mega-sized shopping malls. These are a haven in the summer because it's so nice and air-conditioned inside, and there's everything to keep you entertained, like shopping, food, and much more.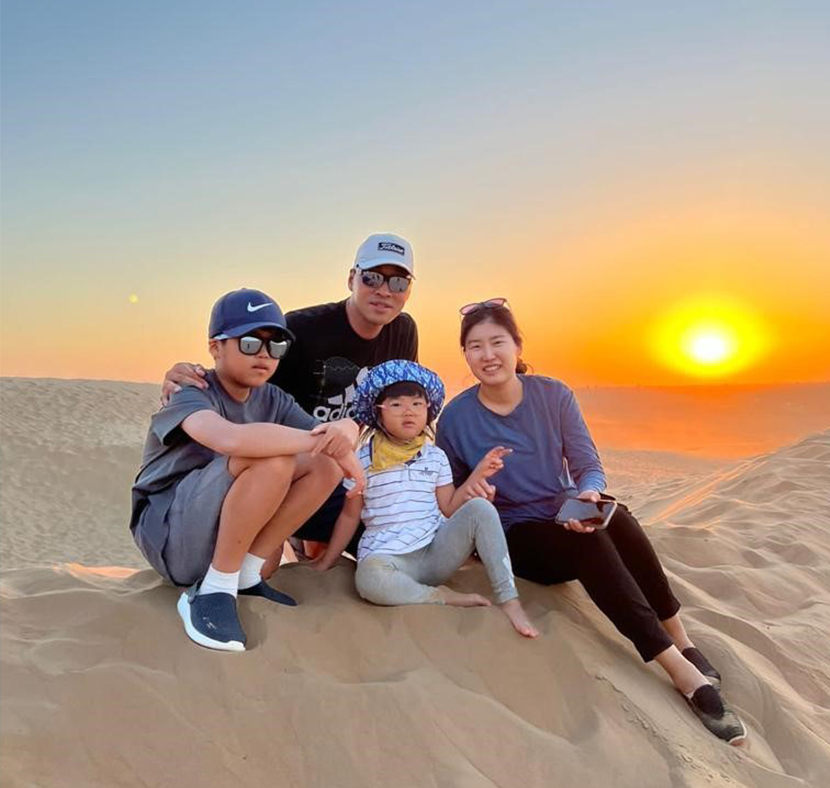 Q. Do you have any favorite restaurants or parks?
Dubai Hills Park is where we hang out most frequently because it's just down the road from where we live. It hasn't been two years yet since it was built, so it's super clean and has a lot of conveniences. It's one of the best spots for a jog, or for just spending time with the family. Our favorite restaurants are the Korean restaurant Sobahn and the Japanese restaurant Gikku. There are all manner of cuisines to be found here, but those two are our go-to choices.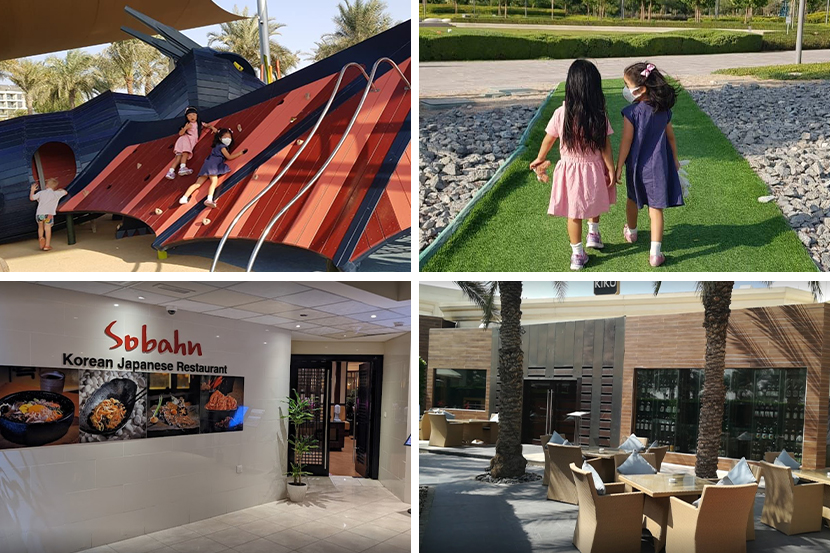 Q. Have you had any culture shocks?
Administrative work can be a pain. Back home everything is done online, and it gets done pretty quickly. Dubai is making that online transition as well, but it still has a long way to go. Believe it or not, it takes at least a year or two to get credentials issued, renew a visa, open a bank account, or get a credit card. This was a major source of stress for me at first, but by now I've come to accept that that's just how things are done here.
Q. What is something you're hoping to do in Dubai before returning home?
It's been almost three years since my last overseas trip because of COVID-19. Dubai is a great hub for traveling around. Europe and Africa are closer here than when coming from Korea, with direct flights going there, so it's really nice for traveling. I want to make the most of the rest of my time here by taking overseas vacations with my family.
"In spite of the heat and cultural differences, my family and I are enjoying our time here in Dubai, and I will certainly continue to do my best here."