Breakbulk refers to cargo, such as large heavy equipment, that is shipped as individual items on bulk carriers because it cannot be loaded separately onto containers due to its size or weight. Hyundai Glovis is actively participating in the business of shipping breakbulk by utilizing RoRo ships.
Breakbulk Europe (BBE), a festival for everyone around the world involved in the shipping industry, has returned. BBE was suspended indefinitely due to the COVID-19 pandemic, with the last event being held in 2019. The shipping industry has been eagerly waiting for this event to resume for the past two years.
In May, officials from around the world working in the shipping industry gathered in Rotterdam, the Netherlands, where the world's large breakbulk conference, BBE, was being held. The scale of this year's BBE, which finally opened after a great deal of preparation, was indeed massive. Some 584 global corporations showcased their businesses and more that 11,000 attendees from 120 countries visited its exhibition halls.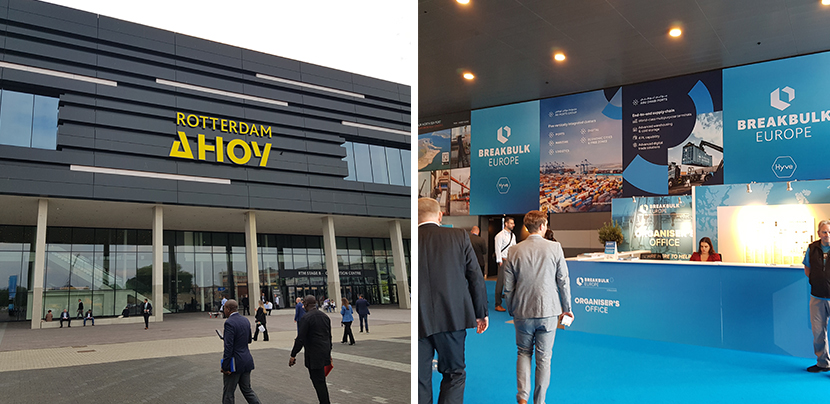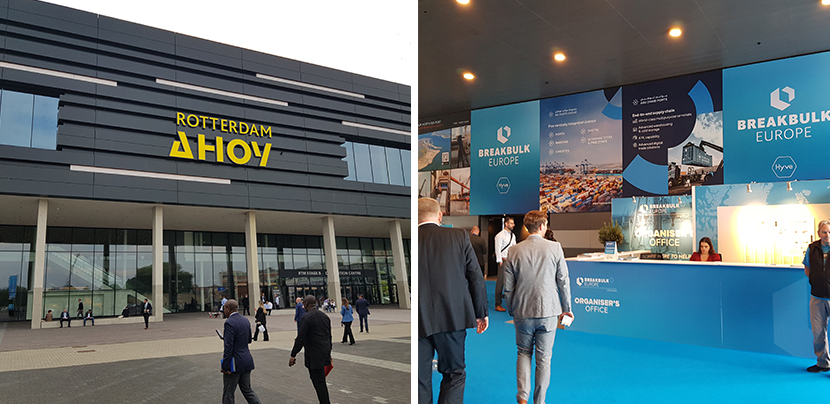 Hyundai Glovis set up a PR booth together with Stena Glovis. This joint venture between Hyundai Glovis and the Swedish shipping company, Stena Rederi, was first established in March 2019. It was Korea's first European shipping joint venture to be formed with the aim of effectively entering the European market. By combining forces, the two shipping giants communicated with diverse industry officials, and achieved concrete results. Thanks to this year's BBE event, Hyundai Glovis is now processing transportation contracts with a number of new shipping clients including global companies. At the present time, when there is a lack of tonnage for breakbulk shipping, the RoRo service that Hyundai Glovis set forth must have caught the attention of the related officials due to its strength and flexible shipping fleet composition.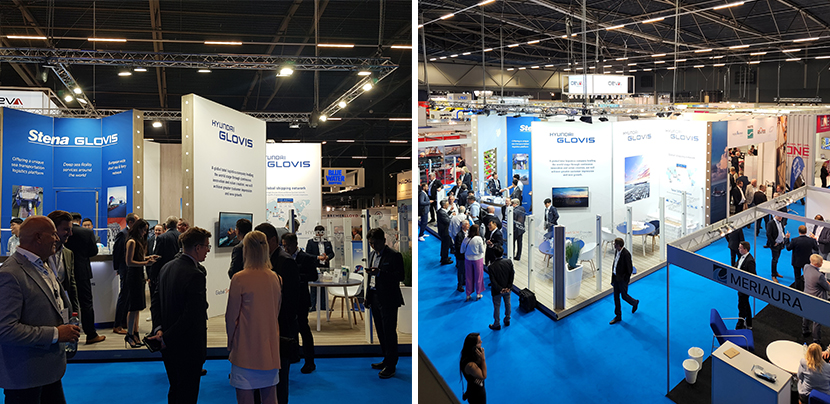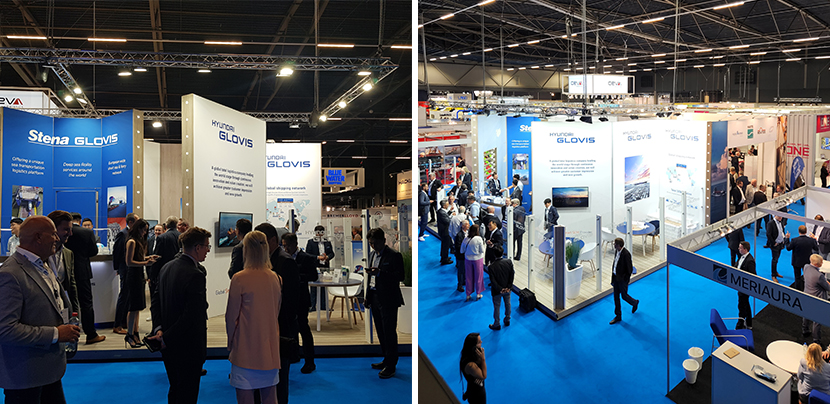 Hyundai Glovis provides prompt and accurate services to customers, based on its 90 tightly-knit global networks. Going forward, the carrier is planning to reinforce its global competitiveness by focusing on the breakbulk market and taking advantage of its shipping capabilities. By using this year's experience as a steppingstone, Hyundai Glovis is expecting to participate in next year's breakbulk conference as a "global leading company."
2022 BBE – Staff of Stena Glovis and Hyundai Glovis look back on the event
Kim Jung-dae, Senior Manager
BBE was the optimal opportunity to review the current trends in the breakbulk cargo shipping industry of Europe. It was all the more exciting for me, because it was my first time.
It seemed that all the companies related to breakbulk including us, the shipping clients and shipping companies, as well as the port, land logistics, and equipment companies in the European region, attended the event. The scale was more enormous than I had imagined. It was a great event, with companies from various fields participating and exchanging opinions.
All the exhibiting companies created unique booths that highlighted their strengths. Among them, there were some companies that stood out because they set up their booths to look like pubs or coffee shops, so that the people who visited them could network in a comfortable atmosphere.
And Hyundai Glovis? Our booth was located at a junction where there was a lot of foot traffic. Therefore, we had a continuous stream of many interested parties who visited us. In particular, the snow globes containing our ships and ship assembly models that we prepared as giveaways were by far one of the most popular attractions. Since they are so pretty, I believe that the models of our ships will be displayed on the shelves of our clients for a long time to come.
Indeed, a large number of interested visitors came to our booth and we received many inquiries. In addition to requests for shipping estimates, we received questions about detailed areas, including information about the ships and equipment we own. The other employees who attended this event with me were all bustling around answering the questions and responding to visitors.
In addition, we exchanged a great deal of information with the numerous port and logistics & equipment companies in Europe who visited us. There are many areas that we could review in a positive manner, so I feel that this will be very helpful with our future work.
I believe that the information and infrastructure that Hyundai Glovis attained at this year's BBE should be used actively in our sales and on-site work. Furthermore, I hope that we will be able to expand our brand recognition and market share in the breakbulk shipping market in Europe.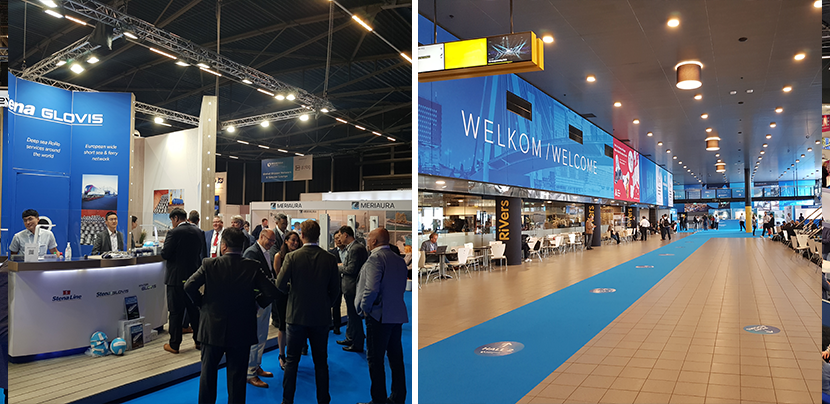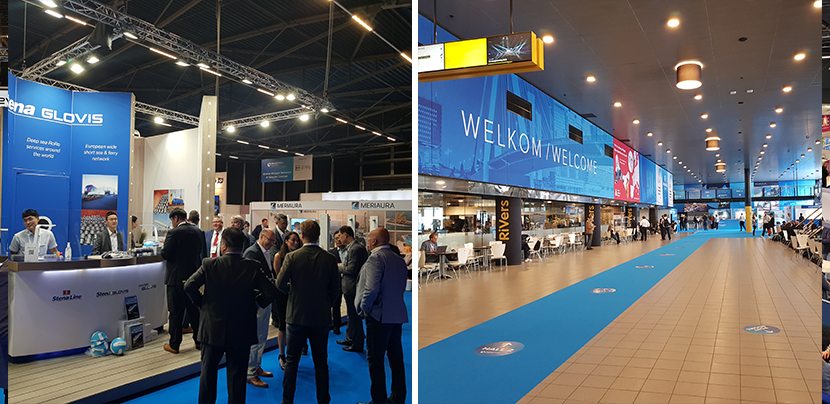 Song Young-hyun, Senior Manager,  PCTC Special Cargo Team
Since this event finally took place two years after the last BBE in Hamburg was held in 2019, expectations were high all around. I also attended this year's BEE with great anticipation, ready to promote Hyundai Glovis' merits such as our automobile and bulk carrier capabilities, project businesses, trailers, and tug masters.
In preparing for the BBE event, I believe that Manager Lee Hyun-gu from the Shipping Business Strategy Team played a vital role (I would like to take this opportunity to thank him). From the location of our booth to the interior decoration, our ability to serve customers safely during the COVID situation was ensured. Manager Lee and many other employees worked to arrange a booth where we could promote our company in a healthy environment. We also published a new brochure dedicated to BBE, to promote our breakbulk sales using RoRo ships and for strategic marketing activities. I believe this enabled us to effectively introduce our services to a range of customers.
The purpose of participating in BBE was to communicate with a more diverse customer base. The event included 584 exhibitors and approximately 11,000 shipping clients, forwarders, and shipping companies from 120 countries. Above all, we wanted to promote our service routes and establish new customers. The subject that we discussed the most with those attending the event was the shortage of tonnage that is occurring around the world. The most frequently asked question was whether a solution could be provided through the Hyundai Glovis RoRo ships. To take advantage of this opportunity, we introduced our breakbulk service using RoRo ships and explained the representative routes that were open for those interested in signing contracts. This allowed us to discover numerous potential customers. In addition, we secured a group of customers that could lead to finalizing actual contracts.
The BBE event also presented us with an opportunity to observe our competitors' booths and prepare for the future. What impressed me most was the scale of publicity for breakbulk shipments, which was larger than ever at all our competitors' booths. This could be regarded as an intensifying of the competition among automobile shipping companies. However, since this trend could increase the share for the RoRo ship breakbulk cargo market, I mainly felt encouraged by the situation.
Through this event, I could sense that the perspectives of shipping clients are gradually being diversified due to the shortage of shipping tonnage. It seems that they are not just interested in breakbulk transportation as a means for overcoming the present situation, but that the market is become more segmented with the diversification of shipping methods. BBE was not only an arena for broadening the perspectives of the shippers that were previously limited to bulk and container carriers, but was an excellent opportunity to promote the fact that Hyundai Glovis has the ability to provide a faster and more accurate service than any other competitor in this changing market. In fact, in many cases, it even led to the signing of contracts.
By participating in this year's BBE, Hyundai Glovis achieved significant results in terms of reinforcing our image and securing potential customers. Should we continue to participate in this breakbulk conference, I believe it will play an important role in the further development of our shipping capabilities.
Hyundai Glovis Breakbulk Conference Participation – History
Hyundai Glovis participated in BBE for the first time in 2019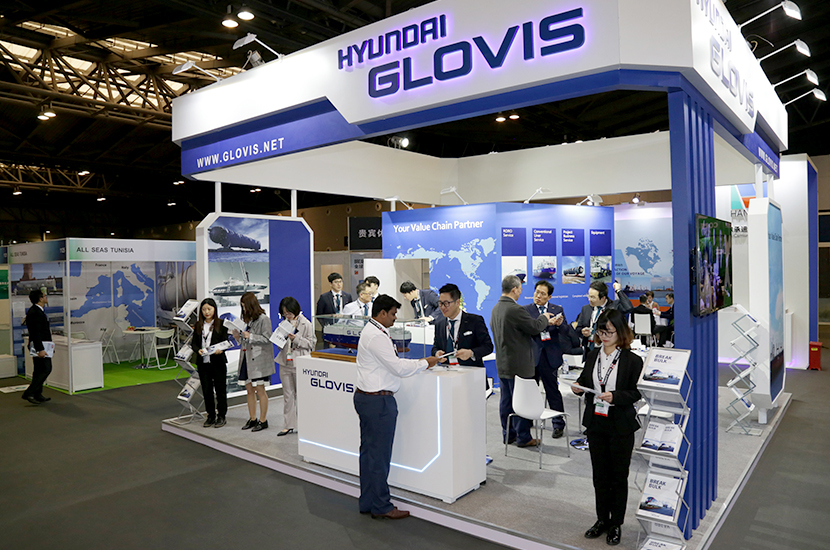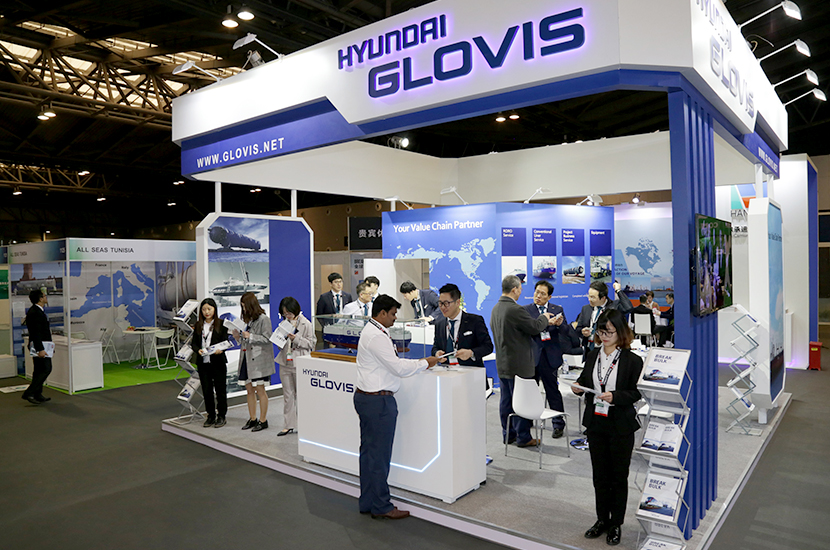 Hyundai Glovis first stepped into the world of breakbulk conferences in March 2019, by taking part in Breakbulk Asia held in Shanghai, China. This occurred during a time when the company was endeavoring to expand its breakbulk business sector. At the time, Breakbulk Asia was one of the world's top three breakbulk and project cargo conferences, together with BBE and Breakbulk Americas (next year Breakbulk Middle East is set to take place instead of Breakbulk Asia).


Hyundai Glovis set up its booth at the event with the goal of "strengthening its shipping business sales," and promoting the company's shipping capabilities and the status of its project logistics business. The company also wanted to show off its professional transport capabilities by introducing its specialist equipment such as roll trailers and tug masters. In particular, Hyundai Glovis actively promoted its unique advantage of being able to provide shipping optimized for diverse bulk cargo, as it already operates both bulk carriers and RoRo ships.

The response was better than expected. At Breakbulk Asia, where 150 publicity booths had been set up with 5,000 industry officials visiting from around the world, Hyundai Glovis was the target of a lot of attention from global shippers. During the event, some 1,200 customers from 350 countries visited the Hyundai Glovis PR booth. This directly led to the company's participation in 2019 BBE, the world's large breakbulk conference, which was held in Bremen, Germany two months later.
2019 BBE Event in Germany
At the BBE event held in Bremen, Germany in May 2019, Hyundai Glovis was the only Korean shipping company to operate an exclusive PR booth. Thanks to its experience in Shanghai, the company was able to promote its shipping business capabilities more enthusiastically and in greater detail. In particular, 2019 BBE served as an opportunity to actively promote "Stena GLOVIS SE."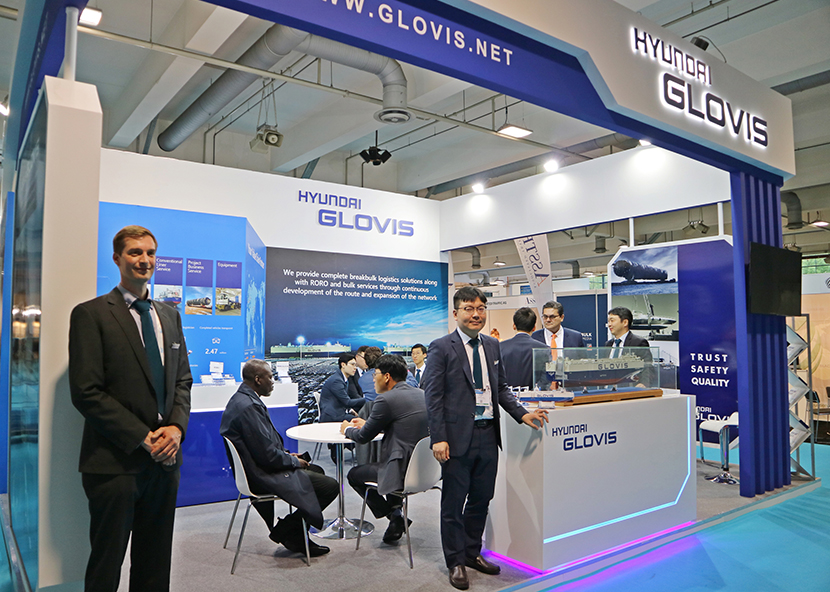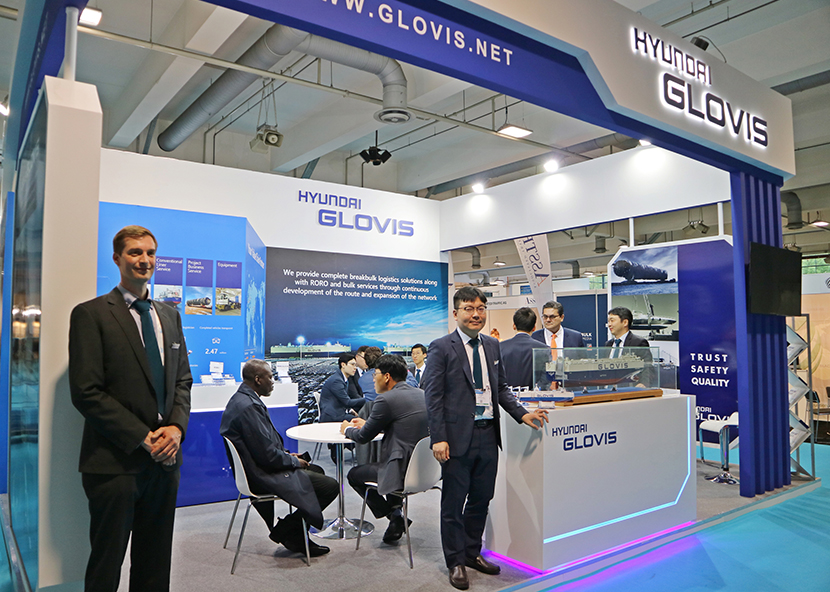 After establishing its new sales and operation organization in Europe, Stena Glovis endeavored to identify new shipping clients and build up regional sales networks – and the BBE event was the optimal venue for its sales activities. In particular, since it was possible for Hyundai Glovis to transport cargo using diverse vessels such as its RoRo ships (vessels that transport cargo that can be loaded and unloaded under its own power, such as finished vehicles, trucks, and trailers), as well as RoPax (carriers for both cargo and passengers), and Car-Ferries (regular passenger ships), the company also possessed a strong advantage in the field of breakbulk shipping. Thanks to actively promoting this fact, its participation at 2019 BBE was a great success. During the event, nearly 2,000 attendees are known to have visited the Hyundai Glovis booth.
Writer  Communication Team Kim Jeong Won Manager
2022.07.07