As a global SCM specialist, Hyundai Glovis has established a corporate office in Thailand to seek new global distribution business opportunities. Here we present a guide on the ASEAN market with Director Kim Min-ho, who has successfully established logistics bases in Vietnam, Indonesia, and now a third base in Thailand.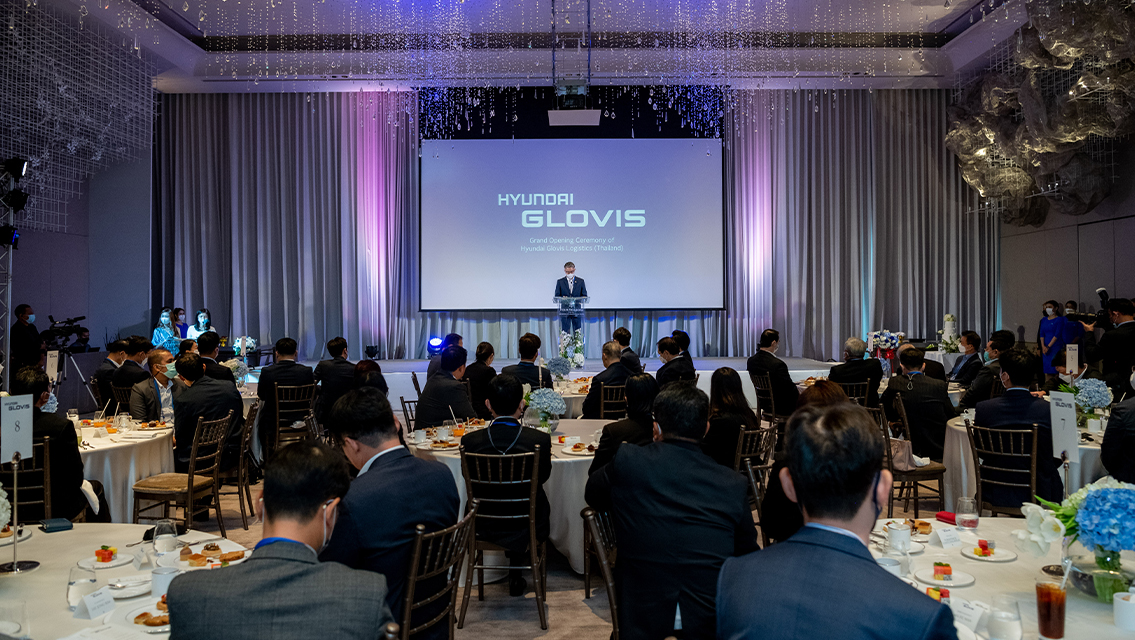 The Hyundai Glovis Thai corporation has been successfully established.
ASEAN will lead the way into the world
Hyundai Gloves established the first corporate office in Southeast Asia in Vietnam in 2019, and last year it established an office in Indonesia to reinforce its business influence in the Association of Southeast Asian Nations (ASEAN) market. ASEAN is an association of 10 Southeast Asian countries, including Thailand, Indonesia, Singapore, Malaysia, the Philippines, Vietnam, Laos, Cambodia, Myanmar, and Brunei, and consist of a total population of 650 million people, the 3rd largest population in the world after China and India. Their combined GDP is USD 3.1 trillion (as of 2020), the 5th largest in the world. The ASEAN market has unlimited potential and influence, and Thailand is an important point for entering the market.
Thailand, an important logistics hub
While the entire world is actively investing in logistics infrastructure in ASEAN, Thailand is particularly attracting attention as it has key global food, electronic, and automotive part factories and sales networks. According to KOTRA, the Thai government selected the aviation and distribution industries as part of the 12 industries to cultivate, and has been implementing various distribution development support plans. When the Thailand office was established, Director Kim Min-ho managed the project as the team leader of Global BD1, and indicated that creating a partnership with the Thai CP Group was the most important factor in taking on the Thai market. "I believe that the factors to our success in the Thai market, 90% of which is occupied by Japanese car companies, are finding strategic logistics (CP Group) for a distribution business based on the EV Fleet, making a sustainable future business proposal, and successfully signing an MOU. Ultimately, Thailand will be the base that will help to advance business in Southeast Asia."
CP Group, Hyundai Glovis's new partner, is the top global company in Thailand with yearly sales of over KRW 70 trillion. It owns agricultural food manufacturing, distribution, telecommunication, automotive production, and 13,000 7-Eleven stores in Thailand. It also operates the chain store Makro, specializing in food products, and the retail chain store Lotus. This company is so deeply involved with the distribution business that the potential of this partnership is immeasurable.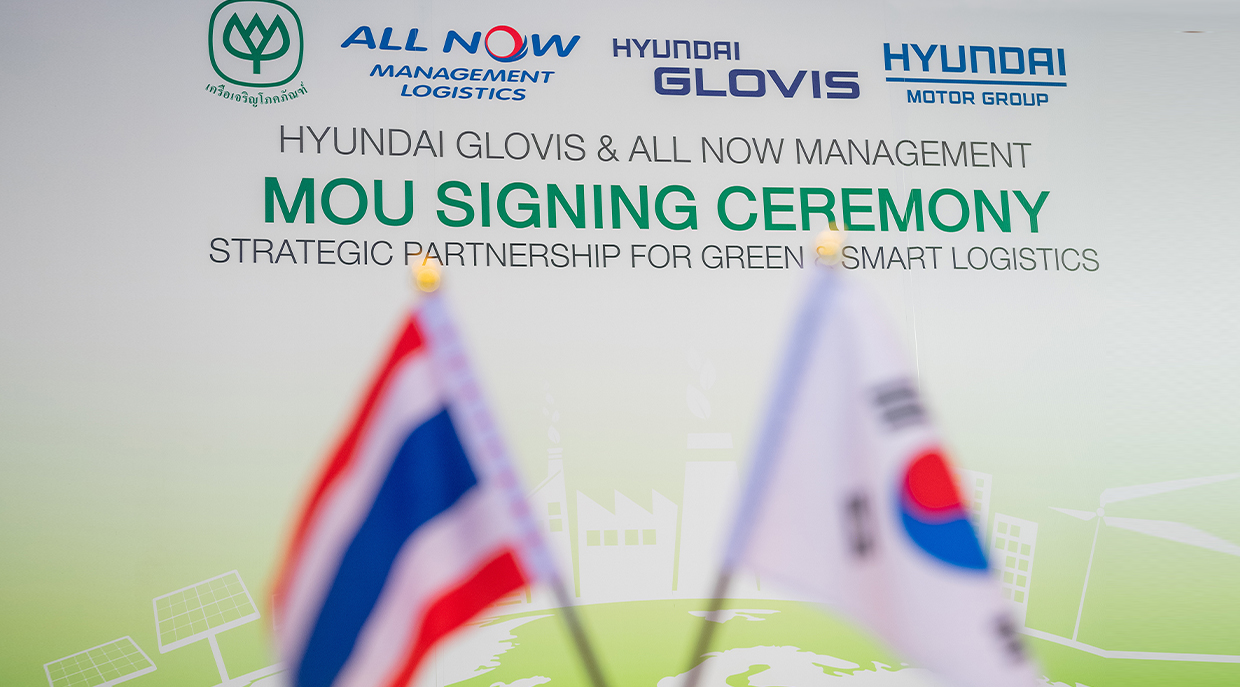 Hyundai Glovis partners with Thailand's #1 global company, CP Group.
Overcoming numerous negotiations and hurdles
Hyundai Glovis Logistics Thailand
Creating a corporate office with a new partnership is easier said than done. Given the large scale, there were many challenges to face, starting from the internal investment review. Business details were formed starting from 2020, but the business plan was delayed due to the COVID-19 pandemic, and there were also numerous difficulties with finding and finalizing JV partner companies due to restrictions on entering the country. However, through intense thought, ambition, and collaboration, Hyundai Glovis has successfully launched the Thai corporate office Hyundai Glovis Logistics Thailand (HGLT).
HGLT is the first 3PL (Third Party Logistics) company that was started using EV trucks from CP Group and Hyundai Motor to join and expand the 7-Eleven delivery business, and is now planning to launch the smart W&D business for Lotus and Makro. It also plans to develop various other businesses, including transport of automotive parts through a partner company (Summit) and launching the distribution business for completed Hyundai vehicles. Director Kim Min-ho remarked that Hyundai Glovis established the first 3PL corporation through this project, and that this is the most meaningful point in the plan where there is a business opportunity as a group.

Through hard work and collaboration, Director Kim Min-ho and his colleagues at Hyundai Global Logistics Thailand have secured new business opportunities.
Thailand's first eco-friendly logistics center
As a global company that leads the consumer goods market of Thailand, CP Group is highly interested in eco-friendly logistics. Our first business in Thailand used 150 electric trucks that distribute products to 7-Eleven stores throughout Bangkok. After this, various other businesses are planned for implementation at a quick pace, including transport of automotive parts and the launch of the complete Hyundai vehicle exportation business. The first eco-friendly logistics system in Thailand will be constructed using electric cars, hydrogen-fueled cars, and smart logistics equipment (robotics, etc.). Director Minho Kim considers the following points to be the challenges in the Thai market.
Eco-friendly logistics: Develop an eco-friendly logistics service using electric cars, hydrogen-fueled cars, etc.
Smart logistics: Develop a business model using MFC, E-PBV, and Air Mobility
Expand 3PL: Promote joint 3PL sales by maximizing each company's key capabilities (vehicle logistics and FMCG logistics)
Global collaboration and business diversification: Collaborations in Thailand and other third-party countries and diversification of business based on future technology
starting point for stepping into the Thai market, then spreading onward to the ASEAN and global markets.
One step closer to establishing a global supply chain that connects the world
While expanding business to nearby ASEAN countries from the Thailand-Vietnam-Indonesia region, we are also preparing for various businesses with local logistics companies in order to solidify Hyundai Glovis's position as a leading logistics company. Starting with the sales and transport business of automotive parts for partner company Summit, Hyundai Glovis will push for sales of Korean 3PL shippers in Thailand, such as Samsung Electronics and POSCO, and expand business for local Thai manufacturers (beer, etc.) once the EV logistics business stabilizes. It is expected that there will be an even greater synergy when the Thailand-Europe and Thailand-US logistics businesses are launched. With the Thai corporate office leading the way, Hyundai Glovis is expected to realize swift business expansion through partnerships with various local companies.