We are now in an era where internal combustion vehicles are gradually fading out and electric vehicles are taking the stage. Consequently, it is expected that there will be 80,000 used batteries from electric vehicles by 2029, which poses an environmental threat. Starting in 2020, Hyundai Glovis has been actively pursuing future-oriented business regarding such used batteries. Let's explore the present and future of Hyundai Glovis's used battery business through interviews with members of the EV Battery Business Team.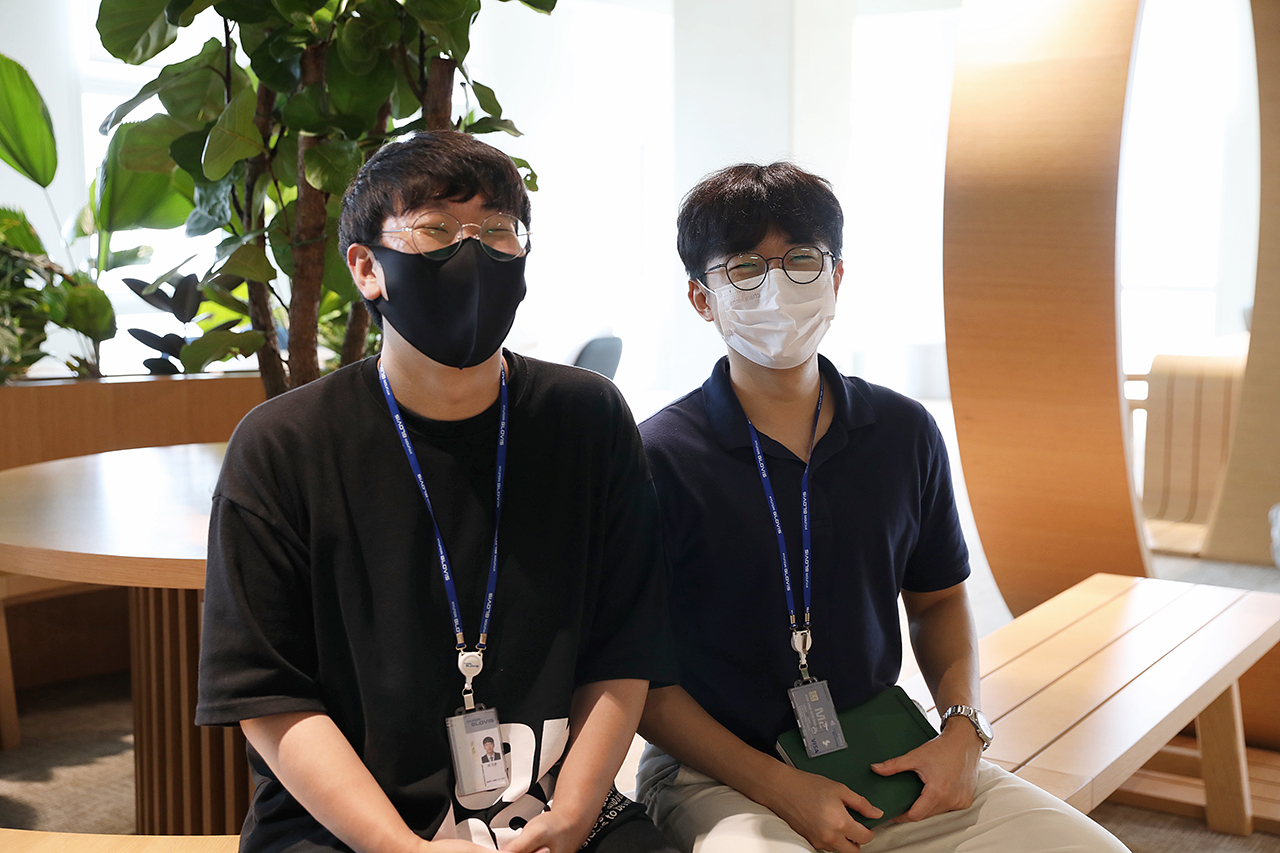 Manager Lee Gi-eun (left) and Manager Lee Hyung-chul, EV Battery Business Team
What does the EV Battery Business Team mean to you?
The EV Battery Business Team is helping to create a better future for all.
We as a team are creating a better future for the environment by completing the battery life cycle.
– Lee Hyung-chul, EV Battery Business Team
The EV Battery Business Team is actively developing future businesses for an eco-friendly future.
I'm certain that we as a team will have a big influence on the world by pioneering in a new but highly potential field.
– Lee Gi-eun, EV Battery Business Team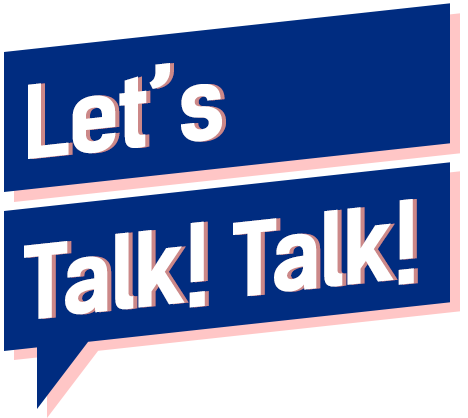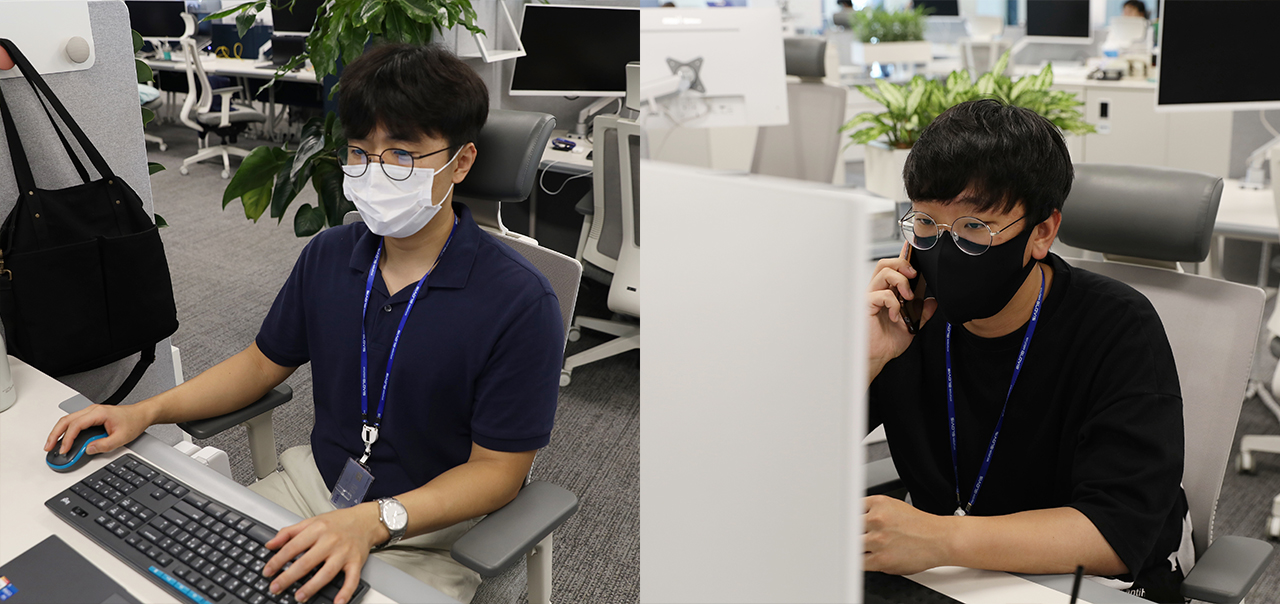 Please introduce yourself.

Hello, I'm Lee Hyung-chul, a manager at the EV Battery Business Team. I joined the team as an experienced professional this year. I previously worked on the development of the smallest EV battery unit, the cell, at LG Energy Solution. While working in the manufacturing industry, I became interested in recycling after seeing much waste being generated such as scraps, cells discarded after experiments, and batteries. I heard that Hyundai Glovis was preparing for a new future business and ended up joining the team.

Hi, I'm Lee Gi-eun from the EV Battery Business Team. I joined the company this February as a new recruit. I had plenty of chances to learn about ESS by studying electricity and electronics and through two internships. These experiences led me to form an interest in battery recycling, and I felt that this was a very appealing industry as we expand the recycling field to EV batteries. At Hyundai Glovis, I hope to contribute to pioneering for the future through recycling such batteries.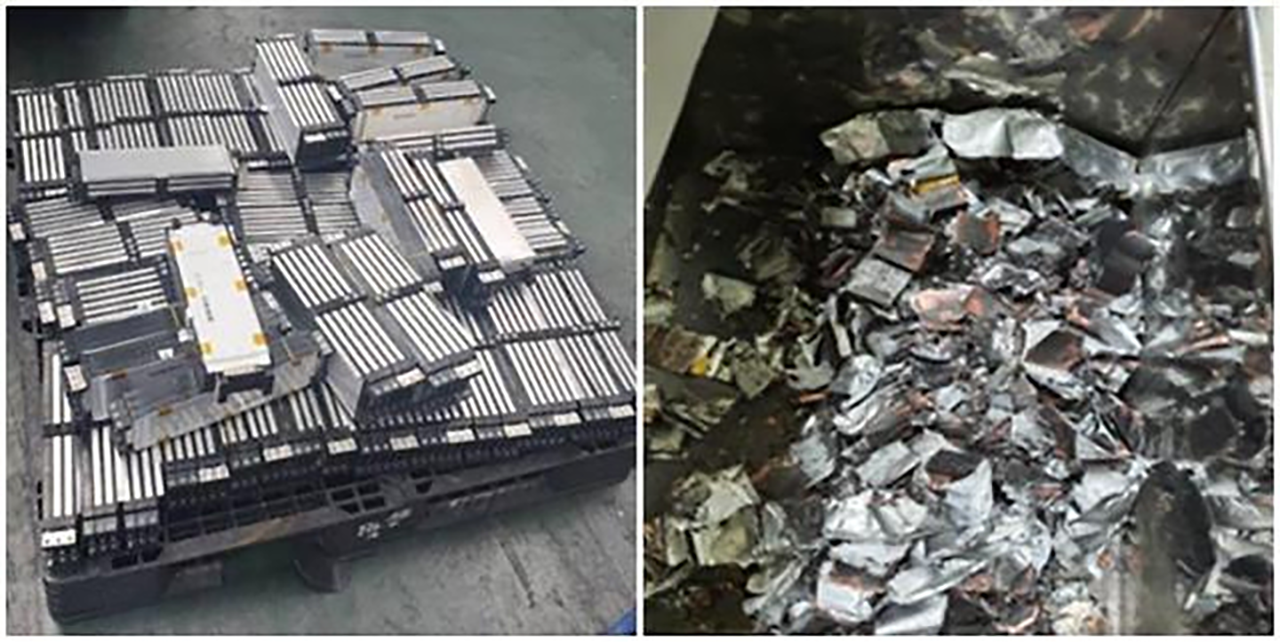 Cell waste (Source: Young Poong)
Tell us about the EV Battery Business Team.

Used EV batteries are categorized into two major value chains and as a result two business units. The first unit regards the collection, analysis, transport, and recycling of used EV batteries, and the second involves selecting batteries through analysis and recycling for UBESS (Used Battery ESS) and e-mobility (V2G).
What makes Hyundai Glovis confident in used EV batteries as a new future venture, and what are your future prospects?

Carbon neutrality is gaining attention in terms of response to climate change, and more people are now switching to electric vehicles from internal combustion vehicles. Batteries account for a large portion of internal parts in EVs and can be reused in other applications such as ESS or e-mobility. EV batteries happen to contain lots of valuable metals that can be recycled. This is why we are confident that the used battery sector has enormous future potential.
How far has Hyundai Glovis's used EV battery business come so far? Any notable achievements?

Due to confidentiality issues, we can't go into too much detail, but we can say that we've developed and registered a patent for a platform container dedicated to the safe and effective transport of batteries. Also, the SSG.COM electric vehicle charging business and Hyundai Motor's UBESS business were both transferred to our team, and their demonstration projects are currently underway. Next year, we are preparing for various demonstration projects in the fields of battery collection, logistics, and reuse. As the used battery market is still in its early stages, we don't have exact figures, but it is a market with enormous potential. As a team we are pushing forward so that Hyundai Glovis can become a leader in the used battery industry.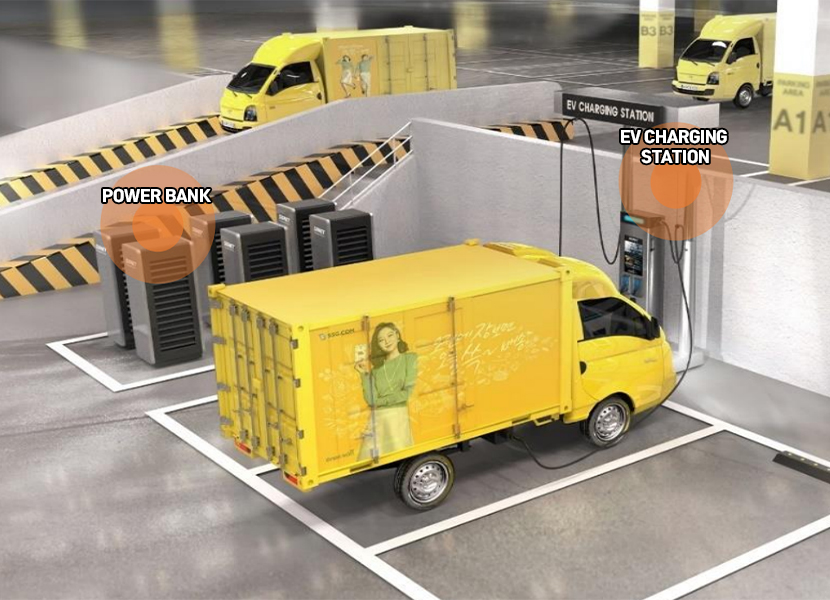 SSG.COM cold chain truck being charged (Source: Hyundai Glovis)
What sets you apart from other companies?

For the used battery business, it is very important to establish a collection system and transportation network for batteries from various sources, such as junkyards and dealers, to secure our competitive edge. I believe that the experience that Hyundai Glovis has with logistics is our primary strength compared to other companies. As I've mentioned before, Hyundai Glovis developed and registered a patent for a platform container dedicated to safe and effective transport of used batteries, and a logistics process that satisfies the various complex international regulations will allow us to quickly secure the market.
What is your job within the EV Battery Business Team?

My work mainly concerns the reuse of batteries. The condition of used car batteries can change based on various factors such as the driver's driving pattern and the number of rapid charges. Our WG conducts various tasks, including reviewing technology to precisely diagnose used batteries, planning new use cases domestically and internationally, and securing and analyzing reference data through the UBESS project.

I work on the recycling phase of the EV battery life cycle. In the preliminary stage, used batteries from scrapped electric cars are collected and transported. After that comes pretreatment and post-treatment for which we are currently developing the relevant network and process.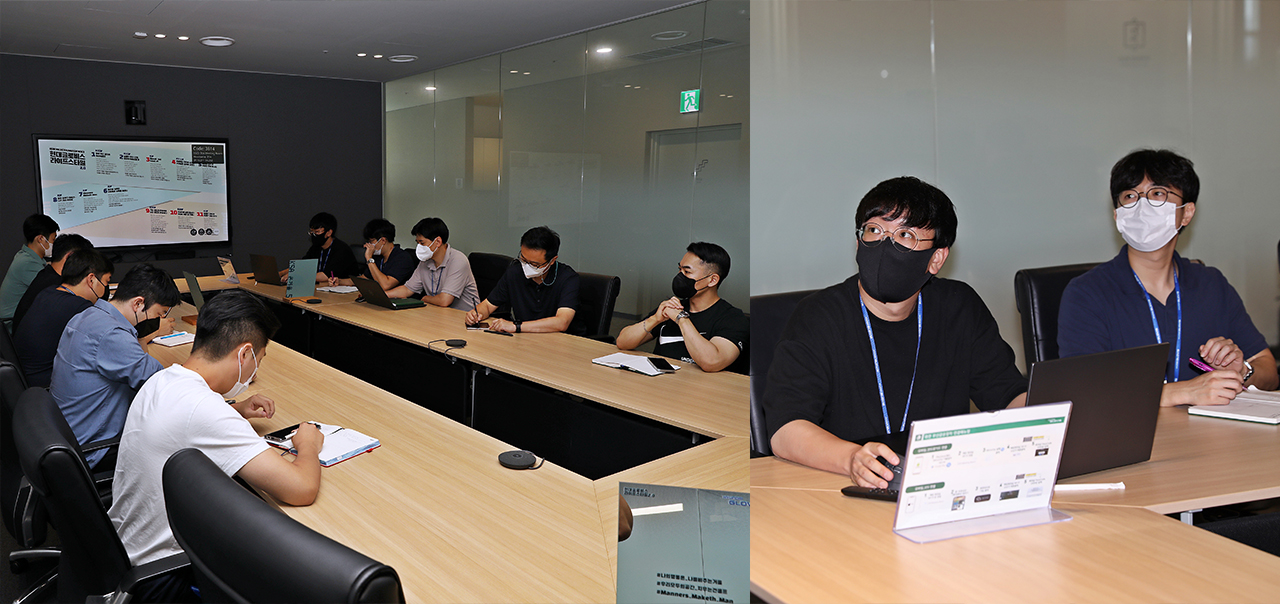 On what issue or task is the EV Battery Team currently most focused?

We are working to establish a collaborative system for the battery cycle through global multilateral partnerships. That is why we are concentrating on becoming a leading player and key link in all aspects of the business, from the collection of used batteries to their reuse and recycling.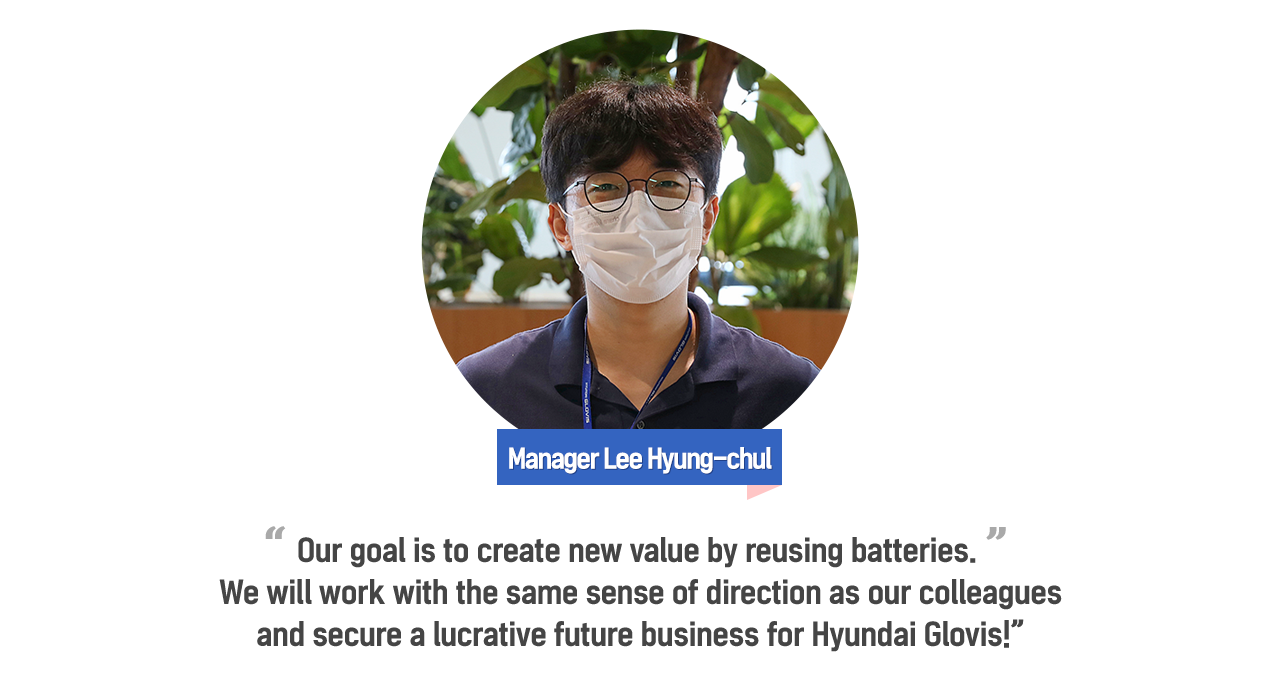 How would you describe your mindset and attitude when it comes to work?

There is always uncertainty when it comes to new businesses. In order to gain certainty, we need to prepare by gathering as much information as possible. Also, actively pursuing business items in an ambitious and persistent manner will also be important. In the process, we will enjoy both good results and failures. I believe that we must learn and adapt from our failures in order to take meaningful steps towards our ultimate goal.
Is there any area where the EV Battery Business Team (or you personally) can improve to grow?

All things considered, I can't say that I'm an expert in my field yet. There are no past references for used EV batteries, but it is a field that is continuing to develop. As new technologies are presented every moment and the situation evolves constantly, I am committed to learning as much as I can and consistently attending battery seminars to accumulate knowledge and grow to become an "expert."
What are your long-term plans?

Our first mission is to establish a global network and transport control system to systematically collect and transport used batteries from various places. We aim to collect and distribute used batteries based on our experience and network in logistics. We eventually intend to become a key link for the front and back of the value chain through the recycling pre-treatment process which is the first step in the recycling life cycle.
Later, we plan to launch various reuse businesses by being involved in EV charging and battery sales based on our logistics network. The reuse business will target various applications, such as the energy storage system UBESS (Used Battery ESS), e-mobility and electronic logistics equipment. We are also considering fostering an energy solution business by combining charging, V2G, and other technologies for UBESS which has a deep connection with solar energy and eco-friendly generators.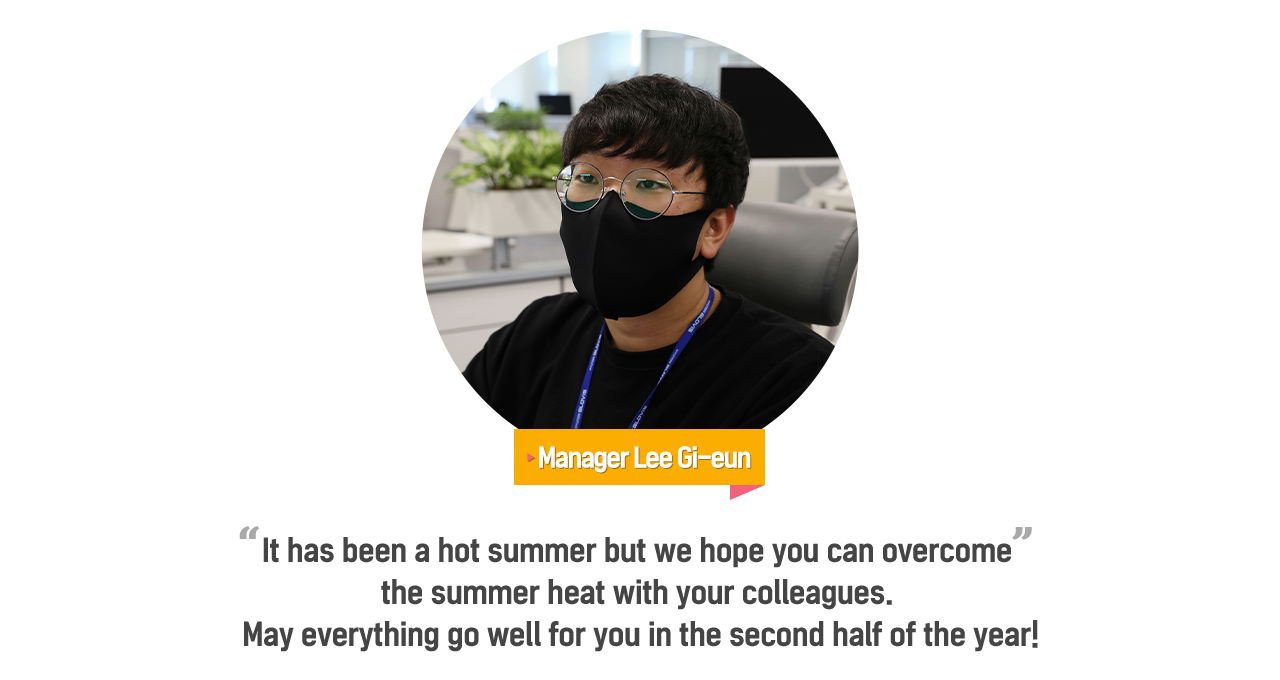 Writer Editorial Department
2022.08.04