Donggeuli is a term that encompasses club activities at Hyundai Glovis. Unfortunately, club activities dwindled after the outbreak of COVID-19 but are now starting back up again. Out of the many Donggeuli clubs, what is FC MAD up to these days? We met with the members of FC MAD, who were full of energy and passion about their beloved sport despite the August heat.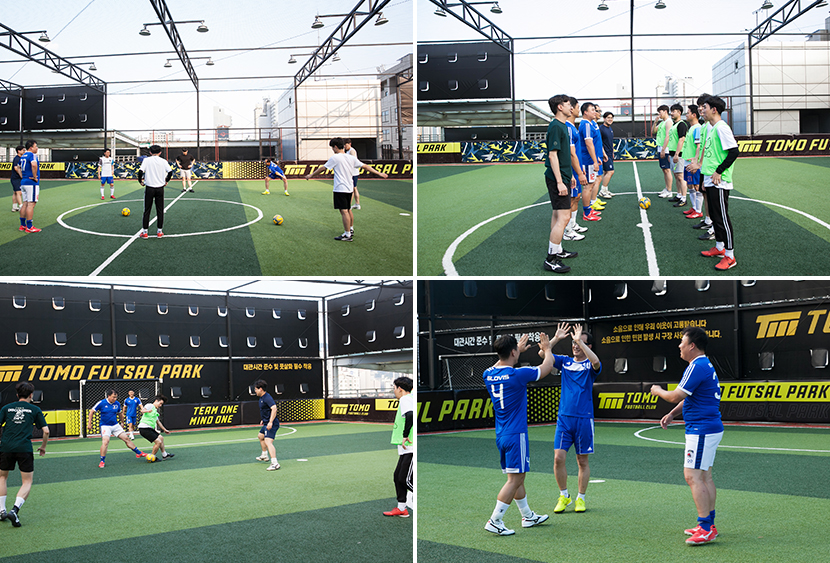 Move over Tottenham. It's FC MAD time!
The soccer fever that overtook Korea during the 2002 World Cup is flaring up again. Recently, the soccer team Tottenham Hotspur FC from the Premier League played in Korea, to the great delight of soccer fans. FC MAD is also getting riled up! They've been training and playing every week so that they can get one step closer to being soccer kings.
A club of people MAD about soccer
The history of FC MAD goes back 14 years. FC MAD's Donggeuli was formed in 2009 by people who, as the name suggests, are "mad" about soccer. Since then, the club members have run together, kicked together, and fallen even more in love with the charms of soccer.
"Donggeuli was quiet for a while due to the pandemic. But after getting through the pandemic, people became more interested in Donggeuli. After a long break, FC MAD is active again and we're delighted! Over the last two years, 40 people have joined, so we now have enough people to play a game by ourselves."
FC MAD President Kwon Hae-ok, happy to see the soccer field full of energy after the club's long break
This is the story of Kwon Hae-ok, the FC MAD President and a senior manager at the Europe Forwarding Operation Team. Although he laments that he doesn't play as much now that younger and more talented players have joined the club, he is happy that so many staff members are interested in the club.
"We have so many club members that even playing among ourselves is thrilling. We used to play only on weekends, but after the outbreak of COVID-19, some people have been making time to play after work, preferring to spend their time playing."
FC MAD is still a small company club, but the members plan to start participating in amateur matches. FC MAD President Kwon Hae-ok looks forward to these small changes and hopes that they will bring a new sense of refreshment to all the club members who enjoy working out together.

More club members means that the club can hold soccer games between members.
One summer weekday afternoon, the members finally meet to play a game of soccer. Despite the news reports of record-breaking heat, the members of FC MAD don't seem to be bothered by the weather and are overjoyed to be playing soccer with familiar faces. FC MAD players say they're happiest when they're running around playing in their positions. Let's listen to the stories of these players, who say that the more they sweat, the happier they feel.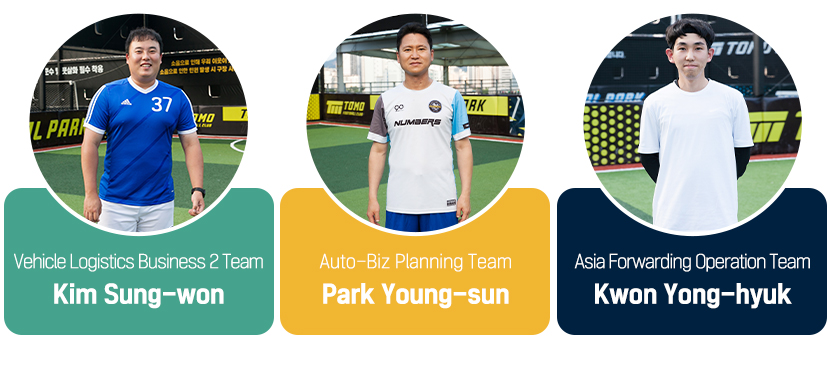 Q1 How did you become interested in soccer?

Soccer is a sport that you can play with just one ball, so I've enjoyed playing it since I was little. I had fun every time I played it.

I joined a soccer club at my first job, and I began to like soccer even more when I watched matches like the games of overseas leagues and the World Cup.

I naturally became interested in soccer while watching the 2002 World Cup. I also played on my school's soccer team and participated in competitions, which made me enjoy soccer even more.
Q2 What's the best part about being part of a soccer club?

The biggest advantage is working out in a team with my fellow co-workers. I also like that I can meet people from other departments and naturally get some help for my duties within the company.

This is my first day participating in FC MAD. Everyone is polite and friendly, and I like that I can become friends with people from different departments.

My favorite part is that I can talk to people that I wouldn't be able to meet through my work.
Q3 What is your position?

Everybody plays in different positions. Today, we're playing futsal, so I'm rotating positions, and there are two people on offense, two on defense, and one goalkeeper.

Today as I was playing futsal, I played in different positions, but I don't have one favorite position.
Q4 What is the best thing about FC MAD?

I like that everyone can enjoy playing soccer together regardless of each person's work position. I also like that the club is full of people who enjoy soccer as a form of exercise, regardless of whether they win or not.

I just started, so I didn't have a chance to talk to many people yet. But it seems like everyone enjoys soccer and playing together. I laughed a lot today as we were all working out.

After the COVID-19 pandemic calmed down and Donggeuli became active again, FC MAD was able to hold matches after work on the weekdays. Working out with other people helps me relieve my stress.
Q5 Is there anything else you'd like to say about Donggeuli?

If you love soccer, that's all you need. If you need another source of energy outside of work, come join us.

This is a club for well-mannered people who have a passion for soccer. If you're interested in soccer, come to FC MAD to enjoy working out and talking to other people!

Since we need a lot of people to play soccer, it would be great for many people to join us so we can all work out together. Feel free to join us and get some stress relief by playing soccer!

(From left) Kim Soo-gang, Ryu Hyuk-joon, Park Young-sun, Kwon Yong-hyuk, Kim Jin-tae,
Gong Ji-soo, Kim Sung-won, Kwon Hae-ok, Woo Byung-ho, Lee Chung-gu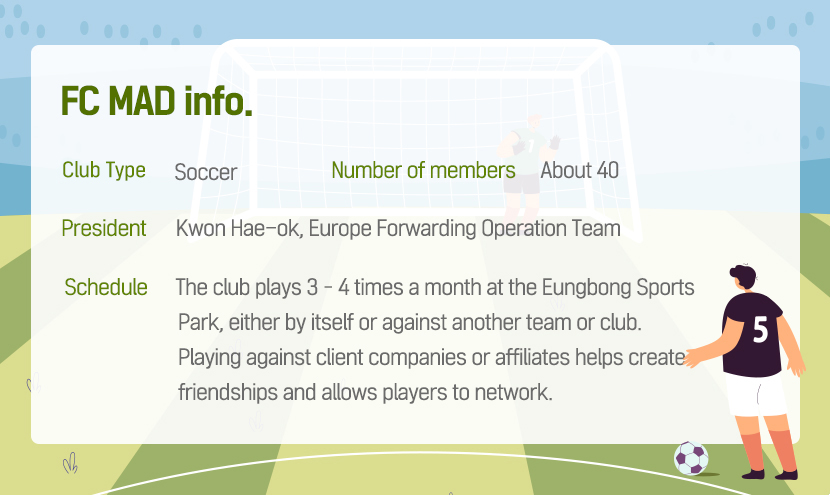 Writer Editorial Department
2022.08.23