As the second stop of our national online business trip, G+ Office Tour, we take a visit to Dangjin Business Office, which handles the largest freight volumes in the country as the absolute leader of steel transport. Hear their stories from the staff themselves who are known to overcome any difficulty with outstanding teamwork.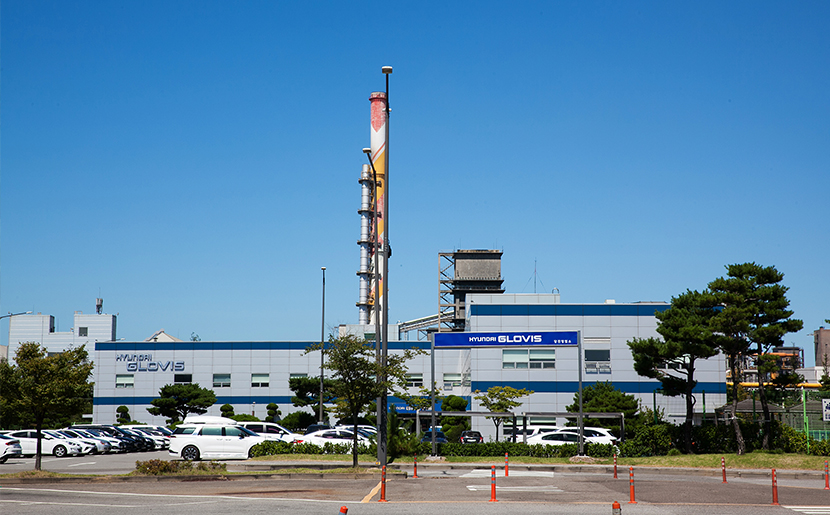 The Hyundai Glovis Dangjin Business Office, located adjacent to Hyundai Steel's Dangjin Plant, is a remarkable logistics hub that handles over 25 tons of freight every day and operates over 2,000 freight vehicles. About 20 people are employed at the office, conducting large-scale steel transports that make the office a cornerstone of the steel industry.
Senior Manager Choi Seok-yong, Dangjin Business Office


What are the key activities that take place at the Dangjin Business Office??
We've been shipping the steel products made by Hyundai Steel, located right next door, ever since the plant opened in 2004. The four main products made by Hyundai Steel's Dangjin Plant are steel plates, coils, rebar, and special steel. We are responsible for the transport of 20 million tons of steel products each year. That works out to be about 25 tons of freight every day, which we handle with a fleet of about 2,000 freight vehicles.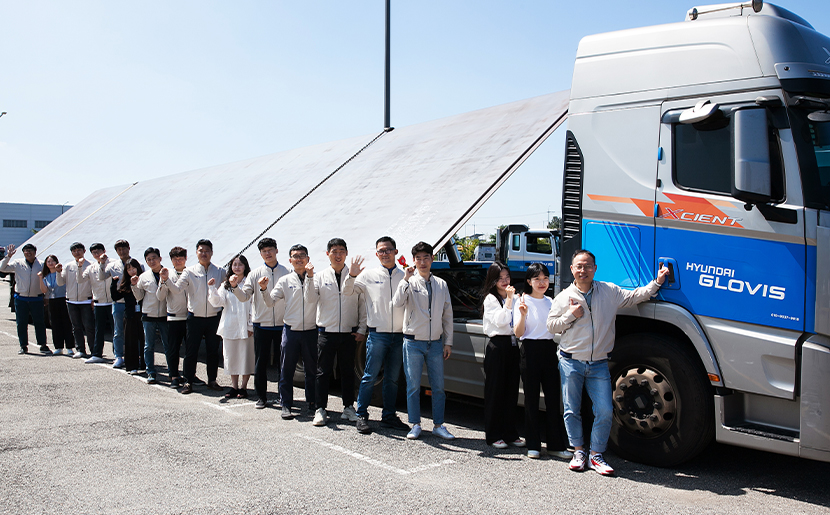 What are the strengths of Dangjin Business Office?
Our size is definitely our biggest strength. We are the largest single logistics operation in Korea in terms of our completed freight volume—we put over 2,000 vehicles on the road every day. That strength comes from our people. Our team of 20 is by no means a large one, but each one of us works with a crystal clear sense of purpose. The work we do is precise, and we get shipments to where they need to go on time.


Supposedly your workload is continually increasing. What are you doing to handle this load?
As a short-term solution, we've borrowed vehicles from Hyundai Glovis in Pohang and Ulsan and are using them for long hauls. In the long term, in order to stay on top of our increasing shipping volumes, we are working with logistics partners so that we have enough vehicles covering long-distance routes. We are also using short sea shipping.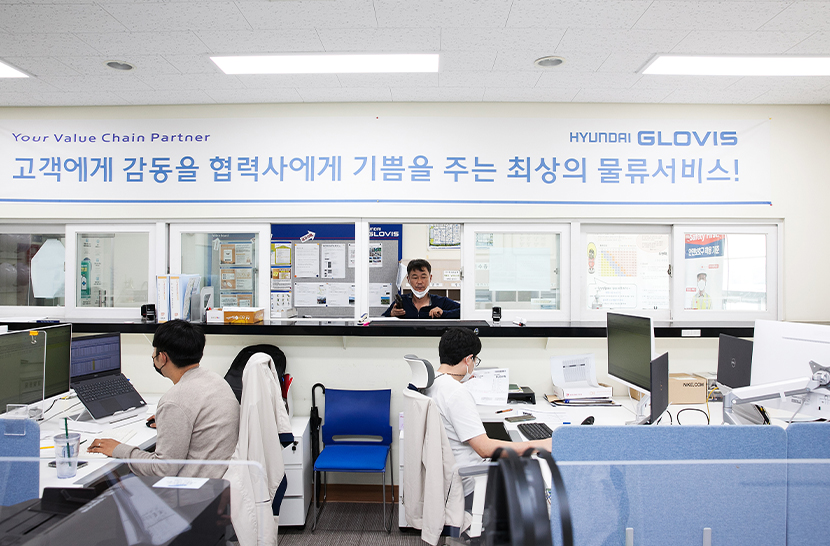 What benefits does short sea shipping have in steel transport?
Although 80% of domestic steel transport occurs on land, the Dangjin Business Office uses short sea shipping as a supplement to move products of larger volumes and sizes between locations.
Short sea shipping is a type of green logistics. Trucks carrying loads on the road pollute the air with exhaust gas, but ships are a low-carbon alternative that's gentler on the environment. Our short sea shipping operations are subsidized by the Ministry of Oceans and Fisheries and the Korea Shipping Association. The subsidies are an incentive for logistics company to switch to eco-friendly shipping. This support by the government is as much a recognition of our care for the environment as it is a financial benefit to our company.


What are your top priorities when it comes to steel shipping?
The Dangjin Business Office holds cold rolled steel products made by Hyundai Steel in storage at its distribution centers to preserve their ideal quality. Stock management and quality control are definitely the two top priorities. We perform system-enabled, real-time stock management of steel products at our distribution centers to bring in and release shipments on schedule, and to maintain appropriate stock levels at all times. Since most cold rolled steel products are turned into cars and appliances, quality control for these products involves maintaining an ideal storage environment at the distribution centers to prevent corrosion from condensation.


What is your approach to workplace safety?
As the largest mover of steel in all of Korea, we take safety very seriously here at the Dangjin Business Office. We regularly hold safety meetings with our suppliers so that we can constantly update our understanding of safety and discuss issues and events with the aim of preventing safety accidents. We also partner with safety solution providers who regularly conduct safety training for our staff members. We keep communications open with freight vehicle owners so that we can respond to issues and risks and prevent them from causing accidents.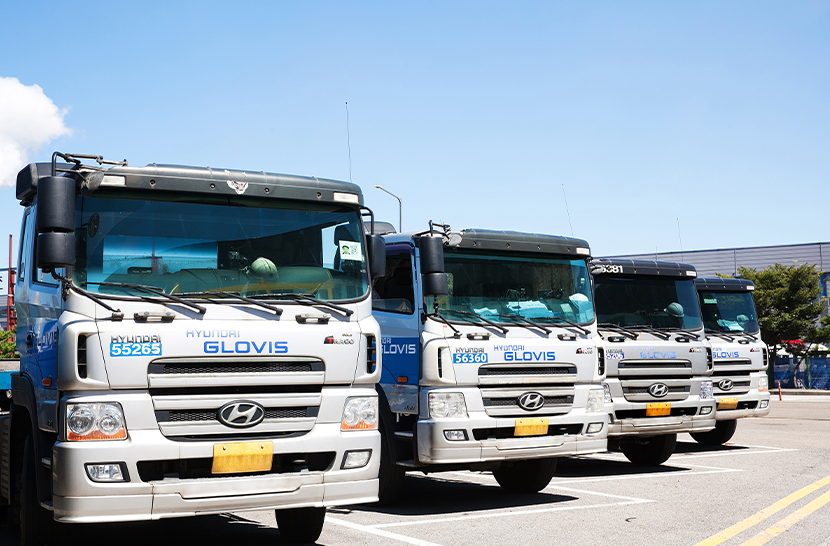 Tell us about a success you achieved together here as a team.
Not so long ago, there was a surge in domestic and international shipments and every one of us had to be on call around the clock to serve our customers. Each one of us did what we had to do, and we worked together as one. We pulled through, and even got a special thanks from some of our customers. We are all proud of the good work we did that time. We will never forget that experience.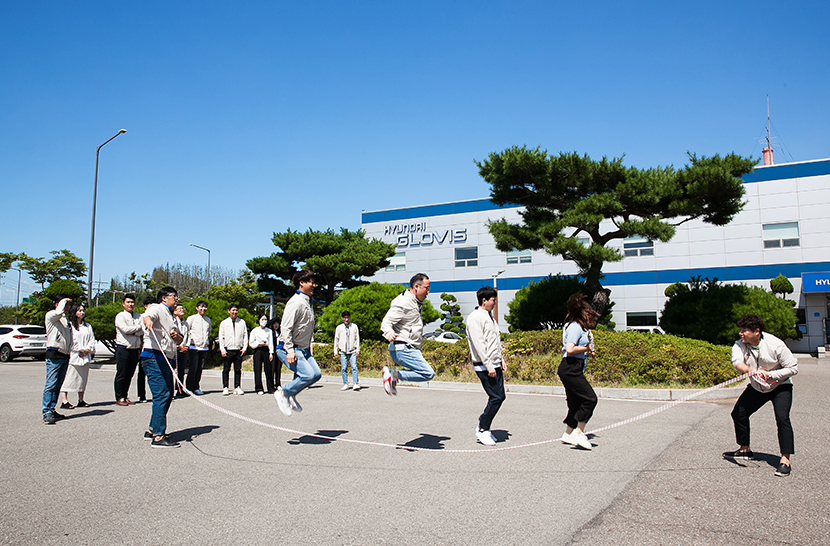 Any final thoughts?
Thank you for taking the time to do this piece on the Dangjin Business Office. As drops of water form rivers and rivers join to form the ocean, the individuals at the Dangjin Business Office work as one to move an astounding amount of steel through this great country of ours. Sure, there are hard times, but they only teach us to be stronger and better at what we do. That's one of the beauties of our challenging work. So, whenever you see something made of steel, remember the hard-working team of 20 here at the Dangjin Business Office!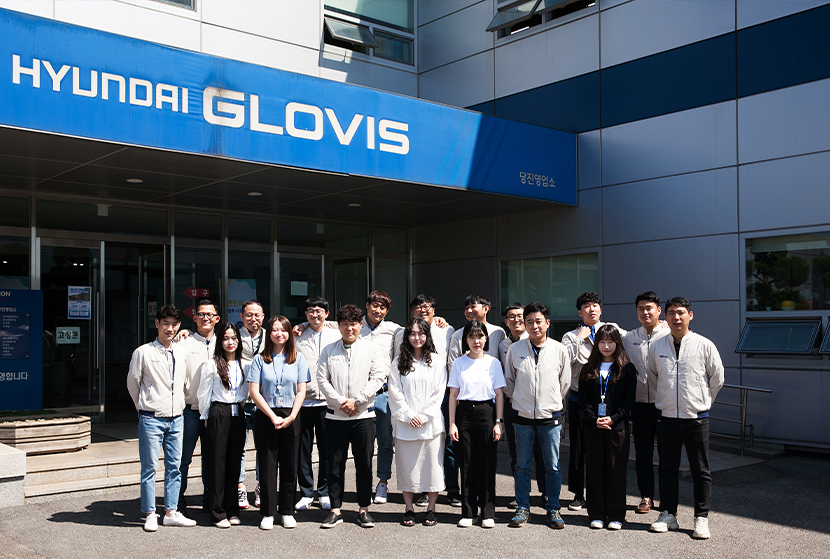 Writer Editorial Department
2022.09.20