Companies in Seoul Forest D Tower Unite! Last month, we gathered together for recreation, delicious food, and socializing. We go behind the scenes of the D Tower Friends event, which brought together Hyundai Glovis, SM Entertainment, and Futureplay.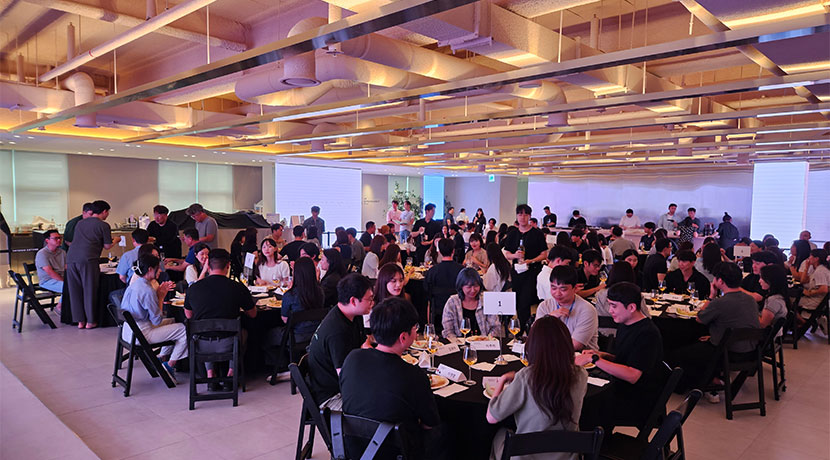 D-Tower Socializing and Unity
In an era of individualism and competition, some people have chosen to become neighbors. These are the employees of Hyundai Glovis, SM Entertainment, Futureplay, and Soca who work together at D Tower. On the afternoon of August 18th, 94 employees from the three companies gathered at FLAT on the 7th floor of D Tower for a short but hot meeting. Unfortunately, Soka was unable to attend this quarter's meeting and is looking forward to the next one. At the D Tower Friends event on the 18th, 49 employees from Hyundai Glovis, 32 employees from SM Entertainment, and 13 employees from Futureplay not only spoke in unison but also bonded over delicious food and simple games. The joint event with SM Entertainment comes three months after the Seoul Forest Flogging event in May.
It's a large, secure building, and the fact that it's packed with people from all over the industry required a lot of planning, starting with the logistics. To enter the 7th floor, which is the floor used by SM Center, Glovis people entered the 1st floor after checking with the security team, while Futureplay went to the 7th floor. As it was an opportunity to get to know each other, the table configuration was divided into 12 tables of 8 people, evenly distributed among the employees of each company.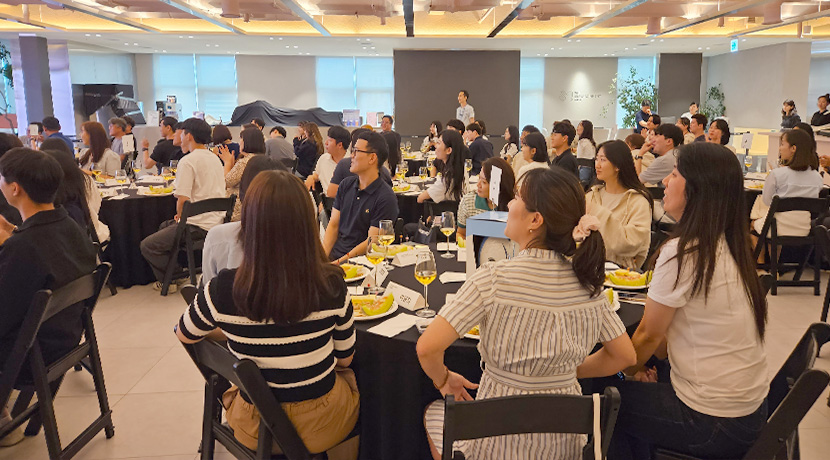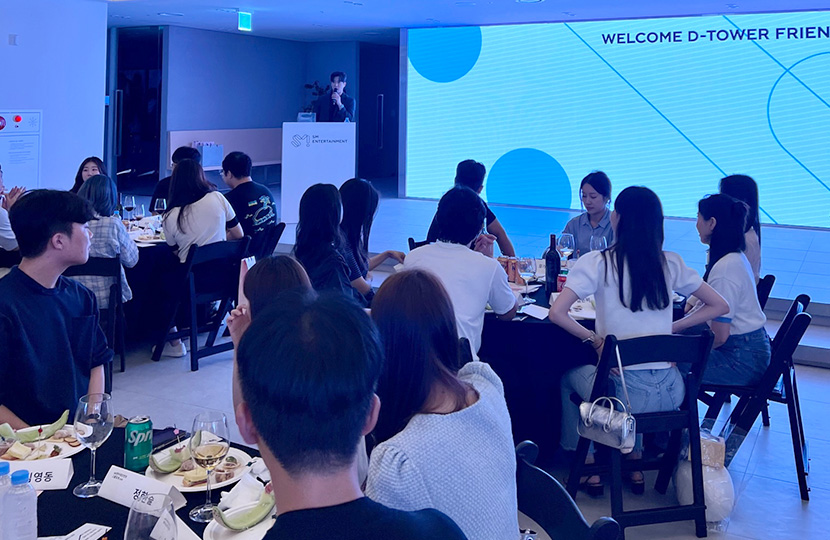 You can't have a party without delicious food. Each table was decorated with mini sandwiches, tacos, tuna crackers, cheese, two types of wine, and beer, which attracted attendees even before the event began. After all employees were seated, the event began with a welcome from SM entertainment CEO Jang Chul-hyuk. A 5-minute PT introducing each company followed, and each group had a chance to introduce themselves.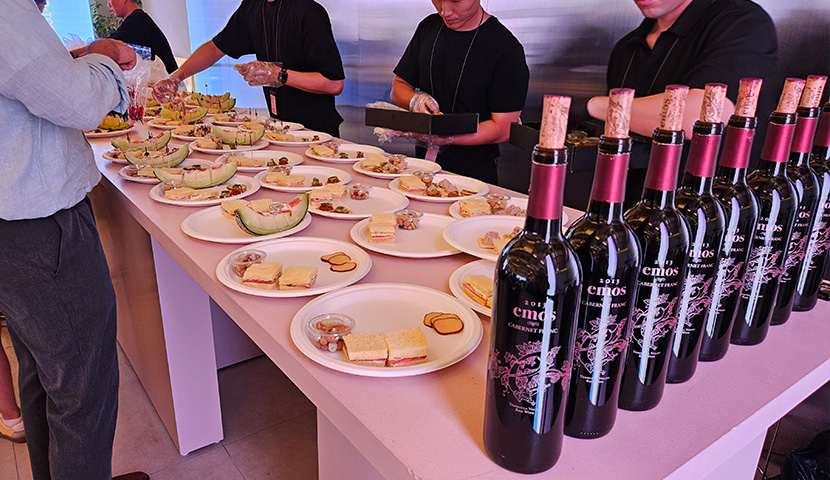 Recreation time for Icebreaking!

There's nothing like a game to break the ice and make connections in a short amount of time. Warm-up quizzes and MBTI mafia games were held, and the tension was unbelievably high for people who had never met before. The first warm-up quizzes included listening to an SM artist's song for one second and guessing the title, listing artists in order of debut year, and guessing the names of idol group members. The winners of the icebreaker quizzes were rewarded with signed CDs or merchandise from SM artists (to be confirmed), making them the envy of the other participants. It was officially a geek scene.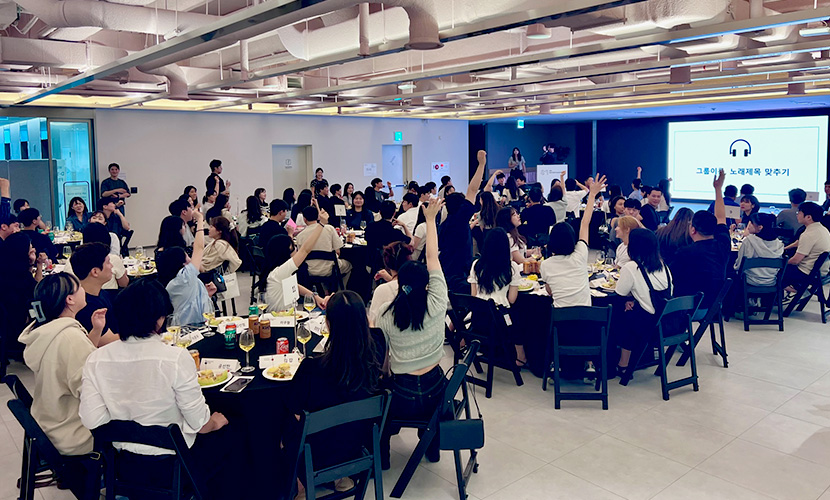 The second round was the MBTI Mafia game, a modern twist on the traditional mafia game. The game is played by collecting the MBTIs of the participants in advance, dividing them into groups by MBTI, and secretly placing people with different MBTIs in the groups. For example, a group of Fs, who are known for their emotions, are put into a group of Ts, who are known for making rational and realistic judgments, and then they ask each other questions to find the T mafia. Since the game requires players to find a mafia with a different personality than the rest of the group, they have to try to get to know each other by asking each other questions, and the atmosphere in each group was like a group of people who have been friends for a long time. Although the event was only two hours long, it was well organized and allowed the employees of the three companies to transcend their respective affiliations and share a strong sense of camaraderie working together in the same space. Throughout the event, the 94 neighbors laughed heartily and looked forward to the next meeting, anticipating even more fun at work.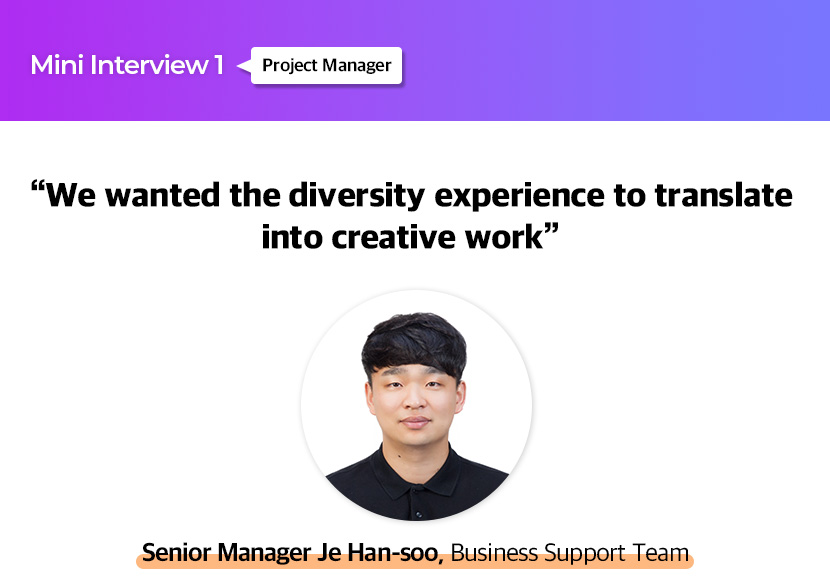 How did you come to organize the D Tower Friends event?
We had a dinner meeting with the CEOs of each company, and one of them made a suggestion, so we pushed forward with it. The first event was organized by SM Center, so SM Center took the initiative to organize it.
Why did you think it was important to socialize and connect with other companies?
Although we work in the same space, each company has a different way of thinking/working due to differences in industry, corporate culture, etc. We organized this event with the expectation that our employees would experience diversity through such exchanges and that this would lead to more creative work.
Bringing people from all three companies together must have been a challenge, how did you organize the time and location?
First of all, we wanted to choose the most representative and symbolic place of each building, and since we had to consider the large number of attendees, we opened the 7th floor FLAT (a kind of customer reception room), which is the first place where guests are welcomed, in the case of the event organized by SM Entertainment.
Attendees were told that applications were accepted. What was the competition like?
The competition was about 6:1, with a good mix of men and women applying and a high participation rate for managerial positions.
What was the most important aspect of organizing this event?
I was worried that the atmosphere would be too subdued because people from different companies would be awkward around the same table, so we organized the content with games, quizzes, etc. that would allow people to interact naturally. The food menu was also chosen with that in mind.
What do you consider to be the biggest achievement of D Tower Friends?
I heard that after the event, some employees had an after-party (second time). If new relationships blossomed there, that would be the biggest achievement (laughs).
Will you continue to organize events like this with other companies in the building?
We'll be doing it quarterly, and Soka will be in charge of the next Q4 event. We're always sorry that we can't give everyone who applies a chance, but please know that the lottery is 100% fair. Thank you for your interest and support for the next event!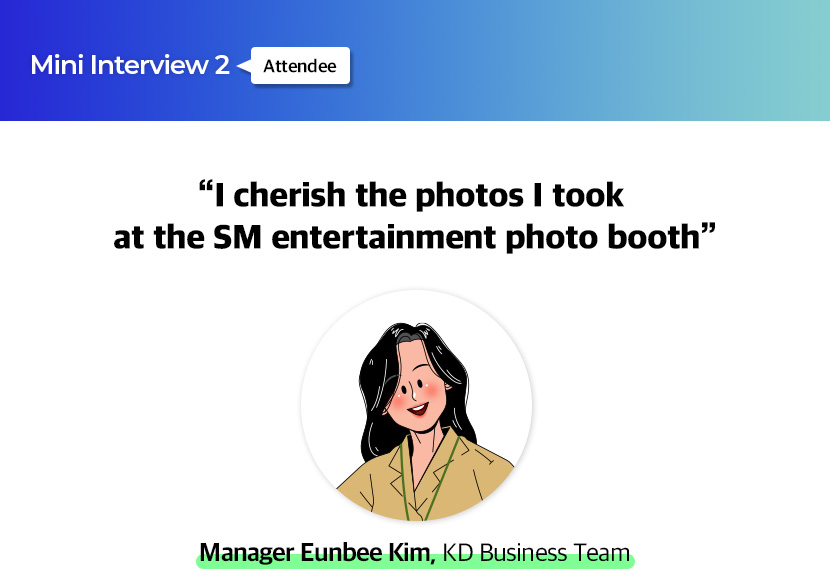 Why did you participate in this event?
Even though it's in the same building, the gates are different and I felt disconnected. I was most curious about what kind of environment and what kind of people work there. When I was announced as a participant of the 1st D Tower Friends by lottery, I spread the word that I was going to SM Entertainment.
Did you get the enjoyment and results you expected?
Of course, we were looking forward to interacting with third parties, but honestly, we were looking forward to touring the SM entertainment building, but unfortunately, we only spent time on the 7th floor. When we talked to SM entertainment employees, they told us that certain floors are off-limits. Instead, we enjoyed the catering and participated in the quiz, and went home with full hands and stomachs!
We had four people from Hyundai Glovis, three from SM entertainment, and one from Futureplay, and as we went around introducing ourselves, the reactions were cool, awesome, and interesting. I was bombarded with questions about SM entertainment's management and Futureplay's tactics, and I felt like they were just as interested in what Glovis was doing.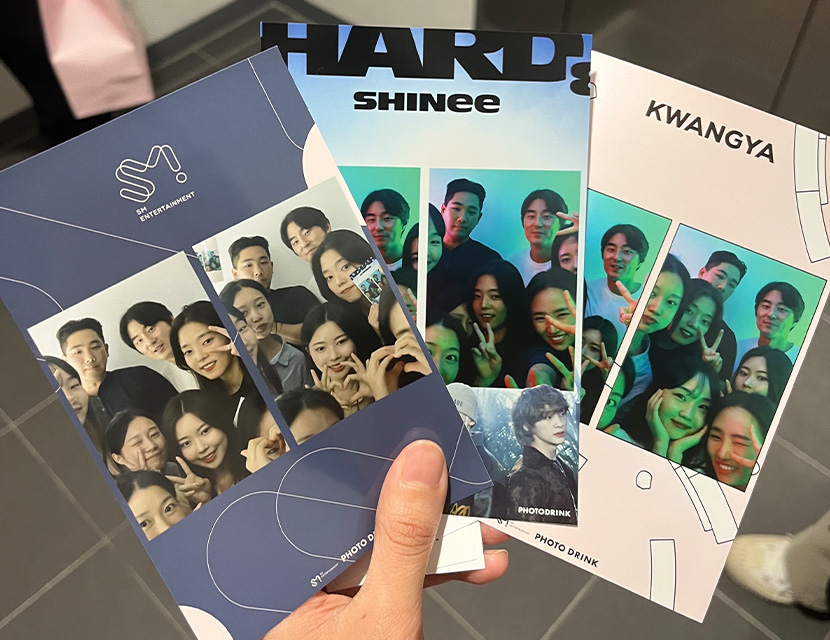 What was it like to interact with third-party employees for a short time, not for work, but for socialization?
It was fun to share all the little things we wanted to know about the company, from the atmosphere to the working hours to the benefits. (Laughs) We learned that Hyundai Glovis was the first to move in, and that the typists were most envious of Hyundai Glovis' cafeteria and gym. I also remember how they wanted to see the view from the top of D Tower.
What did you enjoy most about the event?
The MBTI Mafia game broke the ice and allowed us to have a lot of conversations while asking balance questions. After the event, I cherish the photos we took together at the photo booth, which is only available at SM entertainment. I think it was a special part of the event that only people who have been to SM entertainment can take pictures.
Say a few words to your teammates.
Let's make the 'meal promise' we agreed to make as soon as possible! I hope we can say hello to each other when we meet, and I'll be waiting for you at Hyundai Glovis next year~!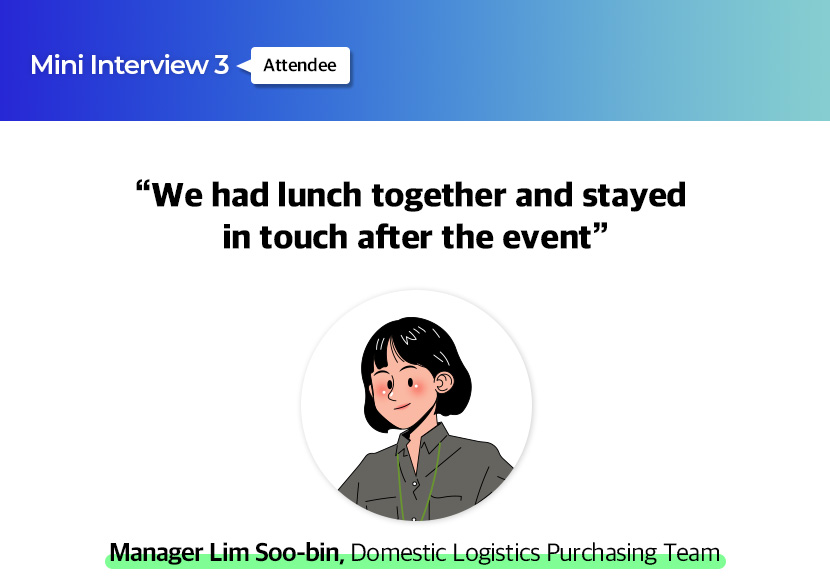 What were your thoughts on attending the event?
I wanted to talk to people who work in the same building but in a completely different company atmosphere, especially the SM entertainment building, which I expected to be very different from Hyundai Glovis. The event was held in one room, so I didn't get to do that, but I was able to get to know a lot of people from other companies at the same table by talking about their company atmosphere, benefits, and personal stories. We even had a meal outside afterwards.
There were two SM entertainment employees, one Futureplay employee, and five Hyundai Glovis employees, and it was a great opportunity to get to know the other companies and the Hyundai Glovis employees who hadn't had a chance to interact with each other before.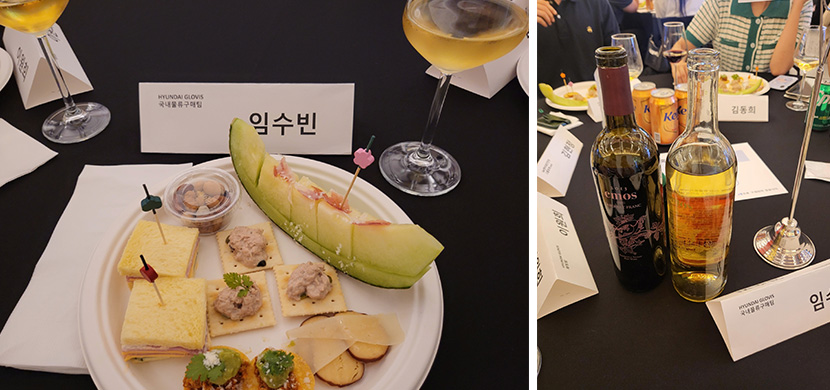 What was it like to meet the people at SMenter and Futureplay after only hearing about them on paper?
Even though we share the same building, I could feel the difference in the company from the interior. I was able to experience a more liberal company atmosphere for a while, such as open seating, flexible working hours, and calling people by their first names instead of their titles. I was often the envy of other employees at Hyundai Glovis because of our various benefits, especially the variety of options in the cafeteria, haha. I enjoyed being around the same age as my teammates, so we could talk about various topics.
Say a few words to your teammates.
After the event, we continued our relationship by meeting separately and having lunch together. Thank you, SMenter's Hyun-jeong for letting us have drinks and take pictures at SM entertainment's cafe, Futureplay's Sol-lip, and the group leader for making the atmosphere fun~ It was so fun to meet the other group members and I'm keeping the pictures. We decided to get together again next month for dinner, and we'll have fun talking and eating dinner again then!
By the Editorial Department
2023.09.05