What does the Musinsa publicity model Mu Ah-in and Rozy, who is featured in TV ads, have in common? They're both virtual humans who seem to be gaining just as much popularity as real-life, human celebrities who appear on social media, performance stages, and TV. Let's take a look at the virtual influencers that are gaining traction as 3D technology continues to amaze us all.
Who are Rozy and Mu Ah-in?
Right after its establishment in 2021, Shinhan Life employed a new publicity model in her 20s. This new model, who captivated viewers with her 30-second TV appearance, isn't actually a person—she is a cheerful-looking, virtual influencer named "Rozy" who also knows how to dance. Rozy is a virtual influencer, created by Sidus Studio X, who has become a valuable asset in the advertisement industry, earning 1 billion won in ad sales as of the end of 2021.
(Source: Rozy's Instagram)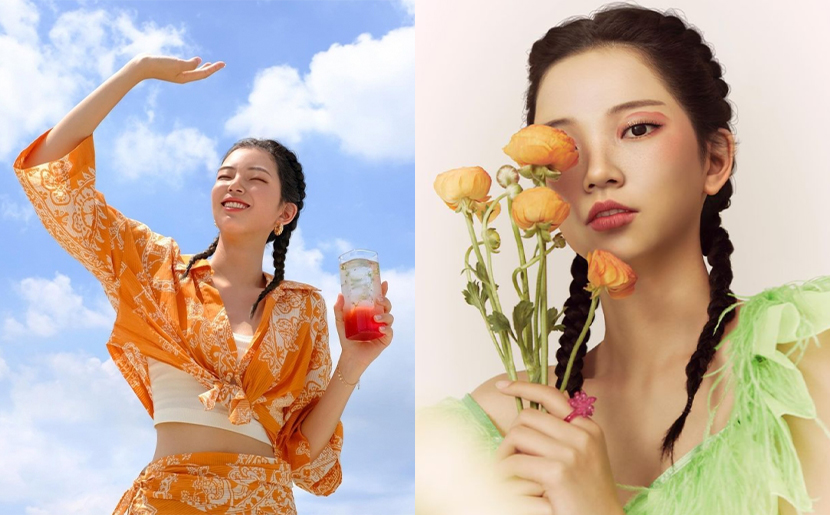 Korea's first virtual influencer, Rozy
There are other virtual influencers that are even more popular. One example is Lil Miquela, a virtual U.S. superstar with over 3 million Instagram followers and 260,000 YouTube subscribers. Another is Japan's top cyber influencer imam, who has became popular through her TV entertainment program, similar to the Korean TV show "Home Alone," which shows the daily lives of people in an Ikea store in Harajuku.
(Source: Lil Miquela's Instagram)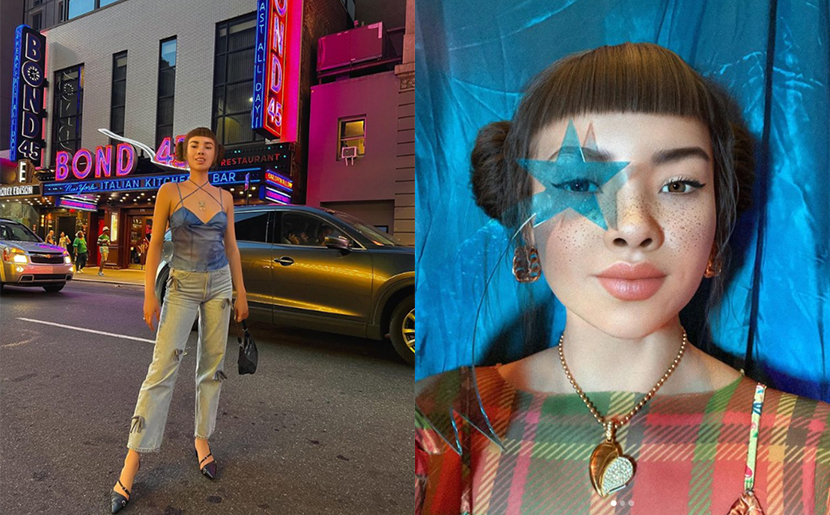 Lil Miquela, a rising American superstar
(Source: imma's Instagram)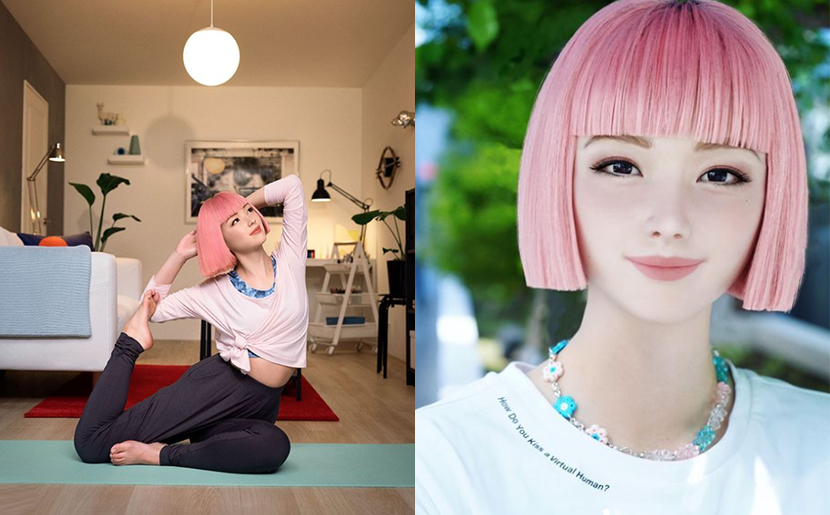 Japan's top cyber influencer imma
Let's take a look again at some of the virtual influencers in Korea. The group Aespa is a girl group under the management of SM that is made up of eight members, four of which are humans and four of which are avatars. The half-rabbit, half-human APOKI is another popular virtual character that has become popular by singing cover songs in her own style. APOKI has even released an official album named GET IT OUT and is active as a singing star.
(Source: APOKI's YouTube)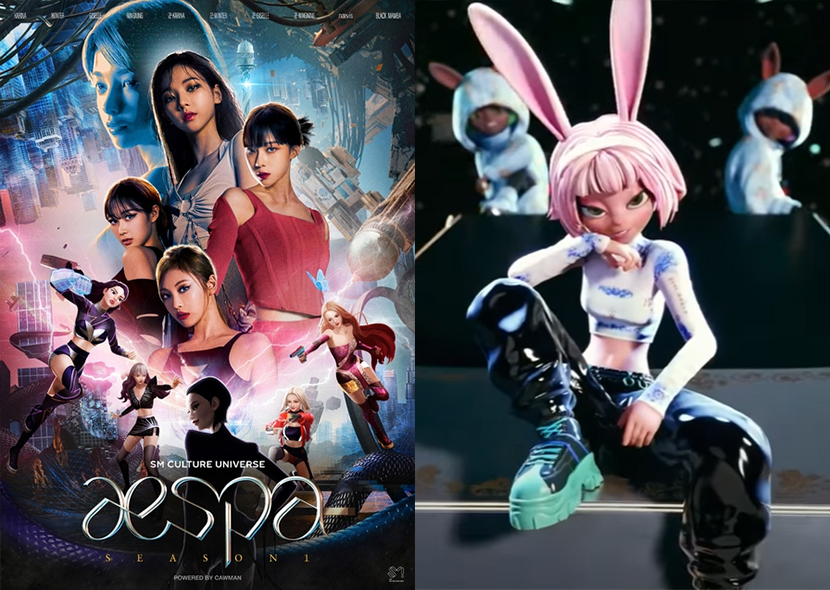 Poster of Aespa and their avatars released by SM Culture Universe (left) Screenshot from the GET IT OUT music video by APOKI
Lotte Home Shopping also made and debuted a virtual influencer named Lucy as a show host, and the online fashion platform Musinsa created a publicity model that looks like the actor Yoo Ah-in. More virtual influencers are constantly being made. So far, these influencers have been used as either advertisement models or singers.
(Source: Lotte Home Shopping)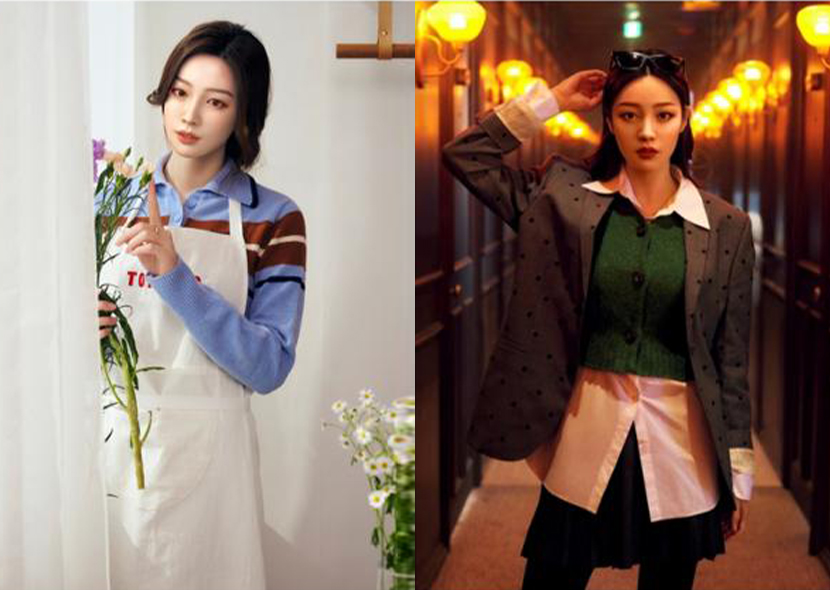 Lucy's debut as a show host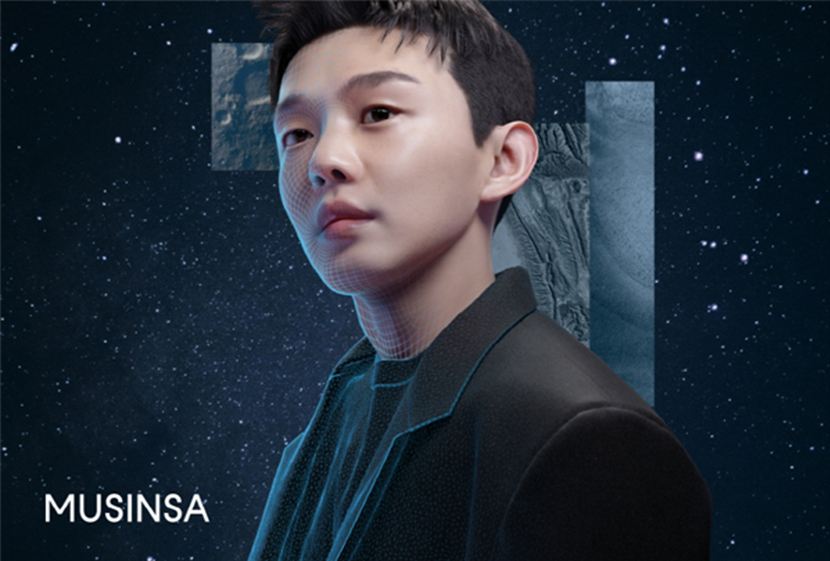 Mu Ah-in, the publicity model created by Musinsa
What is a virtual influencer?
A virtual influencer is an influencer that is created using artificial intelligence and computer graphics. Virtual influencers are also called "virtual humans" or "cyber humans," but after they gain enough influence, they're more commonly referred to as influencers.
Although they're made with sophisticated graphics and look like real people when seen in cyberspace, they're not that different from 2D graphics. For example, Binggrae the Yummy, who is featured on Binggrae's Instagram, is a top 2D virtual influencer. Some characters have their own unique voice that is created using AI voice technology, while other characters are made using deepfake technology and the voice of a real person. The latter type of voicing was used to create the cyber singer Adam in the late 1990s and the cover song artist and singer Rui in 2022.
Connecting with Gen MZers online
How did cyber influencers get so popular? The outbreak of the COVID-19 pandemic is one of the main reasons for this popularity. The coronavirus forced many people to meet online instead of in person. During the early days of the pandemic, in order to know what their friends were doing, people increasingly used social media platforms like Instagram or KakaoTalk. People connect to cyber influencers in the same way. As people became used to meeting their friends online, they also got more used to meeting cyber influencers or real influencers online as well.
This is how the cyber singer Adam from the late 1990s differs from today's cyber influencers. In the past, cyber influencers were used for ads or as singers, but they didn't usually talk to fans on social media. However, cyber influencers today constantly interact with their fans. For example, when fans comment on Rozy's Instagram, they get a response from Rozy herself. The same is true for influencers on YouTube. It doesn't matter who is actually responding because the cyber influencer feels like a friend when communicating over Instagram or Facebook.
(Source: Rozy's Instagram)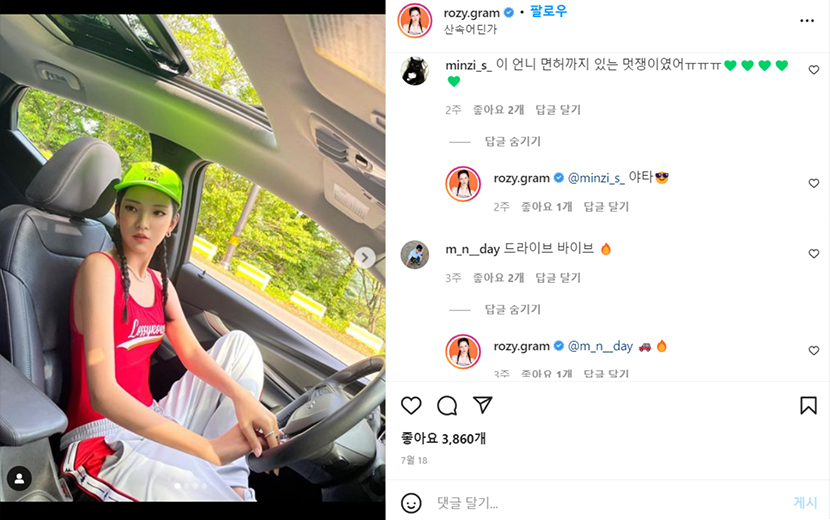 Rozy talking to fans on Instagram
Why companies prefer virtual influencers
Many companies prefer virtual influencers. There are three reasons for this. First, cyber influencers don't change—they look the same year after year. Second, they don't have a past. If a real-life spokesperson has a history of fighting in school, it can affect the company's image. Virtual influencers don't have any of these problems. Finally, cyber influencers cost less. Of course, it costs a lot of time and money to create a virtual influencer, but the costs decrease once the character has been made.
For example, let's say a company decides to film an ad in front of the Eiffel Tower. This would cost a lot using a real-life model, considering the traveling fees and other expenses. But for a virtual influencer, all the company needs to do is change the background of the ad to the Eiffel Tower.
Virtual influencers, how far will they go?
Virtual influencers have unlimited potential. Although they are currently only used for ads and as singers, they can also be used in a variety of other fields, such as short films, weather forecasting, online classes, and more. As soon as AI influencers can be made to actually think and make decisions by themselves, they can be used in any online space. That is why it is important for people to consider how cyber influencers can be used in innovative ways that may not be related to current industries.
So, are there only pros associated with the use of cyber influencers? No. The biggest con is jobs. If virtual influencers, which can be created in a single year or less, can become more popular than a group that has made its debut only after 10 years of hard work, where does that leave models who have had their contracts canceled and are being replaced by cyber influencers? There is a need to discuss and find solutions to these issues before they become even more serious.
Writer Lee Im-bok (CEO, Second Brain Lab)
2022.08.23