The Hyundai Glovis Cooperation Planning Team is in charge of mitigating corporate labor-related risks. We met with the hard-working team to learn more about what they had up their sleeves for 2023 to improve the company-wide subcontracting compliance environment in today's hyper-connected era.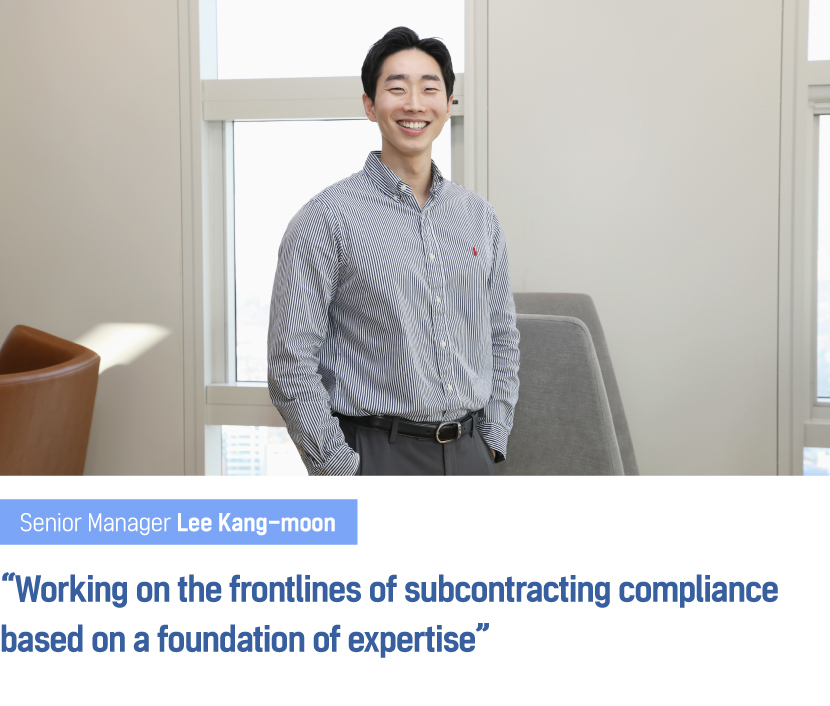 Ever since the Cooperation Planning Team was first launched in July 2016, Senior Manager Lee Kang-moon has served as a solid supporting pillar for the team. Since there are now seven people on the team, including a brand-new recruit, he feels a sense of achievement and an even greater sense of responsibility. The Cooperation Planning Team conducts onsite diagnoses and training related to subcontracting and dispatching to improve the subcontracting compliance environment companywide. In addition to his other tasks, Senior Manager Lee is in charge of reviewing labor issues in C/C and the finished vehicle transportation and shipping sectors. Since analyzing changes in the future labor environment and preventing risks are critically important tasks, Senior Manager Lee needs to make full use of both his expertise and onsite experience.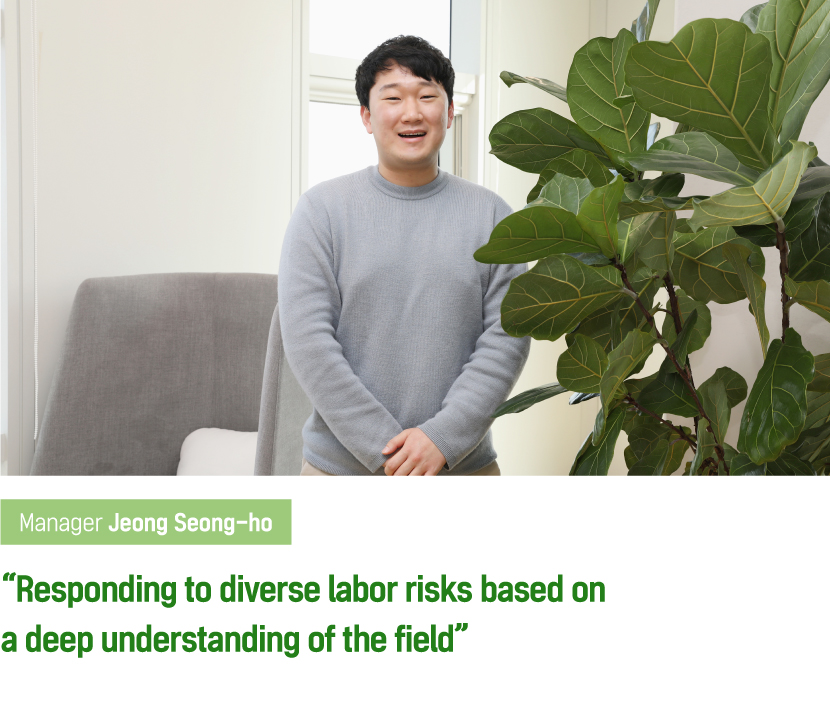 Manager Jeong Seong-ho, who joined the Cooperation Planning Team in July 2021 as a seasoned professional, responds to labor-related inquiries from the Smart Innovation Business Subdivision, Trading Business Subdivision, and Steel Logistics Group. Although he hasn't been working on the team very long, he felt a great deal of satisfaction after he conducted his first ER basic training in 2022 to introduce labor issues related to subcontracting compliance and truck owners to employees. During the training session, employees were divided into subcontracting and transportation teams and asked to complete a variety of tasks. Even though the training sessions had some room for improvement, they were especially meaningful to Manager Jung because they gave him the opportunity to introduce the other employees to the role of his team and to gain a better understanding of the questions they had. Manager Jung said that, based on this experience, he intends to reinforce certain training areas and prepare a training program in 2023 that will be even more useful. According to Manager Jung, the most important factor in labor-related diagnosis and training is properly understanding field work. In other words, it is necessary for him to be aware of the methods of work performed and difficulties experienced by the field departments in order to accurately diagnose and derive improvement tasks and to develop appropriate training programs.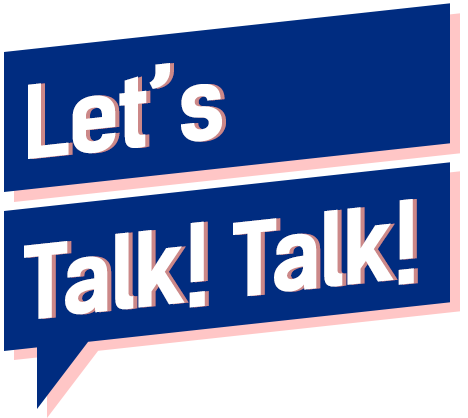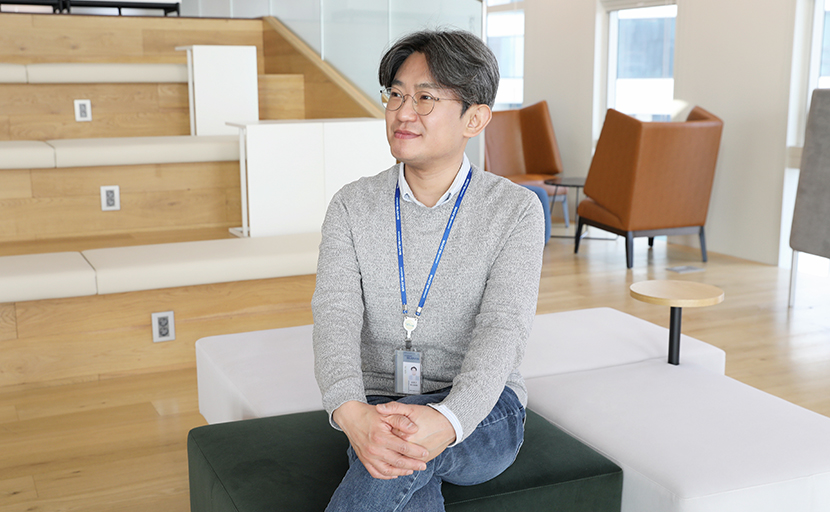 Hello, it's nice to meet you. First, please tell us about the responsibilities of the Cooperation Planning Team.

The Cooperation Planning Team conducts onsite diagnoses and training related to contracting and dispatching in order to prevent company-wide, labor-related risks. Our work is divided into planning and support. Planning work involves "planning" tasks such as analyzing whether changes in external policies and labor laws impact our company's subcontracting environment and mitigating any risks. We also perform the "legal" tasks of reviewing inquiries related to labor laws from relevant departments and respond to disputes such as lawsuits in court and/or at the Ministry of Employment and Labor. Support work involves "diagnoses," such as identifying elements that hinder company-wide subcontracting compliance by business subdivisions and deriving areas for improvement. There is also the task of "training" our field staff and partner company managers to enhance their onsite response capabilities. In addition to this planning and support work, each of our team members is also responsible for overseeing a separate business subdivision.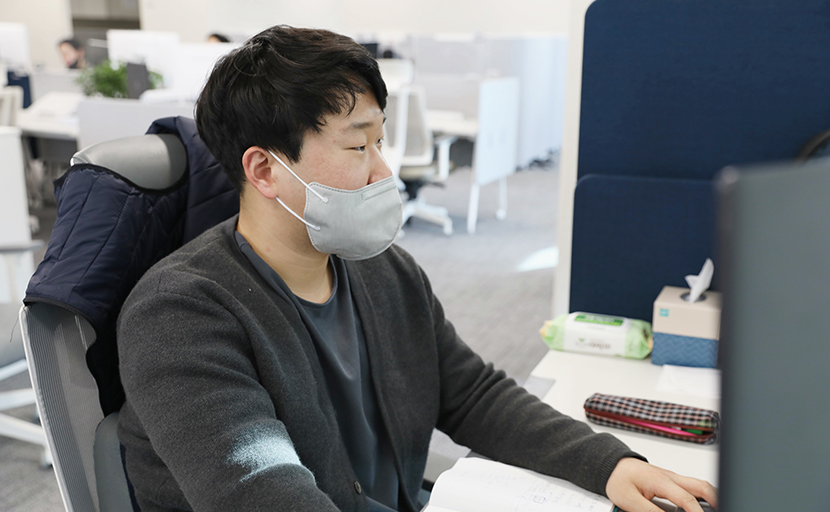 Q. What has recently been the greatest issue in terms of labor risk?

Rather than responding to labor-related rulings or issues based on their news value, we deeply examine most cases. Rather than focusing on a specific incident, we review and pay close attention to cases that we believe have relevance to our own.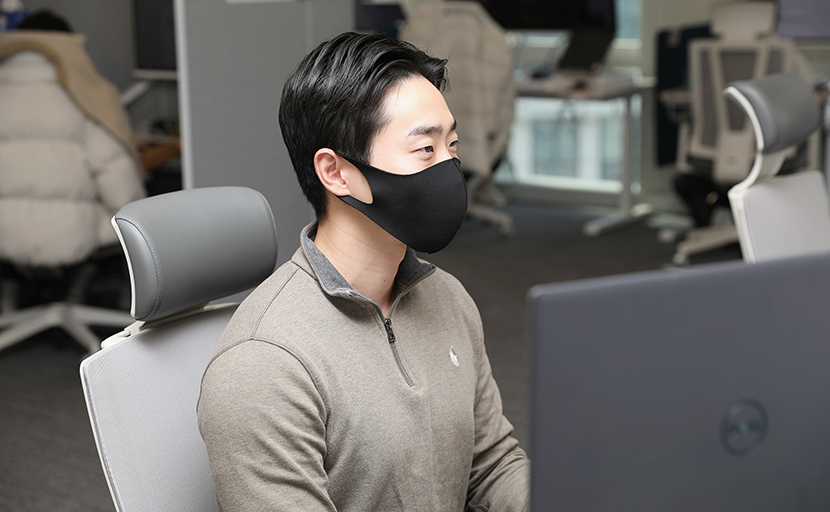 Senior Manager Lee Kang-moon
Q. What do employees need to know or what attitudes should they have to ensure company-wide subcontracting compliance?

Due to the nature of the logistics business, we carry out a significant portion of our work in cooperation with our partners. While doing this work, employees should refrain from giving direct orders to workers and instead they should talk to the partner company's onsite representatives. They should also avoid behaviors like sharing work on the KakaoTalk group chatroom that is customarily set up when doing a job.

When a contract is signed, there are many terms and conditions that address "what tasks must be performed for subcontracting compliance." There are so many conditions because subcontracting cannot be effectively done if the prime contractor has to continually intervene and help the subcontractor in order for the work to be properly completed. If employees check whether the work being subcontracted is an acceptable form of work before accepting a new contract, and if that is not possible, conduct the work in a way that minimizes risks, we will be able to avoid small mistakes that can potentially turn into something serious.
"As our business expands, potential labor issues will also become more diverse. In the future, I plan to make even greater efforts to mitigate such risks so that our team will be able to assist with field work.

Q. Since your team is in charge of labor-related planning and training, isn't communication with other departments also an important part of your work?

In addition to holding regular meetings, we try to get together often with those in related departments and have lunch or dinner together.

Starting from this year, the whole team will be dividing up our schedule so that we can frequently visit regional offices. We will also hold gatherings with internal staff members to listen to their concerns. If there are issues that can be resolved at the company-wide level, we want to play the role of suggesting improvements.
Q. What sort of mindset and attitude do you need to perform the responsibilities of the Cooperation Planning Team?

I believe having an active mind, a willingness to solve problems, an understanding of labor-related laws, and the ability to communicate smoothly with relevant departments are all important skills.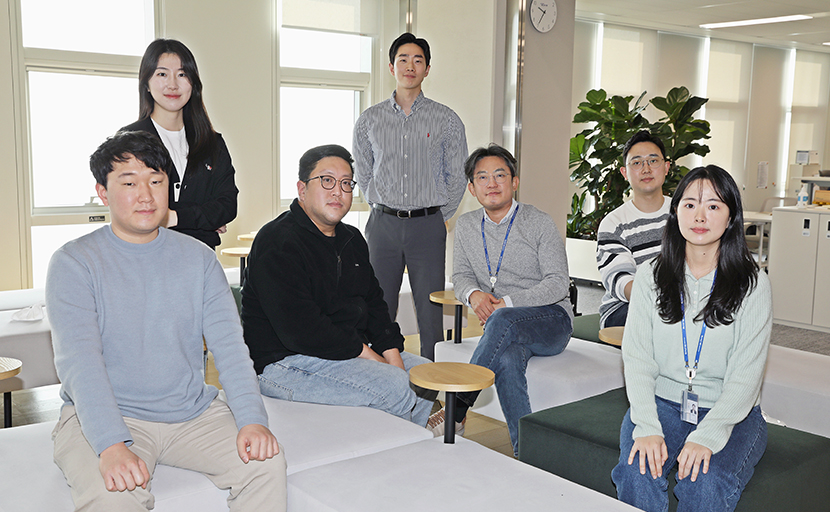 (From the left) Jeong Seong-ho, Lee Ju-young, Park Jun Sue, Lee Kang-moon, Song Myeong-geon, Yoon Won-deok, Woo Su-in

Q. We are in a hyper-connected era where people, processes, data, and objects are all connected through the internet. What are the mid- to long-term plans of the Cooperation Planning Team designed to meet the needs of this era?

In the future, our team plans to analyze all available court rulings related to illegal dispatching and turn them into data, which we will then run through a new diagnosis program that analyzes dataset using AI. Compiling and analyzing data in this way will allow us to quickly conduct diagnoses and reduce the fatigue felt by staffers in the response process, while at the same time giving us efficient and objective results.
"The Cooperation Planning Team has grown from an initial four members to seven members including a brand-new recruit. As a new, improved team, we will do our best to provide smoother, more specialized support for each business division."

– Senior Manager Lee Kang-moon
By the Editorial Department
2023.02.07