With their unique speed, road bikes can make cycling enjoyable for anyone. Compared to mountain bikes, which you should only ride in the mountains, road bikes are easier to get started, which makes them even more appealing. There are Hyundai Glovis employees who have fallen in love with the charms of road bikes. Let us embark on a journey to the world of cycling with Manager Choi Woong-ju and Senior Manager Choi Kwang-rim of the Domestic Procurement & Contract Management Team.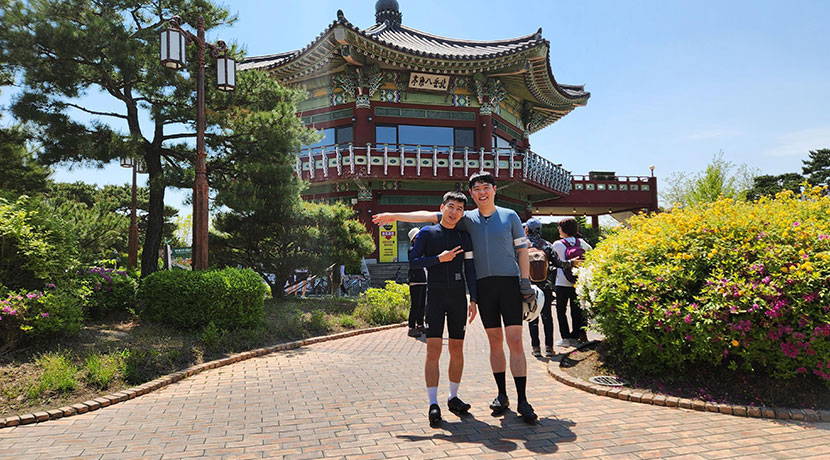 Manager Choi Woong-ju (left) and Senior Manager Choi Kwang-rim
Q. It's so nice to meet both of you! Please introduce yourselves.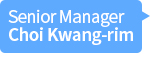 Hello! I'm Choi Kwang-rim and I have been with Hyundai Glovis for 12 years now, after joining the company in 2011. I transferred to the Domestic Procurement & Contract Management Team last year, where I have set up my new nest.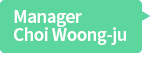 Hello! My name is Choi Woong-ju and I'm a manager working in the same team as Senior Manager Choi Kwang-rim. I joined Hyundai Glovis in May 2019 and am responsible for the procurement and management of transportation partners and contracts.
Q How did you first meet? What were your first impressions of each other?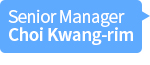 At first, I thought Manager Woong-ju was rather shy and introverted, without any emotional ups and downs. But as I got to know him better, I realized he is the exact opposite. He has a good sense of humor and is considerate of others. On the flip side, he has strong convictions and is at times sensitive and temperamental. I wonder how a person could be so different from my initial impression. Nonetheless, he is a guy who is overflowing with charm in all aspects, and I can't understand why he is still single.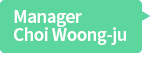 Senior Manager Kwang-rim initially struck me as an older brother figure, who was rather rigid and always focused on doing the right thing. At first, I didn't have a lot of opportunities to talk to him as we were in different teams. However, on one occasion, we happened to have lunch together, and I was surprised to learn that we were the same age. From then on, we started talking more frequently, and we have now become good friends and feel comfortable with each other.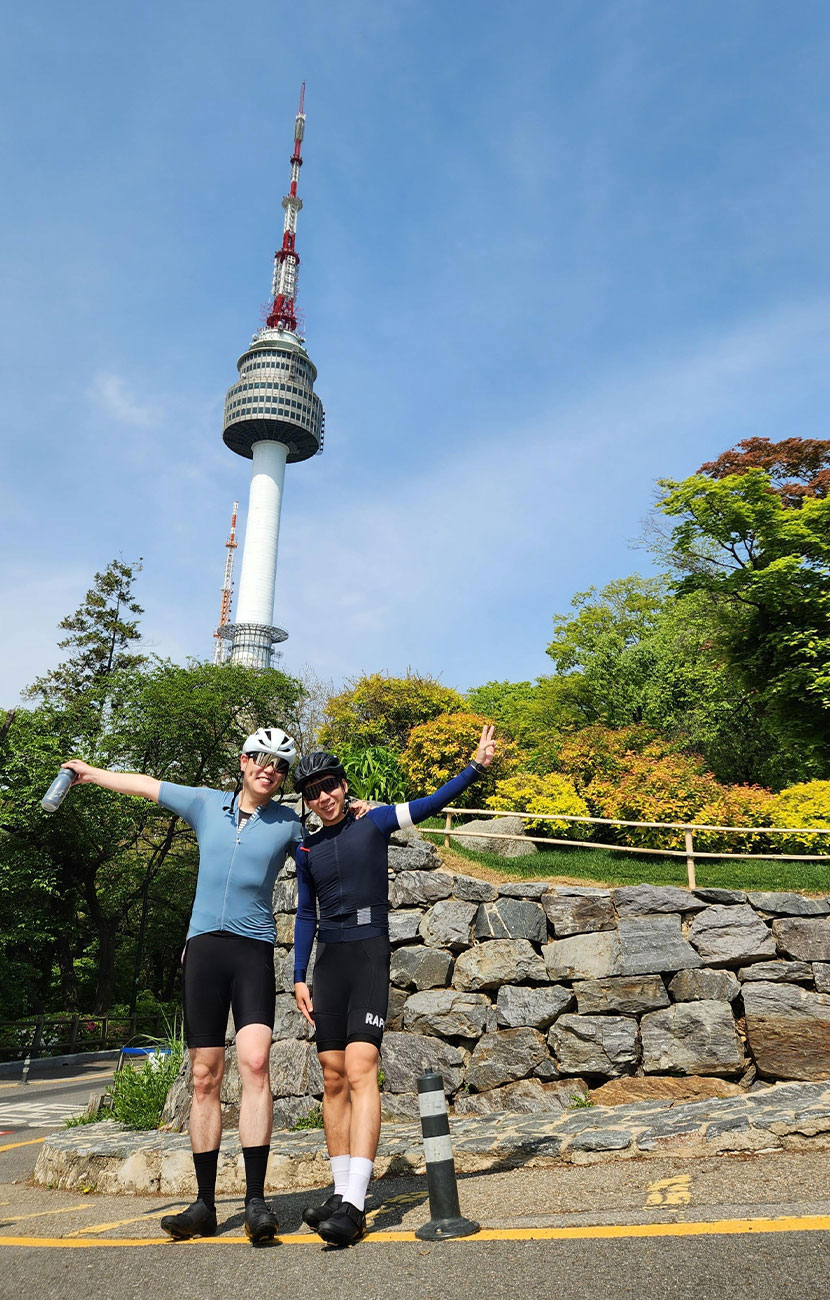 Q. Is there a reason why you recommended cycling to Manager Choi Woong-ju?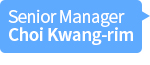 I have always enjoyed riding bicycles since I was young. Then, four years ago, I started road cycling on the recommendation of a friend. Cycling has the benefit of not being restricted by time or space. I like the fact that I can choose the style of cycling, whether I'm riding by myself or in a group. A real bonus is that on a hot summer night, I can cycle to feel the cool breeze on my face, which makes me forget all about the heat. Last year, Manager Woong-ju was really into swimming, but I saw that he was forced to take a break because of COVID-19. I therefore wanted to show him the merits of cycling and I encouraged him to try it out. It is similar to swimming in that it makes you use a lot of leg muscles. I told him that if he improved his cycling skills and join a cycling club, he would find plenty of opportunities to meet women. He went ahead and immediately bought a bike. (Laughs)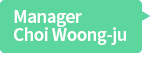 Ha, ha! Just as Senior Manager Kwang-rim said, I had to put my swimming on hold because the swimming pools were closed. With so many limitations on indoor activities, I started searching for other hobbies that I could take up. It was then that Senior Manager Kwan-rim, from a nearby team, recommended road cycling. I thought about it for a couple of days, then one evening while I was on the bus heading home, I saw someone riding a bike with the sun setting behind him. It looked really cool, so that very day, I decided to buy a bike. I can assure you, it wasn't for meeting women (laughs). Then, in February 2022, I was completely overtaken by the world of cycling.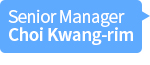 Since he was practicing so hard, I assumed he was motivated by the thought of joining a cycling club (laughs). We rode together recently, and I've noticed that he is becoming a better cyclist than me. That has motivated me tremendously to push myself harder.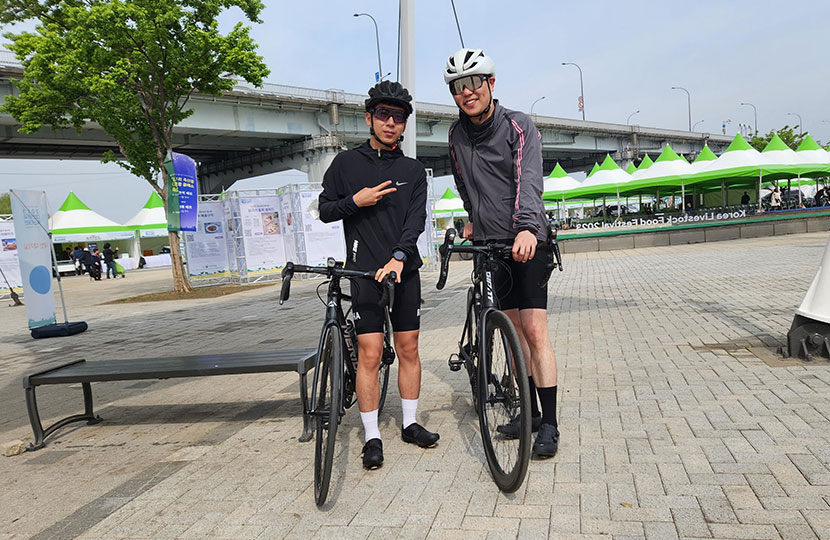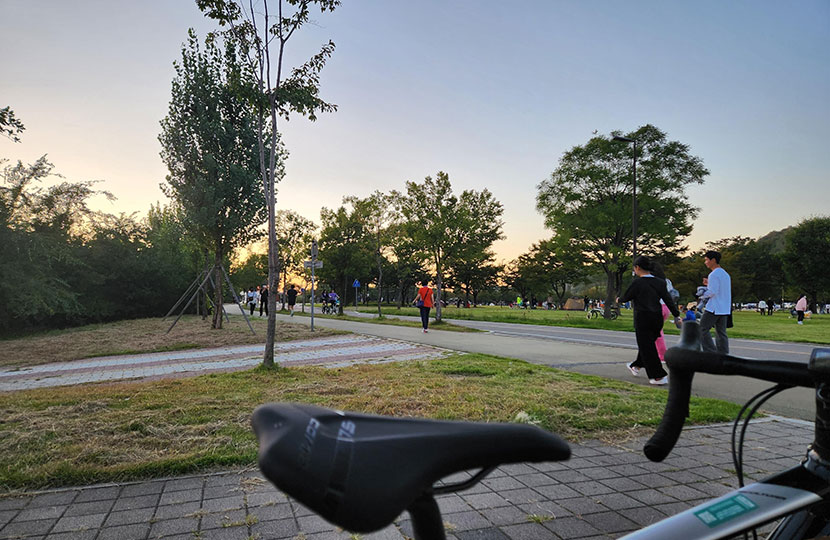 Cycling along the Han River while enjoying the evening sunset
Q. What are the differences between road bikes and regular bikes?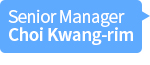 There are many different types of bicycles such as hybrids and MTBs. Nowadays, many specialized electric bicycles are also available. Road bikes are known for their lightweight design, which allows you to go faster with less effort. However, they are specifically designed for paved roads like bicycle paths, while riding on sidewalks and uneven surfaces with many speedbumps can increase the risk of falling. If you are considering purchasing one, it is important to choose a bike based on your riding preferences.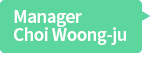 That's right. Compared to regular bikes, road bikes have lightweight frames and thinner tires, allowing for higher speeds and making the ride more exciting. However, due to this increased speed, there are potential risks, so it is essential to have the necessary safety gear such as helmets and gloves for protection.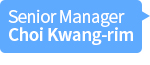 As someone who started road cycling earlier, I frequently remind Manager Woong-ju to always use a complete set of safety gear while cycling. According to the traffic laws, we are required to ride on vehicle roads other than bicycle paths, so cycling accidents occur frequently on the road.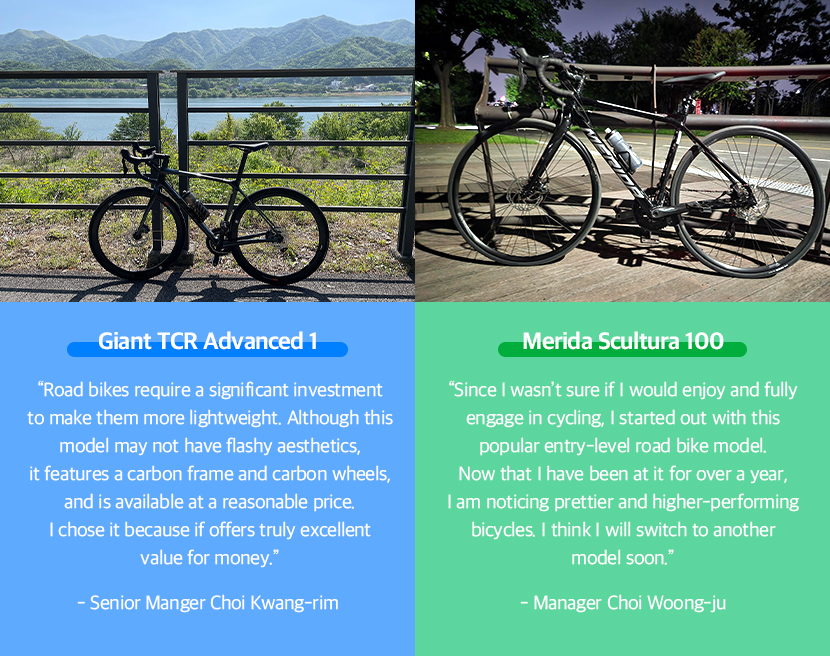 Q. How did Senior Manager Choi Kwang-rim help you when you first started road cycling?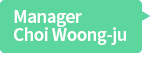 When I first decided to buy a bike, I was overwhelmed by the countless brands and the diverse specifications available. At that time, Senior Manager Kwang-rim came to my rescue, by explaining the characteristics of different products to me in detail and sharing relevant YouTube links. Thanks to his guidance, I was able to purchase an entry-level bike that I really liked. I was also touched by his thoughtful gestures when it came to buying cycling accessories. He ordered, and also gifted me items that were essential for a beginner like me. It felt like he was taking care of his son, to make sure that I wouldn't lose interest in cycling and sell the bike. I would like to thank Senior Manager Kwang-rim once again for his attentive support.
Q. Do you two cycle together often?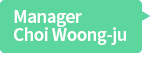 We usually ride together once a month, but when things get busy, we ride once every two months. Although I would love to ride together more often, Senior Manager Kwang-rim has parenting responsibilities, so I try to adjust my schedule to suit him. After all, I can't take away his role as a dad (laughs).
Q. What is the fun of road cycling together instead of alone?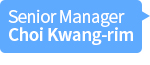 While riding solo has its own charms, riding together allows us to support each other. We can rotate our positions to block the wind, which greatly helps to manage our energy level. The most important thing is that when you ride together, despite the embarrassment of wearing tight cycling attire, there are many restaurants and coffee shops that you can muster up the courage to enter with confidence.
"Manager Woong-ju! You're planning to upgrade your bike soon, right?
Let's cycle safely with your new bike and level up our skills, so that we can participate in a competition together soon."

– Senior Manger Choi Kwang-rim
Q. Which has been your most memorable cycling course?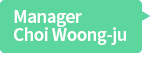 I would pick the Namsan Tower-Bugak Skyway combo course we tried on Labor Day. We started off from Jamsugyo Bridge, went through Hannam-dong, continued up Namsan Mountain, passed in front of Gwanghwamun, and then headed to Bugaksan Mountain's Palgakjeong Pavilion. As I usually ride on flat terrain, cycling over the uphill sections presented some challenges for me. However, when I reached the highest points and saw the panoramic views unfold before me, followed by feeling the refreshing breeze on my way down, any difficulties I endured seemed to fade away.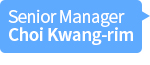 I completely agree. When we were cycling upwards, it was really challenging because we couldn't see the summit. However, reaching the top and cycling downwards afterwards was the most thrilling cycling experience I have had so far. On other occasions, we have ridden along the Han River bicycle path and also visited places like Paldang Dam and Yangpyeong Dumulmeori.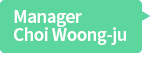 I also remember the route we took from the southern end of Banpo Bridge to Gwangnaru, and all the way to Paldang Station. It was the longest distance we covered together, spanning about 70 km. It was about the time when I had mistakenly begun to think, "I'm pretty good at this", but I ended up in tears while cycling that day. I rode right behind Senior Manager Kwang-rim, trying to reduce the wind resistance. The chilled chicken noodles we had near the turnaround point were so delicious that I cried for a second time. I remember being so exhausted that I slept straight through until the next day.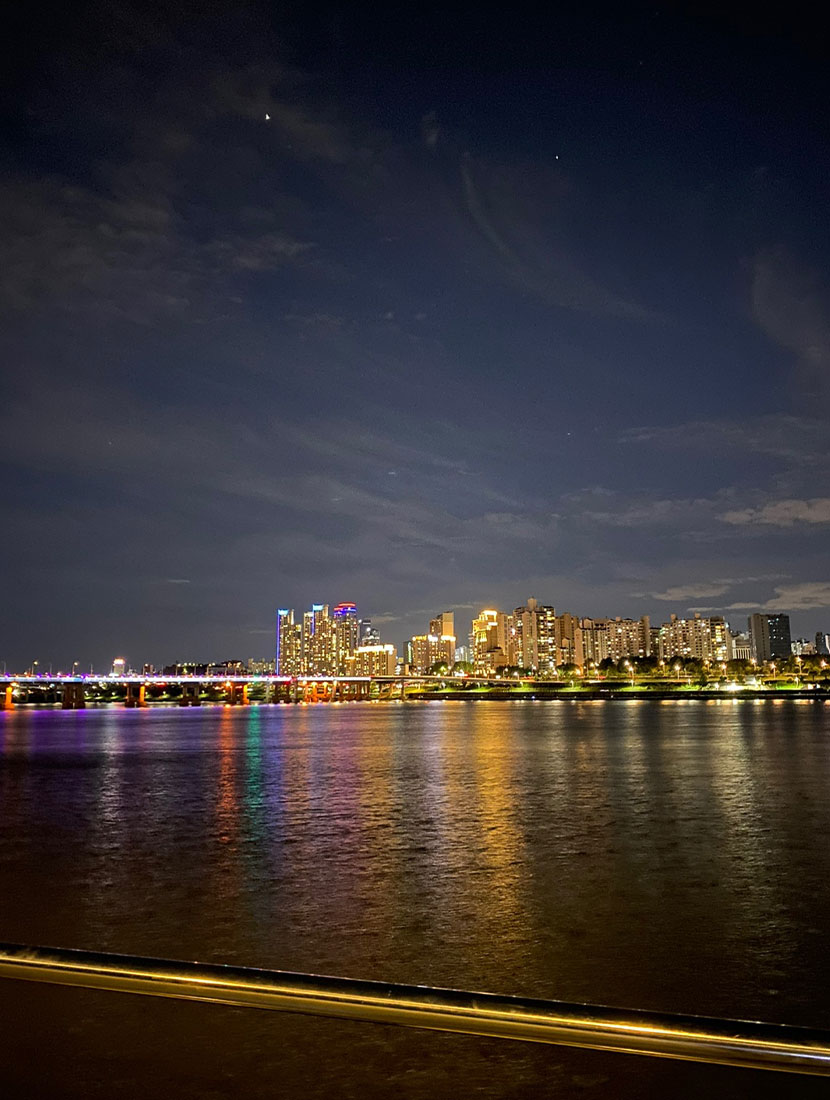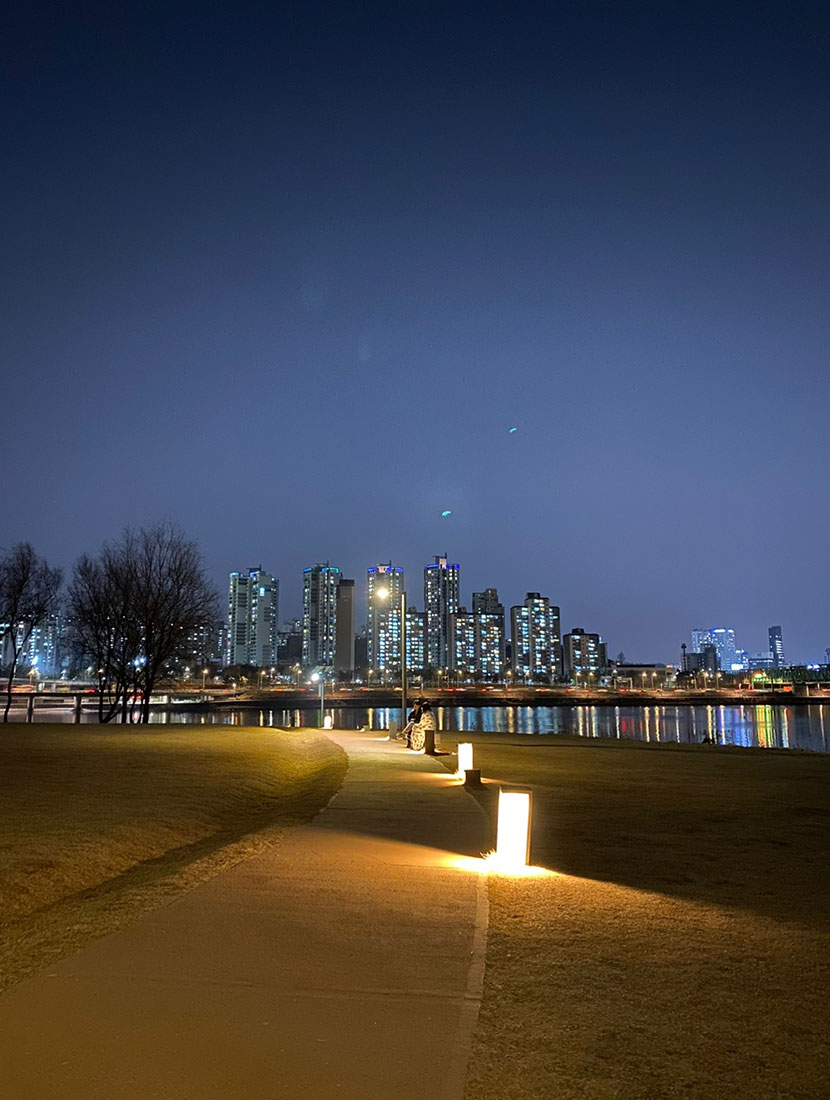 The sceneries of night cycling
Q. Have you had any scary or dangerous moments?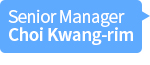 Once, a friend of Manager Woong-ju joined us for a ride. When I looked at the return route, I realized I had to go with his friend. Since I was feeling awkward, I changed Manager Woong-ju's route and nearly forced him to come with us. But he fell off his bike and hurt himself. He claimed the accident was my fault and showed me the wounds on his palms every day. I would like to take this opportunity to once again express my sincere apologies for what happened!
Q. Do you think road cycling has been helpful to your work life?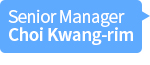 When I'm cycling, I always have to give my full attention to what is directly to the front and rear for safety reasons, leaving little room for other thoughts. On top of that, especially if I come across a good restaurant during a ride, it relieves stress, and I return to work with a reenergized mindset. Another important advantage is being able to share a healthy and wholesome hobby with a colleague outside of work.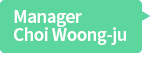 That's true. We share many experiences outside of work, which makes our conversations more enjoyable. It also allows me to temporarily escape from work issues and switch gears. Cycling has brought about changes to my daily life as well. I used to be a homebody who never went out, unless there was a specific reason. Nowadays, I always cycle for at least one day every weekend. Checking the weekend weather has become a part of my routine. I also feel a significant improvement in my stamina.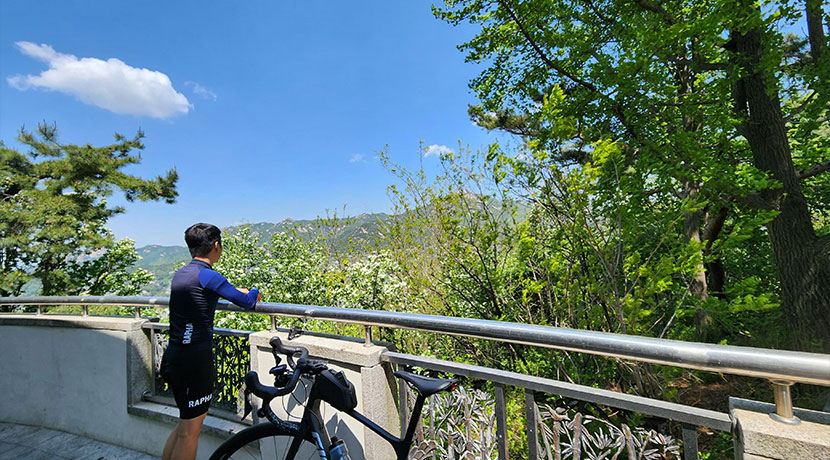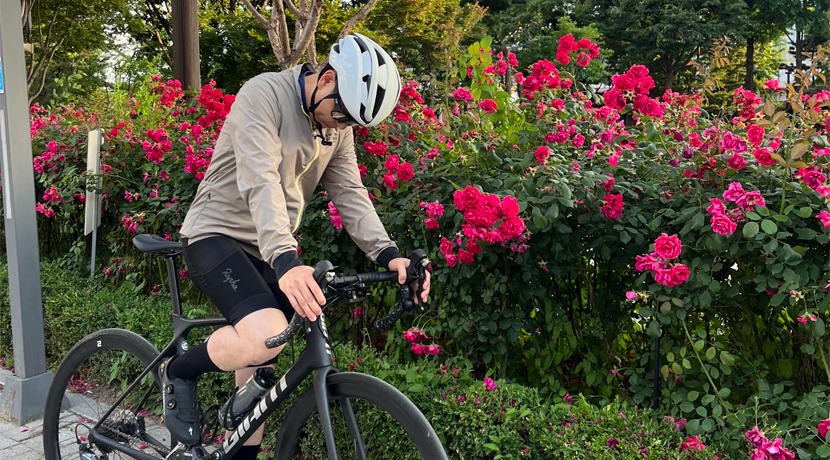 Manager Choi Woong-ju (left) and Senior Manager Choi Kwang-rim(right)
Q. Are there any cycling courses or goals you want to attempt?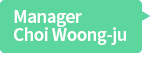 I want to go on a two-day biking trip to Namhae in Gyeongsangnam-do, where you can ride along the coastal road with scenic views all around. The weather in the area is perfect for cycling throughout the four seasons, so we can go there anytime as long as our schedules are aligned. Of course, as a devoted dad, Senior Manager Kwang-rim will need to get permission from his son Jun-hee!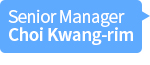 I'll need my wife's permission, too! (Laughs). As per Manager Woong-ju's suggestion, we are seriously planning to visit the Namehae Outside Course within this year. I have heard that cycling along the coastal route from the Namhae Bus Terminal is an incredible experience.
"It is not easy to find someone at work with whom you can talk with, think alike, and depend on. I feel truly blessed to have met Senior Manager Kwang-rim! I hope we will continue to be a source of strength for each other and continue to remain steadfast friends."
By the Editorial Department
2023.06.07