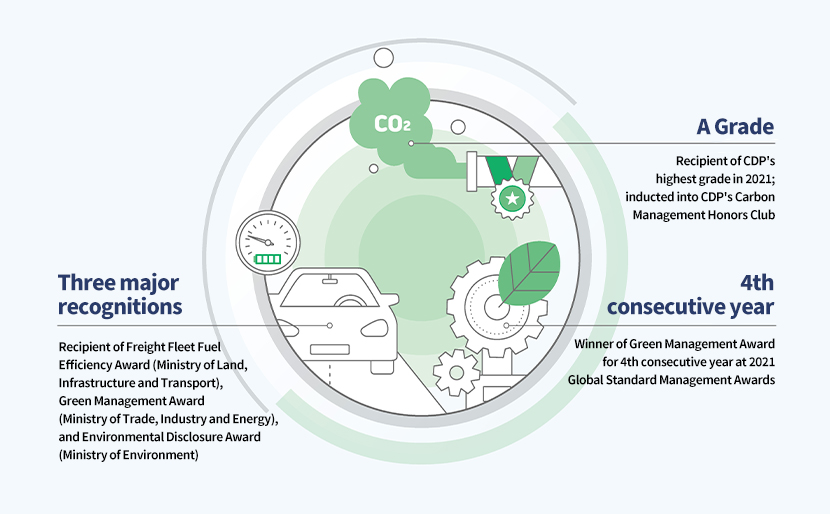 An ESG culture of business is in demand now more than ever. Hyundai Glovis is setting examples with its eco-friendly low-carbon operations, and its endeavors have been recognized with an "A" rating in the CDP Climate Change 2021 Questionnaire, placing Glovis among the world's leaders in climate change response.
Hyundai Glovis sole Korean logistics company to receive both CDP honors 
The non-profit environmental organization Carbon Disclosure Project (CDP) gave Hyundai Glovis an "A" rating in its 2021 Climate Change Questionnaire in recognition of the company's leading role in environmental initiatives. This year marks the second consecutive year of Hyundai Glovis claiming the honor. The CDP measures environmental risks and opportunities for companies in areas such as climate change response, deforestation, and water resource protection, and releases verified data on companies' performance in greenhouse gas emissions and reductions and other environmental activities. Along with the Dow Jones Sustainability Indices and the Corporate Knights Global 100, the CDP is a global environmental authority whose findings serve as an investment compass for global financial institutions, with assessment criteria that are demanding to this extent.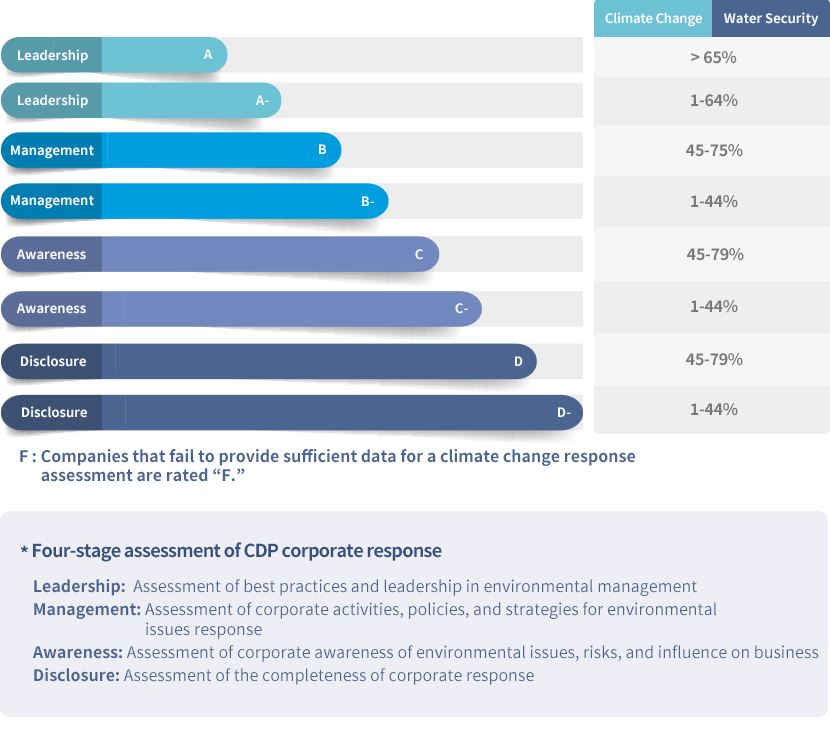 The CDP's 2021 assessment covered data disclosures from 13,126 companies, but only 200 were given the A rating. Hyundai Glovis also made it into the CDP's Carbon Management Honors Club for the second year in a row. Of the 200 highest-valued Korean companies, only four others made it into the Carbon Management Honors Club this year. Hyundai Glovis is the only Korean logistics company to win both an A rating and a Carbon Management Honors Club membership. Manager Nam Hyung-joo of the Hyundai Glovis Environmental Management Team, pointing out its proactive approach to climate change response and carbon neutrality as what achieved the environmentalism leadership title, said that "Hyundai Glovis is acutely aware of its responsibility for climate change response, and operates and improves accordingly."
Forward and onward to raising environmental awareness and cutting greenhouse gases and pollution
One ruling principle adopted by Hyundai Glovis as a socially responsible company is "to optimize its green logistics and lead the global green logistics industry", a commitment that is divided into the three main goals of greenhouse gas reduction, pollutant minimization, and stronger environmental awareness. Each year, Hyundai Glovis forms specific environmental goals that incorporate the control of all known environmental pollutants, and performs environmental impact assessments.
Hyundai Glovis's notable environmental achievements so far include the operation of eco-driving (improved fuel efficiency) freight fleets and, in a new initiative for Korea, the introduction of electric trucks in its cold chain operations. It has also replaced plastic containers and cardboard packing materials with a foldable (reusable) container developed in-house, a solution that achieves both emissions reductions and logistics efficiency improvement.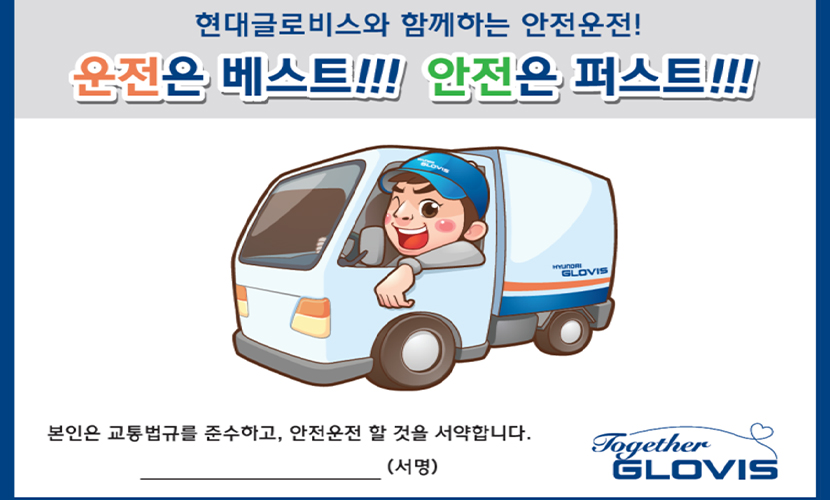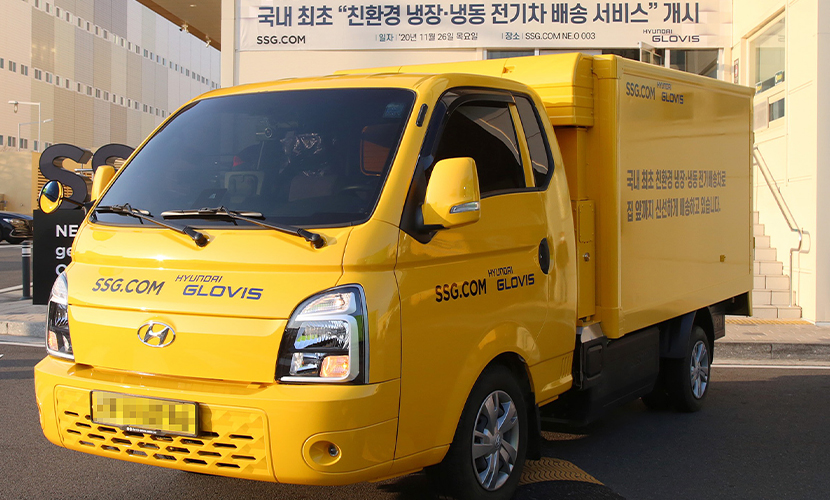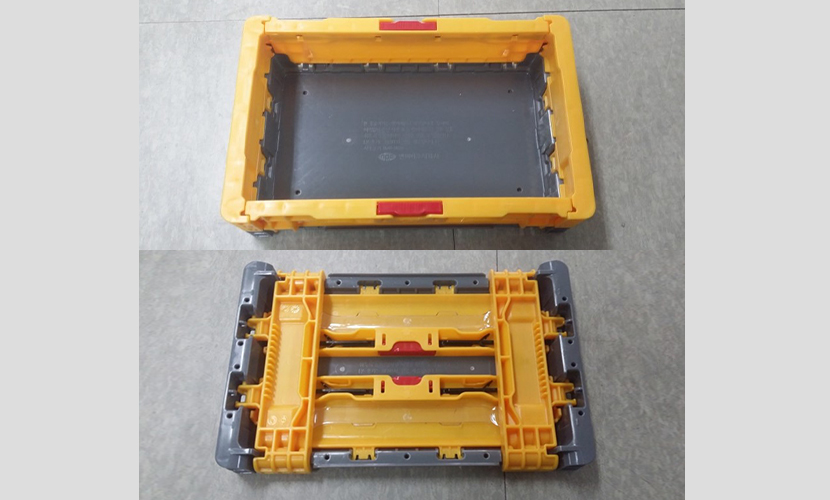 Efforts have also been made to reduce emissions occurring during shipping. Hyundai Glovis is running a trial operation of a power supply system that supplies ships at port with electricity from a port power facility, and has made a modal shift from road transport to coastal shipping where possible to achieve higher energy efficiency. The creation of a hydrogen logistics system is at the top of Hyundai Glovis's priority list. It is maintaining and discovering successful partnerships with the right agencies and suppliers to expand its hydrogen infrastructure and EV charging stations.
Hyundai Glovis's journey continues as a global green logistics leader of the future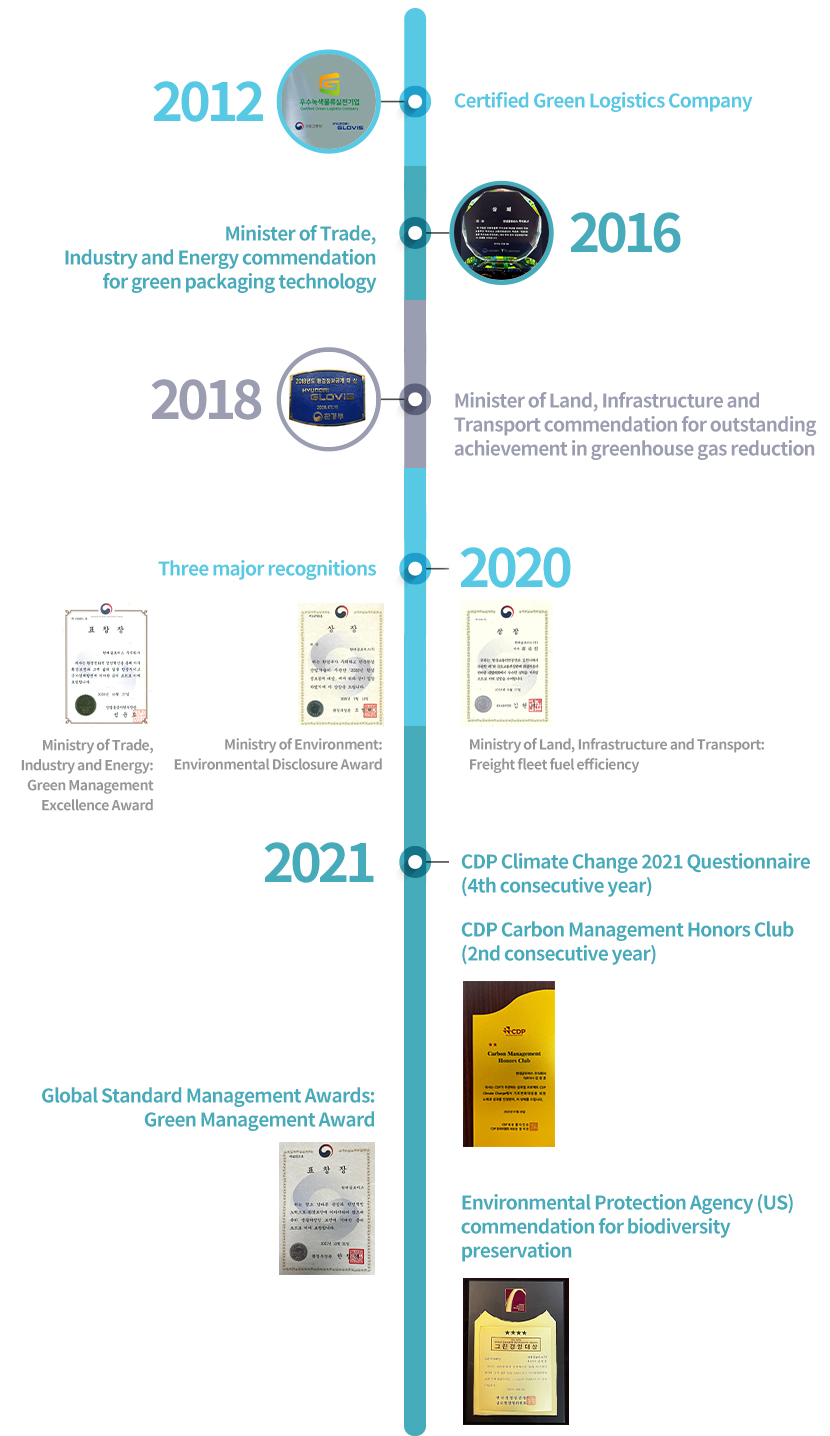 The milestones reached by Hyundai Glovis in its green management began with its recognition as a Certified Green Logistics Company by the Ministry of Land, Infrastructure and Transport in 2012. In 2016 it received a commendation from the Minister of Trade, Industry and Energy for its environment-friendly packaging, and in 2020 received the commendation for fuel efficiency of its freight fleets from the Minister of Land, Infrastructure and Transport before going on to win the Green Management Excellence Award (Ministry of Trade, Industry and Energy) and the Environmental Disclosure Award (Ministry of Environment) in the same year, making 2020 the year of Hyundai Glovis's critical recognition as a green logistics company. At the 2021 Global Standard Management Awards it won the Green Management Award for the fourth year in a row, a testament to its world-class environmental management.
Each and every step that Hyundai Glovis has taken toward green logistics for the environment and for customer value has paid off, as proven by these recognitions.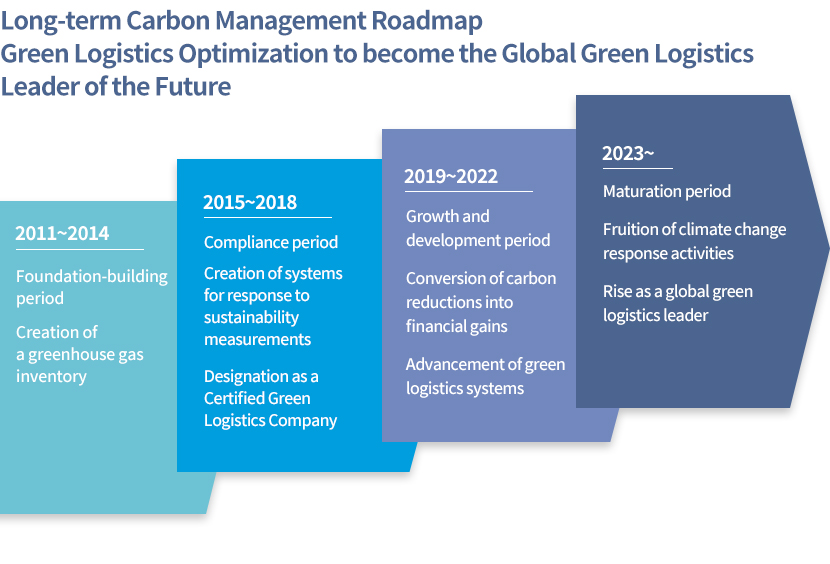 According to Manager Nam Hyung-joo of the Environmental Management Team, Hyundai Glovis is aware of the rising standards in demand for environmental management and the growing demands of global environmental assessment agencies, and carefully forms its future plans accordingly. Now in the maturation phase of its carbon management, Hyundai Glovis will be taking calculated actions to further the value of its green logistics so as to continue on the path to becoming a global green logistics leader of the future.
ESG management has become an indispensable part of today's business culture. Companies are avowing commitment to carbon neutrality and producing detailed plans for how to reach it. But as of yet no Korean logistics company committed to carbon neutrality because, compared to other industries, the logistics industry faces many more obstacles to the development of greenhouse gas reduction technologies. Emulating green logistics companies also has it challenges because they operate under different conditions. This is all the more reason to keep watch over Hyundai Glovis's pioneer journey toward carbon neutrality.
Writer Editorial Department / Resouces Environment Business Team
2022.03.30