Europe is a key strategic point for the global expansion of Hyundai Glovis's logistics business. Let's take a look at the work and life of Senior Manager Choi Jin, who oversees the entire European region in Germany, to get a better idea of the present and future of the continent.

Q. Please introduce yourself.
I'm Senior Manager Choi Jin, and I oversee general affairs for Germany and the Europe region. I joined the company in 2008 and worked in the Russian corporate office, BD, the global business plan, and the America & Europe Biz Team, then starting in 2020 as the general manager in Europe. Since joining the company, I have worked in overseas corporations and have developed and managed international businesses related to Russia and the Europe region.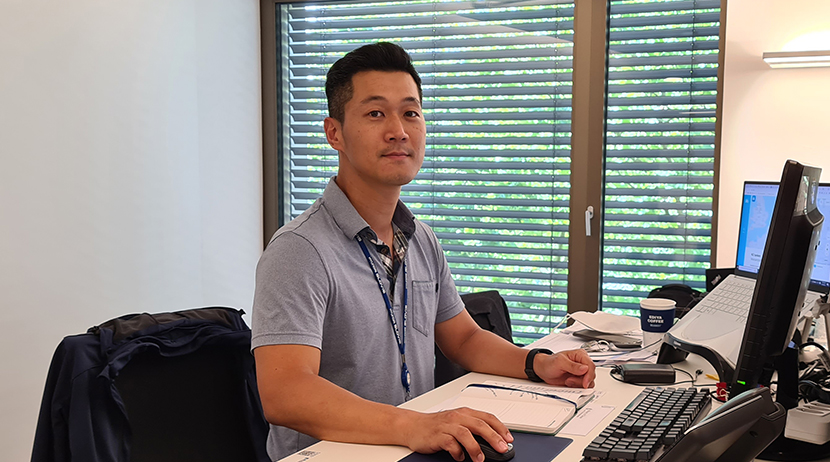 Q. Please explain your role as general manager in Europe.
The European region has the European office, Adampol, Czech, Slovak, Turkish and Russian offices. The Turkish and Russian offices provide logistics on relevant parts from local factories and finished vehicles for their respective regions. The Europe region and GEU offices are in Frankfurt, Germany. I'm in charge of general planning and development of new businesses centered in Europe. I work with Kim Man-gi, who is in charge of regional non-affiliate sales promotions, Regional CFO Kim Byung-bum, Noh Eui-su who is in charge of IT, Oh Jung-pil who handles purchasing, Kim Gwang-min who is in charge of the automotive business, and Park Gun-ho who handles HR duties.
Q. Please tell us about your daily routine at work.
When it's morning in Europe, it's afternoon in Korea, so when I arrive at work I usually conduct a video conference with the headquarters in Korea regarding various matters. I manage the overall affiliated logistics, non-affiliated sales, new business development, strategic planning, and emergency issues in the overseas area, so I have a lot of meetings. Afterward, I share the progress of various projects with local managers, and in the afternoon I take care of work related to the pending issues of each corporate office. After four in the afternoon, I work on writing project execution plans or reports.

A view of the office where Senior Manager Choi Jin works
Q. What is the most significant issue these days in the Europe region?
Even before the global supply chain could recover from COVID-19, the effects of the Russo-Ukrainian War have made it very hard for international logistics related to Europe. Stable distribution is the most critical issue, as procurement issues for parts such as semiconductors have given rise to an increasingly unstable production output, and rising oil prices have caused distribution costs to increase. I'm closely managing the situation so that we don't experience any problems with affiliated distribution.
Apart from this, we have developed a detailed business model for mobility and hydrogen to secure mid- to long-term development, and are focusing our efforts to enter the recently developing markets.
Q. What is your future plan or goal for the European region?
I believe that conducting logistics without any issues amidst this uncertain international environment is the most important and urgent issue. Our goal is also to create and foster a new business model for sustainable growth, as a changeover to eco-friendliness and mobility have been Europe's hot topic. We are forming various international partnerships and networks to secure new client companies in mobility related to car sharing and car subscription and do our part in eco-friendly hydrogen distribution.
"I'm striving for sustainable growth by fostering a new business model in the Europe region according to the changes of the times."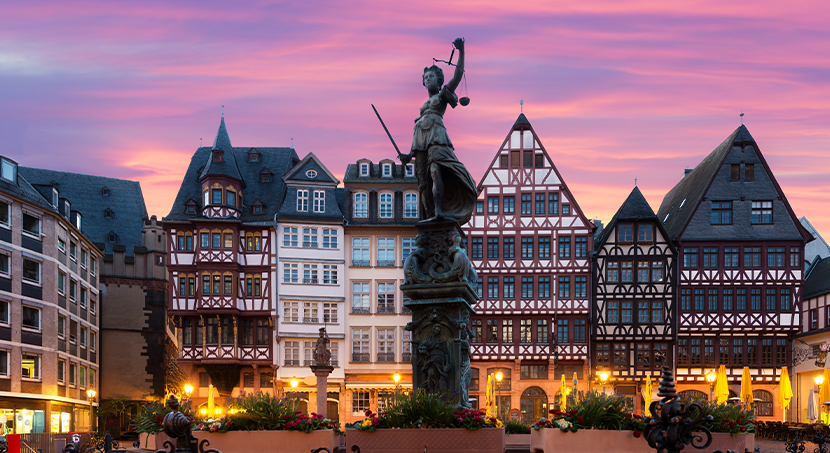 Frankfurt old town square

Q. What is your neighborhood like?
Most Korean expats live in the northwest region of Frankfurt, but I live a bit further away in a place called Vogelsberg in the southern city of Offenbach. Birds chirp day and night, fitting for Vogelsberg, which is a small town located next to a forest and whose name means "street of birds". This is a typical German residential area, where my retired German neighbors take care of their gardens all day and everyone brings their day to an end at home at around 9 PM.

Q. What do you do after work and on weekends?
My family and I visit the suburbs on weekends. Germany is in the middle of Europe, so it's very convenient to travel to other regions. We usually travel to small towns in Germany, or when we have a long weekend for the holidays, we take a short trip to a neighboring country such as the Netherlands, Czech Republic, or Switzerland. After work, I take a walk to the forest nearby our home with our pet dog who we adopted in Germany.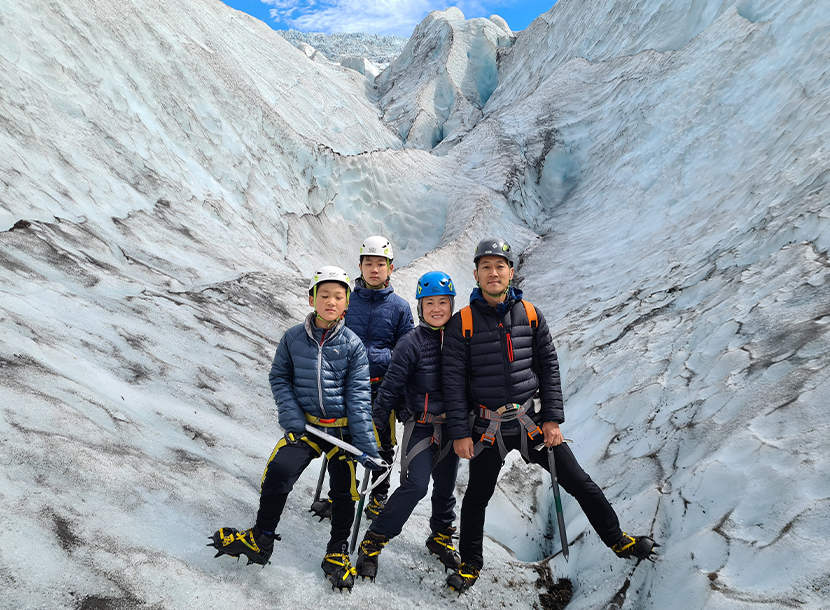 Choi Jin's family have traveled to countries such as the Czech Republic, Switzerland and Iceland
Q. Any favorite place that you visit often?
The first tourist attraction for many people who come to Germany is Heidelberg. It's only an hour away by car from Frankfurt, and is a beautiful city that adequately represents central Germany. The Rhine River runs through the center, and there are traditional European homes spread out near the plaza on both sides of the river. It's a typical old-style traditional European city with a castle overlooking a high valley. There is an amazing trail following the long valley road, a favorite of the famous German poet Goethe, connecting to a castle where you can look out across the entire city and river. This is the first place our family visited when we came to Germany, so it's a memorable one for us.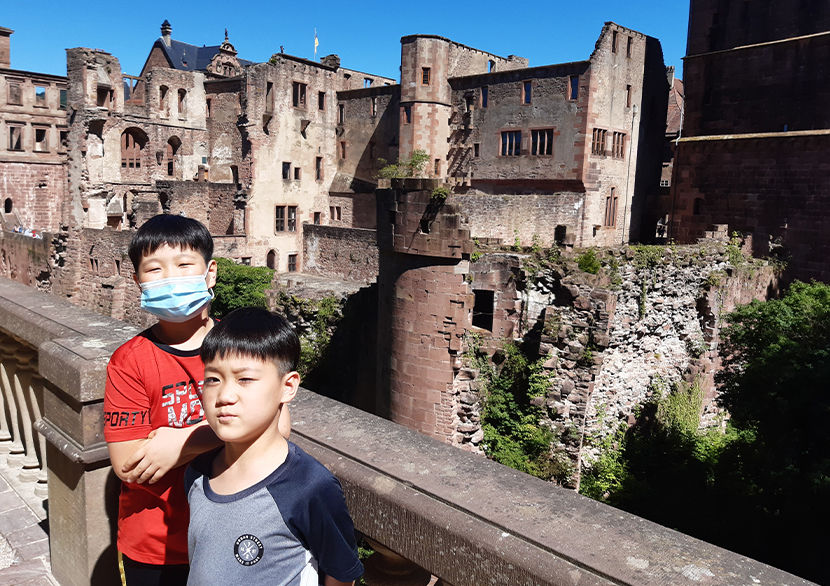 Heidelberg, which is often frequented by Senior Manager Choi Jin and his family
"I've come to learn and appreciate the strong points of the egalitarian German society, where people trust and respect each other and things are gradual but accurate."
Writer Editorial Department
2022.09.06