Things are busier than usual at Hyundai Glovis after it agreed to acquire a used car auction dealership based in the US, for KRW 2.2 trillion. The acquisition was made by Hyundai Glovis to accelerate its global secondhand car business and its shipment of finished vehicles. Glovis America Headquarter is determined to act as a driving force for the company's growth in the region, including in the US, which represents the world's largest automobile market. Come with us as we take a look at the present and future of Glovis America Headquarter through the life of its hard-working general manager, Jung Young-hwan.

Q. Please tell us about yourself.
My name is Jung Young-hwan, and I'm the general manager at Glovis America Headquarter. I joined Hyundai Glovis in 2003 and have worked in the areas of export, overseas business support, and shipping support. From 2008 to 2012, I worked at Glovis America and has been working for both Glovis America and Glovis America Headquarter since 2016. I have a broad range of experiences and responsibilities including those related to export forwarding, global logistics for finished vehicles, shipping, and new business planning and open innovation, which is closely aligned with the growth and changes that are taking place at Hyundai Glovis.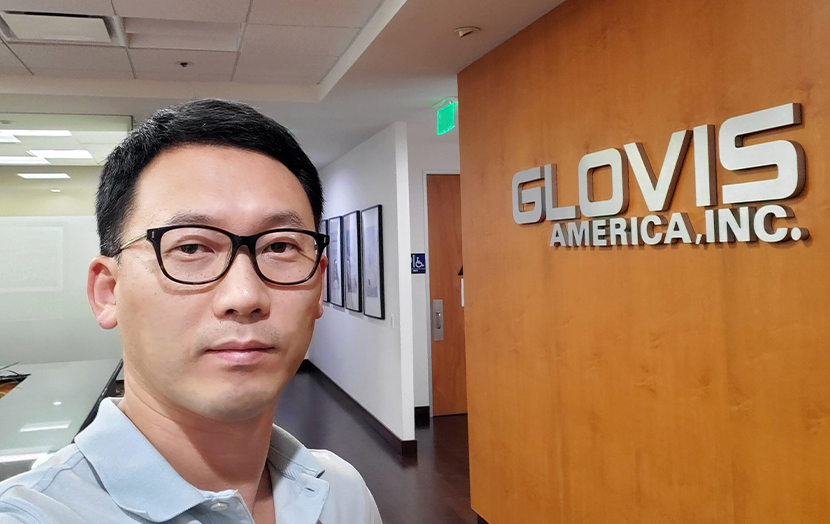 Q. Please tell us about your role as the general manager of Glovis America Headquarter.
Glovis America Headquarter oversees Hyundai Glovis corporations and their subsidiaries in the United States, Canada, Mexico, and Brazil and provides them with planning, sales, IT, purchasing, finance, and human resources support so that each place of business can thrive in their respective country. The Business Development Team that I'm personally in charge of is responsible for general planning in the region and for setting strategic directions for realizing our future-oriented goals and visions.
As part of our efforts in implementing strategic directions for the future businesses of Hyundai Glovis, we are promoting hydrogen mobility and EV battery businesses together with other Glovis corporations. My team is also responsible for: open innovations related to smart logistics; collaborations between departments for the acceleration of regional growth; consultations on major strategic directions; and responding to a variety of specially planned tasks and events.
Q. Please tell us about your typical workday.
As soon as I arrive at the office, I look over my Outlook Calendar, check for any important meetings that I have to attend that day, and review and reply to my emails. With the exception of essential meetings, I organize all my meetings by level of priority, importance, and contribution, and attend those that I can.
I also review issues or job definitions related to major strategic directions, organizational roles, and major IT-related matters and then share any opinions. Recently, we have had many meetings on global organization management, IT systems and governance, new logistics technology, and strategies for reinforcing the logistics capabilities in our region. It's common for me to have one or two internal and external meetings both in the morning and afternoon. Due to time differences, I usually communicate with people in the Eastern United States in the morning and have internal meetings until the early afternoon, and then in the late afternoon I start communicating with those in Korea as they start arriving at their offices for work. As a result, you could say I live in a slightly disadvantageous time zone, where overtime is quite common (laughs).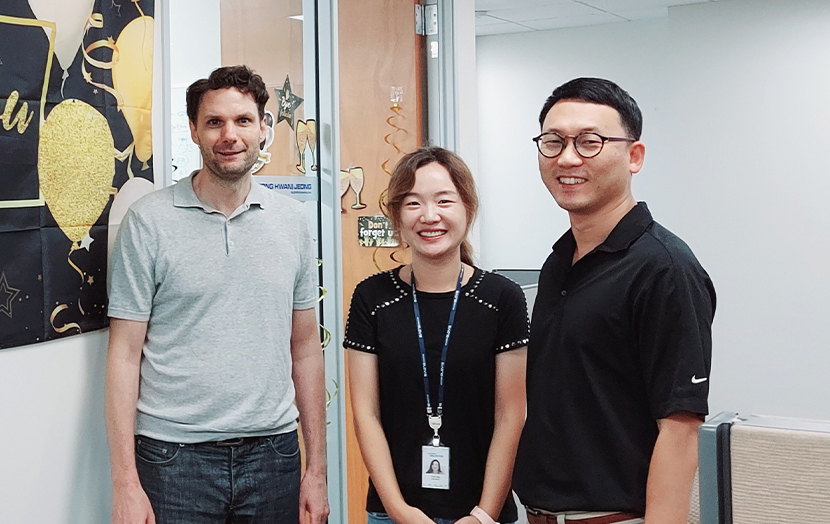 General Manager Jung Young-hwan (right) with his colleagues
Q. What are some of the major projects or recent focus of Glovis America Headquarter?
Supporting automobile logistics, which still continues to evolve even in the midst of the global supply chain crisis, is our top priority. We are also currently making meaningful improvements to stabilize support for our factory lines, which is where all of the problems that happen at our logistics bases and with our parts seem to reach a peak. In addition, we are collaborating with regional headquarters, corporations, and the head office to actively promote sales to large-scale, non-related shippers so that we can steadily grow our national businesses near Latin America and expand the self-managing capabilities of our regional corporations.
Q. What are the characteristics of logistics in the Americas and how are you responding to them?
The United States, Canada, and Mexico form one large economic community under the USMCA (United States-Mexico-Canada Agreement). Together they form a huge axis of the global economy and have a high degree of production competitiveness. This is thanks to the three countries' vast lands, resources, and huge combined market population of 600 million people as well as Mexico's abundant and inexpensive labor force and the United States' prowess in financial capital and innovation. The three countries have a very well-coordinated logistics partnership, allowing them to efficiently divide labor within their economic bloc. For example, in the case of railways, the railcars are supplied through a single company jointly owned by the three countries' Class 1 railway companies.
However, the rail network in the eastern and western US, Canada, and Mexico, are dominated by the US, which has a very tight oligopoly with about two companies in each region, so the biggest challenge for shippers is to find a way to abate this system, promote competition, and ensure stable services. With a new elective vehicle plant to be built by the Hyundai Motor Group soon, preparations are being made to implement alternative options for rail shipments.
In the case of trucking, a long-distance service called Over the Road (OTR) connects east and west, and border crossing transportation between the US, Canada, and Mexico. It links the three countries' markets and division of labor. In order to transport parts and finished vehicles more effectively to Hyundai Motor Group plants in the US and Mexico, US corporations are also providing services by optimizing each mode of transport.
Q. What are your future plans or goals?
I believe that, at its core, logistics business is about creating synergy through connections. The goal of Glovis America Headquarter is to use our infrastructure and expertise to provide optimal solutions to our customer and grow together with them.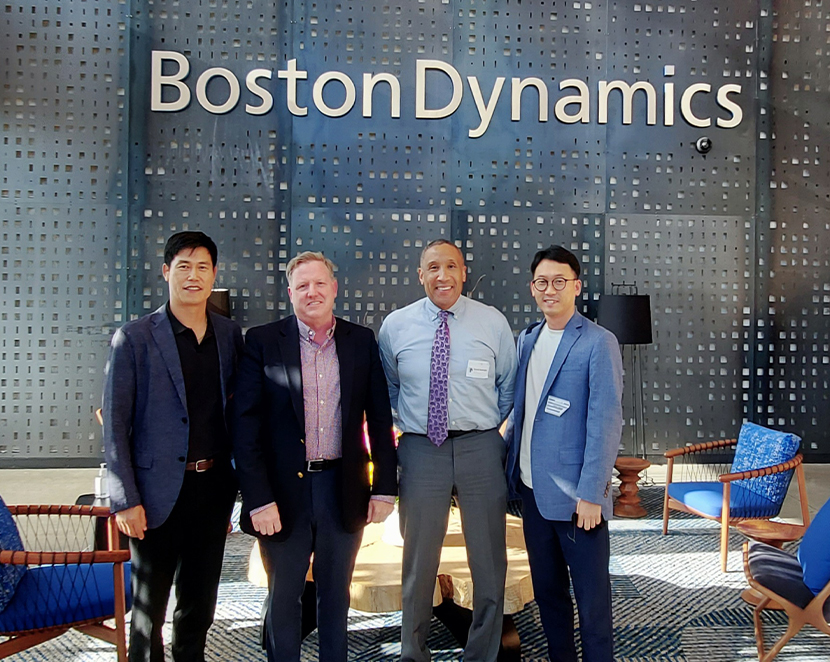 "With the signing of its largest ever shipping contract for finished vehicles,
Glovis America Headquarter will expand its collaborations for the trading port processing of finished vehicles and will secure additional opportunities for inland transportation."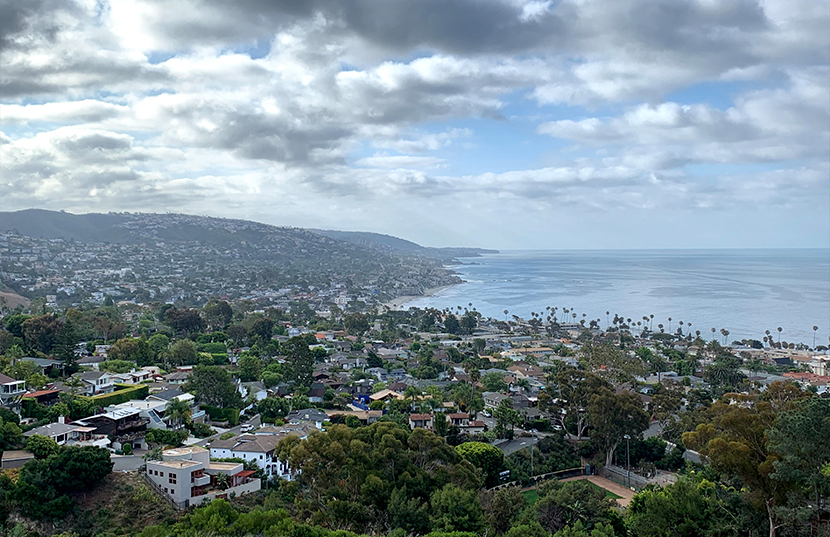 View of Irvine, California, where General Manager Jung Young-hwan lives
Q. Please tell us about the area where you live.
Irvine is a satellite city located between LA and San Diego that was developed as a new town in the 1960s. It is a relatively safe city with a well-developed social infrastructure that is about 1/4 the size of Seoul. It is a family-friendly city that's convenient for working remotely, and it has an excellent education environment. It's a nice city to live in and is ranked fairly high in terms of the best cities to live in the United States. The headquarters of the famous game company Blizzard and California's renown fast food restaurant In-N-Out are both based here in Irvine. It is also fairly close to both Disneyland and the Angel Stadium of Anaheim.
Q. What do you like to do after work or on the weekends?
On weekends, I take walks with my family to nearby parks or beaches. There aren't many wooded mountains, but I can cycle on mountain bike trails along the ridge, which are very well-maintained. I also enjoy water sports such as kayaking and paddleboarding.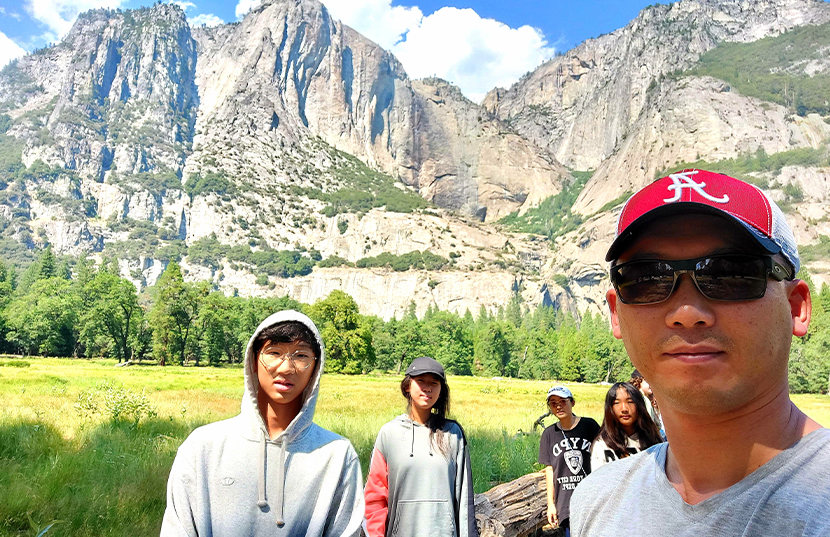 Jung Young-hwan's family at Yosemite National Park
Q. What are some of the places you like to visit?
One place that I should mention is Laguna Beach, with its charming parks and hiking trails and scores of coffee shops and restaurants. The different hiking trails along the coastline are beautifully maintained, and it's easy to go out onto the beach while walking, making it a popular place for family outings. There are also different trails behind the stylish houses along the beach where you can get some beautiful panoramic views of the sea.
If you drive a little further down along the coast, you will come across the seaside town called San Clemente. This is one of the top five areas in the US for surfing and is indeed a very popular spot among surfers. The coffee shops connected to the pier are always bustling with couples who come to see the spectacular view of the sun setting over the Pacific Ocean, and you can find a lot of people fishing at the end of the pier. On summer evenings, you'll see people with their fishing rods and fluorescent lights catching mackerels that have come to play in the shallow water.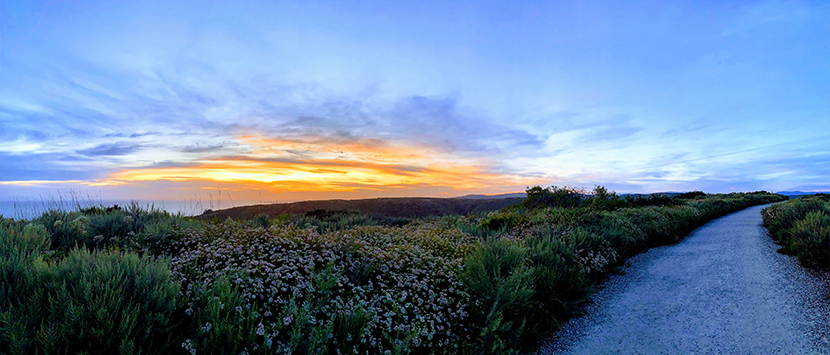 Walking trail near Laguna Beach
Q. In your experience, what is the secret to living a happy life overseas?
I believe finding your own "small but definite happiness" is the key to alleviating bad moods and managing stress. As you take an interest in your surroundings and discover small things in your daily life that make you happy, you will find that ordinary everyday things will start to have their own special significance.
"Once when I was walking with a colleague in the city, a local said to us,
'You dropped something. Pick your smile up off the floor.'
I believe that adopting this type of relaxed, positive attitude has become my greatest asset.
Thanks to this mindset, I'm able to interact with our staff, other Koreans living over here, and the local people, all with an open heart to lead a rewarding overseas life."
Writer Editorial Department
2022.10.18