Autobell, the secondhand car platform that opened on January 20, underwent a renovation in August. Although still in its early stages, Autobell's renewal was made possible by a steady preparation process. Here we introduce Autobell's development story as told by its developers in the Autobell Platform Business Team.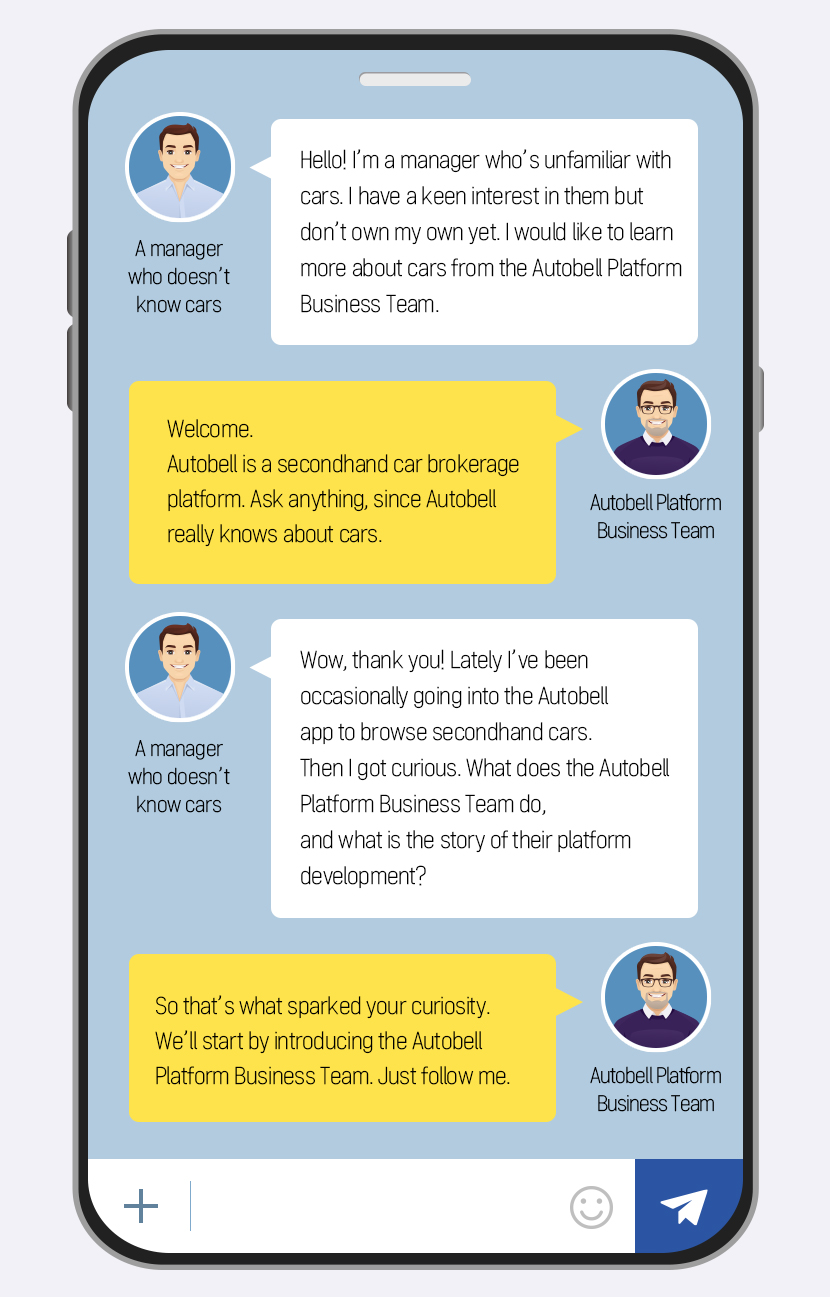 From planning the Autobell to securing vehicles
The Autobell Platform Business Team has focused their efforts to plan and develop a platform service and secure vehicles so as to effectively set up the Autobell platform, which was originally an on-site evaluation service. Our team has numerous experienced managers each with their own expertise. However, we would all sometimes join forces to conduct dealer sales at the dealer complex regardless of our positions, like a startup. We had much trial and error particularly when the platform was initially launched, which was a time where we all grew closer, like a family.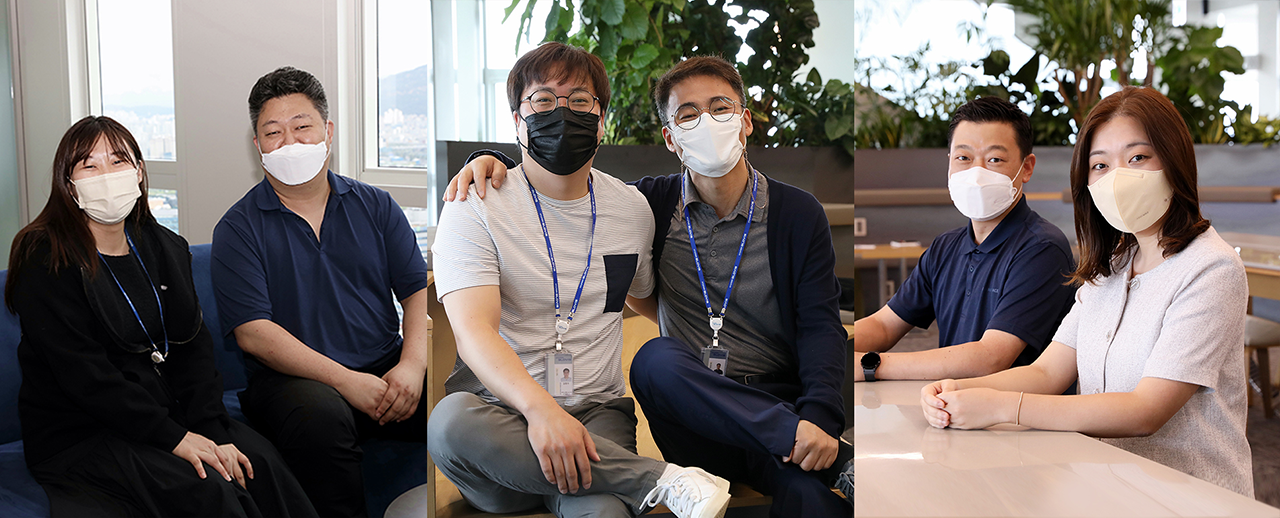 From left: Shin sun-hye, Kim Young-rong, Kim Jung-soo, Cho Il-yong, Lee Jae-ha, Kim gun-ji of the Autobell Platform Business Team
The launch of the Autobell platform
The original auction center had been focused on the B2B business, and from there we set up the B2C business and the vehicle dealer platform to expand our value chain. One of the characteristics of the project was that it was a collaboration with UX/UI experts from the IT Planning Team. We put a lot of effort into the preparation before actually starting the project. We even invited members from the Smart Innovation Division to hold hearings conducting research on app reviews and the like. The IT Planning Team actively analyzed and diagnosed problems in the UX/UI and tested usability alongside wireframe planning. Thanks to this, we were able to meet some key developments requirements before launching the project.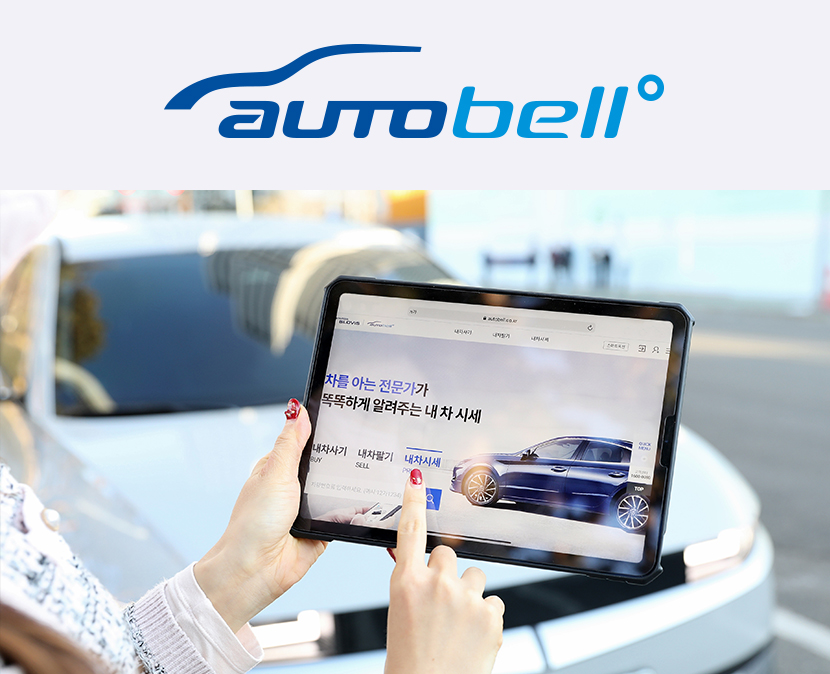 Initial improvement from design to development, completed in 3 months
Not all projects progress smoothly, of course. The launch plan was delayed for several reasons, requiring design and development to be finished in about three months. It was a tight schedule, but we stuck to our priorities and worked hard every day so that everything could go according to plan, from discussing and defining requirements to confirming the plan and design, and reporting.
Among our tasks, the greatest priority was to improve usability from the customer's point of view. We paid special attention to the screen logic, every word and phrase, and even the UX lighting to provide service with a friendly tone.
Always improving usability!
We are still improving usability one step at a time. After launch, we gathered the Voice of Customer (VOC) data for our platform from various places. We are doing our best to improve the platform so that it has everything we want to show. Hopefully this will result in a platform that is understandable and easy to use.
The first improvement prioritizes usability on smartphones. The biggest change is converting the original combined structure of "Buy car/Sell my car" into two separate screens.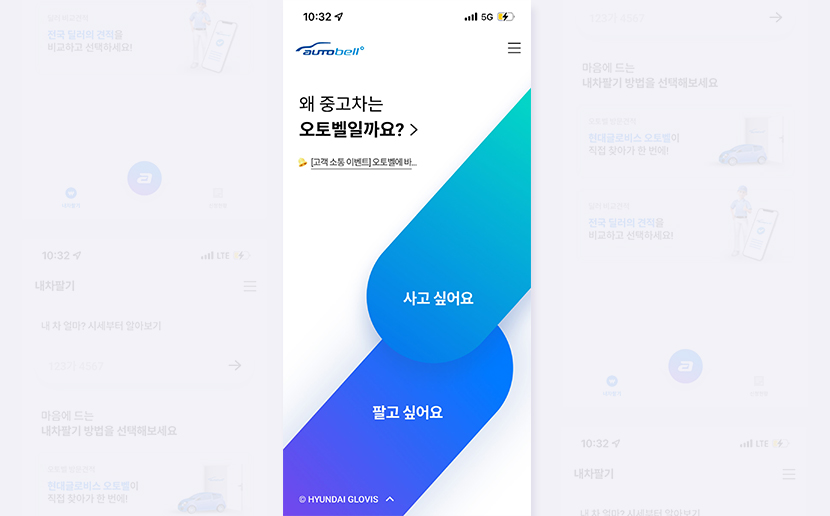 We also improved the main service structure and naming so that users can easily understand secondhand cars. For the "Buy my car" option, numerous categories were deleted and ambiguous service names such as "Live Studio" and "Autobell&" were changed to "Car checked by Autobell" and "Autobell partnership car."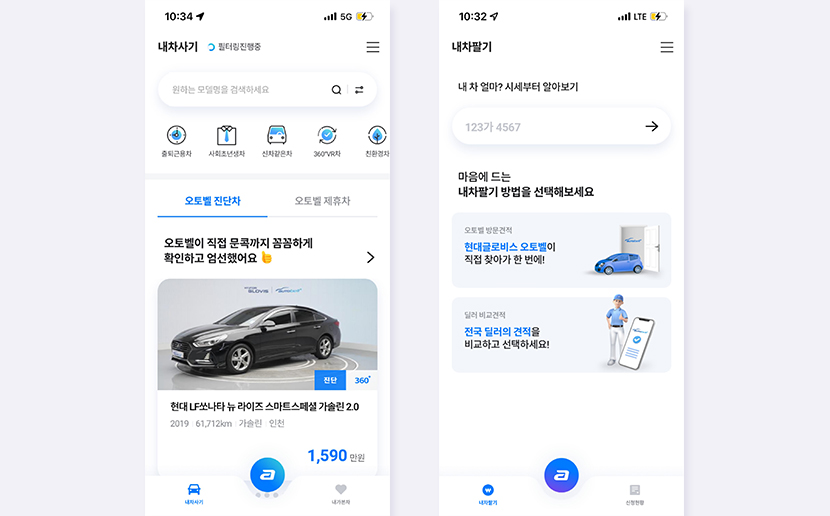 "Buy my car", "Sell my car" screen
For "Sell my car", we improved the process by opening all services to unregistered members so as to lower barriers and by removing the identification procedure to allow for quick application. The "Sell my car without assessment" service was shut down, as it confused users and had a low usage rate, allowing users to concentrate on the main services. The "Find market price" function allows users to easily access the application to sell their car. After checking the market price, the user is lead directly to apply to sell their car so as to improve the service application rate.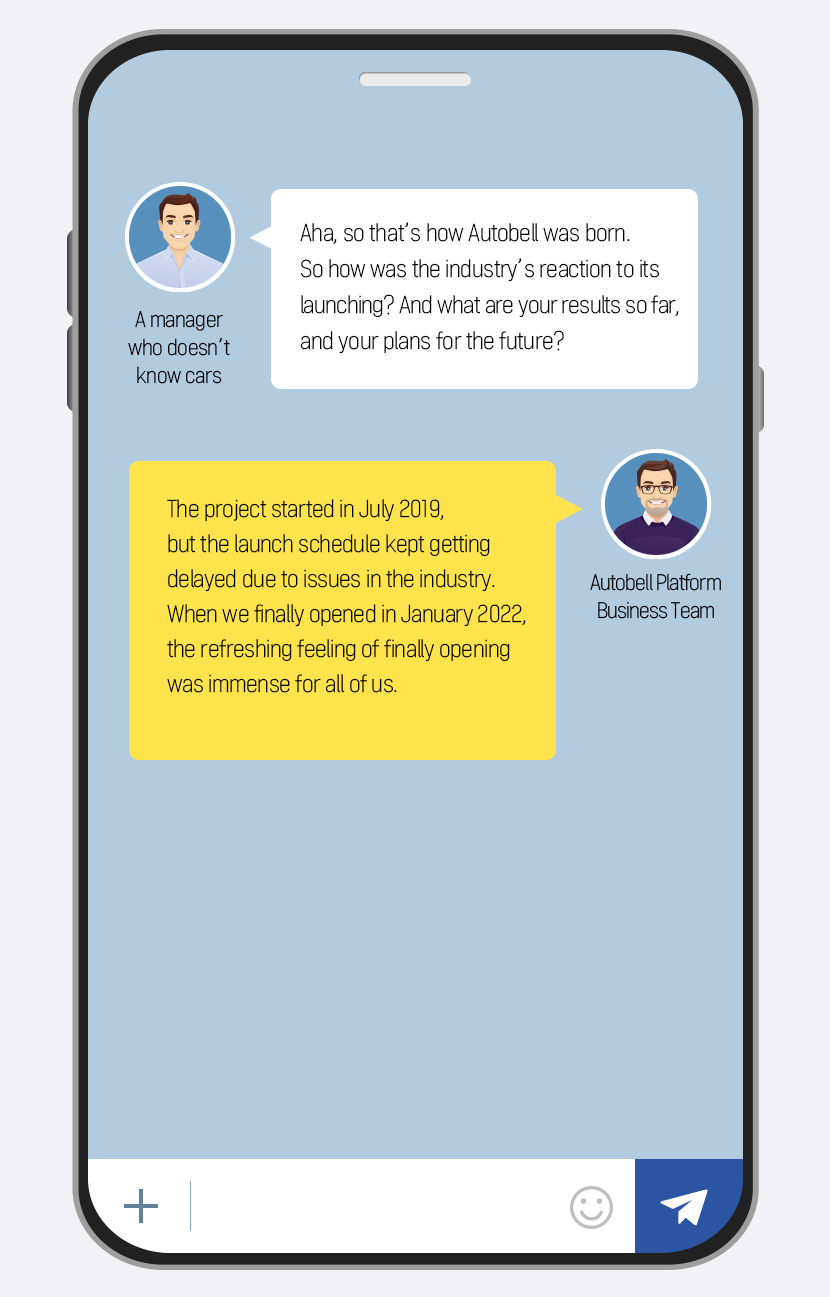 Unique service with a clean sales area and attention to detail
Customers want to be able to trust secondhand cars again. Our aim here aligns with the customer's needs. The biggest appeal of the newly renewed Autobell is the "clean sales area" intended to eliminate fraudulent cars. Next year, we plan to advance the fraudulent car filtering system, and you'll see an even better version of Autobell. The Autobell 112 diagnosis allows the customer to rest easy about buying a car. Unlike other brokers, our strength is in our attention to detail for diagnosing door denting and scratches on wheels.
The industry response can be seen from two perspectives. For the dealer who registers the ad, they feel that secondhand car monopolizing can finally be stopped and that two larger dealerships can now compete over pricing to reduce advertising fees. Customers responded that they were worried about the danger of fraudulent car sales on the existing big secondhand car platforms, but they feel more at ease now that this platform excludes such cars altogether.
Gradual progress in the activation stage
However, we are still just starting out and activating and lack advertising effectiveness and awareness. We recorded just under 10,000 vehicles from the launch on January 20 through the beginning of August. It's difficult to immediately rise to the top of the industry, but we are consistently moving forward to secure vehicles. Our team will continue to push ourselves to secure up to 20,000 vehicles.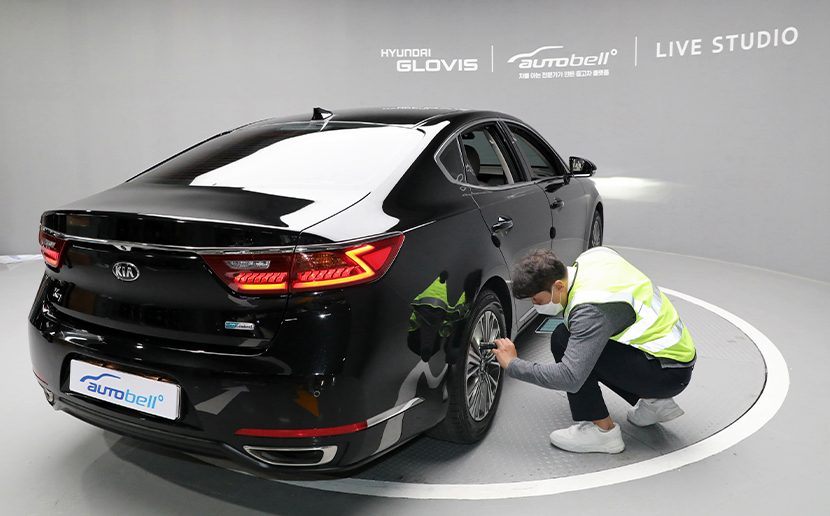 Additional Live Studio launch plan
One of our many plans is to expand the Live Studio. Autobell operates five Live Studios in the nation, diagnosing and taking photos of vehicles to verify them. We will continue to set up more Live Studios, while our team members do their best to expand the number of users by traveling to related sites.
We couldn't complete everything in just six months, but we hope you'll see the progress of the Autobell Platform Business Team and IT Planning Team in a positive light and continue to support our efforts.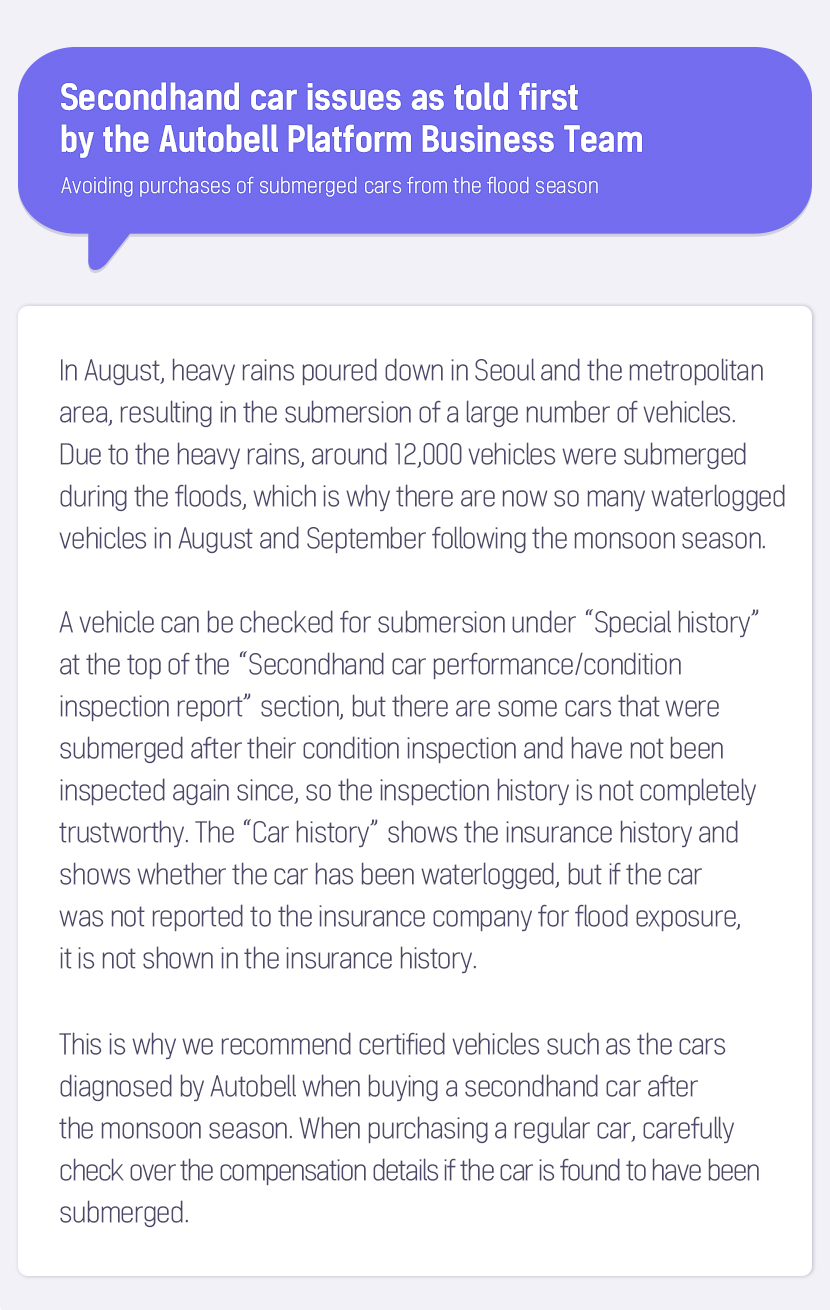 Writer Editorial Department
2022.09.06