A manager who knows nothing about cars is looking to buy his very first one. Fortunately, the Autobell Platform Business Team came to his rescue by providing him everything he needed to know, from setting a budget to the best car models, so that he could purchase his first car in the safest and easiest way possible.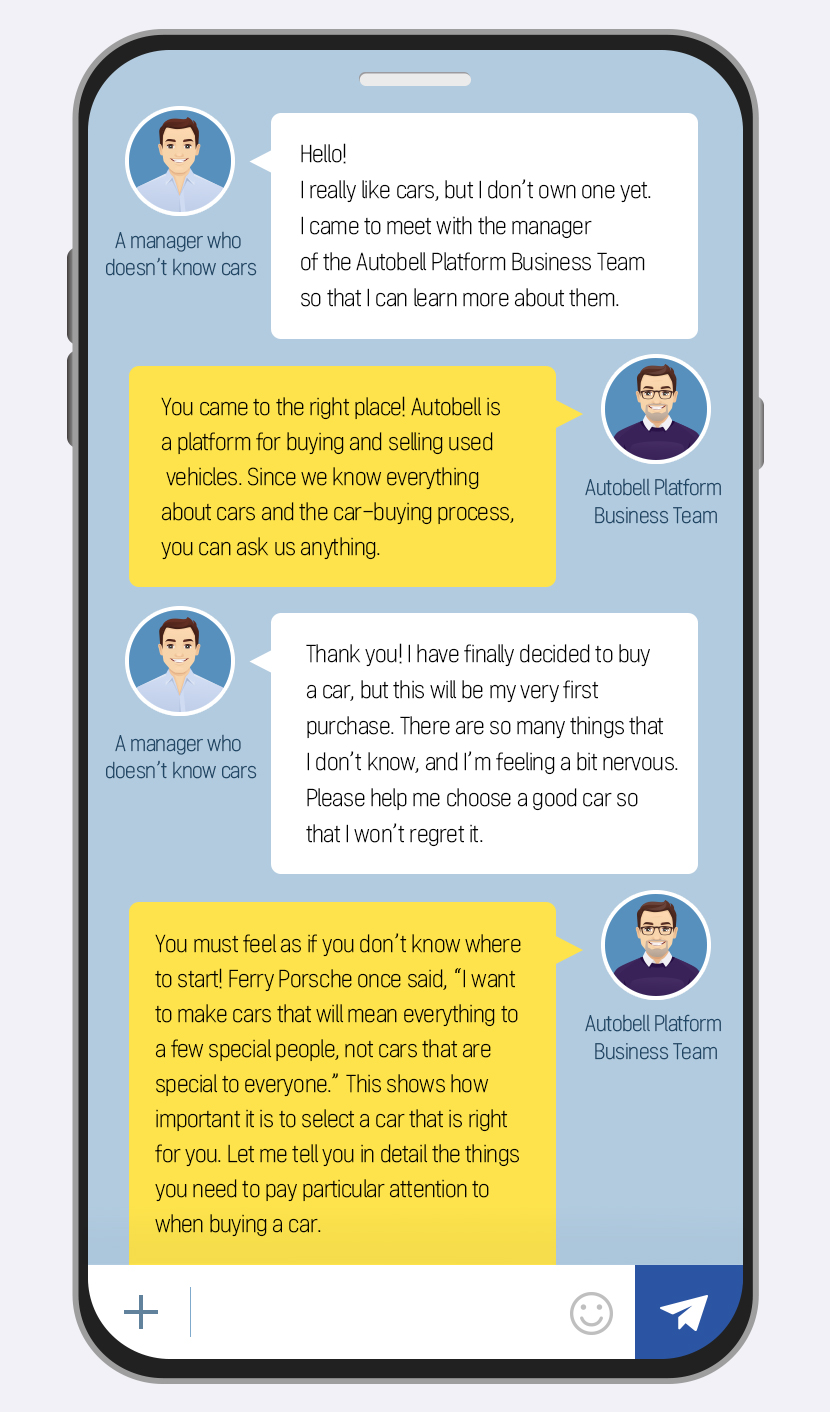 Must-dos when buying your first car!
You need to do your research before buying your first car. People usually buy their first car right when they land their first job, so they don't usually have much knowledge about cars or have much driving experience. So, in this case, you need to carefully explore your options while taking different things into consideration, such as your reason for buying a car, how frequently you will use it, your budget, and your lifestyle.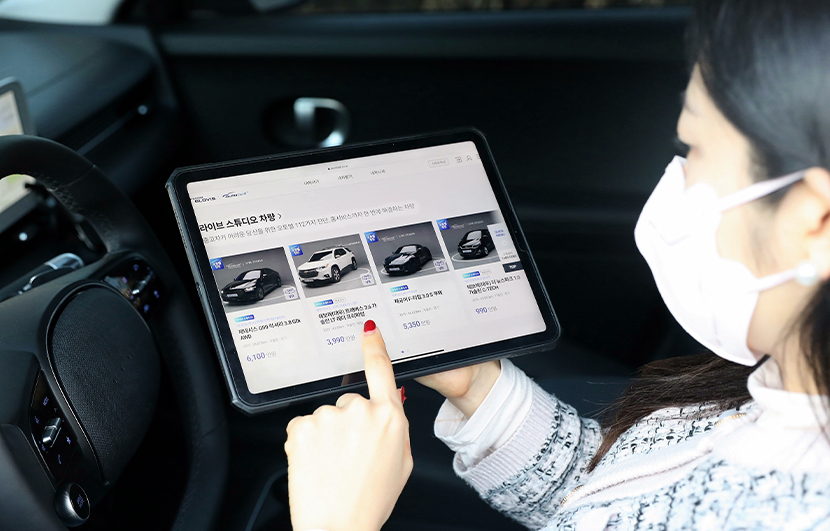 You need to do your research before buying your first car.
First, you need to carefully consider whether you want to buy a new or used car as your first vehicle. If you are planning to buy a used car first and then upgrade to a new car in a few years, it is better to buy a less expensive used car. In contrast, if you want to start by buying a new car, you need to consider the resale price before choosing your vehicle.
If you are thinking of reselling your used car, it is better to select a model that has a lower rate of price depreciation. Also, if you purchase a car that is a more popular model or color, you will be able to resell your car easier and quicker.
For reference, I personally recommend purchasing a used car as your first vehicle, instead of a new one. The main reason is that the price is more affordable. When buying your first car, it is usually difficult to accurately estimate the extra costs and maintenance fees associated with car ownership. If you are a consumer looking to make an economical choice by taking the price of the car and additional costs into consideration, then buying a secondhand car could be the answer.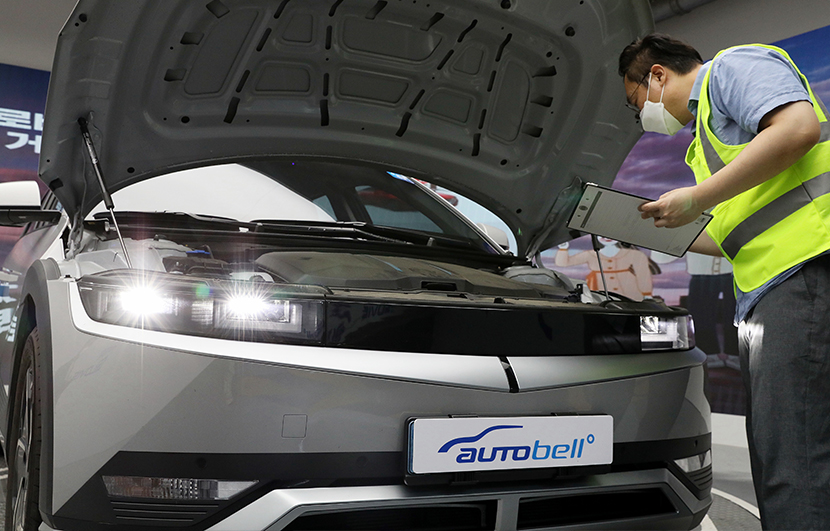 When considering cost, we recommend purchasing a used car as your first car.
Important things to consider when choosing a secondhand car
It is nearly impossible to find a "cheap and good-quality secondhand car." If the price is low, there's probably a reason for that, so you should research the average price range of the model you're interested in, and rule out any cars that are priced too high or too low.
After you've done this, list in detail the characteristics that you have in mind, such as the options or your preferred color, and then constantly be on the lookout for those characteristics in the secondhand car market. That way, you will be able to make a quick purchase decision when you find the car that has the qualities you want.
Reasonable price range and recommended car model
We recommend cars in the mid-20 million won range, and around 30 million won for cars with a number of considerable options. The model I recommend is the Hyundai Avante which is a semi-midsize sedan. We believe it's a reasonable choice because of its cost performance and fuel economy. The Avante is not too large, so it is easy to park, and it has a design that is suitable for men and women of all ages.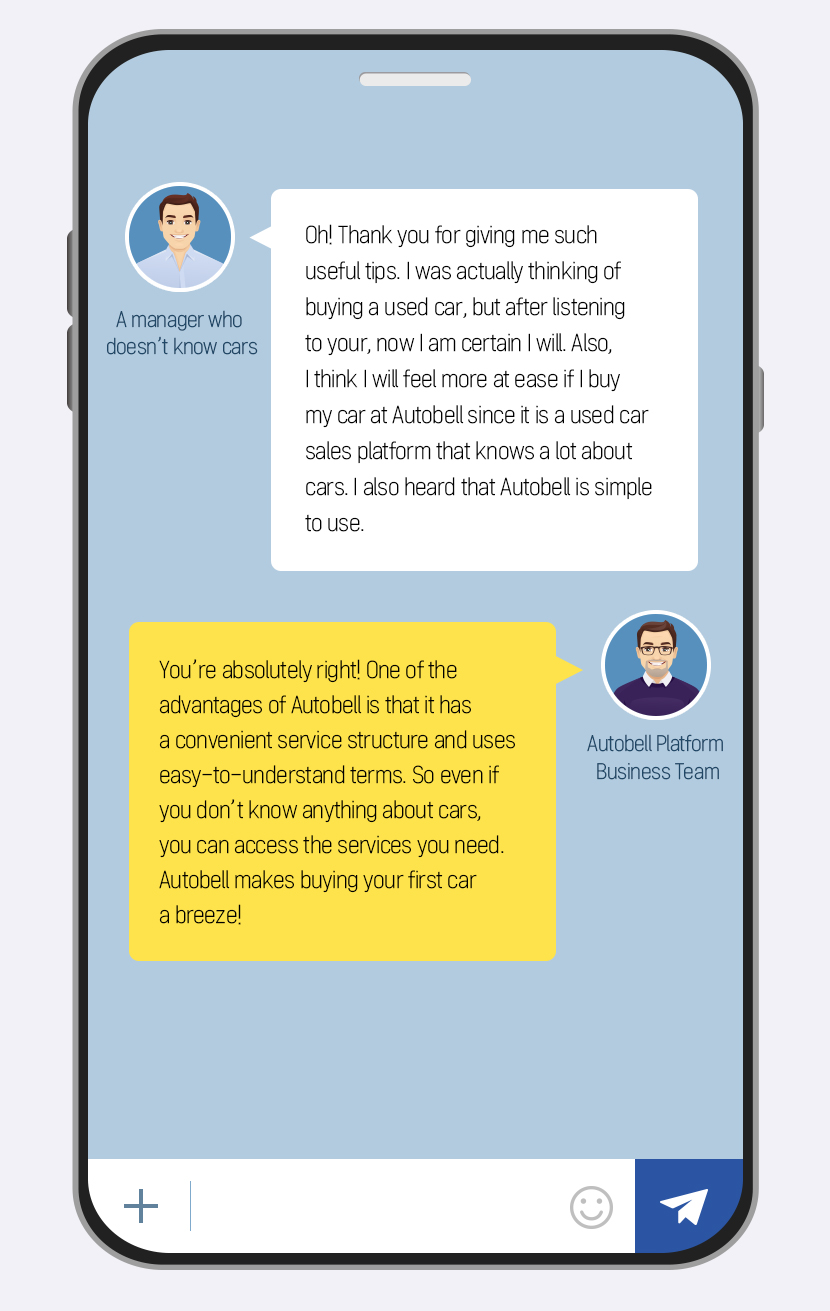 Search by name of model or recommended cars by theme
If you click "I Want to Buy" on the first page of the app, you will be able to see all the vehicles currently for sale. If you have a particular car in mind, you can search for the car model or even search by specific settings using the filter function. If you don't know what kind of car you want to buy, you can check out recommended cars by theme such as "Cars for New Drivers" or "Cars for Camping" that are pre-selected by Autobell. You can also narrow down your options by checking out "Today's Cars" or "Trending Cars."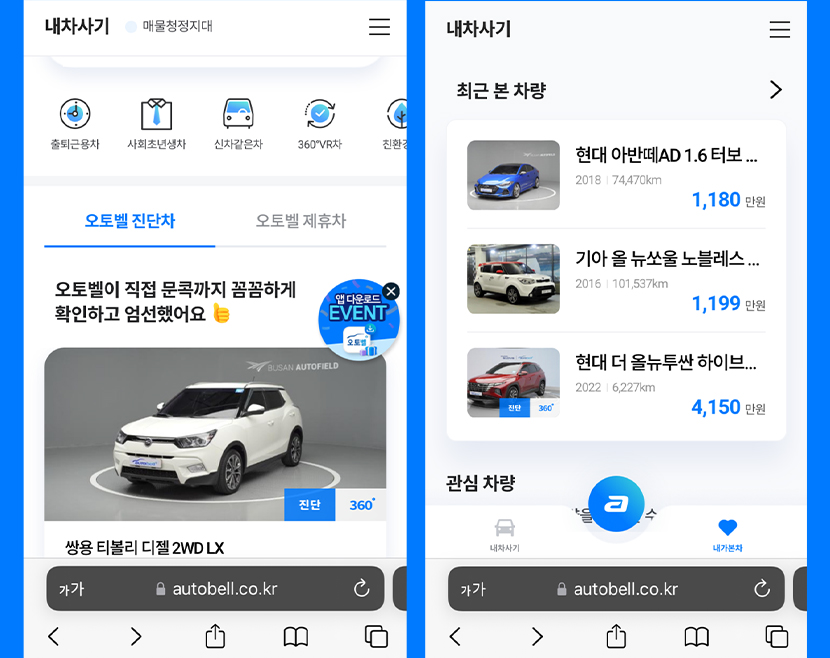 Under "Buy My Car," cars are divided into categories based on purpose or style, and you can also see your recently viewed cars all at one glance.
Cars under KRW 20 million at a glance – Cars for first-time buyers
These are the small- to semi-medium sized cars under KRW 20 million that have been selected especially for first-time car buyers. Some of the cars currently recommended by Autobell include the Avante, Accent, All-New K3, Chevrolet All New Cruze, and i30.
Check the results of 112 different types of vehicle diagnostics!
First, it is important to distinguish between cars diagnosed by Autobell and those affiliated with Autobell. "Autobell Diagnostic Cars" are those that have been inspected by the Autobell Live Studio using 112 different diagnostic tests that are classified into five categories: exterior, including minor dings; interior; consumables; lights; and options. The results of these diagnostics are made public and presented in the form of vivid 360° VR photos on the vehicle details page.
Autobell affiliated vehicles are import-certified used cars, cars from sales complexes around Korea and financial certification malls, and used car corporate seller vehicles.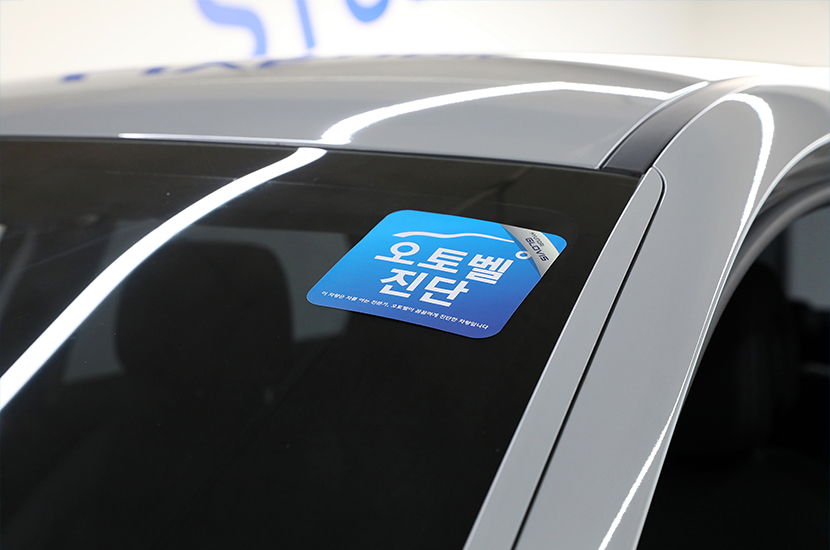 Vehicles that have undergone 112 different diagnostic tests at the Autobell Live Studio are categorized as "Autobell Diagnostic Cars."
Check out the car offline before making your purchase
The address and telephone number of the dealer currently in possession of the car can be found in the "Seller Information" on the vehicle details page. Call the dealer using the telephone number provided or click the "Contact Seller" button at the bottom of the page to instantly connect with the seller in the form of a 1:1 chat.
Recommendations available for first-time car buyers
Did you know that Autobell even has a chat service where visitors who know very little about cars can ask for car recommendations? If you are having trouble deciding which car to buy, we recommend checking out "Today's Cars" or "Trending Cars" selected by Autobell. You can also make a wiser car purchase by comparing cars with similar specifications by selecting "Same-Grade Cars" or "Autobell Smart Recommendations" listed at the bottom of the vehicle details page.