As part of the G+ Office Tour we continue to take you around Korea to meet some of Hyundai Glovis's most dependable staff members! In October, we visited the Siheung Vehicle Release Center, which is responsible for safely transporting vehicles to dealers across the country. The Siheung Center staff release top-quality vehicles through thorough quality control and inventory management—this is their story.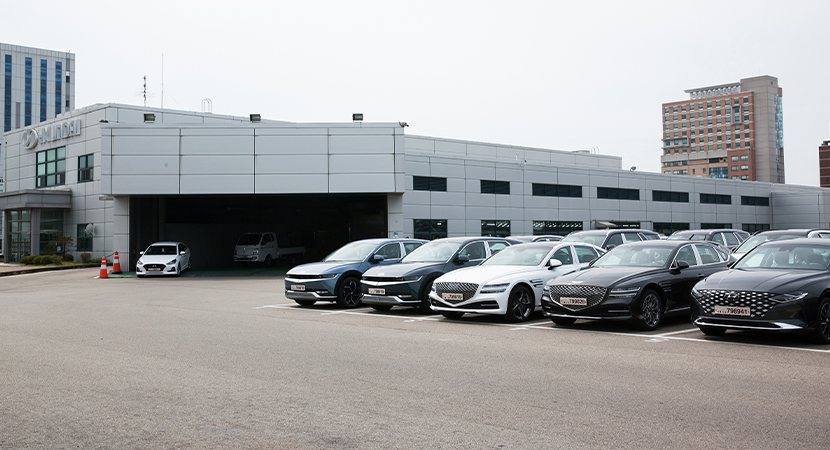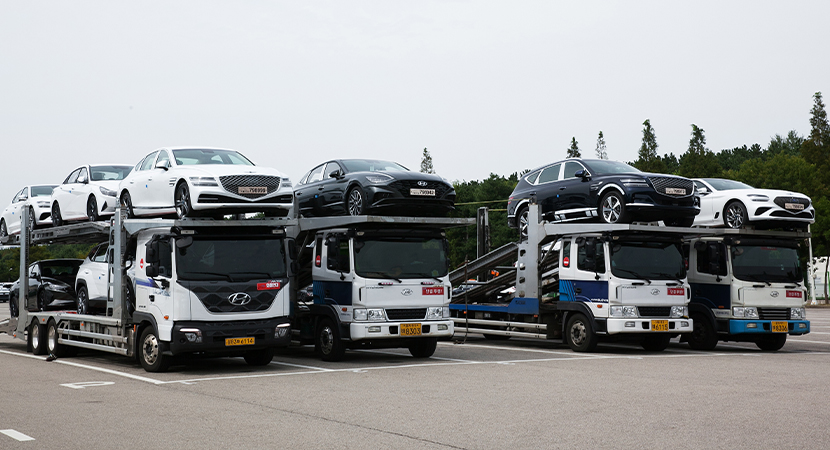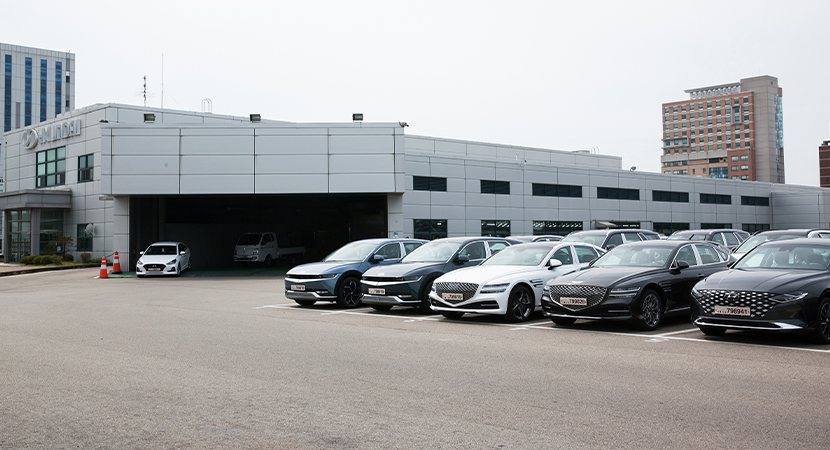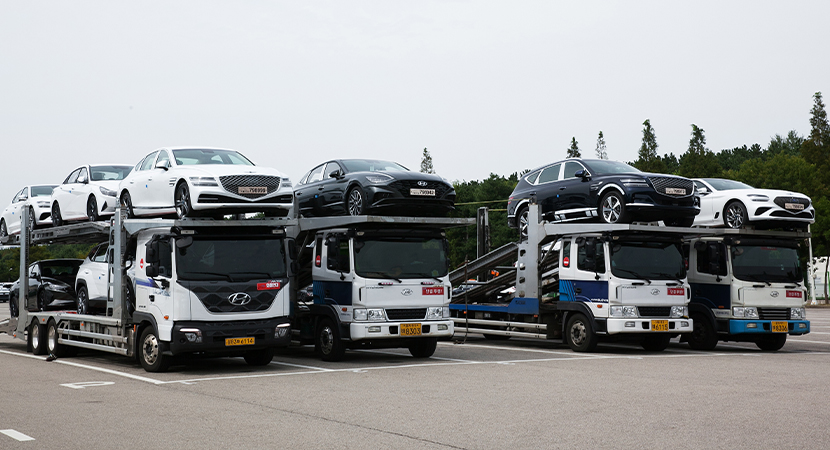 What happens to vehicles after they have come off the conveyor belt at factories but before they are delivered to dealerships across Korea? The Hyundai Glovis Siheung Vehicle Release Center, which opened its doors in 2010, is the first to greet the brand-new vehicles and deliver them to the nearest dealership where they wait to meet their new owners. Vehicles that have been manufactured at Hyundai Motor Company's Ulsan, Asan, and Gwangju factories are rounded up at the Siheung Center which then delivers the cars to customers and dealers. The staff carefully inspects each vehicle for quality assurance, so that only top-quality cars go to the customer. Staff at the Siheung Center also manage all consignment companies and operations so that the right vehicles are transported to the right locations. Here, we meet with five team members of the Siheung Vehicle Release Center who manage all tasks related to the vehicles, so that they can be united with their owners.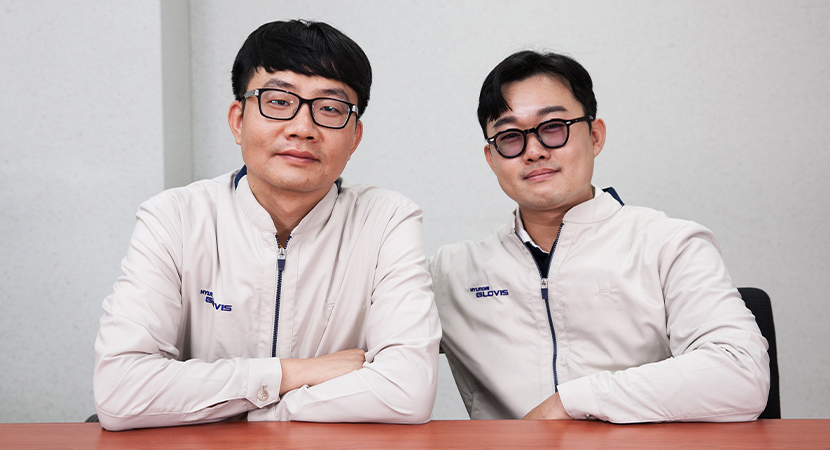 From left: Manager Park Hee-jin, Manager Lee Geun-sung
Siheung Vehicle Release Center, Managers Park Hee-jin and Lee Geun-sung

What are you in charge of at the Center?

I'm in charge of managing the warehouse, consignment companies, and consignment operations at the Siheung Vehicle Release Center.

My name is Lee Geung-sung and I'm in charge of safety and facility management at the Center. You could say I'm the "safety keeper" who ensures safety in the Center. To do this, we first detect and improve upon safety risk factors in the workplace to prevent any accidents from occurring among our staff. Second, we focus on safety by keeping our machines in optimal condition and minimizing mechanical stress on our facilities and equipment.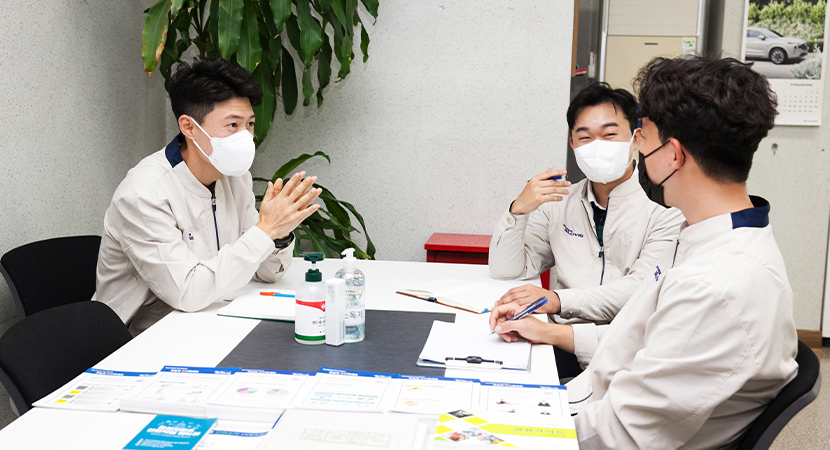 What do you think are the most important aspects of your work?

In my opinion, the most important things are: inspecting the quality of each vehicle very carefully; maintaining optimal working conditions; and delivering the product at the scheduled time to ensure customer satisfaction. In order to ensure that each vehicle is in optimal condition, we perform quality checks on each car, and we work in close cooperation with consignment companies to make sure that the vehicles are delivered safely.

When did you feel the greatest sense of fulfillment in your work?

I was recently selected as an "Excellent Safety Manager" by the Safety & Health Team. I was very happy to be recognized for my efforts and commitment to safety. I believe this award and the safe working environment we've been able to maintain is all thanks to the close collaboration of the Center's team members and our business partners. I will continue to work hard to ensure that our Center operates safely without any accidents.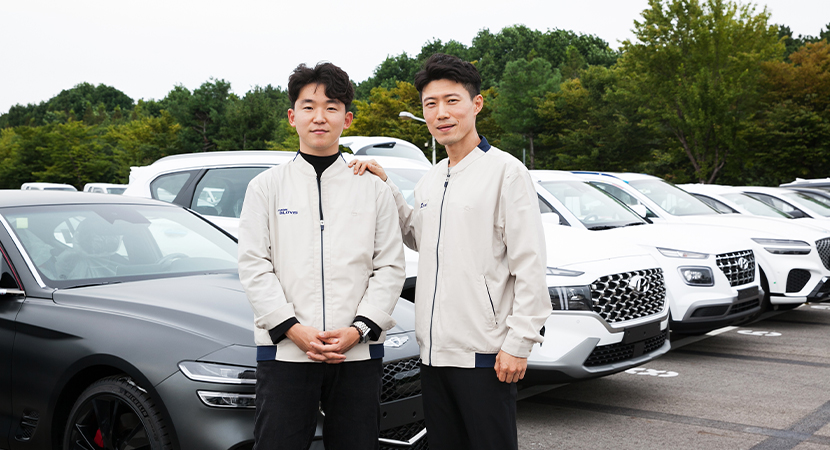 From left: Manager Na Han-sol, Manager Moon Jung-ha
Siheung Vehicle Release Center, Managers Na Han-sol and Moon Jung-ha

How would you describe your work at the Center??

I'm in charge of automobile quality management. This means that I oversee all aspects of the automobile quality process, from the time the new cars enter our Vehicle Release Center to the moment they are shipped back out. We carefully inspect vehicle quality at every stage of the process to ensure that the cars are delivered to customers in their best condition.

What do you think are the most important aspects of your work?

I believe having a customer-oriented attitude is the most important thing. When we concentrate and think from the customer's point of view and set our business directions accordingly, we can provide better service. The second most important thing is to communicate. I believe vehicle release tasks can be completed through smooth communication not only between our team members, but also with our customers and partners.

Do you have a special moment from your work that you remember?

Last summer, there was a customer who visited for the release of a vehicle. He was very meticulous and inspected the interior and exterior of the vehicle for nearly three hours. I remember answering his inquiries as best as I could and explaining about the quality of the car. I had a hard time answering all of his questions, but fortunately he eventually accepted the vehicle. A few days later, the customer called me and personally thanked me for trying my best to help him. That was my most rewarding experience in terms of my work.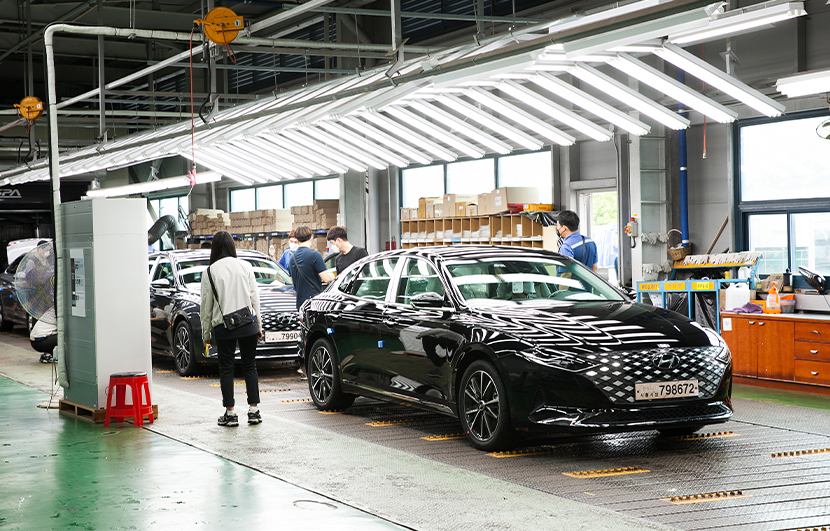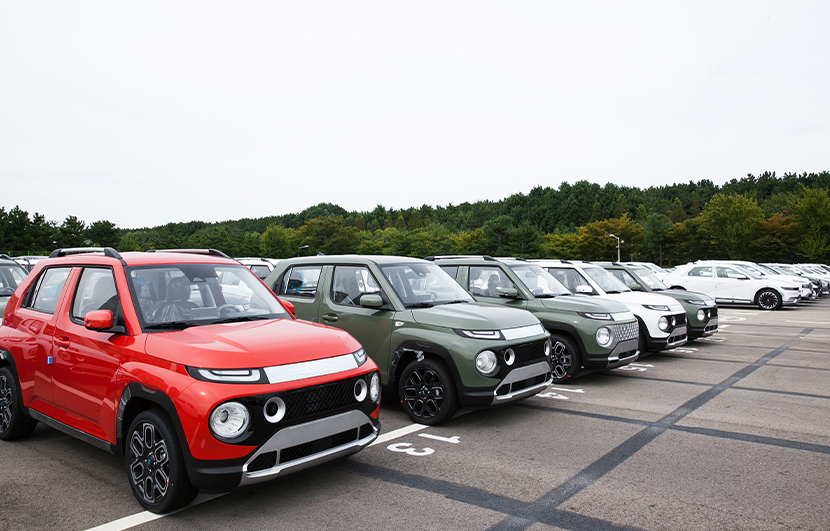 What is currently one of the biggest issues at the Hyundai Glovis Siheung Vehicle Release Center?

These days, it takes quite awhile to receive a vehicle, even if you've ordered it in advance. So, it is our goal to provide our customers with vehicles that are in great condition without any defects. We manage the quality of our cars even more carefully than ever before and frequently conduct quality inspections.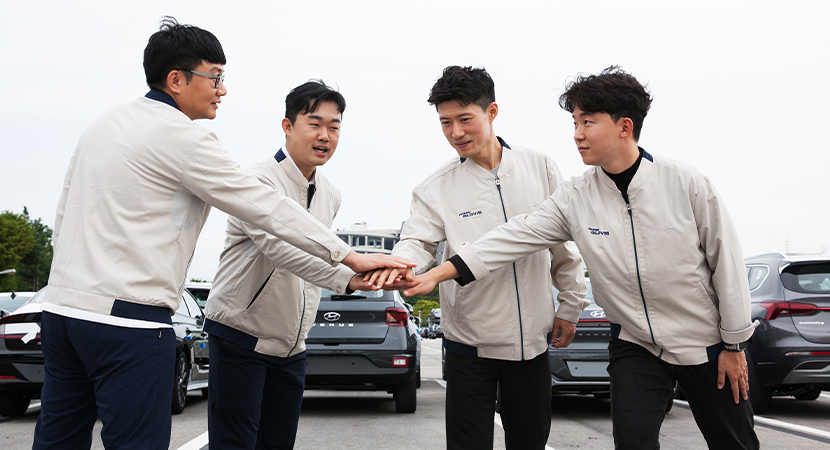 What is the most important thing to you as a member of the Siheung Vehicle Release Center?

I believe teamwork between our staff members is the most important thing. Since all of us are so organically connected in terms of our work at the Center, the Center can only operate smoothly if everyone properly carries out their responsibilities. Everyone at the Center works hard with the belief that we can only achieve good results if we work together as a team.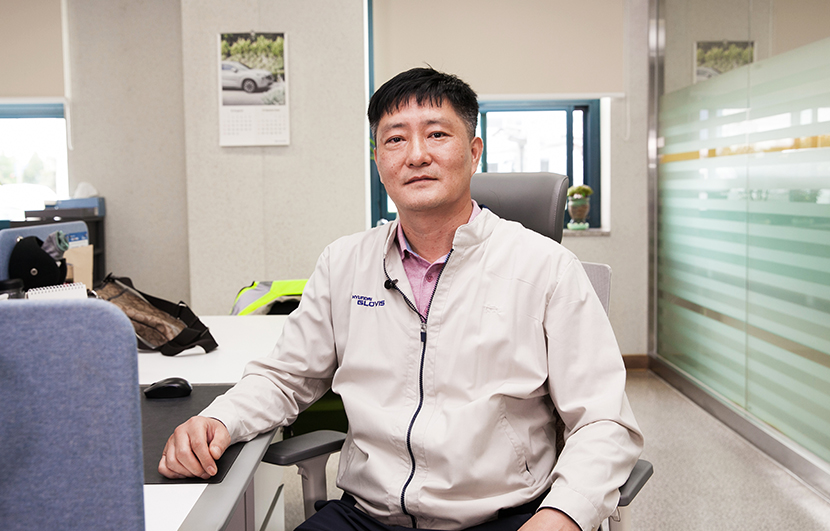 Siheung Vehicle Release Center, Center Director Cho Geun-hyung

What is the future goal of the Siheung Vehicle Release Center?
We have three major goals, actually. The first is to maintain an accident-free worksite. We would like to create a workplace without any accidents where all employees adhere to safety regulations and contribute to accident prevention. The second goal is to enhance customer satisfaction. By effectively managing the Vehicle Release Center, we are focused on ensuring our customers have access to high-quality vehicles. The third goal is the creation of a happy workplace. I want to promote an upbeat and energetic atmosphere where everyone can work and laugh together even when the going gets tough. Hopefully we can achieve these goals together with all the staff members at the Center.

Is there anything you'd like to say to your staff?
I'm grateful to all of you for always doing your best. I would also like to take this opportunity to say that I love you all here at the Siheung Vehicle Release Center!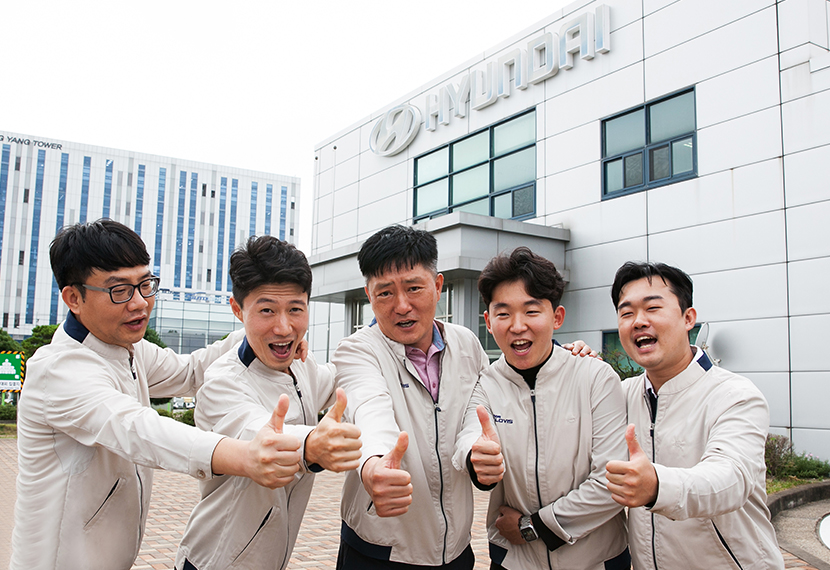 Writer Editorial Department
2022.10.04