After winning the second leg of the 2023 Korea Super Rugby, the Hyundai Glovis Rugby team gatered at the Hyundai Glovis headquarters to pose for their new profile pictures and take a group photo to showcase their tight-knit team spirit. Join us as we take you behind the scenes of their fun profile shoot.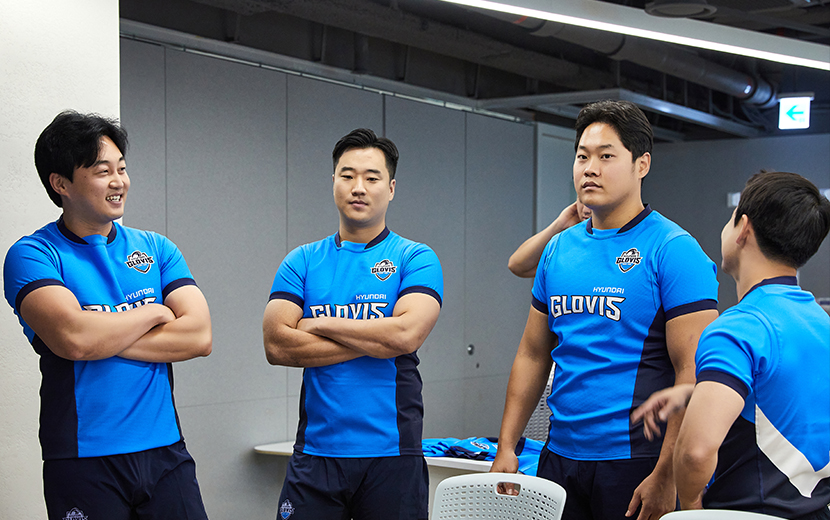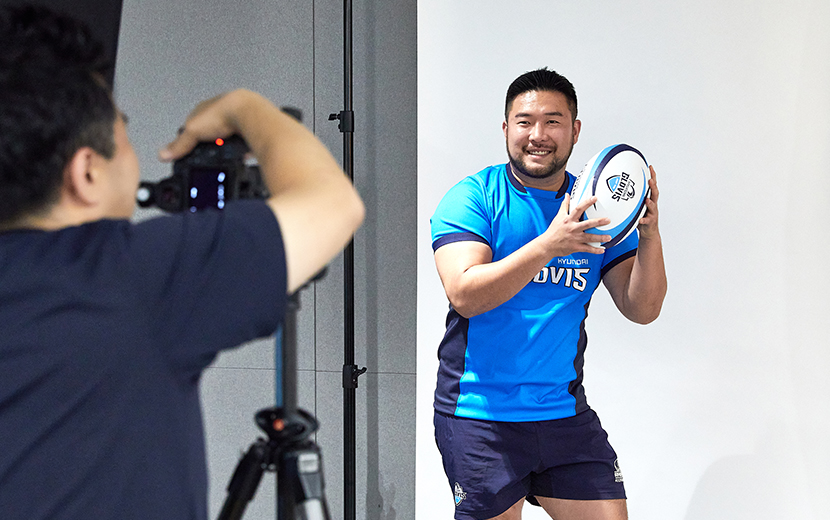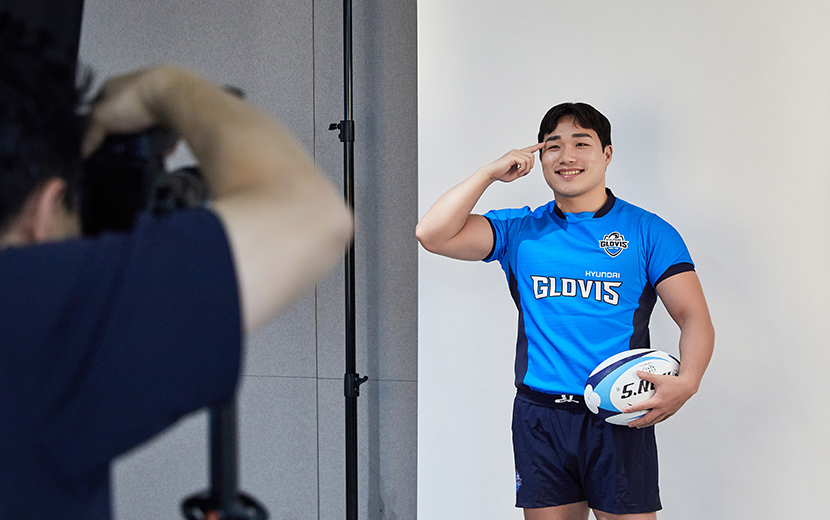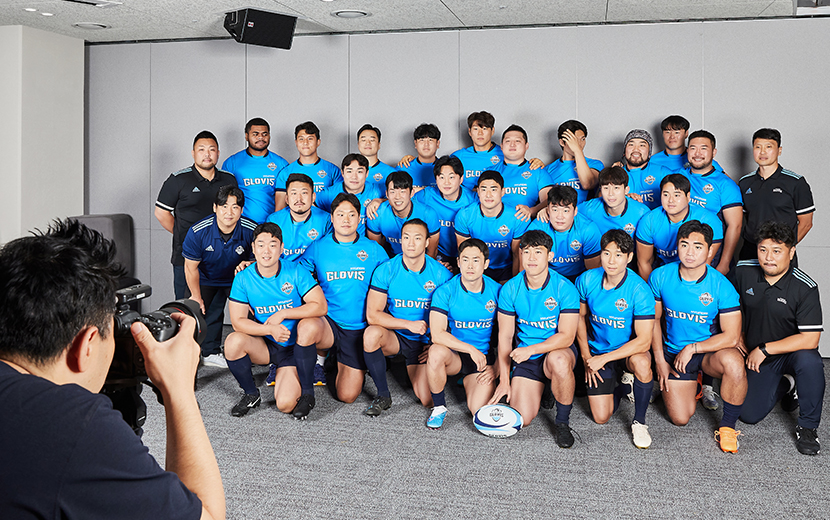 Teamwork is the Key to winning Korea Super Rugby 2nd season!
Meet the Hyundai Glovis Rugby team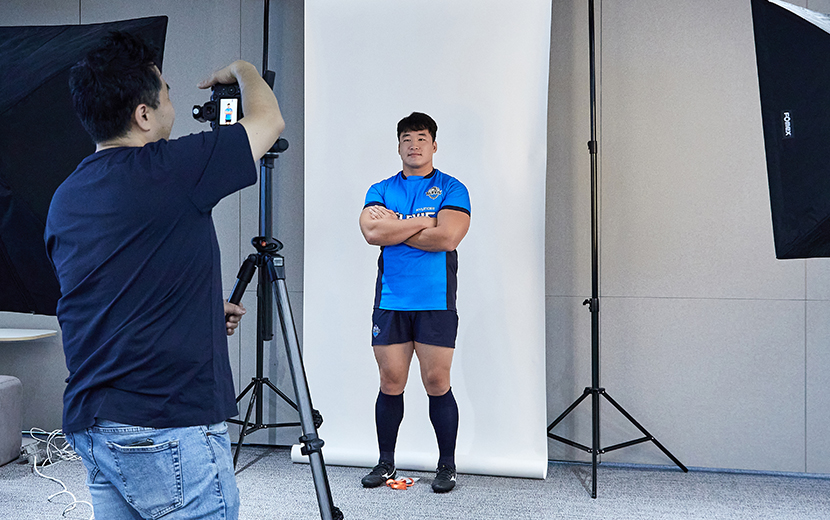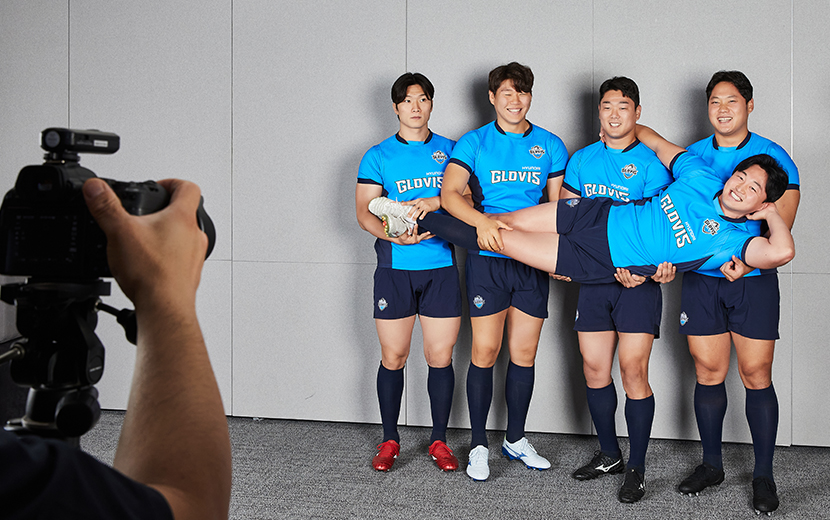 After winning the Korea Super Rugby League title, Hyundai Glovis Rugby visited our headquarters in Seoul. The team was in Seoul for a profile shoot with a renewed determination for the next season. The Hyundai Glovis Rugby Team won the Super Rugby Second Division title in May after several years of struggle. Player Yohan Kim attributes the win to teamwork.
"I think we were able to win because we all played as a team. I remember the game against OK Savings Bank the most out of all the games we played last season. We made a lot of mistakes and there was a lot of pressure on us, so I think we didn't play well at first, but I think we were able to win because we didn't give up until the end."
Matches are always tough and difficult, especially against the KEPCO rugby team, a strong rival of the Hyundai Glovis Rugby Team. The team had lost all of their matches against KEPCO last season, so they were eager to win, which is why Jung's most memorable moment was beating KEPCO in the first round.
"We had never beaten the KEPCO rugby team before, so I think we all had a chip on our shoulder, and we went into the game with the mindset that we had to beat them, and we all fought hard, just looking for the win, and in the end, we were able to win that game, and I was most happy because it was a win against a strong team."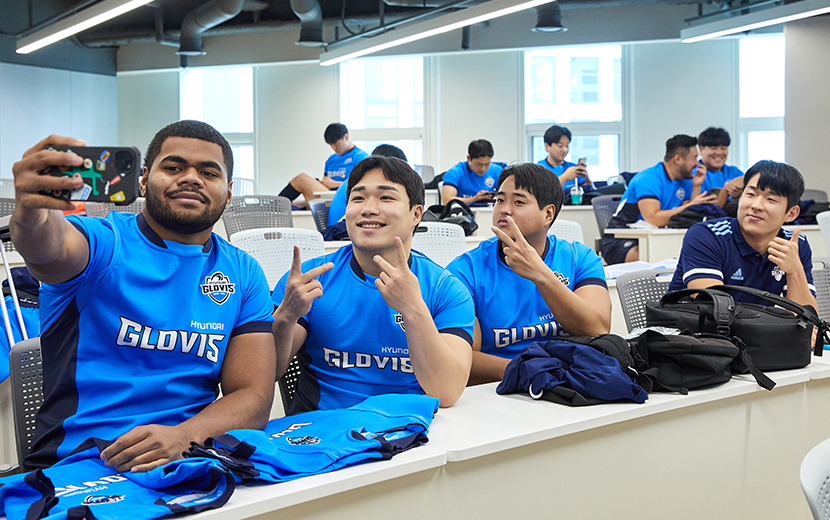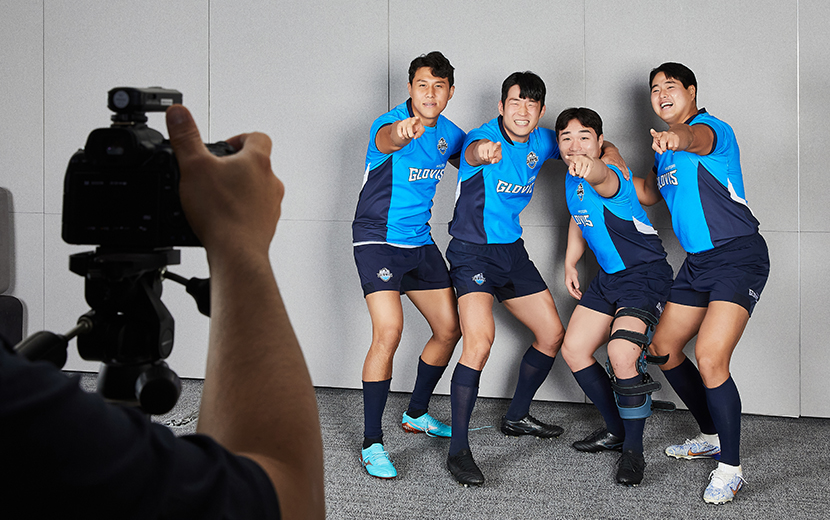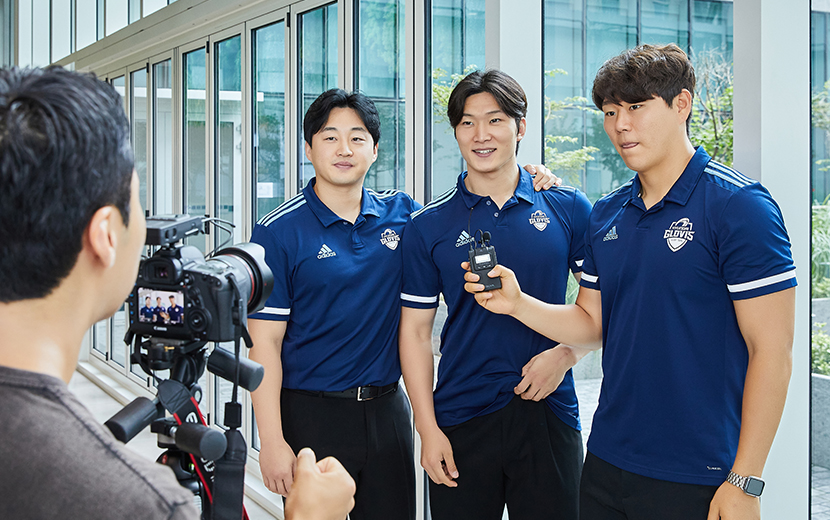 Hyundai Glovis Rugby Team Reaches for the Next Level Again

The Hyundai Glovis Rugby team is ready for a new beginning with this profile shoot. It's time to put the past glory behind them and get back to winning ways. The most important Korean National Sports Festival are coming up in October. The players' goal is to show once again how strong the Hyundai Glovis Rugby Team is. The captain of the Hyundai Glovis Rugby team, Son Min-soo, is also looking forward to the next season.
"It's almost the Korean National Sports Festival season. We're working hard to improve on what we lacked last season, and we want to do well again and show that Hyundai Glovis Rugby is a really strong team. I think rugby is all about mindset, and as long as we have faith in the people we play with and the confidence that we can do it, I think we can do well again."
The Hyundai Glovis rugby team pushes the envelope every day. Like a try, where you have to outrun your opponent to get the ball into the ground, players push harder than anyone else to reach their goal. As long as they're passionate about their goals, nothing is impossible.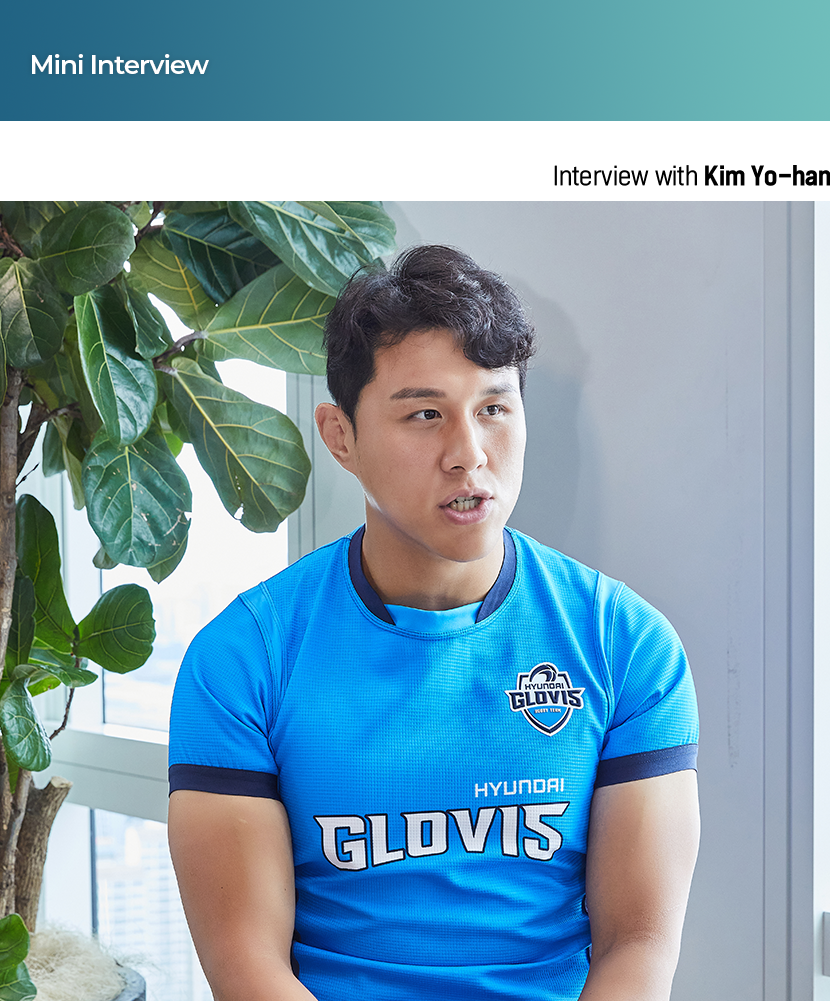 How was your profile shoot today?
I joined in 2018 and I think this is the first time I've done a profile shot since then, so it's even more exciting and refreshing to be able to do one after winning.
You got a valuable result by winning the second leg, how did it feel?
I was disappointed that I didn't get the result I wanted in the first league, but looking back, I think I played hard in every match without any regrets, and that's why I was able to win the second league. I was really happy that I was able to give my best in every moment and make up for the time I spent working on my deficiencies.
What is it about rugby that only players know?
I've been playing rugby for half my life, and I think that's why I feel most like myself when I'm bumping into an opponent, when I'm using my body to break through, and I feel alive, and I just can't stop wanting to keep going. I can't really put my finger on it, but I feel like once you get into it, you can't get out of it.
What are your goals as a rugby player?
My goal is to always be a meaningful player in the Hyundai Glovis rugby team. I want to make sure I'm always useful to the team, and I'm always working towards that!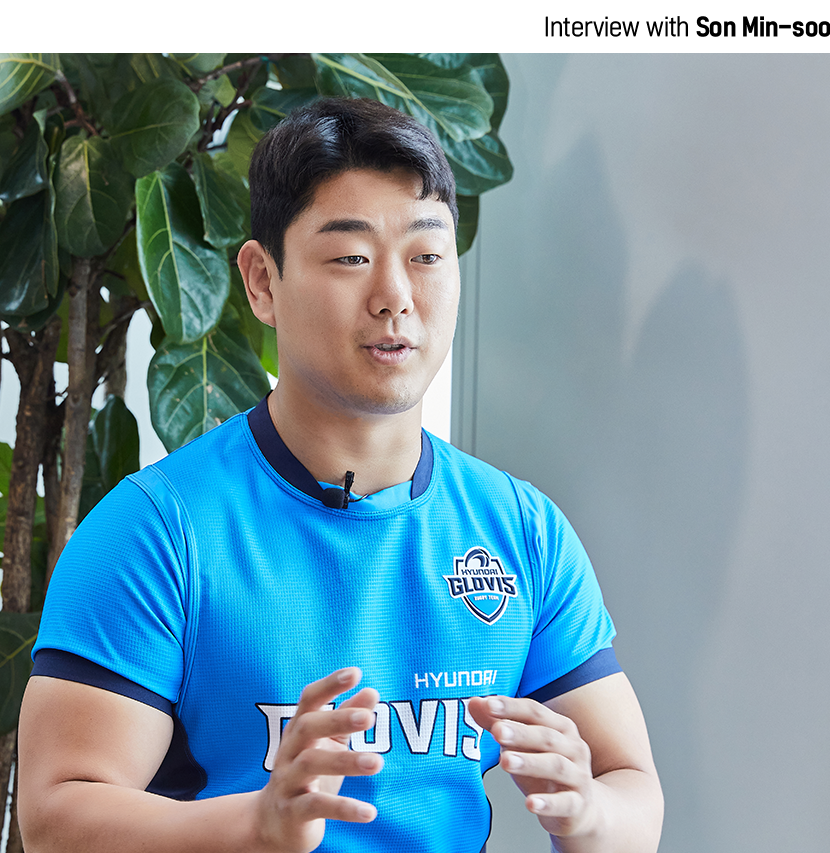 How do you feel about winning the second round?
I don't think it was an easy season, we had a lot of injuries, but I think the guys stuck with it and did what they had to do to win, so I'm really proud of them.
What is the most exhilarating moment when you play a match?
My position requires me to be able to control my opponent, which is why I get the biggest thrill when I stop someone who is running to attack. In order to do that, I have to be strong. You have to be strong physically, but you also have to have that 'I'm going to get him' mentality, and that's something I work hard on.
What are your goals for the future?
I think the Hyundai Glovis' winning streak has just begun, and I for one won't stop until the day I retire. Go Hyundai Glovis Rugby team!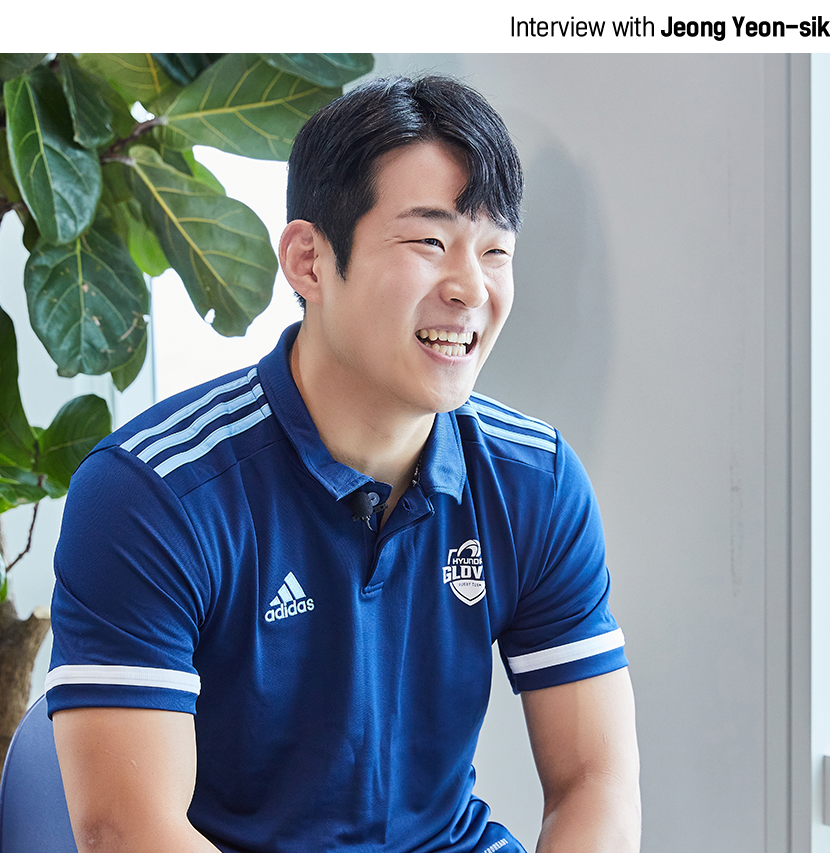 How are you preparing for next season?
Personally, I've had a lot of hamstring injuries, so I've been working hard on my rehabilitation and working out with my teammates to get in the best shape possible. I hope to see you all next season.
What do you think is unique about rugby?
I think there's something primal about the speed and the intensity and the physicality of it, and I get the biggest rush out of it, especially when I'm running fast and scoring, and I think that's why I'm so into rugby.
I remember your goal at the last Tokyo Olympics, how did you feel when you scored?
I still get emotional when I think about it, it was one of those moments where I was so immersed in the moment that I can't remember how I ended up scoring, I can't describe it.
What are your goals for the future?
Of course, my goal is to win an Olympic medal as a rugby player, which is why I'm still running, and I really want to achieve my goal!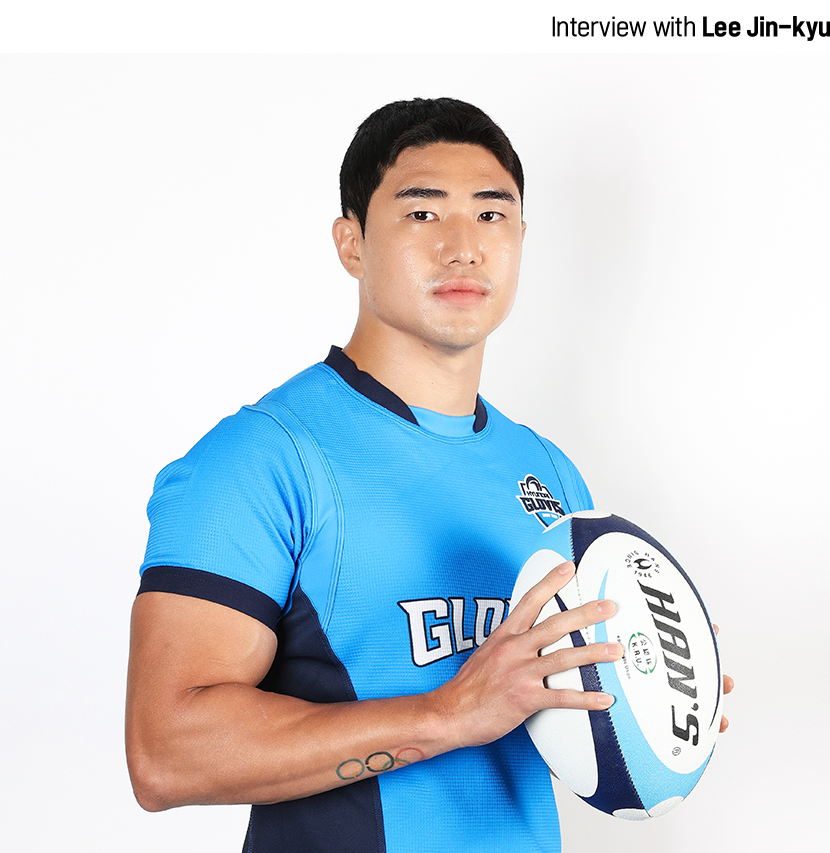 What was your most memorable game last season?
My most memorable game was against OK Savings Bank in the 2nd League. As a new team, we thought they were relatively weaker than us, but when we started the game, they were quite strong, so I remember the whole team panicking. Fortunately, we came back in the second half to win the game, but I think we learned a lot from that game. We thought that we should play with the same mindset and not judge the other team, and I think we all grew as a team through that game.
How are you preparing for the Korean National Sports Festival?
It is my personal goal to play a full game at the Korean National Sports Festival, so I have been taking care of my body. I will do my best to help Hyundai Glovis win the Korean National Sports Festival.
What would you like to say to the Hyundai Glovis Rugby team?
If you are an athlete, I think you have to win the competition. No matter how beautiful and wonderful the process is, if the result doesn't follow, there is no progress. My team, let's show it with results. We can do it! Go Hyundai Glovis!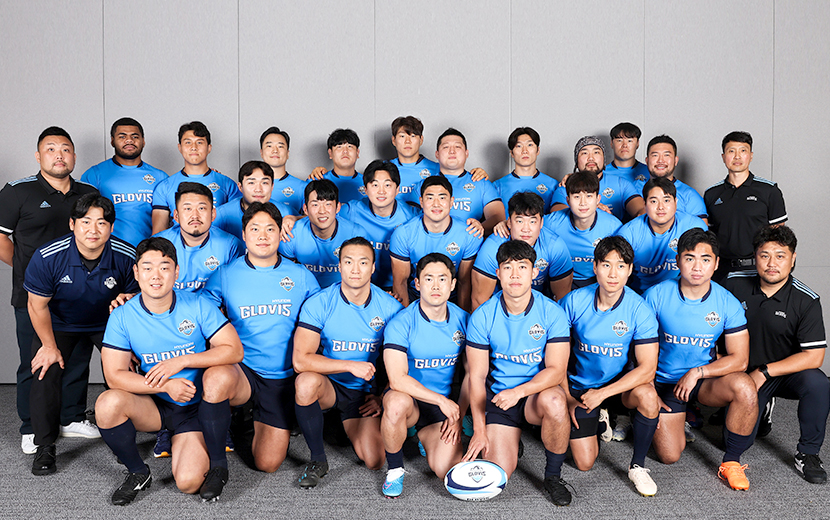 By the Editorial Department
2023.08.08