The Global Auto-Biz (Pre-Owned Car) Team is responsible for Hyundai Glovis's secondhand car ventures in local overseas markets, not to mention the export of such vehicles from Korea. Following the acquisition of a secondhand car auction company in the US, Hyundai Glovis is doubling down on its global market strategies. In this issue of our webzine, we interview key figures within the Global Auto-Biz (Pre-Owned Car) Team who are poised to turn the growth potential of secondhand cars into global expansion and growth. We met in the Seoul Forest, naturally decorated with the brilliant colors of fall, to discuss their commitment to success.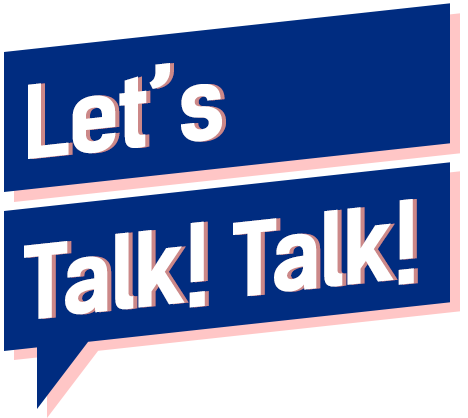 Q. Global Auto-Biz (Pre-Owned Car) Team! Nice to meet you!

We're already smack dab in the middle of fall. We've come out to the Seoul Forest, so let's soak in this picnic-like atmosphere and have an open and meaningful chat.

I often come out here for walks with the rest of the team on lunch breaks. We don't stay for long, but it gives us an opportunity to talk about things other than work. I expect that we'll all have a good time today as well.

Yes. I'm looking forward to a meaningful time today also.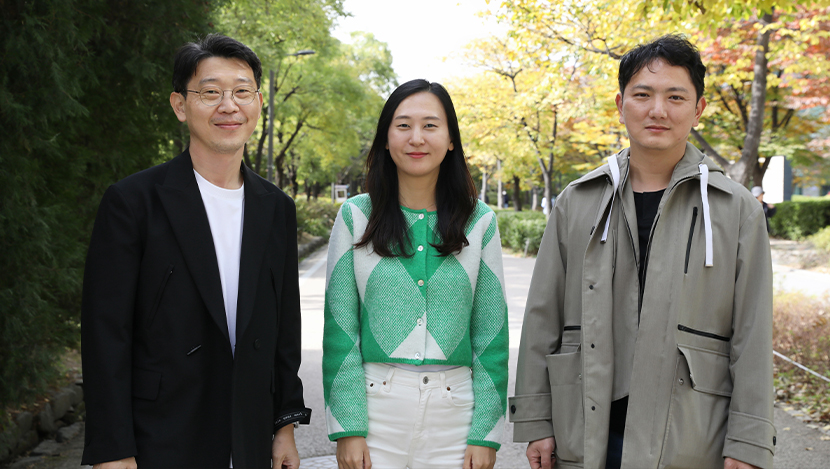 Q. What does the Global Auto-Biz (Pre-Owned Car) Team do?

We form strategies and business models for local markets to enable Hyundai Glovis's overseas corporations to further their secondhand car businesses and provide support for the success of such businesses. When we say secondhand car businesses operated by our overseas corporations, you might think only of secondhand car exports and imports, but we are also involved in wholesale, retail, and brokerage in local markets. We are constantly striving to develop the best business models for local markets.

I don't think I could have given a better introduction of our team. Just to add to what Senior Manager Jung said about the secondhand car business for those who aren't familiar with it, many people feel that the used car market is synonymous with the "lemon market," but although the secondhand car market is still not very large, it has great growth potential. That's one of the reasons why Hyundai Glovis is pursuing it as a new business. By giving consumers high-quality, secondhand vehicles they can trust and an overall convenient experience, I think we will be able to develop our secondhand car business into the company's most important business operation.

I totally agree. Estimates place the global secondhand car market at about two to three times the size of the new car market. With sales of new cars on the rise, secondhand car trades are also expected to increase, and demands for such cars are expected to remain strong even when new car sales are slow. With advances in IT and all the different types of platforms available today, customers are able to access and purchase secondhand cars more conveniently, which will only lead to the further growth of the secondhand car market. I think the Global Auto-Biz (Pre-Owned Car) Team will play a very important role in this in the coming years.
"My motto is 'work hard, play hard.' I want to work hard and play hard to my heart's content without missing out on anything. As much as I think speed is important, I'm focused on strategic thinking and insight to find the right direction and grow our global secondhand car business, one step at a time."

– Senior Manager Jung Myung-hwa, Global Auto-Biz (Pre-Owned Car) Team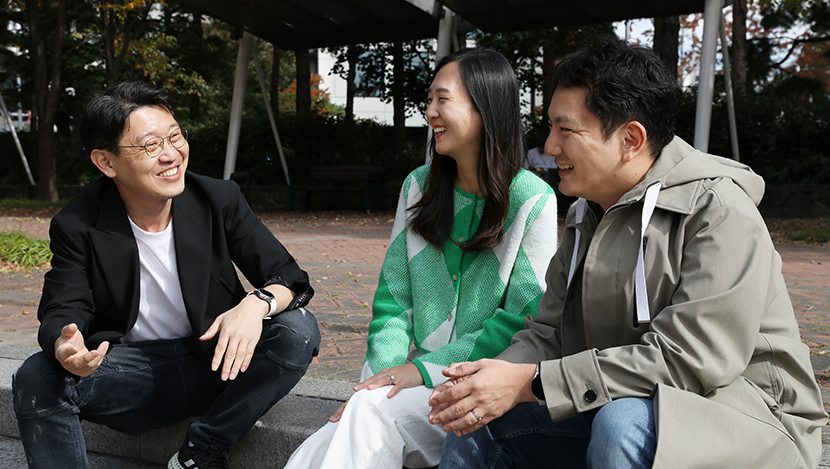 Q. How do you plan to gain a greater share of the global secondhand car market?

First off, we need a good understanding of the characteristics of the global secondhand car market. Each country has its own market scale, conditions, and regulations when it comes to secondhand cars. Hyundai Glovis has amassed a lot of experience and expertise in the secondhand car business in Korea, mainly centered around auctions, so now we have to carefully review the resources we have at our disposal for horizontal deployment. We are not going to simply adopt a single business model and apply it to multiple countries, but are instead going to develop strategies tailored to each individual country and form models based on that. Using this approach, it is only natural that we will obtain varying results. For example, in the United States, we need to get licensed as a wholesaler, retailer, and auctioneer by meeting the requirements that each individual state has in place. In India, we just need to have our articles of incorporation registered to do business without getting licensed. However, India has a lot of legal barriers in place to keep foreign companies from doing retail business on their soil, so we mostly just do wholesale business over there. That's why it's important to have a flexible strategy for each individual country.

That's correct. There are four countries or regions that we consider our major markets, and they all have different market characteristics. The US and Europe have always been the most advanced market for secondhand cars, so they have a very organized distribution structure as well as a vast market size. They both have a long history in the automotive market, so there are a lot of top industry players that will give you a run for your money. On the other hand, China and India are markets of great future growth potential. Transparency may be lacking in the distribution system in these countries, but they are still high-value markets that will certainly generate tons of revenue in the coming years.

That's why we're splitting up our business into online and offline components and coming up with multi-faceted sales strategies. In the US and Europe, with their advanced online infrastructure, secondhand car distribution activities are increasingly taking place online, a trend which has been accelerating since the pandemic. In the foreseeable future, we are going to make use of major online channels in the US and Europe and analyze the online business activities of market leaders to, in the long term, establish an online supply channel that's exclusive to Hyundai Glovis.
India is going through a transition from offline to online, and there are now a couple of unicorn companies in the online retail sales of secondhand cars. But as far as online wholesalers and auctions go, there aren't any companies that stand out yet. Hyundai Glovis sees that as an opportunity to pioneer those markets in India. We can use the technologies and expertise we have accumulated by doing secondhand car business in Korea to set up an auction system and take the lead in systemizing the market over there.
"I think our global secondhand car business is a business where we can excel the fastest by utilizing our domestic capacities and network of overseas corporations. I'm determined to achieve great things in the global secondhand car business so that we can serve as a benchmark of success to which new businesses can aspire."
– Team Leader Lee Jun-ho, Global Auto-Biz (Pre-Owned Car) Team

Q. What are the Global Auto-Biz (Pre-Owned Car) Team's major achievements and plans?

I will have to say our biggest achievement to date is our acquisition of Greater Erie Auto Auction this year. Greater Erie Auto Auction is a used car auction company in the US that we acquired to give us a start in the U.S. secondhand car market. Since this acquisition signified a major investment in an overseas secondhand car market, we approached the whole deal, including the negotiation of all terms and the internal decision-making process, very seriously. Naturally, it took quite a while to close the deal. We plan to use this new foothold in the US as a springboard for pioneering secondhand car markets in other countries

For me, the great achievement was the first exclusive deal we signed for purchasing secondhand cars from a new car dealership in India. Our goal was to secure a consistent volume of used cars for purchase, so we went around to a number of dealerships and made proposals. We worked with local staff and put a lot of effort into preparing our proposals. When we got our first signed contract after much negotiation, our whole team was ecstatic.

A lot of work went into that, didn't it? Overseas markets have different environments than ours and there's the physical distance between the countries, so naturally there's going to be that challenge of not being able to visit the country in person. You can only experience things indirectly through local staff, so if any issues arise, you have to keep in touch with the local staff and resolve the issues.

The slogan "There is no failure, only delayed success" best describes the Glovis mindset and the necessary attitude in our team. As with any field of business, pioneering a new market is a tough task, one that calls for much trial and error. We have to remember that all processes are learning experiences and will eventually lead to success. If we keep pushing ourselves with a spirit of challenge and perseverance, I'm sure that one day we will find ourselves at the very top of the industry.

That right there is an attitude that's crucial to any member of the Global Auto-Biz (Pre-Owned Car) Team. I have no doubt that the experience and expertise Hyundai Glovis has gained over the last 20 years of running some of the best secondhand car auctions in Korea will pay off in a big, big way. We have a global network that allows us to utilize our experience and expertise directly and indirectly. Because sea and land logistics for the transport of secondhand cars represent a significant cost, I think we can achieve synergy with Hyundai Glovis's finished car transport operation.

These are exciting times! I have high hopes for the future of the Global Auto-Biz (Pre-Owned Car) Team.

The last two and a half years have not been easy, but they've also been a bonding experience. I want to thank Team Leader Lee and Senior Senior Manager Jung who are here today and all our valuable team members for the excellent work they have done. I look forward to achieving bigger and better things with you all. Let's build a global online secondhand car business together. Online auctions in the US, online exports to the EU, and online used car auctions in India—that's the winning plan!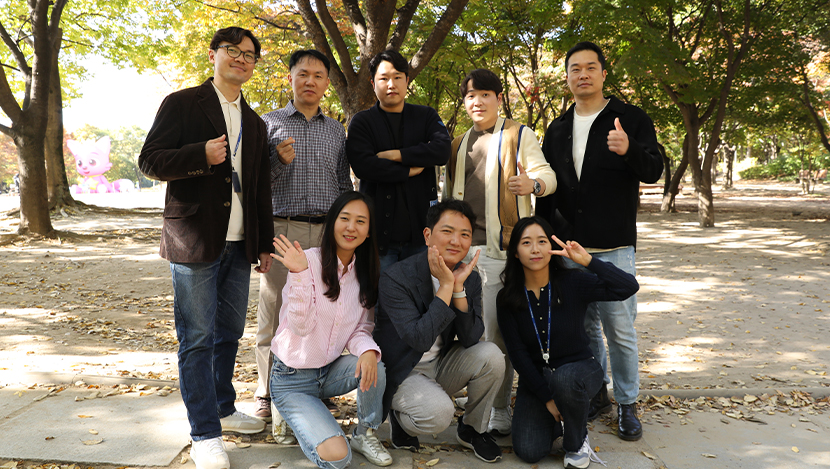 Lee Gwang-Min, Byun Jang-Suk, Min Dong-Guen, Cho Kyung-Jun, Kim Min-Su
Jung Myung-Hwa, Lee Jun-Ho, Cho Eun-Ha
"In these uncharted territories we find ourselves in, we will do our best to support each other and press on, remaining focused and strong to grow our business."
– Chief Moon Hyung-chun, Global Auto-Biz Business Group
By the Editorial Department
2022.11.1