One of the easiest ways you can care for the planet is to make a habit of using a tumbler.
As green hipsters will tell you, by using a tumbler we eliminate the waste that would otherwise be created from all the disposable cups we use.
As a bonus, tumblers come in lots of cool designs and make a nice accessory.
Let's find out how Hyundai Glovis staffers are adapting to life using their tumblers.
If improperly disposed, garbage can become one of the main causes of environmental pollution. Disposable products such as disposable cups and plastic bags, especially those made of plastic, can be one of the biggest detriments to the planet. So how can we cut down on the waste we generate every day?
Tumbler use started as one way of reducing waste, the purpose being to reduce the use of disposable cups. But tumbler use has to be consistent to pay off. Glass tumblers have to be used at least 15 times, plastic tumblers at least 17 times, and ceramic ones at least 39 times before the benefits to the environment start to add up. The most important thing is to pick out a tumbler that's right for you and keep using it for as long as you can.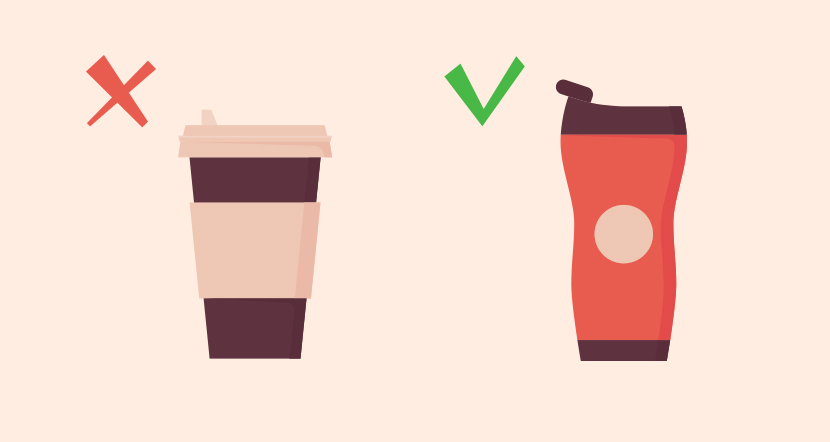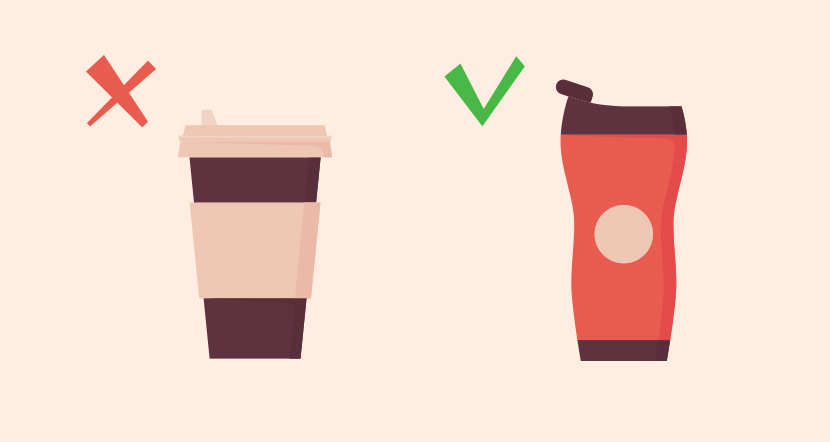 Say no to disposable cups! Use a tumbler!
How the tumbler does so much more than the disposable cup
Some might not welcome the idea of packing yet another item into their already jam-packed bags, or they might prefer to just use a mug at coffee shops. With tumblers, there is the inconvenience of having to carry it around with you all the time and wash it after use. But those who have grown into the habit of using tumblers can't stop due to their practicality compared to disposable cups.
For instance, if you like iced coffee no matter the weather, using a stainless steel tumbler can keep your iced coffee cool all day long. In addition, compared to mugs used to serve your coffee at coffee shops, using your own tumbler that you wash and keep clean yourself is much more hygienic. If you're the frugal type, tumblers are perfect for you, because cafes take 200 to 500 won off of your coffee price if you bring and use your own tumbler. It's time to see that all these merits of the tumbler outweigh the mere convenience of the disposable cup.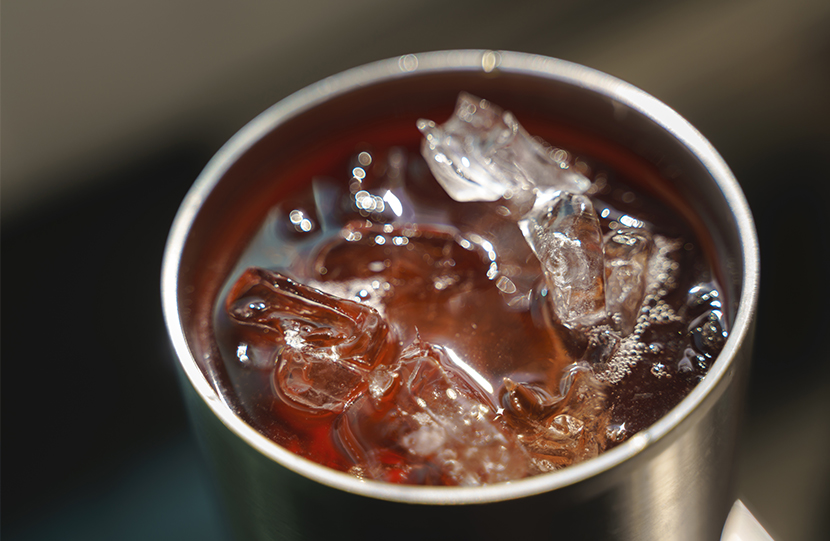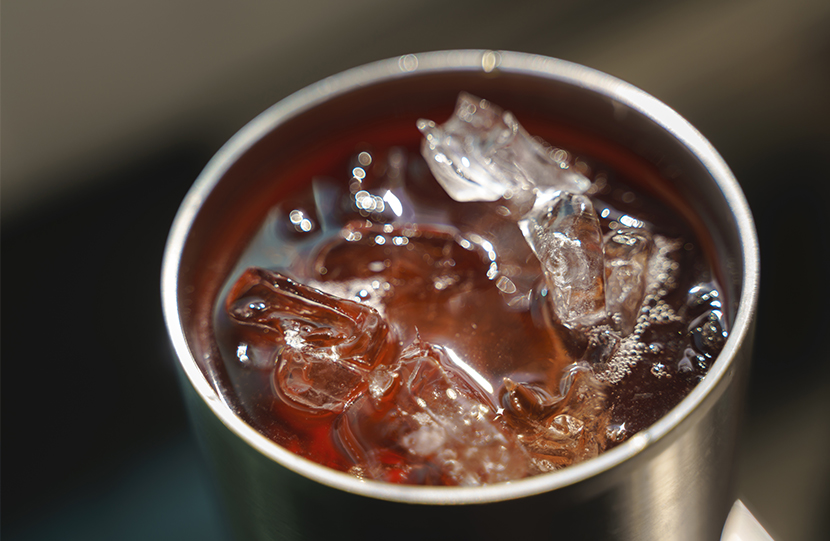 Prefer an iced Americano that stays cold? Get a stainless steel tumbler!


Hyundai Glovis encourages its employees to use tumblers. Tumblers are handed out for employees to use, and there's even a robot barista service on company grounds where you can order a coffee and have a robot bring it to you in your tumbler. Using a tumbler instead of a disposable cup at the cafeteria shaves off 200 won off of your coffee cost. Yes, Hyundai Glovis is taking the lead in creating a tumbler culture. Here's what several tumbler users had to say about the positive changes the tumbler is brining.


"They gave us a great practical gift when they handed out tumblers at work. I love mine for lots of reasons. Most importantly, it's eco-friendly."
Manager Choi Jae-yong, Domestic Procurement & Contract Management Team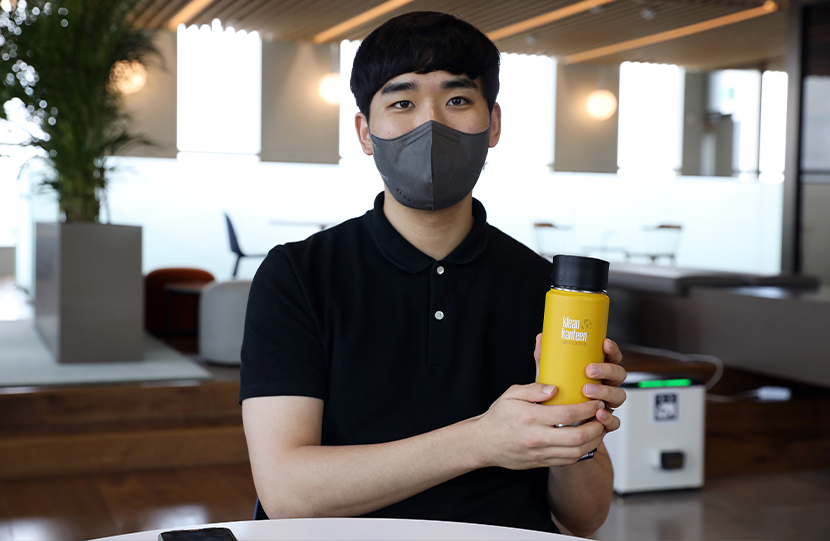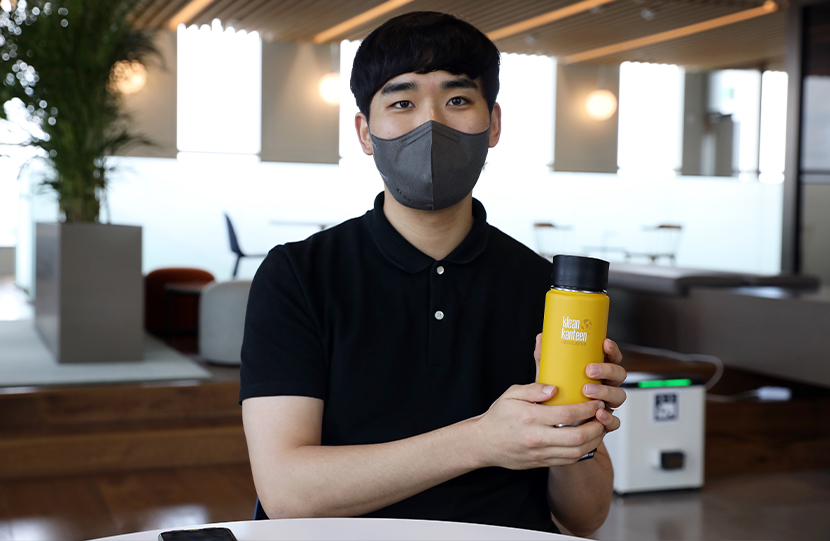 I used to use disposable cups whenever I went to the company's cafe. When they handed out tumblers, I figured I might as well start using my free tumbler instead of all the disposable cups. It's actually been pretty good. For one thing, it keeps your drinks cold. I get my tumbler filled with iced coffee in the morning, and there are still solid pieces of ice floating in it by the time I finish work. For another, the tumbler I was given at work has a lid that you can remove and disassemble to keep it really clean. Also, this thing seems to be bulletproof. I've been using mine every single day for years now, but it's still in pristine condition, with no peeling or anything on its outside. I'm getting good use out of my tumbler, and I can say with pride that I've used that much less in disposable cups.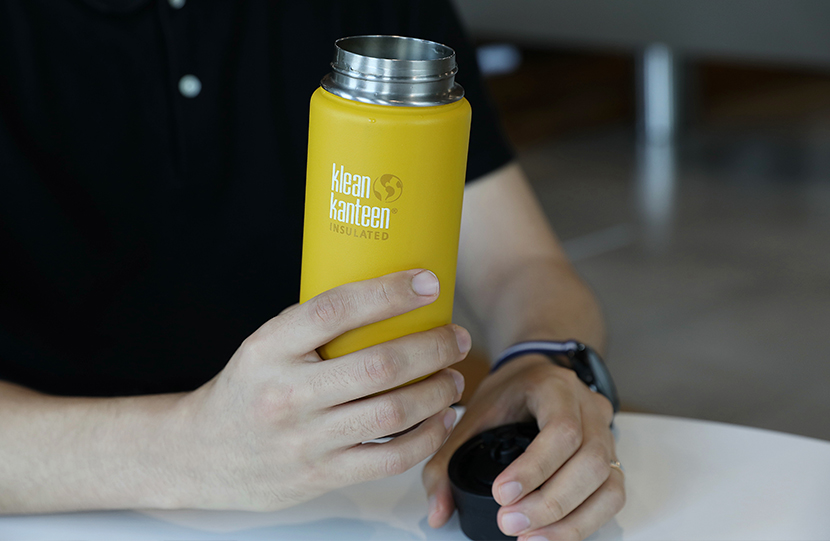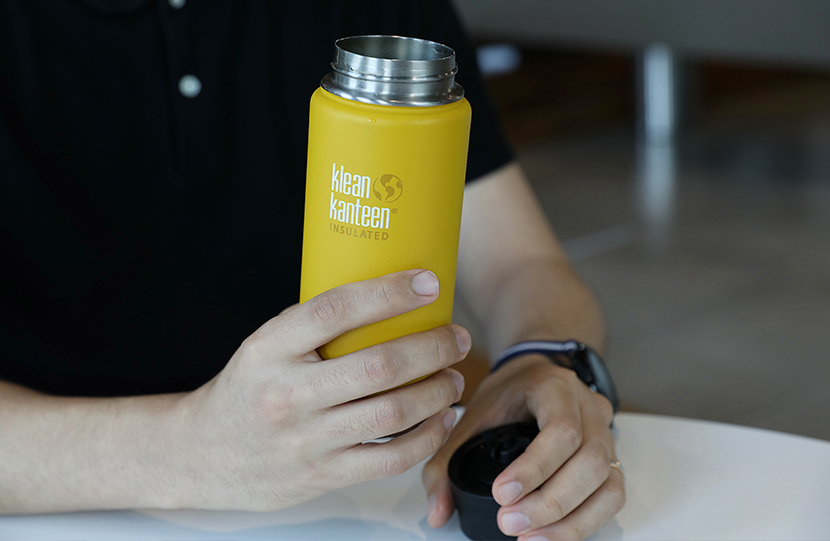 Tumblers come with a cover that can be easily disassembled to keep the tumbler clean.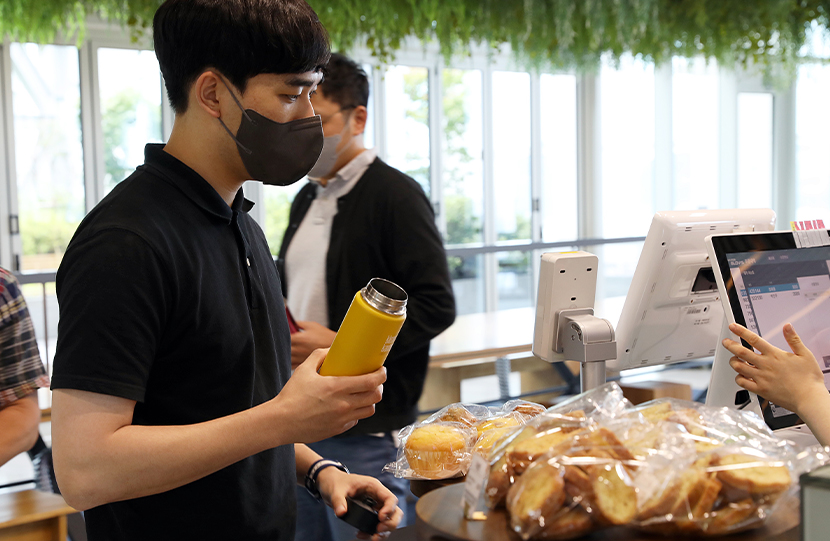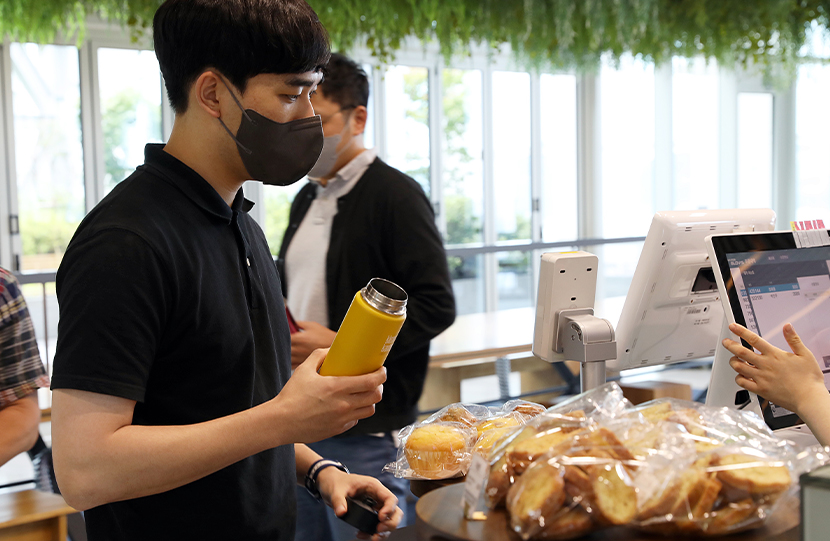 Bring your own tumbler at the in-house coffee shop for a 200-won discount.
Tumblers keep your drinks cold and are easy to clean
Actually, when I first picked up my tumbler, it didn't occur to me what kind of environmental effects would result from it. But seeing all those paper cups I used stuffed in the garbage in the kitchenette or the meeting room did bother me once I became more environmentally aware. I think using tumblers is a great thing to do. I think we should cut back on a wider range of disposable products. We even have a tumbler washing machine on each floor at work now. It's really great. At Hyundai Glovis, tumbler use is very accessible now. If you haven't already picked one up, I highly recommend that you do and make it a normal part of your day.
"My tumbler has become something I can't do without.
Get yourself a tumbler, and join us in saving the planet."
Manager Jung Sung-ho, Global Steel Logistics Team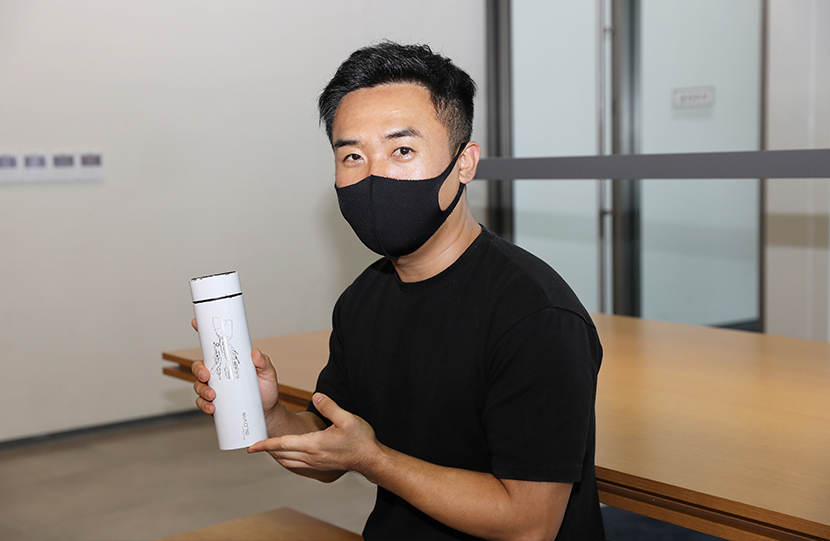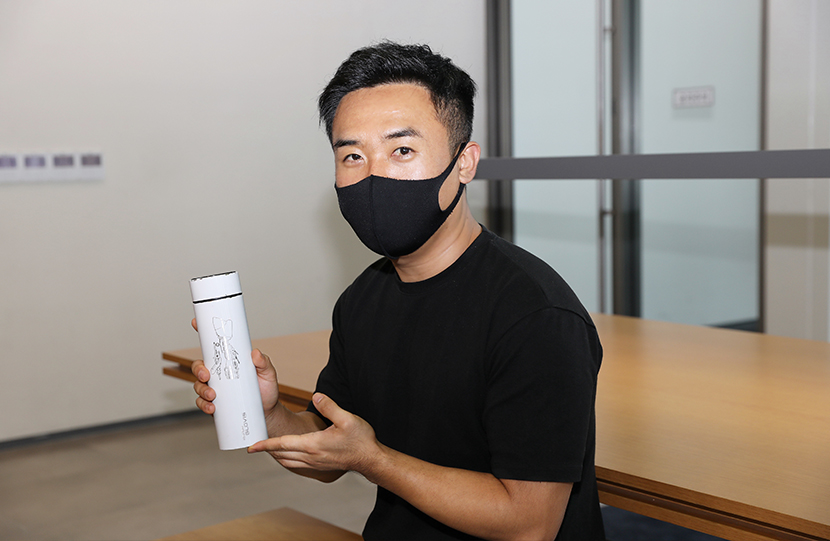 A while back at work, we had a sort of goodwill campaign where you could buy a tumbler and the proceeds would be donated to people in need. So I got mine and I've been using it for almost a year now. I fill it up with coffee at the company cafe in the morning and also use it to sip water throughout the day. Now that I think of it, it really is an essential item during work hours. I consider my tumbler a type of "rare item." I haven't seen too many of these in the hands of others at work here. It's special, and I like it. If I happen to leave it behind in the kitchenette, it's easy to spot because it stands out.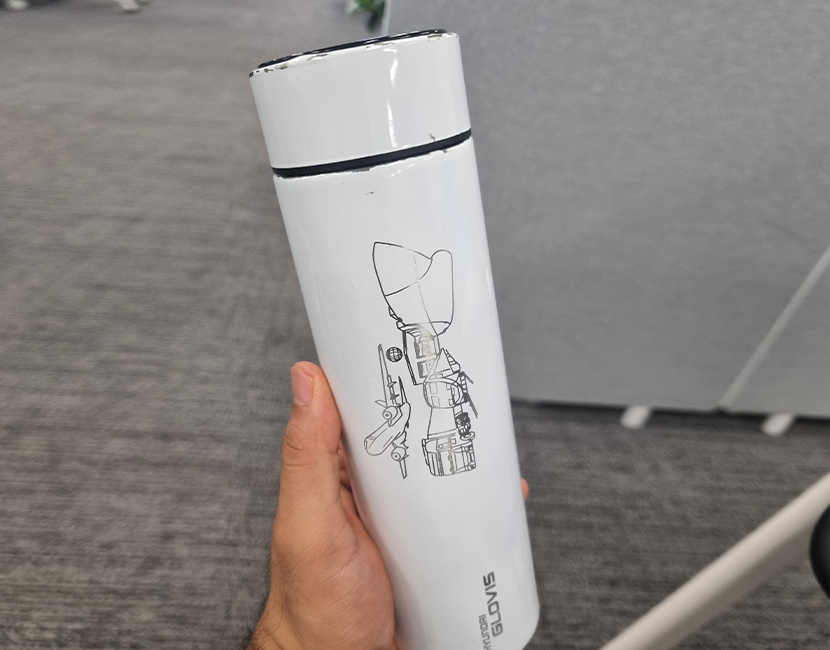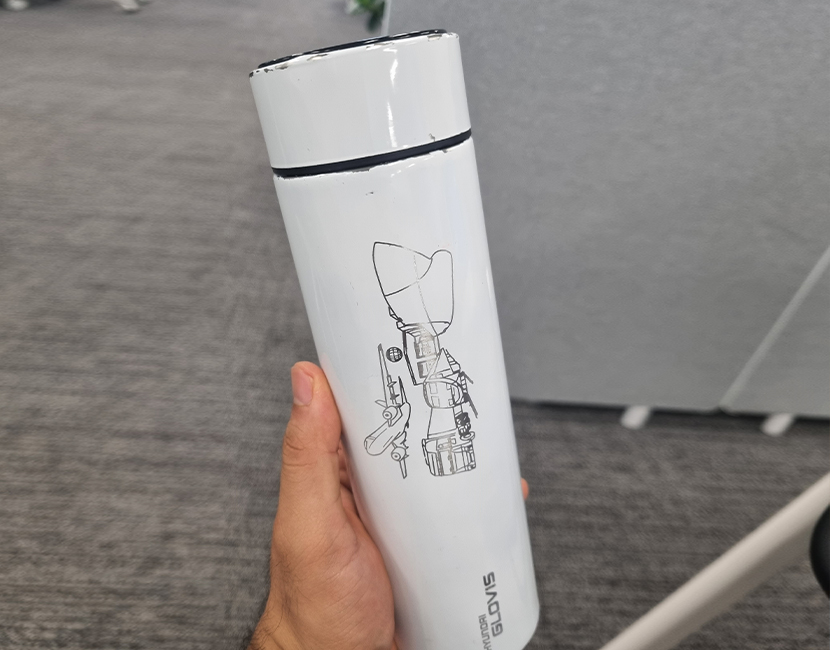 Your tumbler can be something really special, like an extension of yourself.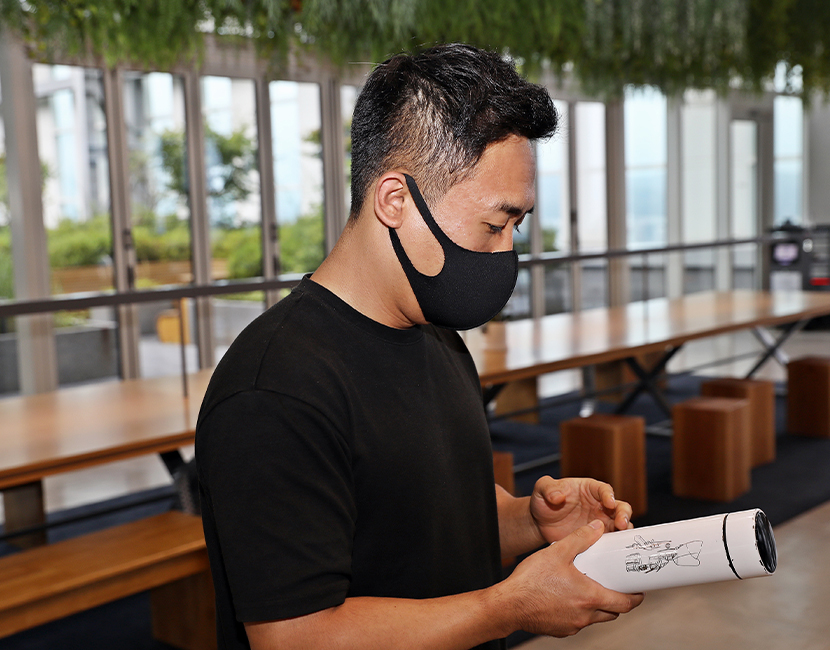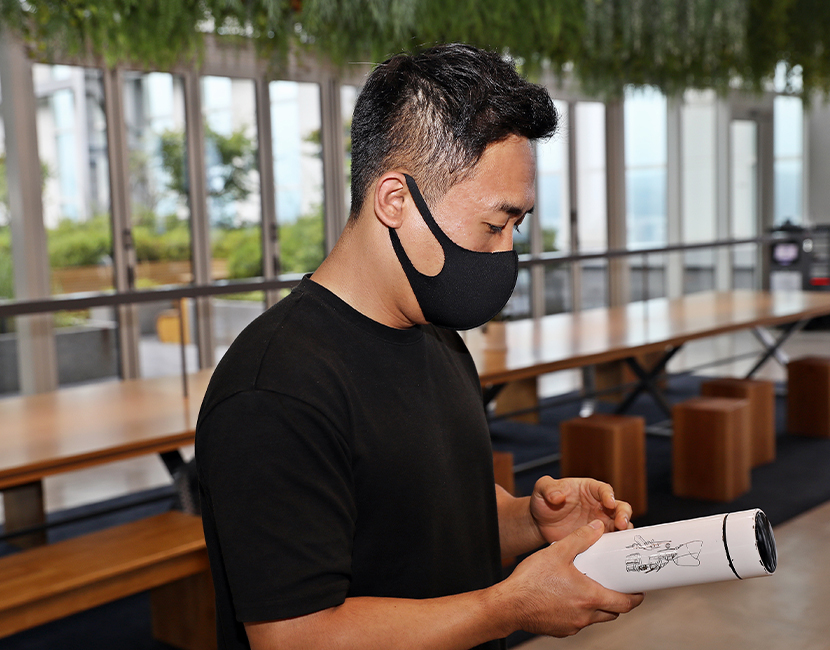 Hyundai Glovis provides an ideal environment for the convenient use of tumblers.
Let your tumbler be the starting point for your own reduction of waste
Becoming a tumbler user has changed my perspective for the better. I'm more aware now when I get food delivered, so I don't accept the included disposable items, and I make an effort to not use so many disposable plastic bags anymore. Keeping your tumbler clean may be a chore, but at work we have tumbler washers now so it's a different story. We also get coffee discounts at the company coffee shop. I believe we are doing something really meaningful with our tumblers. If you haven't already, I hope you'll all join soon in using a tumbler to help make our planet clean.
Writer Editorial Department
2022.08.04